Many Surface Pro 3 Intel i7 owners report their tablet is overheating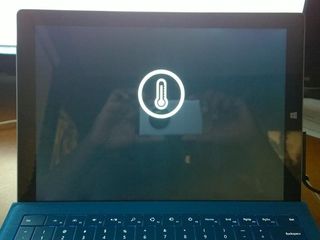 A number of Surface Pro 3 owners who choose to buy the version of the 12-inch tablet with Intel's i7 processor inside have been reporting major overheating problems with Microsoft's product since the i7 version started shipping in early August.
A massive forum thread on the Microsoft Answers message board is devoted to the issue. One user, "Jarem" claims that he is now on his fourth Surface Pro 3 Intel i7 tablet unit. He described what happened with the other three versions: "... the back of the unit becomes uncomfortably hot and its fan spins very loudly on idle and while performing minor tasks such as web browsing (even sites without flash or heavy ad use)."
Some of those same tablets actually shut down, with the screen displaying a high temperature icon to show that the unit won't go back online until it stops overheating. One recent post on the Microsoft Answers forum comes from "DarrellGarrison" who had his first Surface Pro 3 i7 tablet overheat on him. He got a replacement but posted, "As soon as I had it up and running, the back got extremely hot, and the fan was going nuts. What was I doing? Running a YouTube video as a test. Same issues as my current unit."
Another person, "Brad Groux", reports that he bought four Surface Pro 3 512GB Intel i7 tablets on its launch date, August 1, from the Microsoft Store in Houston. He says that three out of the four units have had the overheating issue.
Not everyone on this message board thread have had the same experience, and our own Editor-in-Chief Daniel Rubino recently offered his thoughts on the same i7 version, saying, "Sure, it can get warm with the occasional graphic-intensive game, but nothing out of the ordinary."
It's possible that this overheating issue is just with one shipment batch of the Surface Pro 3 i7 tablet. However, there are certainly plenty of reported incidents to suggest that this is affecting more than a few owners. We plan to contact Microsoft to see if they wish to comment on these reports. If you own a Surface Pro 3 with an Intel i7 processor, have you experiences issues with the tablet overheating and shutting down to cool off?
Source: Microsoft Answers via Neowin
Get the Windows Central Newsletter
All the latest news, reviews, and guides for Windows and Xbox diehards.