MapQuest and Domino's Pizza app for Windows Phone 8 get updated today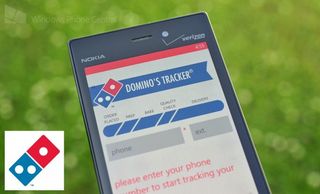 Two updates have rolled out today for some popular apps on Windows Phone: Domino's Pizza and MapQuest, making sure you know how to find your local pizza shop for that carryout order.
First up is Domino's Pizza, which launched back in June for Windows Phone 8 in US markets and it has sadly become one of our most used apps (running on a treadmill while ordering your next meal is über convenient). Since then, the app hasn't had any updates but today it gets a minor one with version 1.1 ready for delivery.
The app has no specific changelog to report besides "minor bug fixes" but we're okay with that as the app maintains a 4.5 star rating from nearly three thousand users. That means the app is a hit and doesn't need much for changes.
For those in the US, you can download the Domino's Pizza app here in the Store.
Next is MapQuest, from Aol. That app also launched back in June and brought Windows Phone users yet another navigation option. While that is something to easily dismiss, it turns out MapQuest is slowly turning to be a sleeper hit with a lot of people enjoying the interface, voice navigation and free price tag. It may not be a super comprehensive GPS solution, but for basic and occasional routing, it is worth taking note.
Version 1.2 is now live in the Store and luckily for us, not only does it have a listing of changes but it also looks to be significant:
More frequent Live Tile updates
New position marker now indicates direction for easier navigation
More intuitive presentation of multiple search results
Crash fixes
Sounds like the MapQuest folks are listening to feedback, making some nice improvements to the navigation app. It's certainly worth checking out as the traffic overview is quite detailed and you can't beat that price.
Pick up MapQuest version 1.2 for Windows Phone 8 here in the Store. Thanks, Randy T., for the tip!
Daniel Rubino is the Executive Editor of Windows Central, head reviewer, podcast co-host, and analyst. He has been covering Microsoft here since 2007, back when this site was called WMExperts (and later Windows Phone Central). His interests include Windows, Microsoft Surface, laptops, next-gen computing, and arguing with people on the internet.
Speaking of apps.. Any music producers in here❔... I want this on WP,, NOW❗
http://www.akaiprompc.com/impc-for-iphone

I wrote to Akai way back in 2011 requesting that they make a MPC app for WP.. It makes me sick that my favorite music production company is all about making everything for Apple products. 15 years ago it was the other way around, and this just sickens me.. It does really suck... Stupid WinMo❕.. Lol..

I'm gonna try emailing them and maybe you can too again, I doubt that WP has many producers but It can't hurt to try, I'm into electronic music producing and I'm looking forward to purchasing an akai midi keyboard soon and this app would just be the cherry on top

I pleaded to them on Facebook, and Twitter already today.. They also have a suggestion page on their website.. BTW.. I use a MPC2500.. I used to have a 2000XL.. All of their new MPC's have basically turned into controllers instead of full on music production centers.. Its sad, but I guess my machine is priceless now...

That's to bad if they don't respond...well at least we don't NEED this

Yeah, and Android probably ain't getting it anytime soon either... As bad as I want this I would rather have Instagram come to the platform because that's what the kiddies want, and they rule the world.. I'm gonna have to go cross country telling every store associate that its finally available on WP.. It's going to cost me thousands of my own dollars, but somebody's got to do it.. Microkia surely isn't.

I got your fruityloops right here rodneyej.

I bet you do,, I bet you do.... Now, you're a nasty bastard NIST.. I told you that I don't like men.. But, you keep pursuing me...

Rodneyej, time to wake up. Because you be dreamin, son!

NIST is cool, and I love him to death,, but right now he's "confused".. Lol❕

Ok, ok,, so what if I DO want your body❔.. Is that such a bad thing❔

https://itunes.apple.com/us/app/jamup-xt-amp-effects-processor/id449820506?mt=8
this also, my music phone would be complete

I hope WP starts to get apps like this soon.. That's awesome.

Love the dominos app. Nothing like out doing weekend honey do's and ordering pizza off my 920.

You got to love technology... My favorite part of "Back to the future" was when 2015 Marty put that tiny Pizza Hut pizza in that Futuristic oven and it expanded, and cooked, in seconds.. Or was that Marty's wife❔ Whatever... Cool❗
http://www.youtube.com/watch?v=5ztwns5PkJY

BACK TO THE FUTURE?!?!?!? MY FAVORITE MOVIE TRILOGY OF ALL TIME :D :D :D :D :D

Roads❔Where we're going we don't need roads❗

When do we get our hoverboards?!

I'm not sure why, but I feel like I need to have the Domino's app installed even though I can't tell you the last time I ordered from there! I don't actually get pizza tha often these days, but when I do, I like to try all the places that claim to be Chicago style here in Los Angeles. MapQuest?? I guess I'm happy for them that they're still around, but I haven't felt the urge to download it. Is anyone using it?

I can't think of the point of MapQuest... Oh wait,, all of those iPhones with iOS 6 probably have to use it.. Lol❕❕ Now that I think about it MapQuest must be really popular...

I dont think that many customers who buy windows phone are aware of how good nokia's mapping solution is. they just think it is bloatware, similar to VZ Navigator. mapquest is a trusted name, so it is probably downloaded often

I've had it since June and used it several times. It's actually a nice program, it uses Navteq maps like Garmin, so it has great maps. The voice nav works well for the around town stuff I've used it for (just moved to a new area a few months ago, so I've used it for finding my way to some new places for the first time), though I haven't used it for any longer journeys.Hell, it even includes traffic rerouting! For the low, low price of free, I have no complaints with it. It's always nice to have an alternitive to Nokia Maps/Drive.

Either way I'm glad WP has it.

Just when I'm on a diet my favourite app gets updated...

Ha. Started a new diet today then saw the Dominos update on my phone. To weak willed to delete the app from my phone but I should...

MapQuest? They still exist?

Hopefully the Dominos app has fixed some of the crashing issues. I had problems a couple of times during checkout and had to revert to ordering in a PC. Happened to me last week when I was trying to use the 50% off pizzas promotion they have been running. Very annoying because it's in one of the last steps, so I was unsure if it actually went thru.

I experienced a crash when I first used the app too. Here's hoping for improved stability of the app.

Unfortunately it has never crashed on me. It takes my order properly every time. That's good for WP, but not so good for me :)

MapQuest has always been the most reliable online map.

Come on, where's your sense of adventure? Get Apple Maps and start driving off of bridges today!

No map quest for me on ativ s with telus. Is it Nokia only or US only?

Must be US only, I can't get it on my Nokia with Telus.

While the interface suffers compared to Nokia Drive+, Mapquest has traffic-aware rerouting. Until Drive+ gets that ability (not My Commute, but on-the-fly rerouting), Mapquest will have a place on my phone.

Waze should be out of beta soon, too.

I found Waze in the store but i "don't have permission to download the app". http://www.windowsphone.com/s?appid=b5d1bd9d-7d67-4b2f-9249-c6db20b861b9

How in the world did you find this❔It appears to be real❕

If only the app had a feature to make their pizza taste better

Dominos also released their WP8 app in Israel two weeks ago, maybe more countries are on their way ?

The Domino's app is a really well designed.

Dominos the most amazing tasting pizza! And my gf family has an Italian restaurant, and all I ate in childhood was ny style pizza but I have to admit dominos tops it. Also does it have option to deliver to business now? All it had was apartment, house, military vase and campus before );

Dominos app is freakin sweet. Hope they fixed apt # entries. I entered it the one time I've used app so far and it didn't go through as driver had to call me to find out where to go in my complex.

Fellow WP'ers, help me trying to persuade ComiXology making a WP app, send them an email. I've been doing it in n a monthly basis, but I'm afraid I'm already known around there. Thanks.

Been doing that since the start. Unfortunately they're devoted Apple fans there. They recently killed the WP DC Comics app they we forced to make under contract, after barely giving it any support for a year.

Yeah, I guessed that much, they're not very polite, nevertheless I've been using their Win 8 app on my Surface RT, it's very mundane, it can't even sort my collection, but it's better than nothing.

http://www.windowsphone.com/en-us/store/app/lindy-comics/f5534c95-e912-e011-9264-00237de2db9e
this comic app works great for me, destroying the walking dead at the moment :)


Domino's, one of the first apps I downloaded when I finally upgraded from WP7 to WP8.

Dominos right next to my gym. literally shares a wall. I use the app every friday. Great when sitting in the parking lot after work, order through the app, and pick up on the way home.

Mapquest doesn't integrate like the rest of the navigation apps, it doesn't show up for you to pick when you choose to navigate. It's a great and simple navigation app though.

Daniel,
You gotta change your profile picture! It makes you look like Ahia Labeouf
Windows Central Newsletter
Get the best of Windows Central in in your inbox, every day!
Thank you for signing up to Windows Central. You will receive a verification email shortly.
There was a problem. Please refresh the page and try again.