Official MapQuest App, a simple navigation alternative, now available for Windows Phone 8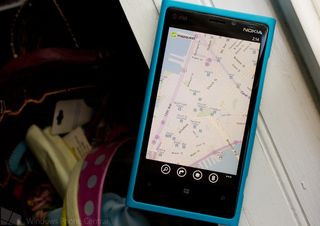 MapQuest is no secret to mapping things out and has thrown it's name on to the Windows Phone Store shelves. The Windows Phone 8 app has voice-guided navigation, real-time traffic conditions, the ability to hunt down restaurants, and a lot more.
I can remember when MapQuest was the go-to website for looking up addresses and the MapQuest Windows Phone app makes a rather nice first impression.
MapQuest is about as simple to use as the old website. Your main page has button controls to search for an address, generate directions, choose between seventeen layers, and turn on the traffic conditions.
Additional features include:
Voice guided turn-by-turn directions
Traffic conditions updated every five minutes
Quick access to recent searches and favorite locations
Satellite map views
Option to create driving or walking directions.
Maps loaded smoothly, directions were generated promptly and overall MapQuest is a navigation option to consider for your Windows Phone 8 device.
MapQuest is a free app for your Windows Phone 8 device that you can find here in the Windows Phone Store.
Via: Windows Phone Blog
George is the Reviews Editor at Windows Central, concentrating on Windows 10 PC and Mobile apps. He's been a supporter of the platform since the days of Windows CE and uses his current Windows 10 Mobile phone daily to keep up with life and enjoy a game during down time.
Not available in the U.K.

Any offline maps? This is the main reason I use Here Maps/Drive. I like to save as much LTE data as possible, especially for distance travel.

I doubt it. I'll stick with here & drive.

Navigon also have offline maps, Lane assist, traffic camera, etc. This app has features similar to Garmin gps and more but dislike the fact that new updated maps cost $39.99 for 2 yrs. I love this app but $39.99 is pricey for update though.

Just downloaded. Put in a sample route, went to setting and noticed tha the "satellite Maps" option was off by default. Assuming its using the maps I downloaded for offline use with Nokia Drive.

You should've mentioned in the article that its only available in US so people like me don't get their hopes up for nothing :(

I'll stick with here maps/drive. Soon drive will be out of beta and will have traffic updates.

Not in this lifetime. It's junk.

Just tried the MapQuest app and it has lists directions and traffic overlay. I wanna stick with Drive but it should have had these basic features months ago...

Sadly, nothing is available in Belgium these days...:(


Its about time MQ started making moves. It is more accurate than google maps and more functional.

I didn't think Mapquest was even around anymore. It was popular in the late 90s.

Oh yeah, they still have features worth a visit. I'm glad to see them on the platform. They were awesome then, they are still just as awesome. I hope they have other tricks up their sleeves we haven't seen yet. What I do miss in Here maps are the written text for turn by turn. Bing still has them but it should be in Here.

Any information about when Waze will be available??

not available in Germany..

Not available in Switzerland.

Yes to bloodclaat. This was the only map app I use when I had an iPhone. I love it....

Not available. Toronto - Canada - Rogers.

trying it out as it we speak..... = ) so far so good!...

FYI...no offline feature. Pretty simple/clean interface. I'll keep it installed for an alternative.

Here have a look at this too, This is the best maps by far I can find for WP.
http://www.windowsphone.com/en-us/store/app/google-maps/b1249c56-ac0f-4b...


weak.. there IS NO Turn By Turn Voice Navigation = BUST

There IS.
Search for the place you want to go to, cick on the location marker > directions > press enter at the next screen > clcik on that small icon at the bottom and see it asks you which app to use for navigation, choose drive. There you go.
Try the options fully before you comment. I just used it on my ride back home today and unpinned here maps frm the homescreen to make way for this, and uninstalled gmaps coz this is way better.

-applause - want a cookie?

This app sucks. You need to quit pimping. And getting to the turn by turn is a pain. Here Maps is way better and simpler to use.

Outside the US, or atleast where I live, one cant find half the places on Nokia maps. This is very useful for such people. Although I cant really see how a couple of additional button presses is such a pain.
Being able to find the place you want to navigate to, instead of just seeing that your query matched no results is already a big improvement.

Spamming? explain how a link to a map app in an article about a mapping service is spam.
Nobody forced you to even read it in the first place. If anything you just spammed on a thread you had nothing constructive to offer to.

Was it just a link or was it the entire context of your post? You decide.

I've still never been able to bring myself to use this service. Years ago when it was one of the first online mapping sites and everyone in the world used it, it was horrible with directions, often sending you in the exact wrong direction, or making you exit off a main road just to turn around and come back on to the same road. This happened to me in college a couple of times so as soon as Google came out with maps, and then Bing, I used them instead. Still having trouble purging those bad memories of Mapquest...

tested... i must say i'm very impressed by its accuracy... def a MUST HAVE unless you live outside of the US... you're F.U.C.K.E.D. son... lmao

I guess it is available only in the US.. well it's published by AOL, so ****!

... And we come full circle... I believe Mapquest was the first online mapping software/website and was powered with what become Nokia. :D

Not available in Australia....hmmm will try when back in NYC

As usual, when you're not in the US, you're screwed. Bing Maps is the only choice available for my 8X...One more reason I'll go back to Android.

Not available in Portugal. Sigh...

Damn them. They released this app a few days late. Where was this app when I was driving around Charlotte over the weekend?

Well wouldn't this have been a great app to have sooner.... as in back in the early 2000s...

The app doesn't register with the OS to be an app that can be used for directions from an address. Hopefully this is fixed.

Not available in Indonesia. Bummer.

Very precise mapping... WASHINGTON DC APPROVED!... Strip Club locator a BIG PLUS!
Windows Central Newsletter
Get the best of Windows Central in in your inbox, every day!
Thank you for signing up to Windows Central. You will receive a verification email shortly.
There was a problem. Please refresh the page and try again.