Maps for Windows 10 updated for production ring with dark theme and traffic hub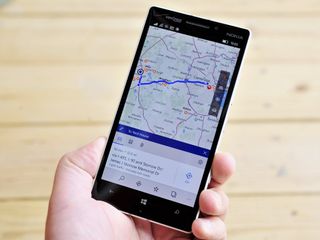 Microsoft has updated its Maps app for Windows 10 on PC and Mobile for people in the production (non-Insiders) ring. It adds the dark theme and traffic hub features that were previously included in updates for Fast ring Insiders.
Here's a quick reminder of what those new features are like:
Enjoy dark or light app colors—they now change to match your system settings. If you prefer your apps to be dark rather than light you can now have the Maps app follow your system setting for theme preference or always be light/dark. Plus you can choose to change the map theme too!
Quickly check traffic for your commute, including live cameras, where available. We have always treated your Home and Work places special and now you can check the traffic to your Home or Work locations at any time. Just tap on Traffic in the app bar and you can see traffic conditions to Home and Work and your most recently viewed traffic cameras so that you can stay on top of the road conditions along your route.
Thanks to Anan for the tip!
Download Maps from the Windows Store
I got this couple of days ago (non insider 950XL)

Updated just now and loving it!

Hopefully contrast has improved with the update. That's my biggest complaint with Maps and gMaps, etc. Medium shades of various colors tend to blend together and are hard to differentiate in some lighting conditions.

Got it today,but before the notification comes in windows central.

But will it route me around traffic like Waze........i think sadly not. Love the UI though, and use it 90% of the time.

The Traffic Hub feature doesn't work in Canada :(

Seems to be working for me.

Traffic hub works for me. My issue is that 1) I regularly get 'Traffic info not available' for anything related to Hwy 401 2) The traffic cameras should support some kind of date/time stamp for accuracy. I've reported item#1 NUMEROUS times to the Feedback hub and its still an issue. Very frustrating considering HERE+ drive never had that issue.

Baby steps. Still way behind. Unless it can route me around the traffic or offer suggestions as I am driving regarding traffic up ahead in route, it is still way behind. There are so many other features Maps should have. This nice, but yawn! We are no better then where we left off with Nokia Drive at this point.

?? Are you kidding? Nokia Maps on Symbian used to avoid traffic. But HERE drive never did. Now Windows Maps ALWAYS avoid traffic. In early versions, we had an option to select traffic in "avoid list" (tolls, etc.). Now it has disappeared, and I understand it ALWAYS avoid traffic. Tested yesterday in Paris area, and it did actually avoid the raffic (accident on motorway), choosing routes à la Waze. This being said, *re-routing* would be nice. But at least, unlike Nokia Maps or HERE, we have alternatives at start, and real traffic avoidance, and not only "traffic awareness" as on HERE for WP.

I think in practice this is hard to make good use of. What often happens is that there's a "main" way to get where I'm going and I get routed away from that. It's hard to know if that's because of traffic or navigation acting stupid. For example, yesterday I was going from the southern end of my city to the northern suburbs (at midday). I was driving towards the main north-south artery and it kept telling me to turn around. I persisted. Lo and behold, there was no traffic. This kind of stuff happens a lot.

You're right. But compared to HERE on WP, it's always better. I've already checked my commute route during rush hours, and midday, Maps will give me the "right"route (validated by colleagues over years) the morning, and the fastest route (in theory) when there's no traffic. Here will always use the fastest route if nobody was on the road, even during mornings. Actually, Bing Maps on 8.1 was ALREADY giving different routes depending on traffic, but there was no voice navigation. Windows Maps can be improved (live rerouting etc.) but at least I can use this app in Paris and suburbs, unlike HERE. Of course people living in less dense areas, where traffic is almost inexistant, could have enjoyed HERE.

Part of the problem is, from what I understand, lack of data. Waze works well because it's widely used and people in real time are reporting on traffic/accidents/etc. There are official sources of data like traffic cameras and whatnot, however that's going to be less informative than something like waze. Mirroring one of the comments below, there seems to be no live traffic rerouting but it does seem to take into account the traffic from official sources when making an initial trip. Furthermore, I guess they could theoretically do live traffic rerouting based on the data they do have access to but it could potentially make things worse by rerouting you into traffic elsewhere that they don't have data on. Unfortunately since google acquired waze, us W10M are left out.

Add maps for Pakistan. I've already upvoted that on feedback hub

Soooo tell Microsoft, whining on a enthusiast site won't make it happen.

I'm not whining on your mom I've done that too. It is not your post.

I was just trying to tell people just trying to let them know that Microsoft ain't listening. That is a bit discouraging to see people are down voting. Don't make me hate this platform thanks

I'm still waiting for my money from that prince. When I get my money, you get maps!

How I love these updates. Now..waiting for .222 witch, I assume, will arrive tonight (The Netherlands) at 19:00.

Compass and map orientation doesn't work well. the compass doesn't point to the north as it should do when moving/driving

When I avoid a turn that it told me to take, at first the map rotates as if I did turn. It's basing that on prediction, not compass.

Great update just need live tile.

I'm guessing he means a live tile that actually gives information, not just scrolls graphics.

Yeah, I can pin the new traffic tile but, what good is it if it doesn't show me my route visually and times, etc. Ideally it should work like Inrix.

And working speed cams pls....

That is illegal in many countries...

I wonder when Maps will have a scale like Bing.com/mapspreview. I don't understand why this isn't a higher priority

Probably because windows maps is actually here, not Microsoft. When Bing maps is a Microsoft product using here data.

That's not actually true. Windows Maps *is* by Microsoft. Here does not make the app. Like Bing Maps, it's a Microsoft product using Here data.

Here is the first listed copyright. It's not simply Microsoft displaying here maps, then it would just be a third party acknowledgement

Sorry, I accidentaly reported your post when I meant to vote it up. :/

Need search suggestion while typing...

Would be good if they remove the status bar of the top to enlarge viewing area. Or just overlap the time on the map.

In which countries is traffic camera view available??? Posted via the Windows Central App for Android

Germany for instance seems to have it.

Hope this fixes gps lost problem, when navigating and later complete phone restart...

One feature I would like to see and can not find is traffic when it is navigating a route. I know I can see traffic when viewing the map, but when I am on the route it does not display traffic. Am I missing something?

Feels like I'm Batman... ;)

Pin route to Start? Anyone?

I have slowly, but surely been moving to use Sygic... Has cameras as well

Are you paying for live traffic information? Otherwise I've noticed that Sygic basically ignores the current traffic status and just guides one through the theoretically most optimal routes.

I personally don't think this feature was ready for production yet. I've been having frequent crashes when using the Traffic Hub from the latest Insider releases. Keeping the Traffic toggle enabled on the main map helps mitigate the issue, but it still happens on a less-frequent basis.

J***** CHRIST!! Local traffic routes and timetables for Finland small town Turku!!! This is truly remarkable and unbelievable. Kudos Microsoft!!!

Sync. With. Bing. Maps. And. Add. Folders. To. Favorites. Posted via the Windows Central App for Android

"We have always treated your Home and Work places special" - when writing a sentence is too tough, how easy must your job be?

anyone have a no gps signal?

Amazing app love it every day
Windows Central Newsletter
Get the best of Windows Central in in your inbox, every day!
Thank you for signing up to Windows Central. You will receive a verification email shortly.
There was a problem. Please refresh the page and try again.