Weekend Entertainment: Listen to Marc Scibilia or watch The Man from U.N.C.L.E.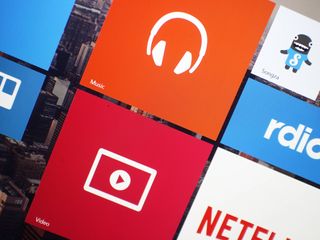 Every week, lots of new stuff drops on Groove Music and Movies & TV, and it becomes hard to keep up. Well, that's where we come in. Every weekend we'll highlight some of the hottest albums and singles on Groove Music.
We'll also let you know what movies and television shows just dropped on Movies & TV for your viewing pleasure. It's the weekend, and we'll help entertain you.
Groove Music
Marc Scibilia - Out of Style
Marc Scibilia is a singer/songwriter who has been active since 2004 and reached fame in 2012 when a song of his was featured on the television show Bones. His new album, Out of Style, is his fifth studio album dropped today and it is easily worth a listen.
After giving the album a full listen, my favorite tunes from the album so far are When The World Breaks and The Moment. Check out the album for yourself and let us know what you think.
Listen to on Groove Music (opens in new tab)
Grandtheft - Quit This City
Grandtheft is an up and coming DJ based out of Montreal, Canada. He has a distinguished sound and often plays his own original mixes when performing. His new album, Quit This City is full of unique sounds that'll keep you jammin'.
The album on has six songs, but each one sounds different from the last. Check out So Wavey and All The Way Up as these are my favorite songs from the album so far. What do you think of them?
Listen to on Groove Music (opens in new tab)
Movies & TV
The Man from U.N.C.L.E.
In The Man from U.N.C.L.E., a CIA agent and KGB agent must join forces at the height of the Cold War in order to take down a mutual enemy. This new enemy is an international criminal organization that is looking to take power from both the U.S. and Russia by mass producing nuclear weapons.
Watch on Movies & TV - $19.99 (opens in new tab)
Do you have plans to watch or listen to something else this weekend? Let us know in the comments below! Also, if you have any suggestions for next week's post you can always hit me up on Twitter @JonDollison. Have a great weekend!
Windows Central Newsletter
Get the best of Windows Central in your inbox, every day!
Sccoby-Doo on Zombie Island is a free rental this weekend in Movies & TV.
Also, Hotel Transylvania is a $0.10 rental.
For the grownups, It Follows is a $0.99 rental. Really good scary movie.

Re: AriesDog,
Where? On Xbox 360, Microsoft Movies & TV? Under what tab? How do you know? Re: Man From Uncle:
It's too expensive, even to own forever.
Just my opinion.
Best Wishes,
Kevin

All movies I mentioned are in the Movies & TV app (which this article is about) on Xbox 360, Xbox One, and Windows 10.

if you know how to torrent without the big brothers sending you a letter, then perhaps you can borrow Man from uncle from the hidden closets of the inter webs.