Marriott looking to bring Netflix, Hulu Plus and Pandora to your hotel room TV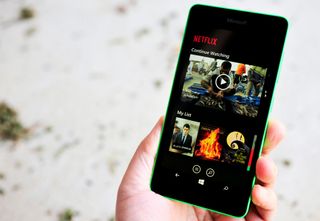 Marriott is about to make your hotel stay much more rewarding. The hotel chain has confirmed to Bloomberg that it is testing a TV service that allows its guests to access streaming content from their own Netflix, Hulu Plus and Pandora accounts. The service is currently being trialled in eight hotels across the US.
Customers can already access services like Netflix on their laptops and mobiles, but by partnering with content providers, Marriott will be offering access to these services directly from a customer's hotel room TV. Marriott is reportedly looking to provide the new TV service at an additional charge to its internet service, or include the aforementioned services in a "premium" internet tier.
The move is said to usher in a new era on in-room entertainment while providing Marriott with a steady stream of revenue in the process. According to John Wolf, a spokesperson for Marriott:
Source: San Diego Source
So will the on demand video games return?

"at an additional charge to its internet service" Of course... I think I'll stick to watching it on my tablet in that case. No, wait, I'll just go to a different hotel where wifi is included in the upfront price..

If I understand things correctly, some hotels do not have HDMI connections accessible on their room TVs? Just a thought regarding watching your own content instead of renting from the hotel.

Yeah, Marriott is most likely on that list as well. They don't have the best track record when it comes to customer satisfaction. Just last year they tried to jam (http://consumerist.com/2014/12/24/google-microsoft-face-down-hilton-marriott-in-fight-over-blocking-hotel-hotspots/) personal hotspots, earlier this year they said they would only do so in their conference rooms. Apparently, they have now dropped the idea completely though.

Not to defend Marriott (gonna do a little), of you are a Gold member then you get free wifi. It doesn't take that much to get to Gold level.

Said to user? Article writer, you mean "usher". Interesting article! I enjoyed it :)

Or take a HDMI cable and a tablet to a hotel with free WiFi? ​

I wish Netflix would look into fixing their app that has been broken for two months. I've paid for a year in advance for nothing so far.

awesome places i have been staying at have hulu, netlix, and the like blocked on thier wifi.

So let me guess: 9,95$ for internet access per day and an additional 9,95$ if you want "unlimited" access to Netflix Hulu etc

This would be considerably more interesting if they had an app for the Windows ecosystem. I have switched over to Hilton because of their support for the platform. Already picked up status with them. I've actually picked a Hilton that was 10 miles out from the office when a Marriott was down the street. :)
Windows Central Newsletter
Get the best of Windows Central in in your inbox, every day!
Thank you for signing up to Windows Central. You will receive a verification email shortly.
There was a problem. Please refresh the page and try again.