Massive Chalice is now available for Xbox One as this month's free Games with Gold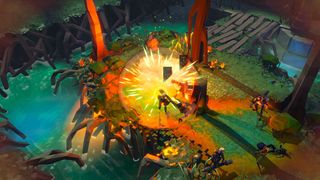 This month's Games with Gold title, Massive Chalice, is now available for your gaming pleasure on the Xbox One. The game joins Pool Nation FX, which has been available for Gold members since April.
Massive Chalice comes from the renowned studio, Double Fine Productions, and it has been made exclusively for the Xbox One. The game is a gorgeous looking turn-based strategy game that takes the course over 300 years. The "300 years" part may turn some people away but it actually plays a huge part within the game.
For example, every decision you make within the game can and will impact the future. Especially when it comes to the Bloodline System. This system gives your heroes randomized genetic code that they could pass along to their offspring through marriage. These genetic codes will be the basis of all of the offspring's traits be it strengths or weaknesses.
Another feature of the Bloodline System is what they call Bloodline Relics. If a hero is looked up as a "hero" once they pass away, their weapon will become a powerful relic. Once a relic is equipped by another house member, it can give them more strength and can also be continued to be passed down from generation to generation.
Speaking of death, one thing that Massive Chalice has decided to do that other turn-based strategies turn away from, is to embrace fully permadeath. This decision means that once a hero has fallen, they can no longer be revived.
Massive Chalice is said to be strongly influenced by games such as XCOM and Final Fantasy, so I'm sure it will grab the attention of those fans. So if you're a Xbox Gold member, you have no reason to not download the game since it is free for you. If you don't have Gold you'll have to shell out $19.99 for the title to add to your collection.
If you've already played the game, let us know if you're enjoying it or not in the comments below!
Massive Chalice - $19.99 (Free with Gold) - Xbox One (opens in new tab)
Sounds pretty kool. Double fine makes good games so ill definitely check it out.

I heard that this game was supposed to be good. I love Double Fine games too!

You know what they say about a man with a massive chalice ;)

He must be really thirsty? Posted via the Windows Central App for Android

Is it a bit odd that no major publications have reviewed this game yet?

I believe that they already have but on Steam

Isn't Windows Central a major publication? ;)

They haven't reviewed it yet either. They just reported it was released.

I hear good things, mainly from comments around here. But, at first glance it looks a little like I won't like it. Gonna give it a go tomorrow. Hopefully one of you guys will stream and/or review it.

I count 4 errors in your 4-word comment. That's almost impressive.

We pay for gold to get free games da give sum fuking shit game

Want a tissue with your tears? Also post once instead of three times, much easier.

Daniel, sadly, in three posts he couldn't out together anything worth reading....

Your value system is the de facto system for us all. Thanks Posted via the Windows Central App for Android

If you're paying for gold to get free games you're doing it wrong. You should be paying for gold so you can use dedicated servers to play games with your friends.

Double fine!
Not much more needs said!

Its a great game. Quit whining.

It's always amusing when they call a game exclusive for Xbox while ignoring it's available on the PC as well (and been available as an early access title for many months). As for the game itself... (bought it off Steam). It was super hyped up a few months back when it was an early access title, and then went quiet. Based on what little I've played so far, it appears to not quite live up to that hype, but that was to be expected I think, and putting that aside, it's a solid little game in its own right.

Nothing amusing about it. You can't buy this on PlayStation would be much more amusing to say, don't you think? Why give free promotion to the competition. You sound like a PC gamer with a bruised ego.

This game sucks ass. Games for gold have to improve their lineup. It seems to me ms are reluctantly offering free games only because playstation do.Also,Just because a game is free,doesn't mean people should be happy about it,like others are suggesting on here

They gave away Rayman Legends- one of the highest rated platformers of the last two generations.

Ta gra jest słaba.. Kolejny raz dostajemy pseudo gry. A komentarze jak "It's good!" Piszą sami producenci gry lub zwykłe boty. :|

Played this for about 2 hours yesterday and it is a good quality game. And well worth the price.

Some of you seem to slate games without playing them. Massive challice is fantastic so far. One of the best strategy games I've played in a long long time.
Windows Central Newsletter
Thank you for signing up to Windows Central. You will receive a verification email shortly.
There was a problem. Please refresh the page and try again.