Massive Chalice is now available for Xbox One as this month's free Games with Gold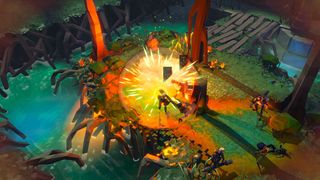 This month's Games with Gold title, Massive Chalice, is now available for your gaming pleasure on the Xbox One. The game joins Pool Nation FX, which has been available for Gold members since April.
Massive Chalice comes from the renowned studio, Double Fine Productions, and it has been made exclusively for the Xbox One. The game is a gorgeous looking turn-based strategy game that takes the course over 300 years. The "300 years" part may turn some people away but it actually plays a huge part within the game.
For example, every decision you make within the game can and will impact the future. Especially when it comes to the Bloodline System. This system gives your heroes randomized genetic code that they could pass along to their offspring through marriage. These genetic codes will be the basis of all of the offspring's traits be it strengths or weaknesses.
Another feature of the Bloodline System is what they call Bloodline Relics. If a hero is looked up as a "hero" once they pass away, their weapon will become a powerful relic. Once a relic is equipped by another house member, it can give them more strength and can also be continued to be passed down from generation to generation.
Speaking of death, one thing that Massive Chalice has decided to do that other turn-based strategies turn away from, is to embrace fully permadeath. This decision means that once a hero has fallen, they can no longer be revived.
Massive Chalice is said to be strongly influenced by games such as XCOM and Final Fantasy, so I'm sure it will grab the attention of those fans. So if you're a Xbox Gold member, you have no reason to not download the game since it is free for you. If you don't have Gold you'll have to shell out $19.99 for the title to add to your collection.
If you've already played the game, let us know if you're enjoying it or not in the comments below!
Get the Windows Central Newsletter
All the latest news, reviews, and guides for Windows and Xbox diehards.