Massive ProShot update is now available for Windows Phone with temporary price cut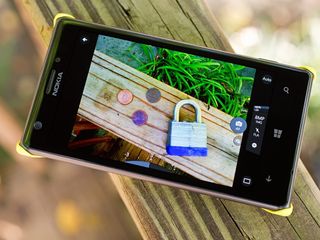 It was only a few days ago when we spoke about an upcoming ProShot update and today it's readily available for download. The massive update introduces numerous changes and improvements to the app which brought the Windows Phone community a DSLR range of controls for their smartphone cameras.
If you'd like a detailed look at what's new in version 5 and are wondering why the team skipped version 4 altogether, be sure to check out our in-depth look at this ProShot update. Here's a quick-glance changelog:
Completely redesigned UI and UX to mimic the dials found on DSLRs
Added front-facing camera support
Added on-screen camera button + tap to focus / tap to capture toggle
Add Image Manager - view, manage, batch export, and delete your original and hi-res photos (internal ProShot images only. Camera roll management coming in a future update)
Increased max burst FPS, burst buffer depth now 30
Press and hold camera button in any camera mode for full-resolution burst
Full-res burst up to 25% faster than Nokia Camera! (30-second test, Lumia 1020, 5MP + 34MP, 1/80s, Nokia Camera: 8 photos, ProShot: 10
ProShot is now the fastest shooting experience on Windows Phone - new dynamic buffer system allows for uniterrupted shooting at the maximum
Significant performance increase in all areas; photo capture, browsing, image processing, and real-time filters
Up to 50% faster frame rate (even with grids, real-time filters, histogram, and 3D level)
Added file size and color / luma histograms to EXIF viewer
Added sharpness setting
Added night scene option
Added more options to the filter editor
Improved shadow recovery algorithm, built-in filters
Faster load time
Optimized to run on 512 MB devices
Can now zoom 50% more into images in the preview roll
New tutorial! Please read it
Over 100 tweaks, fixes, and improvements. This update is so huge we skipped 4.0 and went straight to 5.0
That's not all as the update brings down the price of the app too, which currently sets consumers back by $0.99 until July 1 (usually $1.99). Also, the team notes on the store listing that new features are on the way, including Windows Phone 8.1 support, the ability to delete images from Camera roll, and more.
Thanks for everyone who tipped us on the update rolling out!
Rich Edmonds is Senior Editor of PC hardware at Windows Central, covering everything related to PC components and NAS. He's been involved in technology for more than a decade and knows a thing or two about the magic inside a PC chassis. You can follow him over on Twitter at @RichEdmonds.
Wow that's a huge change log. Good work by ProShot !

Only 5MP???How to Get 12 or 41?

Go to IMG Setting -> size -> turn on Hi-res, then you will see 12 + 34/38 depending on ratio

i only see the 5 mp one still. weird because i saw the 38 mp option in the trial? i hope i'm missing something cos i wouldn't have bought it if i thought it couldn't take high res photos

Which phone are you using? Nokia hides their high-res options from developers, so you have to manually enter support for each model number. Perhaps I forgot to include one of the model numbers? Good news is, it's an easy fix :)

Now it actually works!!! I bought it a couple of days ago, while it was still on version 3.7.2 and it kept crashing all the time, i couldn't even take a shot, but now it seems to be ok :)

Now THATS the kind of change log I wanna see, good job!

Updates awesome. Also be sure to support the dev's uservoice submission to enable starting lenses using the camera button. (after the update, go to settings and you'll find it)

Dang! That's the ONE feature I really needed.

Does anyone else get pink borders around light areas of their images with ProShot? I'm wondering if there's some processing that the default camera app does that is not available for third parties to use.

The pink borders around lights are probably what is known as purple fringing, and I've noticed it mainly on the HTC 8X. Cleaning the lens solved most of my issues. It's really easy to remove using most major camera software (Lightroom, etc).

Ah, I do have an 8X. I'll have to play around with other software because it was a PITA to fix up with Paint.NET, thanks for the tip.

Well it would be rude to not to. Downloading......

If they are putting so much effort, it is a keeper. Purchasing it now.

Tried using it but it crashes randomly and its slower to start than default cam by at least two seconds. Also takes its own sweet time between shots and to process pics after clicking.

Are you using any filters or adjusting the contrast / saturation / sharpness? Those are all post effects, and take time to process. The new buffer system allows you to have uniterrupted shooting even while images are processing.

Awesome app for my 1020. Defo gonna start using this for a while to properly test it.

Okay. No longer works on Ativ S, but still a nice update there. I will sure use it when a new worthy Lumia comes out.

Thank you for the feedback, I will investigate what could be going wrong. Does it produce an error message?

Told me that due to changes in the Firmware the App wont have all features... and then it crashed and crashed after restart of app and reboot of the Ativ S

I see. I'm sorry about the issue, I try to find a fix asap

HI, unfortunately it doesn't show any error message, it just shows loading in the middle & the bottom of the screen and then it closes I'm running 8.1 preview Weird thing is that it actually goes into the app when the main camera is broken on Ativ S (no firmware bug - black screen). There still is a black screen, but it stays in the app. So it may be up to the system.

I might be having the same issue on my Samsung Ativ Odyssey. The app opens with a black screen (loading dots at the bottom of the screen) and then closes back to the app list. This is, also, Windows Phone 8.1 Developer Preview.

Only 7MP max for my 925. Anyway it's very fast.

Switch to 4:3 and you'll get 8.7.

So can someone explain why is this one better then lets say Nokia cam?

Shot to shot speed, filters, timelapse, histogram, level, highlight clip display...
But mainly, speed! Unfortunately, it doesn't include video recording...and it can't be set as default camera.

It crashes before it finish the tutorial, and now I can't open it. I'm using Huawei Ascend W1 (8.1)

Same Problem. Same Phone. :/

It is most likely the same error that is happening on Samsung devices. Please accept my apologies, I will do my best to investigate it!

Not working on my Huawei Ascend W1 (8.1) >.<

nice layout and user interface now..

Nice app but crashes all the time on my lumia 625

Can anyone explain why this is better than Nokia's software? Thanks!

Because the developer is freakin awesome and he actually listens and communicates directly with his users for one. Just go to the 'Loving the Proshot app' in the forums to see what I mean. And the UI is amazing.

Histogram, the image size, UI, time lapse. The only lacking now is that the app can't be the default camera when pressing the camera button.

If you want this app to improve significantly...go to settings, scroll down, then press the 'launch Proshot with camera button' option.
You'll go through to the Uservoice page. Vote for the change :)

Camera 360 or proshot ?
Which one is better

Proshot. Camera360 is just for fancy

Proshot. What you like from Camera360 anyway?

Woha!! Look at the changelog!

This is the FIRST WP8 app that ive ever bought because it actually looked good. Ive always used trials instead.

Will it automatically upload pix to OneDrive?

That setting is in general camera settings. Auto upload camera roll to Onedrive. No matter what camera app you use...

I thought i missed something, zoom! iyey!

I'd love to try it on my 8X

I accidentally bought it.. But nahh.. It's worth it for my Lumia 630 :)

Seems like Nokia Camera still has the major benefit of oversampling. Pity, this app does many other things better.

i thought you could use oversampling by turning hi-res on in the settings? if not i wont buy this

It does oversampling, too :) When you select the "hi-res" option, the 5 / 8 / 10 / 12MP image that gets saved to the camera roll is oversampled from the original 20 / 41MP image.

Oh? Okay, I have to try this. The oversampling is what makes the PureView line so special and powerful.

Hoe do you get full res burst? I'm not seeing that option anywhere on my 1020. Holding camera button doesn't help.

You need to just keep holding the camera button. The fastest burst speeds possible on a 1020 (in hi-res 41MP mode) are about 1 picture every 3 seconds.

https://www.facebook.com/mswindowsphonenews

It was one of the first apps i bought when i had a 720, back then the refresh rate was bad, but i liked the UI, after i bought a 920 i found nokia Camera better, better controls and better image quality, i now have a 1520 and i still prefer the nokia app, and im afraid i dont like the new UI, apart from the speed and level i dont find many advantages to this app anymore....:| even so, i congratulate the dev for constantly update the app.

This is the first app I bought on WP for my 920.. I dislike the new interface though. I take Nokia cam over this.

Can you set out as your main camera app in the settings?

Which produce better image quality results? Nokia Cam or Proshot?

They should technically be identical because they use the same camera API and algorithms

Looks like they finally added support for the lumia 929 its about time but cant say I care

But we all care about this insightful comment. Thanks.

Why does this camera app cause excessive heat, and the native, and Nokia, camera apps dont❔

Are you using the level? ProShot only needs one core to run, and by itself it's about as efficient as you can get on WP, but the level has to run on a 'other' core (so to speak). Since both cores are running, it may cause some heat. Also, filters or adjusting contrast / saturation / sharpness are all post-processes (and not offered on Nokia and native apps), which require some extra CPU time.

Is there a special email or website where I can provide feedback?

Maybe you have the 'Level'-tool activated

I'll check that out thanks!!

As far as I'm aware, all the camera apps use the Nokia camera API so in theory they should take the exact same pictures in terms of quality and light

This is a great camera app now.

Level and all post processing are off. Still my L920 acts like a toaster, not to mention battery drain.

MS should buy Proshot/hire Proshot devs!

ok. Bought this...hope to use it in my future Lumia 1520. Can you set it as default for the camera button ? Lumia 822 here
Windows Central Newsletter
Get the best of Windows Central in in your inbox, every day!
Thank you for signing up to Windows Central. You will receive a verification email shortly.
There was a problem. Please refresh the page and try again.