Mastering three-finger gestures in Windows 10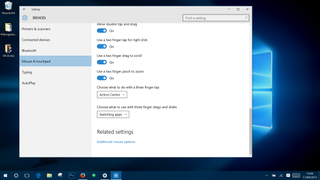 Gestures are part and parcel of using our favorite devices these days. Be it a smartphone, tablet or a laptop, swipes, taps and drags are part of the fabric of the various operating systems on offer. In Windows 10, there are a few quick access features you can enable for when you use three fingers on the trackpad. Not all trackpads may be able to do this. For clarity, we're using a Precision Trackpad on the 2015 Dell XPS 13.
If you didn't know they were there you could easily miss them. Here's what you can do and how you can do it.
1. Open Settings and choose "Devices"
2. Choose "Mouse & touchpad" from the left hand pane
Then in the right hand pane scroll all the way to the bottom where you'll find two boxes relating to three-finger gestures.
3. Choose your preferred settings
Here's a breakdown of what you can do and what each thing does:
Three-finger tap
Search with Cortana - When enabled a three-finger tap on the trackpad will bring up Cortana. Perfect if you either can't use "Hey Cortana" voice activation or if you're in a situation where you can't use it, such as a meeting.
Action Center - Enable this to give quick access to your notifications and quick settings toggles with a single three-finger tap on the trackpad.
Nothing - Turn both of the above off.
Three-finger swipe
Switching apps - this is exactly the same as using Alt+Tab on the keyboard and allows you fast switching between apps you currently have open. Which is better is a matter of preference, but some folks will undoubtedly prefer accessing from the trackpad.
Nothing - Turn swipe actions off.
So, a limited feature set, but still feature adding to Windows 10. If you spend a lot of time using a trackpad either on a laptop or with a desktop PC, these few options could integrate nicely into your workflow.
For more Windows 10 tips be sure to drop by our dedicated page here
Windows Central Newsletter
Get the best of Windows Central in in your inbox, every day!
Managing Editor - Tech, Reviews
Richard Devine is a Managing Editor at Windows Central with over a decade of experience. A former Project Manager and long-term tech addict, he joined Mobile Nations in 2011 and has been found on Android Central and iMore as well as Windows Central. Currently, you'll find him steering the site's coverage of all manner of PC hardware and reviews. Find him on Mastodon at mstdn.social/@richdevine
I don't see that under settings.
Strange.

Only for Precision Touchpads.

It supports. I can bring up all the commands that is mentioned here. Just don't see those options in settings.

Do you have additional software/drivers? E.g. Dell's Touchpad Utilities which are just repackaged/rebranded manufacturer's utilities... On an earlier and way cheaper Dell laptop, I have an application like that, which also configures 4-finger taps and swipes, but on my 2015 XPS 13, I have no "drivers" and utilities and the firmware was last updated months ago - just the built-in settings, which don't have configuration options for 4-finger taps and swipes. Side-effects of having a precision touchpad that is built by Synaptics but uses standard Microsoft drivers on top of firmware (they work very good though, tbh).

Yes. Synaptic drivers are installed. Will check again, thanks.

You have to do it through the Synaptic driver's settings. I have the same thing installed and that is where it is. If you have the icon by the clock, you can get to it that way.

yep that goes the same for aw as the command center doesn't support even the w8 functions Posted via the Windows Central App for Android on WM10

Nonsense. I have the most precision touch pad available in the stores, the Logitech T650, and these gestures just don't work properly at all. The idea that you need a precision touch pad is toot. They seem more likely to work on a rubbish laptop built in touch pad than a precision pad.

Your touchpad must support 3 finger multi touch for that feature, I guess

And it supports, I use them all the time.

Yea, but if your pad is a precision pad and supports 5 point touch you're humped.

Me neither, but I have even more under Advanced ;)

First time I feel I need to upgrade my Windows7 work laptop. Gotta insist with my IT dept :)

Need to add swipe to go forward and back in the browser. Very important feature.

I agree! I miss that a lot and try to use it often out of habit.

Yes, I still automatically try the swipe gesture then resort to stupid arrows. This gesture NEEDS to be returned A.S.A.P. please!

The the finger gesture to do this on a trackpad still exists, but yes the touch screen action needs to return.

I set mine to open the Action Center awhile ago, but forgot about it! That seemed to be the most useful option for me, as I can open Cortana with Hey Cortana. Thanks for the reminder!

And I didn't know I could already do this on my Vaio: https://www.youtube.com/watch?v=gaPrSXEgHnE

My 2013 VAIO lost the ability to do this after upgrading to Windows 10. I suspect they had custom drivers for this as the latest base Synaptics driver does not bring back the functionality. The trackpad is not recognized as a precision trackpad.

Why I don't see these in my settings even though my touchpad is supported for mulita-figure gesturing?????

Because they are pretty broken. I have the most precision touch pad available (Logitech T650) and they are even broken on that. Worked in W8. A victim of the depreciation of touch functionality in Windows 10, I fear.

Excellent! Thanks =). Im going to enable this on my laptop!

I have Asus Zenbook and I don't have these options - I have only Smart Gestures app by Asus which doesn't allow me to use gestures in Edge or Chrome for back / forward and with three fingers swipe I can only switch apps for which I of course use alt + tab combination. #uxfail

I have a Vivobook and although I cannot use gestures for chrome or edge there are a lot of different gestures available for me. 3 finger swipe down for desktop, 3 fingers up for the task view, 4 finger swipe for changing between virtual desktops, 3 and 4 finger taps for Cortana and Action center respectively.

should mention that some OEMs add on top their drivers which "moves" these features in their driver (like Dell) I can do 3 and 4 finger gestures, but I dont have it in the settings like that.​

Same here with Sony VAIO Flip 15. Lost functionality when upgrading to Windows 10.

Not showing up on my dell xps 12

Hmm... There only gesture I feel compelled to make about Windows 10 only requires one finger.

I use a MacBook Pro with bootcamp for Windows 10. Apple's trackpad drivers don't enable much on the multitouch with the exception of 2 finger right click. However, Trackpad++ replaces Apple's driver with theirs and it's much more usable including enabling 3 and 4 finger multitouch. Not sure if it works with all PC's, but it may be worth a shot.

Even the crapiest trackpack when used in Ubuntu has twice as many gestures enabled by default, I was surprised every one of them worked on a MacBook, windows is the only one late to implement this, and then again they are restricting it to their newest shit hardware, bravo Microsoft...

The crappiest touchpad doesn't become a multi-touch touhpad with increased precision censor when you dowgrade to ubuntu. Enjoy your one finger twirls, they're not what people mean by gestures. You need hardware with increased resolution and multi touch to track multiple fingers. Hardware.

lol, anything since 2011 is 5 point multi-touch even in a 200$ laptop, just try it

I have a 2015 XPS 13 which is certified by Dell to be compatible with Ubuntu and yet the touchpad is barely usable in Ubuntu, Mint and other distros. Also, even in Windows it only supports up to 3 touch points. :(

I allready played with a MacBook, but I don't like gestures at all. Not on a MB nor a PC laptop...

"Three finger swipes - this is the same as alt + tab on keyboard" No it's not. There's more to it than that. Thee finger horizontal swipe - quick cycle through apps Three finger swipe up - brings up task view app switching
three finger swipe down minimizes window, three finger swipe up to bring it back

1. I can't see that settings 2. I just need my three finger switching browser tabs back!

Typical. Touchpads get three finger gestures and touch devices get only one gesture, middle finger up.

Any thoughts on this for an HP Envy X2? The keyboard is Bluetooth, so perhaps that degrades this functionality? Just yesterday I spent 2hrs w an HP tech trying to load the synaptic driver, no go. Now I'm wondering if it's not even possible w this machine?

I have an asus x53s and also doesn´t have any of this settings.. but all the gestures that are mentioned on the article where working till i made some changes on my elan control center.. the three finger gesture stop working.. strange but then chage it again to default settings.. and it´s all working again before the windows upgrade it was all drive by three fingers asus smart gesture.. which it was impossible to reinstall afet+r the upagrade, now just running with and ellan oem driver wich it doesnt give me acces to any off the the three fingers settings.. but who cares its all working ;)
Windows Central Newsletter
Thank you for signing up to Windows Central. You will receive a verification email shortly.
There was a problem. Please refresh the page and try again.