MAXNOMIC XBOX 2.0 OFC review: The ultimate gaming chair for Xbox fans
A premium offering with a whole lot to love.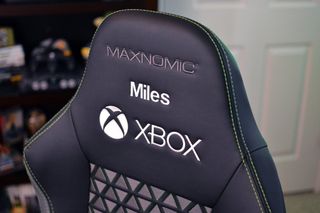 (Image credit: Windows Central )
Shopping for the right gaming chair can be a huge commitment, especially if you're someone like me who spends most of their life glued to it for work and play. In past experiences, I've spent weeks researching the proverbial perfect model that fits all my needs, made the big purchase, and ultimately ended up disappointed or frustrated by glaring shortcomings. This has been the tragic history of my experiences with my last several gaming chairs.
More recently I've had the pleasure of going buns-on with a truly impressive product from MAXNOMIC. This fantastically designed gaming chair packs subtle style, comfort, and loads of ergonomic support into a sturdy, well-crafted frame. While it isn't necessarily "perfect," after several weeks of testing I can safely say the MAXNOMIC XBOX 2.0 OFC is the ultimate gaming chair for die-hard Xbox fans.
MAXNOMIC XBOX 2.0 OFC Gaming Chair
Bottom line: An excellently engineered gaming chair that checks all the right boxes for Xbox fans.
For
Sleek, Xbox-inspired design
Fantastic ergonomic support
Incredible build quality
Against
Armrest positioning slightly wide
Steep price point
MAXNOMIC XBOX 2.0 OFC Gaming Chair: Price and availability
Currently the MAXNOMIC XBOX 2.0 OFC Gaming Chair is only available through the NEEDforSEAT official website and starts at $500. Extra options like custom embroidery and expedited shipping are also available at an additional cost for those interested. A NEEDforSEAT representative also tells Windows Central this item is headed to Amazon in the coming weeks as well.
MAXNOMIC XBOX 2.0 OFC Gaming Chair: What's good
Swipe to scroll horizontally
| Category | GameNameXXX |
| --- | --- |
| Cover material | PU leather |
| Inside material | Cold cured foam |
| Armrests | 4D Armrests |
| Seat bottom | Flat seat cushion |
| Weight capacity | Up to 285lbs |
| Price | $500 |
One of the biggest draws of the MAXNOMIC XBOX 2.0 OFC Gaming Chair for many potential buyers is likely the Xbox-centric branding and design. As an official collaboration with Microsoft, this premium chair sports eye-catching Xbox logo embroidery on the front side of the headrest and the rear side of the backrest. I truly appreciated how this branding was incorporated in a way that doesn't feel overbearing or tacky. It's a versatile chair you can proudly display at home or even sneak into an office environment somewhat inconspicuously.
I often speak of my preferences for clean, minimalistic design with my gaming accessory reviews and that's likely why I'm so pleased by the sleek aesthetic presented with the MAXNOMIC XBOX 2.0 OFC Gaming Chair. While the palette is primarily gray and black, the green stitching featured along the sides and interwoven in the seat cushioning adds a nice pop of color. For an extra splash of personality, you even have the option to add custom embroidery to your headrest. I kept it simple with my name, but a Gamertag or online persona would be a great fit here.
For my needs, the most important components of a good office or gaming chair are overall comfort and ergonomic support. The XBOX OFC 2.0 delivers firm, yet agreeable seat and back cushions with just the right amount of give. While the density of the material used for these cushions may be on the stiffer side for some, I respected the fact that it never felt like I was sinking into my seat. This sense of reinforcement carries through beautifully when it comes to ergonomics as well. With an intuitive design and a dial to adjust the intensity of lumbar support, I was able to sit in this chair for more than 10 hours a day without lower back discomfort.
There are also some rather neat extras included with the MAXNOMIC XBOX 2.0 OFC Gaming Chair that add to the general sense of comfort. A detachable soft, plush headrest pillow quickly became a staple in my use case as it conveniently cradled my head, helping me maintain better posture. In addition to this cozy pillow, the included 4D armrests provide immense amounts of flexibility with height, horizontal angle adjustments, and left-to-right sliders. And unlike other armrests I've used in the past, these are constructed of a durable condensed foam that doesn't snag without feeling like hard, rough plastic.
Another element of the MAXNOMIC XBOX 2.0 OFC Gaming Chair I was thoroughly impressed by was the build quality. This chair boasts a strong, sturdy frame with plenty of weight to it. This certainly doesn't make it the easiest piece of furniture to maneuver around the house, but once in position, there's no denying the engineering prowess of this excellent product. When grabbing the backrest to pull this chair around my office I never felt any noticeable give. This is an area where models I've used in the past have felt somewhat cheap or flimsy. In my tests so far, this is one of the most resilient office chairs I've had the pleasure of using.
MAXNOMIC XBOX 2.0 OFC Gaming Chair: What's not good
Admittedly, my list of complaints about the XBOX OFC 2.0 is rather short, but there are a couple of legit criticisms that potential buyers should be aware of. First off, while I generally praised the amount of customization provided by the armrest controls, I did find the overall placement of them quite wide for my build. This might not be an issue at all for some users, but even with the armrests pushed in as close as they could go I was forced to assume a slight chicken-wing stance to get my elbows to sit comfortably. This certainly wasn't a deal-breaker for me, but it was the one area of the chair's design I'd describe as awkward.
Another factor that will undoubtedly be tough for a wider audience to swallow is the price tag, which is fairly steep. This is a premium product with a host of premium features, but at $500 this isn't something I can recommend to the average user. I don't think $500 is unfair for the quality I've experienced with the MAXNOMIC XBOX 2.0 OFC Gaming Chair, but there are some tried and true manufacturers like Secretlab that offer similar features for slightly less.
MAXNOMIC XBOX 2.0 OFC Gaming Chair: Competition
Secretlab consistently delivers phenomenon premium gaming chairs with fantastic reviews. At $400 the Secret Lab Titan 2020 remains one of the best options for luxury office seating and currently stands as the "Best Premium Pick" for our best gaming chairs of 2021 list. While it doesn't feature the same sleek Xbox-centric design, this is another meticulously constructed option with superb build quality and a comparable list of impressive features.
The Razer Iskur is another premium gaming chair that's bold enough to flaunt a $500 price tag. However, if you are in the market for one of the most comfortable gaming chairs our team has tried and want the same emphasis on lumbar support and ergonomics, this is absolutely a model to consider. The 4D Armrests on this model also alleviate my main complaint with the MAXNOMIC XBOX 2.0 OFC Gaming Chair.
MAXNOMIC XBOX 2.0 OFC Gaming Chair: Should you buy it?
You should buy this if ...
You want a well-crafted premium gaming chair
You want a product with great ergonomic support
You appreciate the minimalistic, Xbox-centric design
You shouldn't buy this if...
You are shopping on a budget
You want more narrow armrests
You don't have someone to help you carry it up the stairs
Despite its shockingly high price point, the MAXNOMIC XBOX 2.0 OFC is a genuinely remarkable gaming chair, especially for Xbox fans. If you're in the market for premium quality and don't mind paying for it and want to represent "Team Green" in your home or office, I can't recommend this product enough. Although, if $500 is asking too much or the Xbox branding isn't a selling point for you, there are plenty of other solid options on the market to consider.
While there isn't a great deal of competition when it comes to premium, Xbox-branded gaming chairs right now, I'm not exaggerating at all when I say the MAXNOMIC XBOX 2.0 OFC is the ultimate gaming chair for Xbox fans. With top-tier build quality, firm yet supportive comfort, and excellent attention to ergonomics, there's a lot to love outside of the sleek design aesthetic. Price will be the biggest barrier for many here, but if you're willing or able to shell out the $500, you will not be disappointed.
Windows Central Newsletter
Get the best of Windows Central in in your inbox, every day!
Miles Dompier is a Freelance Video Producer for Windows Central, focusing on video content for Windows Central Gaming. In addition to writing or producing news, reviews, and gaming guides, Miles delivers fun, community-focused videos for the Windows Central Gaming YouTube channel. Miles also hosts Xbox Chaturdays every Saturday, which serves as the Windows Central Gaming weekly podcast.
$500 though? I don't know if I could justify.

I have a different version of this chair from them. Wish I had this one instead for the adjustable lumbar support. Mine does not have it and it is rough
Windows Central Newsletter
Thank you for signing up to Windows Central. You will receive a verification email shortly.
There was a problem. Please refresh the page and try again.