May Patch Tuesday update causing boot issues for some Windows 10 PCs
By Dan Thorp-Lancaster last updated
The first cumulative update for April 2018 Update PCs is causing some nasty bugs of its own.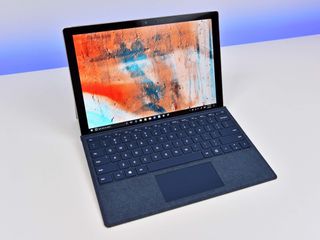 Microsoft this week issued its first Patch Tuesday cumulative update for PCs on the recently released Windows 10 April 2018 Update (version 1803). But while the update fixes several bugs present in the initial public release, it appears to be causing some issues of its own (via Windows Latest).
A number of users have reported that installing the Patch Tuesday update is causing their computers to be unable to boot. The problem doesn't affect everyone, and it's unclear how widespread it is or if there is a common theme among those affected. However, a large number of users on Microsoft's Answers forum say they've hit the same issue while trying to install the update.
At the time of this writing, Microsoft hasn't responded to the growing thread of reports.
This isn't the first problem to crop up with the April 2018 Update since its release. Earlier this month, Microsoft acknowledged an issue causing PCs to freeze when using Chrome and other apps. A fix for the problem was expected as early as this week's Patch Tuesday update, but it ultimately wasn't included in the release notes (Microsoft has updated its release notes, noting that the fix was included).
If you do find that your computer is unable to boot after installing update KB4103721, the recommended fix is to roll back to a previous build. We'll update this post with more information if Microsoft provides an official workaround.
Dan Thorp-Lancaster is the Editor in Chief for Windows Central. He began working with Windows Central as a news writer in 2014 and is obsessed with tech of all sorts. You can follow Dan on Twitter @DthorpL and Instagram @heyitsdtl. Got a hot tip? Send it to daniel.thorp-lancaster@futurenet.com.
Just failed to install for me

Not surprised. It's usually a hit and miss for me with any cummulative update

You mean quality updates?

Windows retried and installed successfully this time

I saw the chrome and other apps freezing fix note in the patch Tuesday release notes. I think the bugs may be affecting older PCs as I was able to install it on my 8th gen Intel PC without a hitch

Yeah, the notes were updated later in the day.

And apparently there is NO WAY to stop Windows from installing these updates and restarting the computer. Except turn off the computer or disconnect from internet... This auto updating policy is the most frustrating thing with W10. An admin user should be able to control this better/easier.

No, Microsoft knows what's good for you.

The previous way updates worked would lead to users not updating their machines leaving vulnerabilities unpatched therefore Microsoft has taken it out of the hands of everyone. They only give the ability to only postpone updates in the Pro version, Home users have no choice.

I had a blackscreen (after loggin). I took about 1 hour to open my session… just waiting

Yeah, since explorer.exe has no competition, it just starts racing against itself.

Ye did for me on aver swift 1 just see circle dots constantlly curcling had to revert back and update

May updates worked fine on Surface Book and Surface Pro 4 with the 1803 update on them (no serious issues). Have a 2008 R2 server that went fine as well with the May and April updates both. So I have a sample set with newer and older hardware that is so far so good.

Got the patch, all running as usual but who knows the situation in the morning. But yes typing this so it seems to be OK.

Microsoft should have waited a few more weeks to iron out more of the bugs before they released the April 2018 update. My laptop prompts me to setup a pin every time I log in - though doing so doesn't work on my system. I get this hidden File Explorer window titled "Microsoft Account" that shows on my taskbar. I still get the low disk space warnings for the recovery drive. And, I can no longer see any of my other computers in the Network area of File Explorer. And these are just the bugs that are visible enough to be annoying.

Setup the pin on startup, then on Settings - Accounts remove it.

both my laptop and Alienware PC is getting the black screen. I used restore points on both and that worked luckily. also disabled Windows update completely via RUN > Services.msc to avoid updating till the fix patch they are working on.

Leave it to Microsoft to screw it up.

Paradoxically I got a black screen after I removed the update, but it just took a longer time to prepare the PC to a functional state. I may have turned off the PC a few times too, because I thought it was bricked. My original issue was less fatal and somebody may know a solution. After the update I could not connect via VPN and Remote Desktop to my computer at work, which also runs W10, but it's not the latest build. I do not have the bug description, but it mentioned some function was not present, an encryption, Oracle, and yes, a link to MS article with a possible additional information. But I was in a hurry to restore the PC and get RDC work again :( Which it does now and I paused the updates for a time being. Anybody had the same problem? What's a fix for this? Thanks.

Any time MS rolls out a major update like April 2018 you have to reinstall the VPN client along with the correct drivers if you have older printers e.g. Hp2200D) ............ why it does not carry-over these drivers beats me.

If you have Advanced System Care installed, shut down and disable the Advanced System Care 11 service, reboot and then install the cumulative update. Worked like a charm! I suspect there may be other software with conflicting components. If you have the black screen, booting into safe mode will begin the rollback of the update, but you'll have to repeat that step at least twice...once booted fully into Safe mode, reboot into Windows and install the update. You can re-enable the service after.

Interesting, I did not consider Advanced System Care as a problem as the original April 2018 update ran like a charm for 2 days and my PC was booting almost instantly. It was only the *** update KB4103721 that casued an issue. Blocked it with "wushowhide" app and now have updated turned off for 35 days until MS sort it.

I didn't hava any issue maybe because I'm still using a HDD not a SSD.

Mediocre quality as always. PATHETIC! Another junk update tested by guinea pig insiders.

it's affected 4 x of my machines. I've had to do a clean install of windows 10 pro on the first machine to fix it - I'll be doing the same over the weekend for the other 3

My Sony F-Series laptop (4-core i7 @2.2Ghz, 8GB RAM, 500GB HD) was rendered unusable by the May update. I thought it was totally bricked at first, but it just runs so slowly I thought it was. Once I realized what was happening, I tried to let it run the course. After 22 hours, 20 of which is waiting at the personalized settings screen logging in as a "different" user because I had already waited over 10 hours for my usual login without success, I am trying to get to safe mode. So far I've been waiting about 30 minutes. While the safe mode screen is displayed, any attempt to interact with the task bar or start menu just brings the spinning wheel. This was as far as I ever saw my normal login get with the standard desktop, as well. After about 10 hours at the black screen with nothing but a cursor, the desktop eventually displayed but with no icons on the task bar and no interaction from the start menu. Hard drive light is busy, busy, busy. I can connect to the hard drive from another computer and still access my files, so Windows is running after a fashion, but I can't get task manager to help me (says no processes are running), and can't attach to event log remotely (firewall not set up for that and can't get to firewall). If I can't get to something with safe mode today, I suppose I revert to a restore point and see how long that takes. My suspicion is something has gone very wrong with a driver update. I personally don't like the new update policy for Windows. It assumes they deploy perfect solutions and the rest of us are too stupid to protect ourselves from the vulnerabilities they allowed in their software. I have certainly lost more time in my career by orders of magnitude dealing with problems caused by updates than compromises. In fact, all but one of the compromises I've ever dealt with were on machines running Microsoft antivirus solutions. Hmmm. So in reality, what I really need is something to protect me from loss of use of my equipment caused BY Microsoft.
Windows Central Newsletter
Get the best of Windows Central in in your inbox, every day!
Thank you for signing up to Windows Central. You will receive a verification email shortly.
There was a problem. Please refresh the page and try again.