Mehdoh updated to version 3.2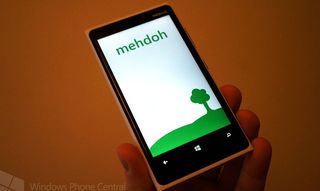 Why it was only a few days ago that we saw Mehdoh updated with some cool new features to make it Windows Phone 8 friendly. Seems like developer Chris Field isn't content to leave it there, as today were seeing yet another bump for the popular Swiss army knife of Twitter apps.
While the last update brought with it all kinds of goodness this one is mostly fixes, here is the latest change log:
Rate limit screen (under settings)
Fix for tweeting emoticons
Fix for maps on geotagged tweets
Fix for fetching older mentions
The first change deserves a little mention, with the new Twitter rules they have clamped down quite heavily on what are known as rate limits. What this means is that an app can grab more data less frequently. Essentially this now restricted to fifteen refreshes of your timeline every fifteen minutes. The developer has added a section in the settings menu to show you the statistics of that.
The app is available to download and update from the Windows Phone Store here or you can scan the QR code below for the same result.
Get the Windows Central Newsletter
All the latest news, reviews, and guides for Windows and Xbox diehards.
One of THE best Twitter apps out there. A very well-designed, highly customisable, and insanely fast app. Don't worry about the lack of trial version. The app is definitely worth buying. And the dev is very responsive. If you have any feedback, feature request, or would like to report a bug, shoot an email/tweet and the dev will get back to you right away.

I'm a cheapskate and don't spend money on apps. This app is the exception. It is worth the money. The best twitter app in my opinion.

Can you set an individual user to push their tweets?

Shame the offical app doesnt contain the fix for tweeting emoticons or the fix for it randomly closing, but i used mehdoh on my lumia 710 and it was a decent app might re download it on my 920 and give it a try with the new updates

I see still version 2.9, is that because I have WP 7.8?

Yes, all the updates from 3.0 and upwards are only for WP8 we are stuck with 2.9. I have sent a couple of tweets regarding this but no answer. My worry is that they wont update for 7.8 anymore. A lot of developers are doing so. Im afriad my brand new lumia 7.8 was dead the minute i pullled it out of the box.

You are wrong. I've seen the dev tweet that an update for 7.x will be arriving soon.

Yep, correct. 7.x is also in progress. I am just one person, I can only work on one thing at a time. Not sure why some people seem to think I can magically work on several things at the same time.
There was a massive change in the WP8 version in that it moved to the Twitter 1.1 API. I want to make sure that's at least relatively stable first before working the code from that over into the WP7 version of Mehdoh (and make no mistake, they are two different apps!)
WP7 users really are NOT missing out on anything at present from Mehdoh! So far the updates for WP8 have been, Twitter 1.1 (which is incredibly rate limited), fix for emoticon support (not relevant to WP7), lock screen title+notifications (WP8 only, not relevant to WP7), lock screen wallpaper (again, WP8 only), and a rate limits screen (only really relevant to Twitter 1.1)
So as you can see, there really is nothing of interest for WP7 users in these updates yet. The WP7 version will be upgraded to have Twitter 1.1, obviously, otherwise it won't work post March.
Funny though, how developers are expected to support WP7 even though Microsoft has ditched it.

Is there a setting in the app wherein first time timeline refreshes or any refreshes for that matter would not move your timeline to the most recent tweet? This is the only major factor why I can't use Mehdoh as my daily driver. Thanks.

The updated version is good as ever. This app is getting better. Really, worth the try. - AflacAssist.com