Twitter app Mehdoh updated: Windows Phone 8 never tweeted so good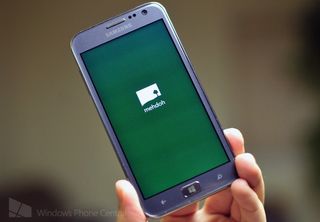 Windows Phone is blessed with some of the best Twitter apps on any platform, one of the heavyweights is undoubtedly Mehdoh. A sleek totally metro app that simply packs in tons of features for your social networking needs. The app has just got another update.
While Windows Phone has plenty of on-board social networking potential little can beat a dedicated app for folks who need that little bit more. We take a look at the latest version of mehdoh, join us.
The app was recently updated to accommodate Windows Phone 8 but the latest set of enhancements brings the following abilities to Mehdoh.
First of these is that Mehdoh will now set your lock screen wallpaper, in this case of it creates a mosaic of the folks you follow on Twitter. The use of smaller tiles for each person in the mosaic means a dense patchwork of faces and it looks pretty cool.
The update also bring with it the ability to set lock screen notifications and if you really don't want to miss a thing, detailed notifications too. The recent bump brought with it voice commands but theis functionality only worked for UK English. This has now been updated to allow voice commands for US speakers too.
You can simply hold down the windows key and say "Mehdoh, new tweet" and it will take you right where you need to go in one swoop. Other commands include, compose, reply, show trends and who I should follow. You'll also pick up the ability to view + refresh instagram user profiles and some fixes here and there.
We like where Mehdoh is heading, Chris Field has worked hard to create a minimal, elegant Twitter client for Windows Phone. In a market that is full to bursting point with Twitter clients Mehdoh continues to stand out from the crowd. We're pleased to see Chris continuing to support Windows Phone 8 and fold in some important new features.
If you want to download and try and buy the app you can do so from the Windows Phone Store here or scan the QR code. If you already have the app and haven't got the update notification, simply follow the same link and it will prompt you to update from there.
Great update. What happened a while back when this got taken off the marketplace? Only noticed it was back because of WP Central. :-)

I would love to TRY this but, I don't follow twitter like I do facebook so I guess I will stick with gleek (it was free at one point so I grabbed it)

I hate it when good apps are not avail. in my country *sigh*

Change ur region settings?

Ah! Didn't think it'd work! Thanks!

Easily the best twitter app for WP8, imo.

I installed Mehdoh when 3.0 was available a couple of weeks ago, not sure if it's an overall improvement swapping from Windows Phone 7.5 to 8, but this is so quick to load and refresh... staggeringly better than the last time I gave it a go.

The only question about voice commands is how do you exactly pronounce "Mehdoh" anyway. Is it "mee-doe" or "may-doe" or something else altogether???

I believe it's like "meadow", as in a piece of land covered in cultivated grass... :)

...like a place where lots of birds would be tweeting

Meh - as in unimpressed; Doh - as in Homer Simpson

Hmm...thanks guys. You'd think I would've figured that out [red-faced]

I've used Twitter, Rowi and MeTweets and each of these apps have small issues or are missing features. I'm trying Mehdoh for the first time and so far it looks like the best twitter client! $0.99 well spent! keep up the good work!

Sorry, I have to disagree. I've been on the WP platform for a month now and you guys haven't got a decent Twitter app at all... I've really been disappointed, to the extent that I'm going to have to write my own because the talent in the Twitter pool is light....

Please make sure you let us know when your app will be available. Also would you like a wish list of features that should be included? I use twitter a lot and would love more choices.

Interesting perspective...what things are missing from existing apps that you crave so much? I'm not a twitter "poweruser" I wouldn't say, but I've found at least one app that fits all my needs.

I'd like to know what features we have been missing out on, so we know what we have to look forward to.

Mehdoh is great it was my main twitter app on wp7.5 but now with gleek being so smooth I'm really back and fourth between the two. I guess it's a good problem to have.

I'm going to have to give this a go. I've been using MeTweets because I love the features and interface, but it's painfully slow to load tweets if I haven't used the app in several hours.
Question - does Mehdoh also display replies when you view a tweet?

Plus 1 on whether this lets you see the # of replies to a tweet. And # of retweets and # of times it was favorites?

Number of retweets yes, number of favourites, no.

"Question - does Mehdoh also display replies when you view a tweet?"
Unfortunately not. This is something that was undocumented in the 1.0 version of Twitter's API, but they have removed completely (or just made it private for themselves) in the 1.1 version (which Mehdoh uses).

OK, I'll try it since it looks nice. Still haven't figured out what people use Twitter for but maybe this will help. I have some followers but nobody I know seems to write anything that I can follow. Guess I have to find some interesting celebs or interest groups something. Haven't thought of any yet tho. :)

Follow me, I'm interesting :) @J4rrod Really though if you're into Microsoft/Windows stuff, follow me and I'll "introduce you" to some people who share your interests.

Can anyone tell me if you can add lists to your homescreen and swipe through them like you can with Rowi? I like the look, but I LOVE that functionality and wouldn't want to waste 99 cents if it doesn't have it.

Yes you can put lists on your home screen.

Many thanks to the devs of this app. My understanding is it has been a rough journey and were fortunate to have them still committed.I still find it strange people wondering about wasting the .99 on ANY quality app. while they polish off another double cheese burger off of the mcdonalds dollar menu,smh

That new grilled onion cheddar burger is pretty dang good, though.

Does this app read Tweets to you (text-to-speech)? If not, is there an app that does ths?

i'd like to know why 99% of the twitter apps in WP can't add the feature that remembers your last read tweet and everytime you open the app, whether from a frozen state or fresh, you're placed right where you left off. ROWI is the only one that does this perfectly. not real sure why ROWI isn't the ONLY app anyone uses.
guess it depends on how you use twitter, but i like to "not miss stuff" and if i can't get around to reading for a few hours, open up the app, am only allowed to read 15 or so of 70 new tweets due to time, no other app will remember your last place.
Windows Central Newsletter
Thank you for signing up to Windows Central. You will receive a verification email shortly.
There was a problem. Please refresh the page and try again.