Microsoft is bringing the metaverse to Microsoft Teams with Mesh in 2022
Personalized avatars and mixed reality are merging with Microsoft's popular collaborative software next year. Here's what that means.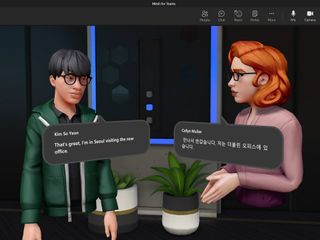 (Image credit: Microsoft)
What you need to know
Microsoft is announcing its Mesh platform for Microsoft Teams.
The new tech lets you use your webcam to create an animated avatar for online meetings.
Microsoft and Accenture are already using the platform as a virtual campus called the Nth Floor.
Mesh for Teams coming in early 2022 and is part of the 'metaverse' push by technology companies.
The "metaverse" concept has been around since 1992 ever since Neal Stephenson referred to it in his book Snow Crash for a 3D world with avatars as alternatives for real people. But the term is being thrown around in 2021 faster than big data, Artificial Intelligence (AI), Blockchain, NFT, and Internet Of Things (IoT). Heck, even Microsoft CEO Satya Nadella is now talking about it.
That makes Microsoft's Ignite announcement around Mesh coming to Teams in 2022 seemingly trendy, but in fact, the company has been working on the technology behind it since 2010 with ground-breaking HoloLens headset.
Announced in March of this year, Microsoft Mesh is a form of "holoportation" that lets groups of first-line works remotely collaborate on technical projects through its HoloLens platform. But today, the company is moving forward with that concept to "knowledge workers" by bringing Mesh to Microsoft Teams starting early next year.
What is Mesh for Microsoft Teams? In its earliest stages next year, it is simply an avatar that you can design to represent you in online video meetings. And no, a $3,000 Microsoft HoloLens 2 is not required, nor even a Mixed Reality (MR) headset. Katie Kelly, a principal project manager at Microsoft, working on Mesh for Teams, explained it in today's press release:
The concept falls back to Microsoft's goal with Teams to let people more closely work together when remote but addresses ongoing issues with work-from-home scenarios. Microsoft cites ongoing research (opens in new tab) that shows people are more engaged with video during online meetings, for probably obvious reasons. But some gripes lead to people flipping off their cameras, too, whether it was just burnout from too many video calls, not wanting to change attire for the meeting, or maybe even the urge to multitask while not looking distracted.
Substituting your live image for your avatar that animates based on your voice and movements acts as a buffer to those grievances while letting your team know you are present and engaged. At the very least, it's a lot better looking than a static bubble with your initials.
Microsoft Mesh for Teams is not just a concept, either. Microsoft describes its work with Accenture, which has "more than 600,000 people serving clients all over the world," and its use of Mesh for Teams. Microsoft and Accenture created the "Nth Floor," which serves as a virtual campus letting employees gather for coffee, presentations, parties, and other events no matter their actual location. Later, the same technology was adapted for onboarding new employees.
A realistic virtual reality?
What is interesting is the news for Mesh for Microsoft Teams is that it doesn't feel like some far-fetched concept akin to Facebook's recent announcement with Nintendo-level corniness. Using existing technology like office webcams and Teams to create animated avatars is a logical first step — whether on a phone, tablet, or PC.
Of course, down the road, maybe we'll all be sporting MR and VR headsets to show up to the morning management meeting while floating in some computer-generated fish tank. But for now, Microsoft's use of Mesh for Teams feels achievable. As Microsoft's Katie Kelly remarks:
Still, the overall buzzy-ness of "metaverse" does feel a bit overplayed, but maybe it is also the way to make AR and VR click with people, as clearly the application for consumers is lagging.
At the very least, Microsoft will make using its Teams software for video meetings a little less monotonous next year. Pajamas, messy hair, no makeup, all while multitasking when Barbara and John ramble on about those TPS reports? Sign us up.
Windows Central Newsletter
Get the best of Windows Central in in your inbox, every day!
Daniel Rubino is the Editor-in-chief of Windows Central, head reviewer, podcast co-host, and analyst. He has been covering Microsoft since 2007 when this site was called WMExperts (and later Windows Phone Central). His interests include Windows, laptops, next-gen computing, and for some reason, watches. Before all this tech stuff, he worked on a Ph.D. in linguistics, watched people sleep (for medical purposes!), and ran the projectors at movie theaters because it was fun.
The woman in the center square looks like Chloe from 24. I'm not surprised that she's at the center of this kind of technology. Using her computer and antisocial, acerbic wit to keep Jack Bauer and the world safe for over a decade...

The guy above her looks like Lin-Manuel Miranda. That's all I have to say about that.

Microsoft should buy vrchat. That would be huge. And then release lots of VR games in vrchat

And a Hololens for public consumption. Yes Daniel, I still want a Hololens that does not cost thousands of dollars. :-)

As long as my Avatar can be Master Chief (or Batman) I'm all for it. Probably not however due to copyrights. Sigh.

That's what licensing is for!

Soo, looks everyone really has gotten IMVU syndrome lol.... The downside of the convenience of video meetings is that people are now scheduling way too many of them.... T_T. It's worse when they use create outlook invites but have not set the locations as Teams for example. Or they panic and create too many via teams calendar because it takes so damn long to show up on the calendar on Teams and Outlook lol. Microsoft should add the ability to hyperlink meeting links when selecting Zoom as a location. So if you select Zoom as a location, a dialogue box pops up to prompt users to put the link for the zoom meeting in there. Then use URI (O/S) to auto load the Zoom app or navigate to web version if the app is not installed. That would prevent another gripe of video meetings - people forget to add the link for the meeting in the calendar invite. Thankfully though this is getting less frequent as people become accustomed to remote/hybrid working but still it would be extremely convenient. Especially for users with very low IT proficiency (*cough* most managers *cough* and *cough* department heads *cough*).

Love the idea of supporting links as the location (and having them work directly from the built-in Outlook "Join" option): this would also solve the problem where you want to modify the link for an already-scheduled Teams meeting, which is common if you have 1 meeting that you want to run long and have the attendees change part way through, but with some overlap. I need to do this frequently, but there is no way for users who have become accustomed to just hitting Join, rather than digging into the email/calendar invite body for a link.

Happy to hear / read someone else will also find this useful :).

OMG! This brings me back to my Avatar Kinect days! My friends and I had so much fun with that. Here's one of the videos we made. To have this in the modern era would be fantastic! https://youtu.be/SgS9zZ6Tcqo
Windows Central Newsletter
Thank you for signing up to Windows Central. You will receive a verification email shortly.
There was a problem. Please refresh the page and try again.