Messaging Everywhere pulled from Anniversary Update, but will live on in new Skype Windows app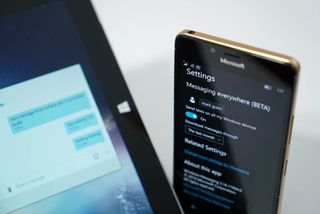 Alongside announcing a new build for Insiders, Microsoft today has announced that they are planning to pull support for SMS texting via the Messaging app from the Windows 10 Anniversary Update to focus on bringing a much better experience to the Skype app. This is sad news indeed, especially for Windows phone users, as it means we will no longer be able to sync text messages between PC and phone.
From Microsoft's official blog post:
As mentioned in the blog post, SMS from the desktop will still be possible with Cortana, however there will no longer be a dedicated Messaging client that will allow you to read and view other SMS conversations from your PC, synced via your phone. This is unfortunate, as this was a feature that allowed easy SMS texting without the need of picking up your phone.
Microsoft has originally tried to merge Skype into Messaging, but later pulled the feature in favor of a new Skype Windows Store app currently in development. That meant for the Anniversary Update SMS messages and Skype would require two different apps. Now, Microsoft is doing the reverse and evidently going to try to put SMS into Skype, which should be interesting.
The Windows 10 Anniversary Update is around a month away from official release, meaning there's just a few more weeks of development before Insiders get the final bits for testing. In that time, make sure you're downloading the latest Insider builds and providing feedback to Microsoft!
Windows Central Newsletter
Get the best of Windows Central in your inbox, every day!
Zac Bowden is a Senior Editor at Windows Central. Bringing you exclusive coverage into the world of Windows on PCs, tablets, phones, and more. Also an avid collector of rare Microsoft prototype devices! Keep in touch on Twitter: @zacbowden.
Take everything good out of the builds and make us wait as much as you want that's Microsoft :)

Can't believe they are dropping my most used feature, gutted - What does this mean for Android users in the future too, will they be able to sync up SMS between Skype and their phone

I'm not on an insider build, but this was the one feature I was looking forward to. I was so excited to use it with my Surface.

I am not an insider either but I follow the builds. This is the only feature I was looking forward to. I frankly can't think of any other features for the anniversary update. Oh the ink anywhere thing that won't work because my Dell Venue Pro is terrible for pen support.

So if they're working on Skype app to deliver "a great messaging everywhere experience" then does that mean that SMS through Skype will be possible?

Skype BETTER be able to handle SMS or MS will really have made a giant blunder...

Skype might soon be able to handle SMS on iOS/Android as well, making "messaging everywhere" truly everywhere, not just Windows devices.

That is a very, very good point.

We don't use sms in Italy anymore but it's really stupid from MS to remove this feature since it was working good.

Tha'ts probably a big part of their decision. It really should be integrated into Skype to drive skype user base as well.

This is a huge blow to be sure, but on the positive side, the Venue pen support has been much improved since the release. The newly produced pens are actually not bad. Not as good as Surface and others, but I can take notes with mine for ours, and the Ink app works great. FYI.

I think RS1 is merely just changes in icons, more organised start menu (PC), bug fixes/more effiecient etc, but not really a lot in Mobile. Hopefully as RS2 is supposed to be Mobile focused, hopefully we might get a lot more features then :P and maybe a few more in PC too

I've been looking forward to this too, but wasn't sure when it would be reliable. So I wrote something on my own. Works with any Windows Phone and the Project My Screen App. Check it out at www.winphonetyper.com Please send any feedback you may have. I am trying to generate interest in the app and polish it before submitting to the store. Thanks!!

The vision is clear: Skype will soon be able to handle SMS messages. If this feature makes its way to Skype on iOS/Android as well, then "messaging everywhere" might truly be everywhere, not just Windows devices.

On android, doesn't it work through Cortana? So android should be the same as us insofar as Cortana will be required to reply to messages.

"Can't believe they are dropping my most used feature". Is this your first day as a Microsoft customer? Because dropping features and screwing over their customers is pretty much their unofficial slogan at this point.

I laugh at it because it's true. *sigh*

What are some of the best features dropped?... Hubs
Family Room
Zune
Messaging Everywhere
Integrated Skype
Square people icons (I still hate the circles...)
Syncing Desktops between devices
SmartGlass There are probably more I haven't thought about. All these features I use to use frequently, and made other people jealous of my phone. They were what made me choose Windows even though some of my other most need apps were not available.

Some others that I miss on a daily basis: Bing vision. FM Radio. Pivots (but we get hamburger menus...yay!) Wireless syncing (I suppose that might fall under "Zune"). Device search. OneDrive placeholders. App download history. Ane there's more to go, like Kid's Corner. Windows 10 sucks. It really, really does.

Zune, FM Radio, Hubs, Bing vision, OneDrive placeholders, and Pivots..... ahhhhh the glory days :( ​Now I'm going to be depressed all day...

don't be depressed, just buy a phone that actually works, has apps and is polished. Anything but microsoft will fit that bill.

Stuck until spring with my L950. Worst phone I've ever owned. Then, it's off to somewhere else. I suppose an iPhone.

you will be happy x i'm tc. I was scared of going to the iphone but after owning it for a month or so now, I LOVE IT. I hate to say this becuase I shat on so many people for saying this....but....here goes....It just works. and works great. Something I could never say about windows phone.

No thanks, I'm doing just fine with my Lumia 950XL. I was just reminiscing about some of the things that were lost along the way. Not changing phones because of it. Carry on

You forgot the Photos Hub where you could view photos from Facebook, Twitter etc.(presumably Instagram support would be come as well) all in one place. Those were the good ole days. One picture at a time -- LG V10

My most missed feature is the ability to sync your Start tile layout across devices.

Double tap to wake, Gestures for answering/hanging up a call. I also remember when they temporarily decided not to support visual voicemail too. Even older things from Windows 7/Sky Drive they dropped included the ability to sync themes between Office software on different computers (like Powerpoint themes) and the ability to sync documents between computers which used to be a little different than syncing from the cloud...it was more like syncing through the cloud, and superior in my opinion.

The feature that I miss the most is being able to send/receive facebook messages directly in my messaging app. Of course, it went through Wi-Fi/Data & showed facebook messages a bit differently than regular SMS messages. Once I finally downloaded the facebook app, it wreaked havoc upon my contacts page & that was the worst of it. So, I removed the app & it took all my contact pictures that were from facebook away along with any info that had been synced only with facebook...

It's 29th june what a surprise by Microsoft exactly one month before the aniversary update..... Well played microsoft.

Where did Android pop out from nowhere........comeon those lagdroid devs don't even care to give an update.... A least Microsoft listens to us.....They are NOT PULLING IT OUT...JUST REMOVING IT FROM THIS BUILD..... If you were waiting for this feature as a reason to update your phone...kindly don't...and wait till they include..... Gosh!

Thank you!!! Someone who comments after understanding the article. SMS will hopefully be integrated into the skype app in the future, and this means that it might drive skype use further too, to increase the skype user base. All you guys have to do is wait a little longer for a bug free, non crippled experience.

They ***king ***tin' me?! This is THE MAIN FEATURE I wanted out of the Anniversary Update. It was already annoying enough to hear that they'd finally learned to take a page out of iMessage's book and merge Skype with Messaging, then backed out of it... gonna take out Wallet 2.0 too? Just get rid of all the incentives to do this big-ass update. There's a small voice in my head telling me "You know... this feature that Microsoft is dangling in front of you is something that's already present between iPhone/iMac/MacOS... you already have an iPhone... put the SIM card in... put the SIM card in... do it."

Hell, I wanted this from Win10 at launch. They've been teasing it for so long and now they're ripping it away. I usually avoid using Skype cause it's kinda terrible. Now I'm just gonna uninstall it outright.

I may do the same. Killing the need to have a separate Skype app took away the feeling that having it on my phone was another process and another burden. It actually felt like something that was supposed to be there and made me use Skype more than ever. Being able to take that same experience to my Surface Book and have them all play nice was so appealing that I thought daily about potentially crippling my stability so I could play with that feature. Did they get too close to de-complicating things and get scared that they may actually be able to kill two birds with one stone? Goddamn...

You are not the only one. My iPhone is calling to me too. Skype is a joke. Posted via the Windows Central App for Android

It's a exit month brexit, messi exit, England exit, spain exit and now messaging everywhere exit.....

I saw something that read, First Brexit, then Italeave, Finnish, Departugal, Latervia, Checzout, Byegium etc, except Remainia.

Well that confimred my move to android, I use Yappy love it

do it bud. I did. At the end of the day a phone is a tool to help make your life easier and better

Done Msoft are to much lol..I need stability

If stability is what you need, then insider program may not be right for you.

Looking beyond my initial shouting, cussing ragepost... this upsetting decision does make me think about what the hell MS is thinking. And the more I think about it... the more it seems they may be trying to pull a Google... in a potentially good way. Though I did like the Messaging+Skype suite and would have just been satisfied if they went the whole way instead of backing out suddenly, I'd be fooling myself if I said I didn't hear the complaints from our users who just want a "pure" messenger. On my Nexus 5, Google's given me both a pure messenger and - if I want it - I can use Hangouts and let that also take over my messaging without Hangouts necessarily being a forced obligation. If their new Skype app is going to be able to replace messaging entirely while giving users control of how much Skype they want in their life... that actually might not be a horrible decision. That way people like me can have our Skype+SMS, and people who want a lightweight messaging app without Skype are satisfied too. I have nothing but faith that Microsoft will find some way to piss everyone off again, but there is potential they can take advantage of. Whatever it may be, I'm ready for Microsoft to spend less time figuring out themselves and more time polishing an experience.

The problem is they keep giving these god damned features and then taking them away again, sometimes in a matter of months. It's RIDICULOUS. This is why people think Microsoft is clueless: THEY ARE.

Contrast that with Apple. They leave their customers wanting for major features for ages. But when they finally deliver them, they typically work really, really well, and if there are issues (like Maps), they don't pull the plug but work diligently until the product is excellent (like Maps). MS needs to do two things: 1) Announce where they are going. 2) Go there. If they want to get feedback from users, in a very un-Apple like way, they should feel free to 1) Lay out their roadmap. 2) Get feedback. 3) Announce where they are going. 4) Go there. But once they are at the "Announce where they are going" stage, going there should always follow up by going there. I honestly can't think of any other major company to do so many about faces. MS are liars. They are also well and truly clueless. W10 has suffered horribly as a result.

As much as we've disagreed in the past, I support this notion the whole way. Microsoft definitely need to get in the habit of seeing things through instead of pouring their man hours into work that gets discarded. I can only imagine how much money it's costing them to be indecisive.

Skype is the first thing I un-install when I get a new machine. If this feature is in Skype, I won't be using it...

I have a windows phone and use Mac / iPhone instead because of features like this. I use windows purely for gaming and absolutely nothing else now. I cry a little each time I look at my window phone. doing Nothing but collect dust. MS seems to love to bleed customers to other platforms.

ScrewI definitely won't go back to Apples old fashioned laptops or to ****** OSX, but I see why you would for this feature. I've waited for Windows phone to have this feature for years. Up until last weekend, when i switched to iPhone, I've been using this text everywhere feature every single day since it was introduced, yet now they take it away. Screw you, Nadella.

Usability-wise, OS X is amazing and ahead of Windows 10. It's certainly the more coherent, cohesive, and consistent OS out of the two. Why? Because Apple had a plan and they just move along with it. Microsoft felt the need to have a big change. Apple just goes wiht hte status quo and their users thank them for it. It's why Mac sales are rising, despite the obsurd prices. I do use an iMac + iPhone + Windows Notebook + Windows Tablet (8"). The Windows devices are pretty much cannon fodder because the integration of iOS and OS X through Continuity/Handoff and back-end services has made it too painful to use Microsoft's OSes in conjunction with virtually any mobile devices. Even their own aren't that impressive when used with thier Desktop Operating System. I will almost asuredly replace my laptop with a Macbook for this very reason. When I'm sitting at my iMac, it basically replaces my phone. It's a liberating experience. One you cannot get in the Windows ecosystem. The solutions that do exist, are extremely clunky by comparison, and can easily flip the script on you (e.g. PushBullet).

Sorry, but as someone who was all in with Apple for three years, you're full of ****. The only real advantage right now is the messaging integration. That was working fine in Windows 10 until Microsoft stupidly removed it a few days ago, but even then, it'll be back, in Skype, cross platform, later in the year.

Sorry but as someone who was all microsoft for a long time up until about a month ago, (ME), I can tell you he is 100% correct. MS is garbage compared to how awesome apple devices work. MS destroyed windows with all their bullshit they pulled. They had an awesome system in the works, but cut and stripped everything good, and never made it polished. IT is CRAP! I cannot wait for my new macbooks, ipads and imacs to show up. maybe longer due to mail strikes now however.

Nope, you're full of ****. I own a brand new iPhone 6S+ and an iPad Mini 3 128GB, and iOS is missing MANY features Windows 10 mobile has. And as I said, I was a Mac/iPad/iPhone owner for 3 straight years. The notion that Apple's devices just automatically work so much better is pure, unadulterated WISHFUL THINKING. Case in point, last night, July 4th: we were out with our daughter to watch fireworks, her first Independence Day. We wanted to capture video of her reactions on one phone, and the fireworks on the other. So my wife pointed her Lumia 950XL at the fireworks, and I pointed my iPhone 6S+ at my daughter. Only, I couldn't actually see my daughter, because the image was too dark. Switched phones with my wife, and voila, there's my girl, visible and smiling. On my Macbook, OSX looked pretty, it really did. But apps still crashed, the OS still froze periodically, and had kernel panics that brought the whole thing crashing down. No OS is perfect, but it's ridiculous and dishonest to claim that Apple is somehow magically wonderful. OSX can't do HALF of what Windows 10 can. It's a cheap joke, for suckers. I happily traded my POS macbook pro for a Surface Pro, and I'm still running a Pro 3, problem free. Sorry, troll, but you're wrong.

Wow angry MUCH? Sorry...but I can do ANYTHING with apple that I can do with my surface....PLUS it works, not errors, lock ups, all the apps are there, etc. so, sorry again...YOU'RE WRONG.

I realize that Apple shills like you are dumb as hell, but do you have to make this so easy? :). ​1. Fill out PDF forms and sign them digitally. Can you do this on a Macbook? Nope. Can you do it on ANY Mac? Nope. You can do it on an iPad Pro, provided you've spent the extra $100 for the stylus. Can't do it anywhere else in Apple land.
​2. Draw natively in full Photoshop, illustrator, etc, with a pressure sensitive stylus. Surface can do it, no Mac you can buy from Apple can. Not one. In fact, no Apple device PERIOD can do it.
​3. Sort email into specific folders using rules and then pin those folders to the Start screen so you can easily see, at a glance, which monitored folders have new email and which don't. Can't do that on any Apple device of any kind.
​4. Using Pandora, IHeartRadio, Last.FM or other music apps, create a mix of artists, songs, genres or almost any other organizational method you care for, pin those artists/songs/albums/whatever in folders for single click access to launch exactly what you want to hear. Can't do that on ANY Apple device.
​5. Using OneNote, Evernote or other similar apps, pin specific notes to your start screen, on phone or PC, for easy, one-tap access to the specific note page you want. Can't do that on ANY Apple device.
​6. Use core, first party services across any other device ecosystem. Can't do that with Apple, period, outside of iTunes, which sucks. Facetime on any other platform? Nope. Skype on iOS? Android? Mac? Yep. ​Sorry, troll, but once again you're wrong, and you make it easy because you're DUMB.

They are taking out the "so called Pure windows experience". Almost every native app is available to android and IOS from cortana to onedrive to sway to onenote to outlook calendar and mail and now they are taking out some native features too. What's the strategy microsoft?

And, after now using my iPhone for a few days after the switch, I can safely say that most of Microsoft's apps are BETTER on iPhone than Windows Phone. The only one I wouldn't say is better is OneDrive, because on iPhone you can only use a single OneDrive account and the photo sync is MISERABLE in how slow it is. It took three DAYS to sync a lousy 1GB video. That would've been done in minutes on my Lumia. The rest? All better on iPhone.

DONA ruining what was built by Gabe. She was supposed to take that legacy forward but yeah he was slow to provide builds but I guess under his leadership all these features was included now she has no idea how these features work. So she is taking them out. Girls too bad for tech companies.

Well neither Dona or Gabe actually controls the whole Windows development, they're only managing things related to Insider program as far as I know, so their control is still limited. This is more of the work of individual teams and the upper management that actually have controls over this, whoever that is. Microsoft as a whole is sadly very reactionary and lack of firm vision. They tend to alienate both sides except for those "who go with the flow". They tend to change their minds half-way without even polishing what's current and abandoning them. Older implemented stuff that is underused even by design just gets ditched out without even improving them on the first place in any means. They love teasing stuff then just killed it afterwards whether you love or hate it. No wonder some people already fed up and just go somewhere else. I'm still questioning if they actually even use their own products they've developed since they seems don't understand what people wants, or they just have a completely different taste that I don't even get it.

I disagree (well half...). They *do* have vision, but then they get scared and abandon the vision for something mediocre

Actually you are also right (actually better), they *do have vision, as you said they get scared and problably that Microsoft is still a victim of too much bereaucracy where great ideas just leads to the void or mostly overly filtered out. The sad part is that if they ever did push that vision, there are times that mediocre and just left at it is, then later on scratching their heads why it didn't get any traction then kill it. Which is sadly considered classic by now.

To be fair to them, all this used to occur. Just behind closed doors. As in features were added and removed until a release point occurred. Now you just get to see more of it. There are likely reliablilty issues and rather than delay the anniversary release they are removing the feature and looking at a better way to do it. Old days you'd have never known about anything until it was in your hands. Now you can see and get excited about things and they can hear and adjust the direction which is better overall even if there are sometimes delays or changes in direction.

aXross, The obviously do not use their own stuff. Pretty well everyone on MS leadership team has an iphone. That speaks volumes about this leadership group. They should all be releaved from their positions. If I was nutella, I would be seen with the 950xl, or some windows phone 24/7. promote 24/7. screw going over to apples release events. They are the enemy if you are MS.

what is it with people being anti-girls? It has ​absolutely nothing to do with gender! Get over yourself and provide feedback to improve it. Sure it sucks that the feature was removed, but it has nothing to do with gender. Dona is doing a fantastic job putting up with people like you.

Put blame where it belongs: Shitya Nutella. Windows phone grew every single year until that idiot took over. Now it's in the gutter.

What the hell guys? I need to express the frustration too. You've had Skype for years now, but still seem to gave no clear strategy in relation to the OS. To me, it sounds like when this was introduced in Win10, someone from the Skype team went to Nadella and cried. He gave in and said, take it out of the OS, and let the Skype babies need to deliver this feature. Unfortunately, the Skype team is light years behind the OS guys. So, we're now stuck waiting. I just went from neutral on Skype to negative. Great. :/

Satya Nadella uses his iPhone Pro so all this doesn't concern him, since he's got iMessage.

He uses a Mac computer too.

Wouldn't surprise me, but...SOURCE? On another note: I want Ballmer back. Satya is a moron.

Agree with everything. Except Light years is a measure of distance not time

They are doing this on purpose. They want people to become frustrated and leave WP slowly so they won't have to outright kill WP and cause an uproar.

I will never ever send text messages using skype app.

Lol, that's what google hangouts users first said...

I wouldn't have used hangouts for this either had I been an android user.

Nobody was forced to use hangouts, regular sms was still an option because of how open Android is.

Regular SMS is still an option in Redstone 1 as well, what's your "open" comment about?

Yes ofcourse but only on phone. Now my dream of texting from my PC has been shattered into million pieces.

As did I, someone who still won't use Google Hangouts...

What is google hangouts? Never heard of it.

MS is building skype app to unify all messaging clients. API will allow clients like facebook messenger, whatsapp, or whatever to hook into skype and you can have all your messaging in one area.

dunno if facebook will allow their messenger to be integrated there tho,

totally agree - it's not going to happen .. it's like the hubs thing all over again ..

On other camp, I heard that Apple implemented a 3rd-party integration stuff to their Messaging app. While we're still here dumbing down already Messaging app since 8.1. They better make Skype a messaging platform, but it seems they're more interested on bots only.

Skype is terrible for messaging and still doesn't even support Emoji. Last time I tried to send one, it didn't display properly on the other end. You have to use their own proprietary, horrible, limited emoticon set. UGH. Why couldn't they just revamp Windows Live Messenger and leave Skype to rot?

Last time I checked, you could use desktop Skype to chat with Facebook friends already.

Facebook could allow you to receive messages to Skype but if you want to reply, you need the Messenger app

I'm not sure if Facebook would want thier messages in the skype. I would think that they want us to use fb messenger. So why would they use the API?

That's the dream but it makes more sense to do that in the actual messaging app, other messaging services won't want you to use Skype as a client for their service would be like subliminal messaging, but for a native messaging app for SMS to be integrated with multiple services with it specific Skype branding is the best of both worlds.

Does all include sms? If not, that will do little for me.

This won't happen. it's what killed the 'hub' feature on windows phone - FB/Twitter/whatsapp/etc want to gurantee a revenue stream from thier own app/services

LOL!!! Messenger hook into Skype?! No. Share whatever you're smoking dude.

While I am not happy about this, since I found useing the Messaging app on my PC to be great, and I don't use Skype at all, I think this move is all about conversations as a platform. They are building a bot framework, and they wanted to build it once (for Skype). They will likely update the messaging app on the Windows phone to use Skype on the back end so nothing will be visually different on the phone, but we will have access to the Bots that are built.At least that is what I am hoping this all means.

I'm not even surprised anymore. "here's a feature everyone wants" - "just kidding, we're not giving it to you".

I mean, they are...they're just unifying it back into Skype. Lots of people were upset that they couldn't do Skype and SMS in the same app.

Yeah I get that but the issue I think is the fact that people loved that it was the messaging app. If they are going to integrate it into skype app, not messaging, that is not a great system experience. It means one more app you have to install and use instead of it just being messaging. I could be wrong and they could do a good job at this.

This, exactly. The messaging app on desktop was perfect for the messaging anywhere experience.

I dunno, to me the Skype UWP app feels very similar to the Messaging app. I like it a lot especially on mobile.

While I do agree with you Daniel, I just wish MS would make up their damn minds and stick with the plan. They have flipped-flopped on SMS and Skype for so long. Just stick with a decision and roll it out. I for one liked the Messaging Everywhere feature, but it was disjoined from Skype, and I use both heavily.

ARE YOU NOT ENTERTAINED? lol

Hate it for the past 2 years

I was plenty entertained until they axed Windows Journal. I understand they wanted to implement the new inking capabilities but not at the expense of a tried and true feature.

Microsofts minds are made up now.
Since they willingly built a back door into Skype for the NSA to eavesdrop, they figured it would be best to route everyone's messages through that service.

You must be kidding. SMS is much easier to eavesdrop on. SMS is clear text. In fact, most of the communication you generate is in clear text. Better put on that tin foil hat and go off grid now.

I agree on the flip flopping

I agree on the flip flopping

This! The problem is they just cant make up their minds, stick with it and improve. They seems just way too reactionary on things that they left ideas to be half-baked or killing it. Skype on Messaging is indeed may confuse users because it's new idea for Skype, that shouldn't be surprising. What they should've done at least was to improve that app like showing who's online (which is a common request that can be implemented) and improve the app from there. At the end, it was simple since user will only have to worry a single app for the same task, Messenger is for all messaging needs, Phone app for calling, and dedicated Skype Video for video call. Yes not a unified app, but its more cohesive and seamless experience for the Windows 10 user experience as a whole. But oh well, now they decided to go back with dedicated Skype app again. They better be make it a fast alternative of Messaging app for SMS. This the overall performance must be more of native-like. And lastly, seriously they need to improve Skype and market it for text messaging. Most people still think Skype is only good for video calling but they still stick to their favorite messaging apps which is sadly eating them away from Skype especially that many of them now have video call capabilities. They never convinced people to use Skype for everyday messaging needs.

To be fair - testing these things out in the fast/slow ring is the perfect place for Microsoft to vet future Windows features. FWIW, I am certainly going to miss texting from my Surface, but such is life in the fastring...

I want to have a full SMS experience from my PC. My friends and family like texting, but I hate the input on the phone. Cortana isn't good enough for that, no reading incoming, no attachments or emoji, etc.

But it will be bloated with added messaging. Messaging + Skype was for chats and performed well (not counting missing old group conversations and search), and not so stable Video.
But current mobile Skype doesn't have full functionality from old client and even lacks few features from Messaging, so another wrong bet from MS.
When they will decide on single strategy and stop wasting time and resources for apps that will be buried in less than a year?

I'm curious as to the change. Is it security? Device compatibility? Software compatibility? Or is this a change simply because Insiders are demanding it?

Judging by the comments, Insiders want the Messaging app back.

Once you change your password, skype will not let you text until you enter the password. Messaging app does not care about any password. It will just work.

Are we going to send sms from the Skype app and see them at the computer and also reply from there?

Except we like the simplicity of messaging so liked having Skype from there. SMS from Skype is too much. Unless the new Skype app is super lightweight and fast like texting? If so, judgement will be reserved.... but if history tells me anything, it will be slow to load and people will not want to use it for texting thus losing the luster of integrated messaging.

I wouldn't use skype for texting even if it is "super lightweight and fast like texting".

Have you tried the Skype UWP app on mobile or PC? It's really good so far.

I have... I use Skype all of the time and I cannot imagine it being even close to what messaging is now. Texting is super fast, loads instantly, etc. Skype has a loading screen for crying out loud. Like I said, if it is just as fast or faster than texting people will appreciate it. Otherwise, it is a step backwards.

No, Daniel. If I want to MESSAGE somebody, wouldn't it be great to use the MESSAGING app to do so? Skype = video conversations. Microsoft is trying too hard to make Skype into something it is not. In this context, branding is more important than features. Consumers will never understand that Skype is anything more than video calls.

While I see your point, I also saw a lot of people who want/think the opposite and that Skype/SMS should be an iMessage competitor.

Yes but message works in apples normal messaging app. See, simple. With Microsoft? Nooo. I for one am really annoyed about this. I really don't understand microsoft

Are those people insiders or average users. There's a difference. I think MS is over complicating this. Probably end up backtracking again at some point.

People want Skype to be an iMessage competitor and that was actually the point of having that Skype as a service on a Messaging app, which is obviously on the name itself that it does messaging stuff. iMessage is actually more like a messaging service of Apple and as far as I know, even check that iOS doesn't have an app called iMessage but only just a Messaging app that have iMessage service baked-in. Why is it more simple? Because a user will only need to deal with single app that is specific for the task while it still does have cross functionality between them, Skype is a service that is baked on the OS while it breaks down into seperate apps specific and optimized for task like Messaging, Video and Call. The experience is subtle but it works, making Skype as a back-end of all the magic. It is simple because user will just have to know that messaging stuff is done on single app called Messaging for both Skype and regular text, no need to manually change the SMS defaults or some other fiddling around. I noticed this how it actually was more simple when one of my family member who is far from tech-savvy got W10M upgrade and used this new way of Skype, yes at first it sounds confusing and different, but with just receiving a Skype message from a Messaging app, she just able to grasp that concept easily and feels more home just like regular SMS. Now she actually even use Skype more often for texting within Skype contacts, she doesn't need a concept of opening a seperate app or teaching her to activate stuff, it just works (except for bugs). Now I have to let everybody know that will going to have W10M Anniversary Update that the Messaging app can't send and receive Skype messages anymore (especially ones that thinking it's a *free alternative to SMS), and if they wish to they have to activate a setting on Skype and rearrange their Start screen in that process for them to have similar experience as before.

I would LOVE to try the Skype UWP app, but can't find it in the store. I wish someone would fill me in on how to obtain it.

For PC? Just use Get Skype. For Mobile? You have to sideload an outdated version. We wrote about it, twice.

I hope they are going to release the Preview on Mobile soon - I'm side-loading each time the packages get released but they were aiming for getting something out within June to Insiders - Obviously that can change but we haven't heard anything official from them since they said they were aiming for that. (Before anybody suggests it, there was NO promise it would be June, they just said that's when they were aiming for)

That is the whole point Daniel, it is too complicated! People want one clear choice to meet their needs whatever those needs are. It is clear that Microsoft doesn't have any control over Skype, and Skype doesn't know what the hell they are doing, never have and never will. Microsoft clearly doesn't have a clue what the average user wants or needs and frankly it doesn't appear they care either...or at least they don't unless it relates to enterprise use. Anyone who reads and follows tech knows that the relationshiop btw Microsoft and Skype is and has at the very least been broken ever since Microsoft mistakenly purchased it! Whatever fight over control is going on btw Microsoft and Skype it is killing this part of the OS. Microsoft has once again shot itself in the foot, because they can't decide on a company strategy and stick with it. Skype is and always has been viewed by the public as a video calling service. The first thing people think of when they hear the name Skype is not messaging. With Microsoft's dilly dallying over this messaging issue it only adds more confusion. I have no faith in Microsoft's PR and marketing capabilities to make any changes necessary to change that either, as PR and marketing are not Microsoft's strong suit. At the very least Microsoft needs to rebrand the messaging product, but that will never happen, so users are stuck with a confusing mess devoid of any overall stragety for messaging. Microsoft, I thought was on the right track by having its own stand alone messaging platform as most of its OS competitors have...but once again they drop the ball and relegate that service to its competitors. At its hayday Microsoft had one of the best messaging, chatting, group chatting, calling and video calling services that could share photos, video, music, play games, complete with notifications on your PC, etc. available in WLM and killed it in favor of Skype. At its height, WLM had over 600,000 users and at that time it was leading its competition. How long has it been since Skype took over and to this day they have not been able to replicate any of the services of WLM that actually function continually to date! With no clear vision and no offering of it own any longer, Microsoft left its customers no other option than to look elsewhere...and most left for FB messenger, hence the increase in its popularity...probably because they picked up a majority of the WLM market because Skype couldn't deliver. Microsoft appears to have become such a behemoth that the right hand doesn't know what the left hand is doing and as a result has no clearly defined strategy or vision any longer. It is just a hot mess. I am very disappointed in this lastest decision by Microsoft as I strongly believe that MS needs its own stand alone messaging app for it platform to suceed. Apple- imessage, FB-Messenger, Google- Allo and Duo (which I happen to think Google got that one right), Microsoft- ?????????? They better figure it out fast if it isn't already too late. Don't even suggest Skype, because anything related to Skype is a deal breaker for me.

How to get it on W10M Daniel? I'm on the Fast Ring build 14372 EDIT: I saw Daniel's response below

Yeah, the Skype team kinda sucks. They aren't known for quality. They do have the best compression to deliver the best video and sounds imo but there apps have many bugs, are slow, and often confusing to people who have never used them. Unless skype has a new corporate drive it leash this still be awful...

"MS from Skype is too much. Unless the new Skype app is super lightweight " This is exactly why I dont use Skype on my Phone. I have had two Lumia 650's (still have one) and using Skype caused both to overheat and would take the battery from 100% to 60% in a matter of minutes. I exhanged the first one becsaue I thought my phone was defective. I need something lightweight that isnt taxing on my phone and thus far Skype has never been that app; from windows Phone 7, to now I've never had a phone run skype well.

I'll actually state that the new Skype app is actually not as heavy on the battery as the old one. From experience, of course.

The problem is that this is yet another reboot of this feature. They finally had it almost working in the unified Skype+Messaging app and then they started over. Now that they have it working in it's own app, they are starting over again. And, there is no word of when the new Skype app will be released.

They finally had it almost working in the unified Skype+Messaging app ...

But did they? It was weird. You could message people, but anything more than basic Skype stuff it was terrible. You needed another Skype app do do real Skype things, it was...strange.

Yeah, but I didn't use it for Skype because no one I know uses Skype for messaging. I just used it for SMS and it was ALMOST working.

Yeah, Almost working. For me, it would randomly sync every few weeks, but most of the time stayed several days behind on syncing, was never up to date, and had issues sending messages half the time. I stopped using it because it wasn't usable as it was.

Towards the end of the Skype + Messaging app, it was working pretty well for me - not perfect, but it was getting usable. Then they want back and started from scratch on the Messaging Everywhere app - which has been working perfectly for me for the past few days. Now they are going back again.

I've been using Messaging +Skype a lot. The only thing that makes me refer to old Skype app is using it to call Mobile phones or landline numbers. It sucks!

Why not use GroupMe? Great messaging app (a la WhatsApp) and already has some ties into the people hub. I feel like this is just a way to keep Skype relevant/alive. Skype has been a severly mismanaged investment.

Real Skype things like Video Calling? Well there was a button for that actually does those kind of things. All other missing features can be implemented since the fact that the app were also half-baked still. The concept still works actually, it just acts different that a dedicated Skype app it used to be for ages. Skype was working like a back-end service, which the apps like Messaging, Phone, and Video works together under that umbrella. Skype felt more like a baked communication platform of Windows 10 rather than feeling like an app preinstalled. Skype felt more like it was part of Windows.

How about allowing to do both the things..that will give users a choice..

"Choice, the problem is choice."

@Daniel, I was upset myself when they decided to split SMS and Skype, but there is a huge difference between having the messaging app have the capability of interfacing with Skype and having the Skype app potentially have SMS capabilities. This is also yet another time they have changed their mind on the direction they are going with this. Making a decision and sticking to it shows commitment to a vision and, once a userbase has approved of the vision, it shows commitment to said userbase. The exact opposite of what we are seeing.

True. But I also see it as a weird confidence that they're like "We can do better" and still do this knowing it was going to tick off Insiders. I appreciate the candor, even if it's rather hilarious with the back and forth. It's crazy, but it takes some crazy to make this move too.

My guess is that the Windows team was told by some higher-ups that they had to do this. MS can finally see that Skype is sliding into the abyss and if they don't integrate it with the OS and SMS then no one will use it anymore. Too bad they didn't figure this out three years ago.

yea, better late than never

They've been planning on doing this since 2012 and in the past 5 years nothing has been accomplished. Thousands of people paid for nothing, millions of dollars wasted, Skype and Windows phone userbase shrinking, and no clear vision of what they want!

They should let it and not drag down SMS functionality with it.

There is no excuse for not having this **** together 2+ years ago. That it's being reworked once again is the ultimate sign that this could not be managed worse.

They better come up with BEST Skype universal app soon then! it sucks they way it is rihgt now.

Skype itself has been so unreliable in my experience, most I know have ditched it for WhatsApp. Constant delays in messaging delivery drove me to also give up on it. I persisted with it for years and they just never fixed it. Such a slow and clunky app.

What would your reaction be if the phone app was going to be merged into skype app Daniel?

Do you know if they will also make skype with sms do video calls for all Windows Mobile users without a skype account, and just use their number like how iPhone users do to make video calls to each other?!

The new same old I guess... Though I like how they still want some unification, but I have my reserved doubts how Skype app performance will be, it needs to be really feels lightweight to use and fun that people will use it for SMS texting. They also have need convince people to use Skype for SMS which is going to be tough one. Lastly, Skye e UWP still looks highly unpolished and the release date of Anniversary Update is near!!!

Reasons?: because screw you that's why

What a stupid decision. When we think M$ is giving WM some attention they do this.

All I know is a lot of people thought it was a dumb decision to pull the Messaging + Skype experience earlier. ¯\_(ツ)_/¯ There is no consensus here amongst any of you, unfortunately.

One great thing about the Messaging Everywhere app was that it worked with Android as well, so the benefit of it reached many people. I agreed the Skype + SMS integration kinda sucked and they moved at a snails pace when it came to improving it when running on PC. The speed of improvements to the Skype UWP app has been a lot better but I don't believe they will get SMS via Skype in anytime soon. I mean, you've always been able to send SMS via Skype using your Skype credit, so are they dropping this from Skype and instead syncing betwen the phone and Skype app in the future. Hopefully they'll give some indication of if this future integration in Skype app will extend to Android, they really had something going there with the whole cross platform thing - I'm a W10M user but I liked what I was seeing.

We like to complain ;) #internet

I think this is a natural consequence of flip flopping so many times. Every time you do it a different way you will pickup fans of that method. Then you announce you're getting rid of it and people are unhappy. As for me, I'm ok however they want to do it, but very annoyed that they keep changing it. All it means to me is more delays, delays, delays. Every time I feel like we have a solution that is workable, they rip it apart and spend six months redoing it.

Exactly! This is why we can't have nice things! Unfortunately, having the unprecedented feedback capabilities in Windows 10, we now have unprecedented levels of scope creep that have caused Windows 10 to become a perpetual beta without a solid v1.0.

We all get used to it. It's just how Microsoft sees things. Remember WP7 & 8? Messaging hub + Facebook chat plugin + Hotmail chat (removed), Zune (removed), Rooms (removed), Music+ Videos hub (removed), Posting to social networks directly from People hub (removed), Me tile with notifications (removed) etc.

Geeze! Catch up with the times! Windows Mobile was removed round about version 6.5.5 Professional! We have Windows 10 Mobile now! :p

Removed. Another reboot of Windows Mobile coming soon.

There are some things that were removed which I could understand, like fb chat plugin and some of the hubs. The problem was that there wasn't an incentive for services to "plug in" to a hub and every time they changed something it would break the hub or the capabilities of the hub was too basic. In some cases a hub makes and in others it just makes for a poorer experience

bs! Obviously you didn't use any of the hubs.

I definitely used them. I actually really enjoyed them for the most part and liked the idea, like in WP 8 (or was it 8.1) with the fb chat was very convenient. But..performance would at times be laggy, there would be delays in messages appearing, sometimes facebook would update something and then the fb chat would randomly stop working and microsoft would have to update it to get it working again. Then let me use the facebook newsfeed integration as another example. Again I really like the concept, it was very convenient to go into my people app and then just swipe right to get the newsfeed from facebook for all my friends. But if you want to do more, then you end up having to go into the app anyways. For example, with things like the new variable "like/sad face/angry face/etc." buttons you're not going to necessarily have that function unless microsoft then makes another update to support that function. So you get into this never ending cycle of when a service updates/changes something, then microsoft has to catch up and support that in the hub. Now maybe there are better methods of integration/hubs, but I'm just basing it off my experience of WP8/WP8.1.

@real
I understand your point. But Microsoft is a software company one would think they would be able to handle these changes with in the hubs. They like to remind us all the time they are a software company. Microsoft is playing three card Monte and has users looking in all directions trying to figure out what's coming next without actually doing anything. The only reason I'm still around is because the other major OS's I just despise. Love 7.x & 8.x but 10 is just a mess to me.

@whodaboss Yeah I do agree that there must be a better way to implement the hubs in a way that they can efficiently support it and I hope Microsoft can figure it out, I was just saying the way some of the hubs were peforming in wp8/8.1 (in my experience with it) was not working well enough.

@batabole I'll never get used to it! Everything you pointed out is true. All that stuff was all the goodness and the soul of WP. Now, it just a waste land of emptiness. No soul. No uniqueness. It's trying too hard. And it's like it is lost in the middle of the sea with a broken compass. No direction! Don't let other's tell you differently. Because we know we've been hearing that song and dance for the past seven years! Long live my Windows 7.X phone! I'll never get rid of it!

If it work with skype, I hope I don't have to reply from skype on my phone to. If it's from phone to pc(skype) it's not that bad. but If I need to open another app to text ... it's better with message everywhere.

If the desktop skype can't sync sms/mms AND send them it's a fail imo. If it can I will use it for sure :)

yes I think for the desktop it will sync and send text, the question mark is on phone ... maybe they will remove the messaging app and just use skype on the phone.

Hmm, so this actually means not just Windows Phone users can use this, but iOS and Android (through Cortana) can use it through Skype? I can see that being a better way.

Why is that unfortunate? They said they were adding it into the Skype app which is how it should be, like google hangouts and imessage

iMessage though is much simplier solution though and on iOS you only deal with one app for both iMessage and regular SMS and MMS texting. Now on Windows 10 Mobile, you have two apps like Skype app (which has questionable performance) or now dumb Messaging app. Yes we can use Skype app only, but its little bit more complex for users which requires them to manually activate SMS there, unpin Messaging Tile, and have a muscle memory that the name "Skype" is your texting app.

I can't imagine it will be anymore complex to set up than hangouts, personally I don't see why they didn't integrate messaging into skype in the first place instead of integrating skype into messaging

Hangouts and Skype are similar in that way both the way you can setup it as SMS, which just requires to go through its setting and activate there. It's just it won't be that straightforward where you can simply use Skype app for SMS out-of-the-box, which leaves for MS how they will communicate the setting, especially that the "Skype" name isn't something many people associate for texting/general messaging. Even Hangout suffers this which many people I know didn't even use it unless they actively use Hangouts in the first place. But I think not that bigger deal since at least it leaves more users-choice, only that the user will have to deal it's own clutter having two SMS app while Skype is only receiving and actively being used as an SMS app. I actually agree that why didn't make Skype have an SMS capabilities in the first place, making it their to-go messaging app of Windows, making it as seamless and baked-in experience as the current Messaging app with Skype on W10M TH builds, like iMessage does on Apple ecosystem. I'm still wondering why Skype felt like a service bundled on Windows with integration rather than "The Messaging" platform of Windows. What I'm just worried though is the performance of Skype app to be used as an SMS app which is currently relatively snappy on W10M. Thanks on some special implementation of the Messaging app despite not being as perfectly snappy as the Messaging app of Windows Phones in the past (since they're being written differently), still fast enough on most cases where delays aren't noticable. Skype app needs to be highly stable and feels lightweight for this, especially that it's more of a unified functionality like the traditional Skype does.

I would not say that iMessage is a simple solution. In fact, I think it is overly complicated by design. My wife broke her iPhone, so I lent her a spare Android phone. She instantly started complaining because she wasn't getting texts from her sisters. It turns out her sisters also have iPhones, so they automatically use iMessage between them. I told her to have her sisters change their settings to use text. She said they would never be able to do that. My wife's solution was to buy another iPhone. Apple is like the mob. They force you into using something and then make it very difficult to change. By forcing iPhone contacts to use iMessage rather than SMS and by not including SMS on iPad, they make it overly complicated to leave Apple.

The main issue I think with the whole going into Skype thing is that even though they've made improvements in how quickly they are developing Skype UWP Preview they aren't perceived as the quickest team, and Skype is one of those products that many people feel doesn't know what it wants to be right now. Pushing everything into Skype is either them still confused about what they want it to be, or them finally deciding on it's identity.

Shame... I personally have not used this much, but do use Skype a lot for work and pleasure, so for me this may turn out better.

This is just stupid. For me this was the best feature on Redstone.
Right now the Skype UWP app sucks, when i'm on a call my screen does weird things and i'm always getting notifications.
They should take this feature out when they have the Skype way ready.
In my pc i'll get out of insider builds because of this.

I fully agree. They shouldn't have pulled the Messaging Everywhere until they had their new Skype solution ready to rollout.

Totally agree as well! I used this everyday at work so I don't have to pick up my phone when my wife sends me a txt.

Thats actually a great idea to merge sms and skype on both mobile and desktop, but when is it coming? Will anniv update also be coming to mobile on august. 2nd or how long do we have to wait

I think it works well on iOS because it's just the messaging app to most people, it isn't called "iMessage" and you don't have to do anything to decide which type of message you want to send. Most people probably know the blue bubble means it went over iMessage, but they don't really think about it or care that much - With Skype being it's own app and running across all platforms it's perceived completely differently as a standalone product.

yup. I think most insiders are just pissed with the flip flopping, back&forth, 1 step back, 2steps forward, 3steps back, 4steps forward

iMessage works unless you try to switch to a non-Apple product. And you can't get SMS on your iPad. Google Hangouts is ugly as sin.

I'm seriously beginning to question whether Microsoft even has the talent to deliver on their promises.

It's not whether they have the talent or not, it's that their feedback program is open to everybody and their mother and nobody can make up their minds about what they want, so nothing ever gets finished. Microsoft gives the people the keys to their development planning vehicle, and the people take the vehicle everywhere except forward. This is scope creep at its worst!

Insider Program is a double edge sword, especially that it will still result into mob voting of ideas regardless how good the idea is or not. What's worst is that Microsoft seems way too reactionary to the feedback, and they tend to react on wrong things.

But the brilliant thing about this was that it worked with SMS... I know just about no one who uses Skype,bit everybody uses SMS. Why not just let the feature stay... Damn MS...

So what happens now? Is the Skype UWP going to replace everything? Don't get it, seriously.

Is the Skype UWP going to replace everything?

Yes

the skype app will replace the messaging app on the phone too ?

Should be in opposite direction like it was year ago. I really don't need all my SMS contacts with Skype contacts.
Skype always was slow app (new UWP not so fast on startup in comparison with messaging, and experience in typing was better in previous) and will be worse.

I 100% definitely don't want my phone contacts mixed in with Skype. I can't stand Skype as a service and want to be as far away from it as possible.

Totally agree. My Skype account gets hit pretty often with ad-spam; having that filter into SMS for folks is.....not a great idea.

Finally a clear answer in all this mumbo-jumbo Microsoft mess

At that point I will replace my phone.

not today though. "going to..." is a bad user experience.

Want to check the weather? Open Skype Want to search the internet? Open Skype Want to start up Windows 10? Open Skype ;)

Want to shop online - use Skype

Want to hurl your phone at the wall - use Skype

I'm feeling very bloated. I don't like this feeling at all.

I think this could work, but it will be a huge challenge. I think Skype is perceived very differently to iMessage. iMessage is just there, it's your messaging app on iOS and I don't think most users really think about it or care that much. They probably know what the different coloured bubbles mean, but ultimately they go in and send a message and don't think about how it will be delivered. Skype could work that way too, but many people have it in their head that it's a standalone product and Microsoft need to somehow get away from that. When you go onto an iPhone you just have the messaging app, not a separate iMessage app but Skype has it's own brand and it's own legacy (for better and for worse depending on who you ask) I'm a big Skype user, but with a select few contacts that I speak to regularly, but Messaging Everywhere has been indispensable for me and helps me keep my productivity flowing in the office

Perfect example of not thinking things through before hand. Now we all suffer. Thanks MS smh

If I could meet the Windows team personally, I would slap them to the ground for taking 5 years to make this happen and cause all this mess

I could never send messages via the app, just sync received messages to my surface.

I had that issue at first as well. After they added the ability for us to reset the app in the OS settings I reset the app on my Surface and everything started working perfectly. Too bad they are now taking it away. Just leave it in place while you get the Skype app ready and then remove it.

So then what's the point of the Messaging app on PC?

Well, when it goes away soon, there won't be a messaging app

We'll just get Skype. Which is essentially the same as what we have right now. Which is a messaging app, except that they took some modicum of time into developing it. The only real difference is the skin, and ads.

Really disappointed to hear this. This feature just became reliable for me in the last build and I have been loving it. I've sent more than 20 texts from my PC today.

W..T..F... this is the only feature I really wanted. Ever since switching from a MacBook and iPhone 4 to a Surface Pro 1 & Lumia 920 I've been dreaming of a work setup where I leave my phone in my bag and receive/send SMS & phone calls from my PC. Skype is nice but SMS is ubiquitous. And then my favourite feature of W10 and Skype was having Skype and SMS seemlessly together in one app, like iMessage, and that's going away too. The inking in the anniversary update seems nice too so I'm still excited for that right now, but I'm heading back towards indifferent.

And then my favourite feature of W10 and Skype was having Skype and SMS seemlessly together in one app, like iMessage, and that's going away too

That went away and

was

the plan for Redstone/AU. They are now saying they will once again try to merge messaging and Skype into one app. I thought that is what you wanted/are asking for?

All they have said is that they are 'working with the Skype team' so when the Anniversary update hits we will likely have neither unified messaging or full SMS on PC. And the have only said they are working on a 'messaging everywhere experience', which doesn't necessarily mean that the new Skype messaging platform will have full SMS sync, send/receive etc. Skype is cross platform so really they can call that 'messaging everywhere', without SMS at all.

Yeah, this is the worst part: remove feature and "promise" that it will be implemented in future.
Messaging + Skype was supposed to be replaced with Skype UWP in "June timeframe", but there only 2 days left and leaked builds are not stable.

Actually they have until July 29 to finish the Anniversary Update

Why not split into two apps that doing their job well? Does iMessage supposed to take Video calls?
Make separate apps and make them perfect instead on one and unstable because of lot of functionality that might be unused by users.

It's long since time for Microsoft to stop trying and start succeeding.

Would make more sense to allow SMS messages through the existing messaging app, and keep Skype messaging through the Skype app. This whole Skype integration is becoming a mess since they've previously tried pushing Skype messaging through the default messaging app.

That's so sad. I was really looking forward to using that feature when the update was officially released. Son of a biscuit.

So seeing and replying SMSes will possible inside Skype app??

This feature will get implemented by the time Daniel Rubino and all of us turn 60 yrs old

Eventually it will, but we don't know when. They aren't know for being the quickest product team to get things out of the door - Skype is a bit of a behemoth of a product though so they will have reasons for the very gradual development. We are still side-loading the mobile version (which does work well for me) so I think there's a long way to go until we see any sort of SMS function within Skype.

This is a terrible, no good, awful decision. I use the messaging app on my laptop everyday and it's one of my favorite features in Redstone. The most frustrating part of this is the sentence, "The experience was well-received by Insiders however we believe​...". If it's well recieved then why remove it for what YOU believe is better?! I'll submit feedback though I'm sure it'll go on the pile next to landscape homescreen.

Some people saw the value/advantage of merging Skype and SMS.

They just took Skype and Messenger away from each other. This is why Microsoft pisses me off so much. They do something that works, and then even though "The experience was well-received", someone thinks they know better.... (See season three of Silicon Valley) Pick a vision and work towards it, dont be a three year old and divert your path when you (SQUIRREL) get bored...

The issue with this messaging everywhere was that you needed a windows phone, correct?

It works with Android phones really well too

Why do I have this feeling Microsoft is feeling the pressure from Messenger, Google's upcoming chat box, iMessage and other chat platforms? I think they just realized Skype should start competing properly and I support this move. Tough to swallow but well-done Microsoft

This was the original plan since 2012 and hopefully they don't create any more troubles.

Agree, but what frustrates me (and a number of other commenters here) is the fact that the constant flip-flopping creates a perpetual state of change for Windows users (granted, this is the "fan" community on Insider previews). I liked the Skype + Messaging integration, but I also wish they would have truly dedicated effort to making it great 2+ years ago instead of giving this alternative Messaging Everywhere experience (which just started to work well) for a short time.

They should make it a more appealing service then, not just force it down throats.

Oh that's a shame. Well it sucks ass really.. Raaarrragghhhhh

Bringing a much better experience to the Skype app? Yeah I'll believe that when I see it. MS can't even get Cortana to work right. And after how many months of builds? Currently running what's supposed to be a "stable" release preview and yet for the past few weeks Cortana no longer shows any sports scores, news, or weather card notifications!

Microsoft...make a plan and friggin stick with it for a change

This feel like they're trying to force skype down people throats instead of just giving the feature to the users. The skype experience could be added to the messaging app and vanilla skype abandoned. This is them adding sms messaging to an app I refuse to use because it just plain isnt where Microsoft should be anymore. One OS, One Messaging app. Skype integrated. Not the other way round

If they integrate the message app properly with skype, it could work and allow for greater things to come. Think about it, slot of people use skype especially outside US so it is unifying one app and allow you to communicate across other platforms such as iOS and Android. I feel this is a move by Microsoft to allow tighter integration with windows pc's and other platforms. It is smart.

They should ship this version until they have it on skype. Afterwards discontinue it but not now. EDIT: This might be a response to what they saw messaging is turning into. So they can too offer a chat like native app that sends gif, img, likes, reactions and what not.

Now this is so dumb! Back to the Iphone, Ipad, Mac and Imessage for me!.

Now I'm pissed off Microsoft. I'm really pissed off... And it's strange, because I almost always defend the company. But seriously? What the heck is the actual point about migrating SMS into Skype? Does it mean, that maybe in the future, we will have to buy skype credits or whatever they call it, to use the Messaging everywhere feature? Dudes, come on... You can do better than this... This was one of the features I really looked forward to in RS, but now, this sh*t happened... And don't ever think about making the messaging everywhere feature only available through Cortana... Because she still isn't available here...

Why do they keep taking features out

totally stupid decision with no regard to customers pull it from messenger AFTER it is working with Skype.

Im out. That's the final nail in the coffin. Time to buy an iPhone.

Then you should actually like this change. Skype on iPhone/Android *might* be able to handle SMS messages in the future (and sync your SMS conversations with Skype on PC). In effect, "messaging everywhere" could be truly everywhere, not just Windows devices.

Sure, buy an iPhone. It will automatically send iMessage to all your contacts who have an iPhone. Then you can message with them on your iPhone or your iPad, but no other device will sync. Also, if somebody sends you an SMS message, you will still only get it on your iPhone, not your iPad or any other device. Currently, Google Hangouts is the only thing comparable to what MS is attempting, althugh Google Hangouts looks like a cartoon ate a messaging app and then threw up.

good, we need this crap carrierware to disappear

Good Choice Microsoft! Than Skype os going finally the way it should be and that is a hub for all Messaging. SMS and Skype...

I'm OK with this, the experience was horrible, I actually turned it off. I was getting double text alerts, and it didn't sync the contact information. I'd much prefer the Cortana alerts and option to reply inline to the text messages.

how long ago did you turn it off because it's been rock solid for me for the last 3 insider updates.

This indeed is a very poor decision and a decision that will cost MS in the long run. As a business owner i will never use skype nor want to nor will any employee. The app is cheap,non functional and will never be taken seriously by any of my customers.

Skype for business is pretty full featured. I work for the IS department of a hospital and its indispensible

I see that as a problem though. I work IT for a university and I'm making training videos on cool new Windows 10 features so our employees can watch those and learn as we deploy Windows 10 to their office workstations. I was holding off on making a video for the Messaging/SMS app on Windows 10 until the Anniversary Update was out. It made sense to have this in the Messaging app on Windows 10 and I was looking forward to sharing it as a great new W10 feature. However, since we also use Skype for Business across our university, we don't want to add confusion by installing consumer Skype UWP and making them use that for text, but S4B for intra-enterprise IM like normal. The whole renaming of Lync to Skype for Business was a bad decision, IMO. Trying to force two different versions of "skype" across an enterprise for various tasks is going to add confusion.

Skype for business is Lync upgraded and has nothing to do with this topic. Although tying them all together would be nice since through skype for business you voip calling, integration into enterprise UM and presence awareness. But right we just talking about texting.

For me, it has to do with the topic of integrating the SMS into Skype. If I want to advertise/train my colleagues on this feature, I have to encourage their use of consumer Skype. For the average user, their understanding of Skype vs. Skype for Business will be confusing and muddled. They won't understand why they need to go to Skype only for SMS, but Skype for Business for everything else "skype-y" in our enterprise, especially when Skype heretofore has not been associated with SMS. So for me, Skype for Business does dovetail into this topic because of the confusion which I predict will result in the enterprise.

Skype for Business is nice but it's just Lync with a new skin and name which is why it's so much better than regular skype. Ironically the ios app is AWFUL versus the WP app. I still wouldn't want to text through skype for business.

This is what happens when you have a woman in charge of the team. Once a month she goes nuts.

My feelings on this are that Skype has taken forever to get its act together and still not quite there yet. In that time Whatsapp and other messaging systems have gained ground and speed, I guess this feature is something they can differentiate themselves with against everything else out there, they need to.

**** that! Thats so disappointing! No one uses Skype for anything but video chat and people dont even use it that much anymore since we have discord and messenger. Goddamnit MS

Not sure if I'm understanding this correctly. Will we be able to send SMS through the Skype app, or is the SMS everywhere feature gone? I don't have a single friend that uses Skype regularly, so I need SMS, not Skype. If both SMS and Skype messaging are integrated into one app, great, but if SMS is being completely pulled except for Cortana integration, I'm going to be ticked.

Count me out. No more insider builds so I can keep this feature.

I wish I would've gotten out before the update got to my phone.

Hope this works well for them, on my android phone literally one person I know uses hangouts lol so it's got to be better than that at the end of the day.

I don't know anyone who uses skype or hangouts. Most I know use a encrypted type of messaging or video call

Hangouts isn't popular with everyone, but at least Google gives you the option of using a regular sms app.

Ok. Why couldn't they have this feature in Anniversary Update with the idea of replacing it with Skype messaging in the Redstone 2 update, so we can start using it now instead of much later? If it's working now, just release it for the few months leading up to Redstone 2! Sheesh

Lol.... change can cause some people to lose there minds...

Yeah, this one annoys me, it's almost as if they look to see what people like then take it away. I guess there was no way to share this feature with Apple and Android so they decided to kill it, as with rescent Microsoft fashion, who gives a **** about Windows Phone users right?

1. This works with Andriod right now. 2. Microsoft is the only one that puts all of their apps on all the platforms, and even prioritizes other platforms. They see how FB Messenger and WhatsApp is taking the messenger app market and think they can catch up by forcing people to Skype. I wouldnt be suprised to see them pull Messenger from Windows mobile and replacing it with Skype.

everything is a trial with microsoft

When coming anniversary update???

WTF, this is basically a 360 of sorts. The thing is that messaging works lovely. It's working fine now, now they will try to integrate into skype again....and God knows when.

So Cortana will not be able to send a text for me? Posted via the Windows Central App for Android

You still can, this doesn't really effect andiod users. Since messanger app doesn't really work with andriod.

My God are they completely incompetent when it comes to sorting out Messaging. It's like the Keystone Cops are in charge of the division. 'We're doing this...oh no, wait...we're doing this now, so you can't have that....no wait, we've changed our minds, now you'll get this....oh hold on, change of plan.....'. As they stumble about like Idiots, other people have done it right and moved on.

Messaging everywhere was pretty cool and I'm curious how they're going to do it different and make it better. I'm good, lets see what cha got.

Watch everyone will use it then forget about all their biotching

Started installing the new release. Windows Phone, Surface and PC All excited!! We are making progress! Read this article, shut down PC, Turned off 950, shut down Surface. Unplugged HDMI connector, Re-connected MAC (New MaOS 10 developer) Starting charging my IPad PRO, Iphone 6S, ipencil. That tells you how upset I am, always telling myself going to give Microsoft another break. Not this time. Apple is boring, but consistent. Where do they get this people? Skype is crazy to use. I have been using messengers since ICQ

Problem is, the author painted this in such a negative light when its actually a good thing. Who's to say skype uwp on pc won't soon allow sms syncing? Think about it...

If the new Skype app will be as good, and fast as Daniel states it is so far, I'm okay with this change. Skype has been terrible in Windows (name any version or phone version) for a while I feel. If they can't deliver a really great Skype app, then it will be sad to see this feature go away as a separate app.

Ugh... Like I'd be okay with this if they just would have kept the feature in until the new Skype app were actually ready AND worked with this functionality. I'm liking how the new Skype app looks and is working, but I don't want to have to wait for them to figure out how they're going to make SMS work in the new Skype App when they're already making it work wonderfully now.

My guess for why they are dropping it now rather than later is that they already rolled out Skype/SMS integration to consumers and they are pulling that in Anniversary. If they leave Messaging Everywhere in the next public release (Anniversary) then they will just have to drop it again in the future and they probably don't want to confuse non-insiders. Since only Insiders have got to try this, it never existing in the real world of the consumer - Dropping it before Anniversary means officially and publically less tooing and froing

Thank you, very reasonable... ;)

Awww damn, and it just started working well!

The solution to this problem for many is for us, as developers to be able to access the messages on the device in a very flexible way. If the right APIs were available this kind of app could be replicated, and for Android users these apps already exist. As a W10M user you are kind of at the mercy of Microsoft to offer this as only they have the relevant access to the device to actually send an SMS without the users input. I have faith it will work in Skype eventually, they just need to be sure this time....third time lucky?

Funny I was submitting feedback for the Messaging App earlier.. The category disappeared and feedback moved. I think this is a good move, but need to make sure that Canadian numbers are available. I'd be happy to do all messaging though Skype... Go a step further and tie in all other services such as Hangouts, WhatsApp, Slack etc through APIs.

Sonuvabitch!!!! The only reason I haven't been using it the last two months is because school is out, otherwise it is fantastic. With no imessage equivalent this was perfect. Sometimes I hate MS.

WTF? So now I have to use the Skype app to send SMS messasges instead of the Messaging app?!?! ...oh wait, I don't care. So Skype takes a few seconds longer to load. Boohoo? Talk about making a mountain out of a molehill. I agree with Microsoft, they don't need multiple apps to do the same thing. I'd rather seem them focus on one great app instead of multiple subpar apps. Microsoft has more than enough subpar apps as is.

The problem isn't that this is going to take place in the Skype app. The problem is they've been going back and forth on how they're going to handle Skype/Messaging for two years now. And when they finally get something that works and people enjoy using they change their minds AGAIN. The only feature myself and many others were looking forward to the Anniversary Update for was the ability to send SMS from the PC. Now they say they're taking it away and have no ETA on when we'll get something that works like it. That's the issue, not the app that's going to be used.

So basically Microsoft is still hardly testing and yet incapable of making decision over the subject that Apple already succeed and been using on all of its devices since three years ago!
First Microsoft brought Skype into Messaging, which was acceptable, regardless lack of key features. But now the team decided to move Messaging into Skype!
Well... Perhaps it's useful!!!!

Holy mole!!! I don't even know what to say. The whole Skype/SMS/Messaging fiasco is something to write a whole book about. I cannot believe how much they have flipped on this feature; it makes politicians look like stable and consistent beings. I upgraded to Windows 10 mainly because I was looking forward to this feature, I just hope that their promised Skype app delivers and that they really stick to whatever messaging "plan" they have now.

"We believe we can deliver a better experience through skype." LOL. And when are you going to make Skype by itself a better experience?

Also the XDA forum grabbing the packages for the Skype UWP app for Mobile is being closed. He said he mechanism for grabbing the packages no longer is working. So we will most likely be on the .72 build of it till official release.

They were aiming to officially roll out the preview within June...That was NOT a promise at all and just an aim but we could see a much more polished build of the mobile app in the next few days or in very early July.

Seen a lot of bullshit since WP7, but I think this takes the cake. Not just the reversal, but the what, four reversals and back where we started 4 years ago? I think I might be out after this.

What I want to see is the version of Skype that was shown at Build - If in fact that was a genuine Build then they are WAY ahead internally of what we have in the UWP Preview / Sideloaded mobile app. That app has bot support, including integration with Cortana, and a more polished mobile UI - The sideloaded package performs well right now but it understandably lacks visual polish. The version from build looked more refined as well as more feature complete - It could of been a specific demo app though and not a "real" build of Skype UWP

After all this back and forth thing, yes I hope they'll release something similar to the one they showed at Build. That with SMS and maybe GroupMe would be the ultimate messaging app for W10

I was just thinking on the same lines when I read this article...I have been developing a bot using the Bot Framework and really liked the integration with Skype...When I think of the demo at Build, where Cortana was used to accomplish a lot of things within the Skype app, my only apprehension was not everyone uses Skype. But with this news, i can see that Microsoft is pushing ppl over to Skype such that when bots start becoming mainstream, adoption would be great bcoz ppl will already be used to using Skype to do a lot texting....Its a good strategy but have to see if it works out though...depends on how smooth the UX is of the new Skype UWP....

nooo stop. get rid of the skype app please. integrate it's features into the phone and messaging apps and let skype die

This is a huge mistake, I will have to switch to android or apple

Curses! Seriously! Curses!

Does this mean that Sms via skype will be free?! I hope so, to pay twice would be RIDICULOUS! O_o

Of course not, just the app you'll use to send both skype and text messages will be same. Btw you're not paying anything to skype to send messages, if you have landline/mobile minutes that's different story.

Not everyone use skype but we all use messages I don't know how they think and it's not even funny any more removing good features

Skype is already available in iOS and Android, so it is easier for them to bring this feature to other platform. Maybe they're just preparing for the worst in Windows 10 Mobile. Abandon ship! Hehehe!

i can not find the words to the news that messaging everywhere will now be gone how about WTF. This has been the best addition in a long time this has helped me so much to be able to communicate via my pc. skype especially for windows phone has always been CRAP and now we have to wait for CRAP. I have been telling all of my friends and family about messaging everywhere ...giant step backwards, i have been an advocate for so long but I just dont know how much longer I can stay on this platform

WTF MS?! What exciting feature will be left in the Anniversary Update then? We don't even have Chaseable tiles as they have announced beforehand.

wait hold on SMS never synced for me in the PC messenging app soooooo.......

Heh microsoft after all these years I must now say "YOUR FIRED!"

NOOOOOOO! A dedicated texting app without the skype bloat was SO nice!

Yes just opened up Skype for the first time in years to get the idea of how this would work with my 640.... and find that Skype wants MONEY for this service? Microsoft figuring out how to pay the 100000 for the forced Windows10 upgrade.

Skype want money to send SMS using your skype account for now. When they merge the messaging with skype, if you use your phone's phone number it'll be free, if you use your number that you got from skype you'll pay to skype instead of your carrier.

Can't they make up their minds...

So they're renaming the messaging app to Skype?

Unbelievable, finally some good functionality but NO, IT WAS TOO WELL RECEIVED. This is almost as bad as blocking Cisco IPSEC VPN. Bah!

You know what, seriously, this skype with sms may make me reinstall skype again. Not that sms is popular anymore in Thailand. It's expensive here, everyone use Line app.

Will I be forced to use Skype just for SMS? I have no intention of using Skype as no one I know uses it becuase of bot-plague camgurl69 wants to add you as a friend like seriously if they could get rid of all camgurl bots then I might consider using it, but I gave them too many chances now to reconsider it, so if I'll be forced to use Skype just to send a text then I might as well go back to a Nokia 3310.

Wow, amazing how riled up people are about loosing a feature that doesn't even work properly.

I wrote a small app that lets you type on your Windows Phone using the PC keyboard. Been using it a while now and it works pretty well. If you're interested, check it out at www.winphonetyper.com And if you have any questions about it, please let me know. I am a real person who is actively working on this project and I'm very interested if anyone has difficulty using the app. Thanks!

It's a shame that no one is reading the actual article. Just shouting out random assumptions and crying. Imagine that they renamed the Messaging + Skype app to just Skype... Well, the end. Lol. It will be a regular messenger as well, if all you want is regular messaging. Or you can have it along with Skype. That's all.

But that isn't what happened. They started over again. And the current Skype UWP sucks.

Is Skype with SMS coming in anniversary addition? The article I read said they would begin to talk about it in a few months, not release it next month.

Why? Just...why? This was the only thing I was looking forward to in the Anniversary Update. Way to go Microsoft...

Never ever drop a feature until and unless you provide alternative.

I'm disabling new builds right now. Staying on 14372 for as long as possible.

that was the only feature I was looking forward to. an iMessage like experience.. oh well..

The bad thing is I reformatted my phone because Skype wouldn't start. Now it won't install. Don't worry. Everything is Coming Soon and Soon To Be Discontinued.

Wait a second, if I'm on Threshold I still have the Skype+SMS thing going on, but on Redstone that integration was gone?, what exactly is the app on Redstone?, someone please answer me. I know the UWP for Skype is on the works, but how does that affects the messaging app on W10M?

This is literally the only thing I honestly cared about in Windows 10 and Windows 10 Mobile. WTF Microsoft?

Seriously Microsoft!? This is ridiculous! The ONE feature I was looking forward to the most, and they get rid of it...I don't want to use Skype for checking texts, I want to use Skype for Skype things....sigh.

this is a very disappointing announcement..one of my most mainly used features since being an windows insider. this is one of those days I question microsoft's strategy

That is the most ridiculous thing ever!!!
It worked so effectively! Why ruin what's been build as a genius method of communication?!

This was always the way it should have gone in the first place. Bring Messaging into Skype instead of Skype into Messaging. They've wasted so much time on this.

"The experience was well-received by Insiders however ..." and this is where I stopped reading. Seems the insiders' input is not so important. I believe that MS believes that they can delieve better. But what they had already delivered HAD WORKED. It was good enough. Be f...ng agile, Microsoft, provide mvps. The mvp in this case was... uhm... this simple app. If you want to move it later to Skype - that's okey. But REmoving it and talking abouth "months" when you are just going to provide some information on your next steps... Well, this is far, far from being agile. At least we should get more detailed information on the schedule. "Months" is anything between 2 months and infinity... :(

Oh great now you'll have two options for SMS... Sounds like Android. Instead of just fully integrating Skype into the platform with underlying Video api run through the phone app and same for Skype Messages. Nope lets just keep an entirely different app and not unify them. Google Sucks at it and so does Microsoft. Good Job Apple on successfully implenting a Hangouts/Skype like feature into the core OS. Thats the one thing you did right in my eyes. Everythings us, meh.

Never used it. The only use I have for SMS nowadays is to receive validation codes for to book data roaming on travels

I personally prefer them separate (i.e. like how it is now... I hated getting SMS notification sounds for Skype messages and vice-versa). I'm a bit concerned about this because new users will not know they should get their SMS messages in Skype... whereas as "Messaging" was clear and straight to the point. Hopefully on the intro screen of new installs of W10, they show a quick notification saying SMS messages come through Skype now... AND I hope they come with different notification sounds.

Take the only thing from Windows 10 and Windows 10 Mobile that makes people wish they had that feature. Microsoft needs to learn that Skype is DEAD... Most people think of it as their grandparents first attempt at VoIP. Even if Microsoft were to include features of BlueJeans or GoToMeeting, I still do not think that Skype could grab a foothold on the market or become truly relevant again. As for trying to compete with Facebook Messenger... Uh yeah, no on that too.

Take the only thing from Windows 10 and Windows 10 Mobile that makes people wish they had that feature. Microsoft needs to learn that Skype is DEAD... Most people think of it as their grandparents first attempt at VoIP. Even if Microsoft were to include features of BlueJeans or GoToMeeting, I still do not think that Skype could grab a foothold on the market or become truly relevant again. As for trying to compete with Facebook Messenger... Uh yeah, no on that too.

I swear, give Microsoft a gun and they will shoot themselves. NOBODY wants it in a Skype app. We want NATIVE support, NOT through skype. Why is Microsoft so damn annoying? Nobody outside of your grand parents use Skype for anything more than a video chat. And if WhatsApp adds video support, nobody will use Skype anymore. Goddamn Microsoft. So goddamn annoying dealing with you.

Okay. I'm confused. Once the Skype app development is complete and this messaging everywhere integrated into skype, will they remove the default messaging app we currently have and replace it with skype? Will skype take care of our conversations SMS, VoIP and IM alike on our phones, PCs and other devices?

Not to mention how Skype's 'message everywhere' feature work on other platforms e.g. Apple has a similar cross notification feature built into the Mac and iOS.

I get them wanting to move away from this in production build cause maybe they feel its not ready for prime time and want to work on something better, but come on don't screw the great feature for those on insider builds as we are putting up with bugs anyway and would want this until the actual replacement is ready. the feature is pretty good now even if they did not continue to improve it.... Can't see why they can't have the best of both worlds, don't official the build of messaging so it's only available to insiders.

Why though... Posted via the Windows Central App for Android

I think what we are going to see is the evolution of Skype into the primary method of communication. Let's try and understand this through the ecosystem. Skype happens to be on phone, PC, and Xbox. Eliminating the other competing OS's, I think Microsoft is trying to make Skype the all-in-one. Like iMessage,is all in one across Apple devices. I think we will see the evolution of Skype to be the all-in-one for Microsoft. So it seems that we will see the slow erosion of messaging into Skype. So, it may be like we all hoped. An all-in-one solution that won't be called Messaging+Skype. But just Skype

This is what everyone foresaw 5 years ago when they bought skype and assumed was the case in Windows/phone 8. Yet here we are.

MS has been wasting quite a lot of time and resources flip flopping between messages and Skype. Both haven't meet expectations in the current state. Maybe MS should kill Messages and focus on getting Skype in a state that would act as the default messages and SMS app on the Windows platform.

This anniversary update better be something special cause so far all I'm hearing is all the things I'm going to lose with this update.

how about letting us get the skype app then.

Well, Verizon Messaging app on Win10 does a "fair" job for me as far as seeing txt msgs between the phone and pc... but still needs some work.

No update for me... I'll stick with these builds for a while

I am now cautiously optimistic about the new Skype app now that I am under the impression that it will send skype chat AND sms messages. I was originally disheartened when I heard Skype integration was being reversed from the sms app. Now I can see why. This makes more sense because it preserves skype brand equity and keeps the multiuse quality.

What I don't understand is, why do these have to be mutually exclusive? Why not have both... A tightly integrated experience with PC/tablet notification.

I'd rather have Skype be it's own thing and SMS be it's own thing. Hopefully this isn't going to become Microsoft's version of iMessage.

Another day, another change in direction and subsequent disappointment from Microsoft. Becoming a trend.

Oh MS! Please make it so confusing that everyone leave your platform. WTF would you need 20 different apps to do one thing... this is where Apple excels... keeping it simple!

MS makes makes burry themselves... Take out all good features. Then make it as a gaming phone. Then i will give this to my kid and We will move to android.

WHAT THE F#CK MICROSOFT Posted via the Windows Central App for Android

MESSENGER FOR WIN 10 MOBILE IS OUT!!!!!

Microsoft being retarded again... Improving it doesn't mean it needs to be removed first... Who made these fucktard decisions???

I'm disappointed that they want to move the feature to Skype. I feel that such a feature should be part of the OS message app and not dependant on an external app. SMS is a built-in feature of most phones compared to Skype.

WTF?!?!?!?! I was so excited for this feature, what the hell?!?!?! I'm especially mad because they said it was well-received but they were removing it just 'cause. They didn't say it was buggy or anything, they're just removing it in favor of Skype. I'm extremely disappointed, this was my #1 most looked forward to feature for the Anniversary Update, I'm crushed right now.

Wow! Was really looking forward to messaging everywhere. It worked fine but had its issues. Hope the new Skype version works better than the old one.

Come on microsoft, dont do that, i hardly ever use skype why force it down my throat? Give skype as an option but let me text from my pc because sometimes i am so busy to look at my phone and i can very quickly reply to a text on my pc. Do not pluck this feature

Considering how crappy Skype apps have been on Windows Phone, this is... nevermind. I rarely text anymore so it doesn't matter I guess, I'll stick to Whatsapp...

They say the new skype uwa even in close beta works fine and has great potential.

This is getting ridiculous. Let me check out that android of yours. I may turn out to like it.

I never use skype and i see no reason to start now. MS should offer both options. The days are gone that MS had enough market share to force things on their customers. Customers will simply have another reason to get a chrome book or android phone.

This is one of the best new features like back when the touch tone phone came out. Come on MS, Skype messaging has alwyas been garbage. You can easily screen shot with ink markup and resend in seconds. And know I find myself stopping insider builds on my laptop, using mouse without boarders between my desktop at work to day so I could continue to be productive. Messaging everyware saved me close to 2 hours a day....... Thanks again for Vist, ME and now the loss of Messaging Everyware. Whats next? Loss of free thinking when using windows 10 :)

Microsoft has a divided personality, they don't know what they want and what they do. They try to copy desperately the Apple imessage.

Wow. Lame. I much prefer an OS integrated messaging everywhere experience, not a separate Skype app. Lame, lame, lame. Very disappointed to hear this.

Is MS forcing everyone to use Skype as its under used, who uses Skype?, I've turned it on many times over the years but always uninstall it as it's been rubbish, other messaging services have been far superior, this decision is going to annoy a lot of users and push them away from using MS messaging on to other platforms

I'm going to offer a counter argument to the complaining bunch here. MS is just trying to keep people in skype, having them open skype and use skype even for this. Skype has almost no mobile chat market share, having SMS inside skype could change this if it's the first system to be as seamless as apple's iMessage is (of course they'd have to make it crossplatform). Also this allows cortana to see your sms messages and be integrated into them like the skype demo during the conversations as a platform announcement.,

It's a bad move from Microsoft, messaging everywhere was a great feature.

This is really disappointing and gross.

This is the way to go IMO. I was wondering why they even bothered with the previous plan. I'm glad they came to their senses. Guys, this is basically the same thing except they call it Skype. It has a better name recognition and good for long term IF they can keep it lean and fast in UWP form.

As long as they give me a great experience i dont mind. What i need is inline skype reply as the text.

Good news! I uninstalled windows 10 from my phone and waiting for anniversary update because of that messaging everywere app is so lame

I've now understand, they want you to use Skype even for sms, since Skype has less users nowadays, i can comprehend them

Mysms app for Android and Windows 10, all my texts are in sync on both devices Posted via the Windows Central App for Android

Of topic: is it Lumia 950 Gold edition in the picture? Did not heard about it yet.

Oh, FFS Microsoft. Make up your minds! You give us features and then take them away again! WHY!? This is exactly why I dumped my Lumia last weekend and switched to an iPhone. Microsoft has NO CLUE what to do with mobile. NONE.

If it's in skype then it will be cross platform except ios lol

They're lucky that they have us Windows Insiders to test these projects on, because to be honest I don't know what they would have done without us. Considering a lot of Microsoft's final decisions have been based on the feedback they've gotten from us, it seems like they can't even make solid decisions on their own. I'm a huge fan of the program, but the idea of it just seems like a plan to save Microsoft loads of money by throwing experimental projects on the die-hards. Kind of scheming in a way, not to mention disappointing when features like these get scrapped. It's like we're puppies waiting for our owner to throw us a bone only to take it away less than halfway through.

How stupid are they... they could hold the messaging app AND also bring a full Skype app at the same time Posted via the Windows Central App for Android

I think this is a bad decision, the ability to go back through years worth of SMS history was a very valuable UI experience, I'm presuming this means future builds of W10M won't restore your SMSs automatically either...

But ..but... Everybody really hates skype :o

Noone hates skype, we hate the old skype app

This should be interesting, because this means the feature will be natively available in more global regions. Many regions don't support Cortana. So integrating "messaging everywhere" could bypass this problem. It sounds like a good decision to me. Curious to know how microsoft will implement this. Will I have to open two conversations with the same contact if I want to chat and text, or will they be integrated into one conversation? I hope the latter and that microsoft also supported sharing files in skype. It's almost the only thing that's keeping me on whatsapp. If microsoft can also go the extra mile to support a plugin for whatsapp conversations in whatsapp through the skype dashboard, well then there's little reason to switch and windows 10 will feel holistic again.

Damn those most regions not supporting Cortana. I suppose there is nothing Microsoft can do for it. Time to kill Cortana for good.

I am really glad I bought an iPhone, this week is my last one with daily usage of Lumia 930. I am also sad seeing MS can't decide. It's like a constant beta shuffle of features, some good, some bad. They get added, they get removed. Problem is, this happens on production vision. I will be dissapointed to see the AU w/o this feature and w/o skype in messaging. It will have skype but for what? Kinda useless. Another dissapointement is the FB apps that are ported form iOS, they are so laggy and slow. I do not really care about the design but porting them shows how bad technology of OSmeta is. What's the point in having the app if when I have something pop-ing up makes the screen full of lag?

Messaging Everywhere to me was the only interesting thing about redstone, oh well nevermind

So on mobile this Anniversary Downgrade has so far removed at least PDF Reader, FM Radio, Kids Corner and now Skype may become mandatory for basic phone functions like SMS? Great I stayed in WP8.1 and moving to non dead platform soon.

-.-" some of us prefer not to have everything merged with Skype.

HAHAHAHAHA. Shaking my damn head while laughing in tears. Recently I broke my lovely 930, was deciding about buying a 950 XL as a replacement. Not anymore. Thanks for waking me up, Microsoft! :D

I belive it is a good move... It is better to merge Skype and Messaging together. Similar to imessage on iOS.

I'm confused by your comment. What we had with Skype integration was like imessage, but now Microsoft is killing that and forcing us to use a separate Skype app. We will no longer have an integrated imessages experience. You will have to use Skype as a separate app in the future.

So, the messaging everywehere (beta), previously messaging+skype (beta), previously messaging without function will go completely (or stick around for a while). Just like skype video or the mysterious calls app. By then it will be time to split and merge, re-split and re-merge and combine functions between apps in combinations that we did not see so far, just to make sure they get all covered, 100% of the remaining 3-5 users will get confused, and to keep Zac busy writing about it. Now I understand!

So everyone is complaining that this feature is awful you don't want skype and messaging together. I remember weeks ago when ms removed skype from messaging, they where furious back then. So ms gives you what you wanted in a different way, they want to make skype big again, they want to make this world wide not only a Cortana feature and you still complain. I say let's see their plan and then we can yell or applaud.

Jeeez!! Looking at this comments section, all those who didn't understand the article and wrote rants have the highest up votes! They're not killing the feature! They're gonna integrate it into the skype app! Since that's still in development, that means there's not enough time to bake it into the anniversary update! It will come later, but as a bug free and non crippled experience. Think about it. Uts a great way for them to boost their skype user base too, if they include SMS within the skype app. The amount of people who were lobbying MS last year to finally launch windows 10, and then MS listened and it turned out half baked and gave a lot of problems with a lot of devices, then everyone complained that they should have released it later. Well think if it like this. Instead of releasing messaging everywhere as a buggy crippled feature in the anniversary update, they're gonna integrate it into the skype app and hopefully deliver a more polished experience. Im sure they don't want everyone up in arms that it doesn't work properly. Abd to add to that, they're trying to expand their skype user base. If everyone accesses skype for SMS, skype gets much more exposure than before. I'll reserve judgement on whether its a great idea or a failure once the full skype app is released

The main thing that gripes me is that they will rip out something that works long before the replacement is ready. Does anyone know when the skype app with this feature working will actually be available?

hey people you should know what you want. you were angry when they separate mesage and skype. Now they listen to you and put it back, and you still complain. I don t think they will get rid of that feature they just do it in an different way, plus they need people to use skype, not only for busines. Let them try at least

Lets start a twitter campaign - #WeWantMessagingEverywhere. Inundate @DonaSarkar with tweets!

I'm sorry, but this is just plain stupid. :(

Can they please drop Skype and return the amazing Live Messeger?

Too. Many. Changes! Posted via the Windows Central App for Android

This move is very obviously less about the Windows 10 Mobile experience (which is probably a low priority inside Microsoft at this point) and more about extending a 'Microsoft Messaging Experience' across all platforms, i.e. iOS, Android, OSX *and* desktop Windows. It is what it is, and if W10 Mobile were to ever eventually completely go away, a Microsoft-Skype messaging experience would still be in place. Getting to that place, using Skype for Messaging won't be easy, given how buggy and 'heavy' any version of Skype has been in the past. Nobody likes looking at a Skype loading screen when they want to tap out a quick text message. Also, they'll need to do something about the terrible spam prevalent on Skype. It makes the experience not fun, having to deny requests from obvious porn spam and other garbage.

Honestly, I couldn't get this to work anyways, plus haven't they tried this before and backtracked on it.

I bet this was political. The Skype team was probably scared that nobody would want its app if Messaging Everywhere was allowed to exist, so they had it killed. Skype continues to fail, but they want to make sure nobody else can succeed. Just another bad decision in a history of horrifically bad decisions for Windows Phone users. No wonder market share is 1%.

Skype on any platform has always been mediocre at best, before *and* after Microsoft. I honestly can't see it improving. It's why I prefer Facetime---it launches nearly instantly, performance is always rock solid, no splash/loading screen, and no adware / spam.


I think only thing to complain here is we are not getting a stable service because of this back and forth thing. Other than that, I don't see why people don't want this merge. You are not going to lose anything. If you want you can merge your contacts and you'll keep your messages in one thread, if not they'll stay separate, so there is nothing to complain here. Eventually Microsoft will remove the "Messaging" app so Skype will be the only way to send SMS, which means you shouldn't complain about two messaging apps. Skype is totally free, and it will stay free. If you don't have a carrier, which is probably not the case, then you can pay to skype to get a phone number to make calls and send messages, that's it there is no other paid service provided by skype. Again only problem here is Microsoft cannot decide what to do, you can still send sms from PC using cortana and action center syncing so it's not totally gone, you still have skype desktop if you hate the UWP, you still have GroupMe which can send text messages if the other party doesn't have an account.

Don't worry people, last year Skype wasn't going to have a universal app, now they are, it will be all change again next year.

Shame they're pulling this... I've been waiting for a long time to get messeging everywhere across devices, much as iOS/OSX (err...macOS) users can do. Now we'll have to wait longer, and I am not terribly optimistic that the Skype integration will be simple and straightforward.

This is really disappointing. Skype development has been a disaster ever since Microsoft bought them. They had a huge opportunity years ago and they completely blew it. Integrating Skype into Windows 10 seemed brilliant to me. I was actually using it. Now they are pulling the integration out and forcing us to rely on Skype development again. I'm not going to hold my breath. Terrible decision Microsoft. The whole "One Microsoft" idea has not been successful in this area. Someone needs to get a vision at Microsoft and make something great happen. They can't make up their minds in what they are going to do. Messenger, Skype, Lync, Group Me, etc. They have all the pieces in place to make something great, but they are still in pieces. While Microsoft walks in circles (for years) competition innovates and advances and once again Microsoft goes from leader to playing catch up. Frustrating.

All of these decisions just to justify the long ago purchase of Skype which has never really fit in. How many times has Skype been renamed, reworked, repackaged? We'll wait and see... maybe the mobile SKYPE UWP will turn out okay.... Hopefully I will be able to purge Skype contacts directly from the mobile app instead of doing a PC App / Web Site combo...

This is really disappointing. To me it was one of the most innovative and useful features in the Redstone builds. I dont use Skype. Why do I need another app running?

Nooooo... This was the main feature i wanted from this update. :-( Microsoft is making it very difficult to stay a loyal customer this way

When reading through these comments i see alot of upset people for losing this feature. I am one of them. I see alot of comments from those that say big deal or we are all wrong for wanting this and how when they killed the combined messaging, skype we all complained also. this all worked perfectly i had a dual simm phone and all messages loaded on my tablet and pc, work and personal numbers. i could use the pc to send messages and choose which number I wanted to send them from, the value of this feature was very high. I am not against a combined skype messaging app and I understand why...ios and android would hopefully be able to have there messages also on a pc. But lets face it skype on windws phone has been less than great and the previous messaging - skype features have not worked well. So why not just leave this in place so all the windows faithfull can use this untill the rollout of a workable skype app that would then include ios and android. Funny I have a messaging app pinned to my start and its load with hundreds of messages from my two numbers and now its DEAD........

I kept the non-redstone build because of the SMS-Skype integration into the Messaging app and this is what I get in return...darn it.. Posted via the Windows Central App for Android

I'm not enthused. Getting something like this right is iffy from developers who are too young to know what a real phone book is.

Skype is just a black hole of lag and bloat, if you use it on Windows 7 the ads crash the damn program. SO looking forward to a windows device overheating and draining.

Anyone care to wager on how long it will take to get a decently working Skype + SMS App? My messaging through Cortana stopped today as well? Not sure what was up there as according to the article, it should still be functioning.

This is so disappointing! I loved this feature and it was one of the few things I could use to brag to my brother about who decided to switch to Android after being a dedicated Windows Phone fan for a long time.

Just bombard Dona on twitter tell her you want it back, I was excited re this :(.....deal breaker. I don't want to message through Skype . ALthough I'm using Android , My lumia is still my fave!!! stamp some feet......that would of been such a great feature.

MS should really learn to make the alternatives ready BEFORE discontinuing features.

I bet that that this feature, in some form, will be in Redstone 2. However, I could be wrong!

I bet this feature, in some form, will be part of Redstone 2. However I could be wrong!

I bet that this feature will be included in Redstone 2. However I could be wrong!

Worst. Anniversary. Ever.

They did it so iphone users can sync their messages through skype too.

Why even have this as an app? Skype should be baked in to phone OS.

Well thats the final straw with Windows Phone for me, I'm due an upgrade in November and will be getting an iPhone. Sick of the broken promises from Microsoft. This was the feature I was holding out for, but since I have an iPad anyways I will get the feature with the iPhone/iPad stuff. First it was the XBox DVR stuff (although I dont personally use it as a DVR but still a broken promise) now this. Skype is a no go for me, I hate the program. Had a Windows Phone on and off since the Samsung Omnia 7, currently have the 550 and 650. Really like the live tiles but I can live without that if I get the funcionallity I want. Namly Instagram, Music, Camera, Facebook, Phone and Text from PC or Tablet and Phone, At least iPhone also has Google Play Music and not Groove, which im still waiting for a Fravorate Playlist like the "Thumbs Up" on Google Play. The only really good thing Microsoft has done in the past few years is the Band 2. Windows 10 for me is no different than Windows 7 (in that I dont use it any differntly) The XBox One is good but I can live without it (not a real gamer), Office 2016 is no different really for me than Office 2010 that I already have, If it wasnt for Groove I wouldnt have Office 365 (for the extra OneDrive Space and the fact I got 1 year free). The Band 2 though is one of the best fitness trackers and Software support behind it on the market. Shame on you Microsoft.

PETITION https://www.change.org/p/microsoft-bring-messaging-everywhere-back-to-wi... Together we can change things!