Windows 10 PC and Mobile preview build 14376 released for Fast ring Insiders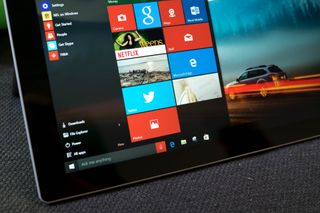 Microsoft has released the Windows 10 PC and Mobile preview build 14376 to members of the Insider program on the Fast ring.
This new preview build is mostly for bug fixes and improvements for both the PC and Mobile versions of Windows 10. Windows Insider head Dona Sarkar has posted what's been fixed on the PC side:
We're rolling out an Store update (11606.1001.25) that improves performance and reliability and includes fixes for accessibility as well.
Clicking on networks or VPN connections in the network flyout on the taskbar should now launch the network settings page like it should. We also fixed an issue where the network flyout would sometimes only show the network settings link, despite being currently connected to Wi-Fi.
For my dev peeps: we fixed the issue causing an error message when you enable Developer Mode due to the necessary package needed from Windows Update not being published appropriately. Go forth and create!
We have updated Narrator to now support using physical volume buttons to adjust the volume while Narrator is in Scan Mode. We also fixed an issue that could result in Narrator crashing when arrowing through list entries.
We have updated Windows Hello on the Lock screen to not repeat the name of the person logging in, when it is already displayed on the screen.
We have fixed an issue where you might be unable to type in some UWP apps. We also fixed an issue resulting in certain Polish characters being duplicated when typed into UWP apps.
We fixed an issue where the Lock screen background might not be displayed correctly.
We fixed an issue where your password would revert be being hidden if you tried to edit it while holding the reveal button.
We fixed an issue where the search dropdown in the Settings app could end up displaying above the search box instead of below it. We also fixed an issue where the "For developers" settings page would be blank while checking for an optional package, and an issue resulting in no handwriting, speech and other optional components being listed for languages that do support them.
We fixed an issue that could result in not being able to turn on "set time zone automatically".
We fixed an issue where the icons in some Start menu tiles could appear zoomed in, for example Alarms & Clock app or Calculator app.
We have improved the consistency in scrolling and zooming speeds between monitors when using a precision touchpad on a multiple-monitor setup.
We fixed an issue that could result in Explorer.exe crashing after receiving a notification from Microsoft Edge.
We fixed an issue where the caret might jump to the beginning of the line, rather than maintaining current y axis position when using the up and down arrow keys in a textbox in Microsoft Edge.
We fixed an issue resulting in an authentication error when launching mstsc.exe from an elevated Command Prompt.
There are no known issues with the Windows 10 PC preview build 14376. On the Windows 10 Mobile side of things, here are the bug fixes and improvements:
We're rolling out an Store update (11606.1001.25) that improves performance and reliability and includes fixes for accessibility as well.
The Gadgets app has been updated to fix issues using it with a Microsoft Display Dock.
We fixed an issue that could result in tiles pinned to Start from within an app being blank after a restore. We also fixed an issue that could result in multiple Live tiles no longer updating until the phone had been rebooted.
We fixed an issue making it difficult to download certain offline maps via Settings > System > Offline maps, as the list would jump back to the top when you reached close to the bottom.
We fixed an issue resulting in the Camera app intermittently freezing for a second when used in certain apps.
We fixed an issue resulting in links no longer working in Microsoft Edge after exiting one-handed mode while a webpage is loading. We also fixed an issue where the enter key would act as if it had been pressed twice on some websites, resulting in two new lines being entered.
We have improved the reliability of going between camera roll and Camera app.
We fixed an issue where estimated time remaining for battery life under Settings > System > Battery could be clipped. We also improved performance of enumerating the list of apps in under Settings > System > Storage.
We fixed an issue where the link in Cortana to download a speech language would open the Settings app homepage instead of going directly to Settings > Time and language > Language.
We fixed an issue where the checkmarks in checkboxes in high contrast mode didn't use the correct contrast ratio making them difficult to see.
Here are the known issues with the Windows 10 Mobile preview build 14376:
You can open PDFs in Microsoft Edge but won't be able to use touch to interact with the PDF (such as scrolling, pan or zoom). When you try to use touch to interact with a PDF, it will constantly reload the PDF.
We've heard you and we are investigating decreases in battery life on older devices such as the Lumia 830, 930, and 1520.
We're also investigating Wi-Fi disconnect issues – if you are experiencing an issue with your Wi-Fi disconnecting, please see this forum post and make sure to upvote Wi-Fi disconnecting issues in the Feedback Hub.
We have changed the backup format for Windows 10 Mobile devices to reduce the size of the backup stored in OneDrive. As a result, if you do a backup on a device running the latest Windows 10 Mobile Insider Preview builds and move back to the released version of Windows 10 Mobile (Build 10586) and restore from your backup – your Start screen layout won't restore and remain the default Start layout. Your previous backup also gets overwritten. If you need to go back to Build 10586 temporarily, once you are on Build 10586 you should disable backup so it doesn't overwrite the good backup from Windows 10 Mobile Insider Preview builds.
Ugh they pulled the messaging everywhere feature from anniversary update! That was one of my favorite improvements!

It says that it will be merged into the Skype app

And I will never ever use skype for this.

Have you tried the skype preview that was leaked? It's nothing like that old laggy mess we had before. It launches fast and actually works

Many of us might not use skype no point forcing users to use skype for messaging. Forced bundling is the worst

Does it matter whether the app is called "Messaging" or "Skype"? Does it matter if it's capable of only sending a text message versus having additional features on top of that?

Everyone said that about Messenger for Facebook but eventually everyone has because they will improve it till it works . Skype needs to evolve to a clean all in one message, video call and voice call single app.

My comment is out of context: In my case I stopped using Facebook at all.

well if you try it you will like it its clean AF. but ofc it would be good to have it both ways messaging and skype but i still got no problems with it!

But they have indicated it is not ready yet. Why disable a feature before you have the replacement ready. "Coming months". I liked this feature, my work phone is tethered to it and it has been really useful :-(

I think MS's programmers are very young.

Same. I was REALLY looking forward to this. I rarely use Skype, and when I do it's no to message people. So I'm a bit concerned about this change...

Yah, we need that feature back. They could have kept it for us insiders until we get the skype update.

And moreover Dona seems to have forget about another insider ring called "preview insiders". Girls too bad for tech companies. We all remember yahoo.

Don't be a dick. Just because she is a female doesn't make her any less capable of doing her job.

Pffft...I could think of a couple jobs she could excel in... Posted from PornHub

Your "Posted from PornHub" sig is especially relevant at this moment.

She didn't get what is universal messaging system on windows 10 made me say that.

Actually, you made a misogynistic, condescending remark that is totally out of place.

BaritoneGuy has it exactly right. Stop with the sexism. It's ridiculous and the reason the tech industry is struggling, because of people like you. Grow up

"off" missing in that query.

Why does it matter that she is female? You provide zero evidence between gender and ability. You fail at logic. Does that mean all guys suck at logic? Or maybe just people from your country? Possibly only people who have a first name that starts with "r"? I can keep going. I hope you can now see how ridiculous you are being.

Also, what build did you want released to preview?

Not cool, don't be a pratt. That kind of sexism is what leads to outsiders labelling the tech community as a bunch of fat pricks in their mums basements. This was a bad call granted but it has nothing to do with her gender, most likely pressure from outside sources to promote the skype brand. But you knew that, you were just being a dick.

Ok I am really getting tired of your anti-female posts. This is getting ridiculous. Grow up and get over yourself

Isn't Cortana everywhere? Windows 10 mobile and pc, band, Xbox, iOS, and android, each of which will receive messages and you can read/reply on each?

I still can't use cortana in the Netherlands, and neither can alot of other people in other countries. So It's not enough! I really want them to bring back this feature as I do not use skype.

Preparing to install updates 17%... Yaaaasssssse

No way...mine says 15%. There must be something wrong!

How can you say that my platform is dead when my 1520 has seen more updates in one year, than 80 iDroid devices have seen in 5 years... Rhetorical question.

Dat boi Giddora, AKA dem hatas, to be exact!!.. Hahaha!

Anyone could reply and say that the Idroids didn't need so many updates as those released worked as expected.

Many also could argue that Lumia's have always had more updates (even outside of the insider program) than CloneDroids.... My 1520 went from 8.0, had two updates, then to 8.1, with three updates.. Black, cyan, all that shizzle. Still getting updates.... What, do you have a Samsung Galaxy?.. How have your updates been?...
....
Actually, Samsung probably does pretty good on updates. They seem to have their act together these days, more than most... But, some other devices??? IDK. iPhones are super reliable, and owners don't complain about them very much, so maybe I should've left them out.. But, Android is just a mess. Android is cool, and there's some awesome devices,, APPS, but doesn't beat MS with updates.. I mean, we're damn near at update Tuesdays with mobile... SMDH. Windows is the future, Imo.

And, don't tell me you have a Samsung Ativ S.. Lol

Expected, seriously!!!!!!?

Well they definitely do need updates. I field calls on a daily basis for stupid stuff like devices not turning on, not charging, one way audio, and above all freezing. I've been getting these same calls across LG, Motorola, Apple, Samsung and sometimes HTC devices. They DO need updates, they just don't get them. I'm running a beta OS that is more reliable than their prime time OS. Microsoft is listening and fixing the problems I've complained about early on. They have lots of work to do but I'm fairly satisfied. I had ask S6 Edge up until last week and want nearly as happy as with my Lumia Icon.

This is now two weeks without a TH2 build release. Are they dropping support for TH2 now?

Go to build feed 10586.456 is being tested

Thanks for the reply. That's good news though. Lol I know my time is running out with this Lumia 928

Downloading on my Icon as I type this

Thanks for letting us know.

No more messaging everywhere... Microsoft keeps adding and removing new features. Make up ur fecking mind mate

You realize this is the whole point of testing, right? People not in the Insider program will be completely oblivious to any of this until the final Anniversary Update hits. That's when they "make up their... mind". But by all means, let MS know by using the Feedback Hub. I'm sure your opinion is not unique, so if you care about it, then provide feedback about it.

No. We are testing to help how apps work. We are not making decisions or planning for Microsoft. Obviously Microsoft doesn't have a straight plan. This is to be a fundamental structure not just features to add or remove whenever they want, and put it on end-users shoulders by saying:"we heard what you wanted"!

Absolutely not. If that's what you think this program is about, you're going to have a bad time.

Upvoted for moderate cuteness.

The point of the Insider program is to... Forget it, whats the point...carry on...

It wasn't there the first couple minutes lol

Go to Dona twitter page... The link to the blog is there

Changes/Canncelation to Messaging Everywhere is kind of lame. They tried the Skype thing and is was bad. I like it as it stands. Simple idea for a simple interface.

I hope you take your complaints to the feedback hub too!

Hello, Attila, I would like to register a complaint.

It seems counterintuitive. They uncoupled messaging and skype and are now rolling messaging everywhere into skype? Does that mean SMS in general will eventally be rolled into skype as well?(Rather than skype into messaging like previous)

Thats what i was thinking too, i hardly use skype so its not exciting to me.

So basically is like Windows 8?

I don't think I want to update 950/XL. The last build was worse than the one before it. 950/XL owners please leave feedback. Apps were crashing on me. Then after crash they wouldn't open. Thank you.

This happened to me too. Battery life is still not great. But a big help was to do a hard reset then wait for a few days for all the apps to update and for the fast ring to kick in again. Now it seems to be working fine for me.

Thanks for the feedback. Production finally had great battery life then I moved to preview. I can handle this last build battery life. Ready for a stable OS!!!

My 950xl (single sim, international) is running smooth as silk & has been thru the last 5 Fast Ring updates. The only problem I'm experiencing is a BT stacking issue... Where multiple devices don't play well together. Still not sure what the cause is.

Guys, I think Nokia screwed up the 950 because my 1520 is running like a charm and has been for months!

Well then it is not just me. I thought that I had to do a Hard Reset for the N-th time. I open apps, after a while they crashed, then I try to open them again and the only thing I can see is a black screen.

RIP situation for non insiders, no new features, okay but atleast bug fixes? Noooooooo
Still stuck with this buggy OS... Not even single app is crash less if u use it for continuously for 5-10 mins, worst battery backup, scaling issues, did hard reset twice but no solution... Firmware too up to date..... MS don't need new users, that is y they are not improving their non insider OS....

REALLY!!! 10586.420 is 95% bug free at the moment, if an app crashed it could be just that app, i wonder what phone you are on

Lol... After hard reset i was using people app it crashed like more than 5 times

It is not necessarily the app. If it happen with several apps (like my case), it could be an issue with the run-time environment or memory management.
Microsoft... What is going on? Do you have internal saboteurs?

I just have a crummy prized Lumia 640 and I don't have any of these crash app problem that you talked about with the released Win10 mobile. For the sake of everyone, can you just tell us which app is crashing and which phone you have so that people can corroborate with your experience? As is, your comment is just not credible.

My friends has L640, i am using L730 both of us has app crashes.... Is not particular app, every os inbuilt or external apps, people app, outlook too not an exception....

It also happens to me sometimes, I have a 640XL with 10586.420, the apps involved with that are random, Metrotube, MSPU app, WindowsCentral app, Whatsapp, Tweetium, ...

First - Your comment is incoherent. Second, the issues likely lie with you. Builds have been rock solid for a lot on good, powerful devices. The 1520 has been getting better with each build. I actually shelved my Nexus 6p for a few days this week to use the 1520 because everthing is working so great.

First, english may not be his first language. Second, I agree with you.

Yes, English is not my first language. It seems MS too don't understand English properly, when we use swipe keyboard it automatically chooses random words, People are scared to purchase windows 10 mobiles. see the reviews in YouTube and u can understand. Windows 10 has some great features but where is the stability ? Take any app and use it for 5-10 mins and then the app crashes at sometime. I am using L730 dual SIM, people in WC are suggesting me to upgrade my mobile, So to run Win10 Mobile OS do i need to get a very HIGH END phone ? Is there a difference b/w android and windows phones ? Slowly win becoming android.....


My 1520 was drained in 1 hour after installing the build and it just flashed windows start key and wouldn't even charge now... I am screwed.

Did anyone have an issue with the time? With my Lumia 640XL the clock was delayed several minutes as the time was passing by.

its fixed in the 14376, alot of ppl had this issue, they heard it

I'll go for this build then. Maybe it correct some app issues with random apps that I run.

They need to remove messaging from skype and just use groupme which is far superior. Keep skype for video and that's it.

Depends on which has better usage and better usability. I would say choose one and absorb the other into that. I still don't know why groupme is a separate app. It would have been awesome to absorb into the messaging app so you can text your groupme friends for free.

Guess my poor old lagging Lumia 830 will have to stay on the boring not-so-stable release preview a while longer..... #BOO

My wife's Lumia 830 is running fine using that last four or five builds.

That seems good... The pdf in edge thing might be annoying. I use adobe, but I know that's going to be a hassle for edge users. I hope that gets fixed soon

Hey, my phone was having problems with turning on and off Bluetooth from the action center so I hope this build fixes it.

The last release fixed it for me. Now it's responding quicker.

I had that problem too, and for me it's fixed in this latest build (lumia 1520).

I love the frequency of the builds and that bugs that annoyed us have been being squashed. At this point, a stable system is paramount. You can build new features on top of that. Microsoft soon won't be playing catch up anymore.

Am I the only one with the Voice Recorder app refusing to update? I get an error, last successful update was in June 22.

I cannot update that app either. Been this way for two builds now, as it still wont update on 14376 on a 950 XL

No you are not alone. A silly observation of mine is that the one that is pre-loaded is simply called "Voice Recorder" whereas the one the Store wants to update to is called "Windows Voice Recorder". Shame we cannot easily unistall Voice Recorder and simply install Windows Voice Recorder.

Having the same issue. Hard reset might fix it but the app does work...just won't update.

I tried hard reset (and no backup) but issue still exists.

Make sure its installed on your phone memory, not SD card. I had that problem with a few system apps that did that.

I'm having that issue too and now, after the update, the store closes after a second or two.

Finally, a fix for Gadgets app.

Should I now jump from TH2 to RS? Now is the good time? On L640XL.. Please suggest! I want to keep less bugs as possible as it's my primary device now.

No dont jump to rs build yet.

I've got 640 and finally jumped to 367 and using for the last week, and see that 372 is downloading now. I've not noticed any downside, only new TH features. :)

app corner still not working Posted via the Windows Central App for Android

Still no fix for phone number links??? I love MS, I love the platform, I am entirely vested in MS but this is a really basic function, not even a feature. The OS should recognize phone numbers in the email and calendar app.

Well darn. Every time I open "Messaging" and then tap on a text message it crashes every time. Tried restart and same thing. 640XL. OK, I went to the all apps side and it worked. Yipee!!

Knowing issues for mobile 's not decreased, but increased by pdf problem on edge :(

The side loaded Skype Preview app is actually pretty decent. Way different than the current Skype app. It's closer to the messaging app than Skype.

You know what i wanted to fix before anniversary update?! That lag scrolling on notification center. Not really smooth on L830. Posted via the Windows Central App for Android

I fully agree. Not smooth at all

Please some tell them there is a big issue of *SAVE VIDEOS AS* in Microsoft edge is not working and background downloading is also not working properly. I m not a insider. I m on build .420 . Background downloading is must and please provide good speed in downloading in edge and in other apps if they can .. the speed of downloading is also not as good as compared to other *os* windows is best but just fixies few things .. Microsoft 640XL

Solved in redstone builds. I too had upvoted that

I still have the Windows Voice Recorder phantom app update in this build (error 0x80246013). Is there any fix for this?

Make sure app is installed on phone, not SD by checking your storage settings

I'm having exact same issue with the same app. And it's not installed on my sd card.

Definitely not installing this. Guess I'm stuck with the last build until it expires...

This build runs like butter on my Icon, not sure why...but loving it so far!

How long is your battery lasting?

My 1520 was drained in 1 hour after installing the build and it just flashed windows start key and wouldn't even charge now... I will try charging it with the wall charger instead of USB, but I can try that only in the evening when I get home from work. very upset.

It's hard to say exactly. What I can tell you is last build it was still draining somewhat fast so I did a hard reset which I hadn't done in about 7 builds. Actually noticed a nice difference in overall performance and battery. This build the battery is no different, it doesn't quick drain but it's not like it used to be. Since they state its an issue with 930 I'm assuming it's an issue with 929, so crossing my fingers they have a fix soon since they are looking into it. Big differences i notice in this build is overall smoothness especially with start screen and lock screen responsiveness.

Damn I hate not being able to reply via the WindowsCentral app, stupid post button won't sense my touch.

Unable to log into the store to check for updates even after a soft reset. L950. Anyone else having the same issue?

Running great on my Icon as well.

I am not happy with them sun setting the Reader app for pdf. Edge is not ideal. No multi page, no page numbers, etc. Don't force me to use the browser for that.

So far, so good. Love getting my "fix" almost every Tuesday. Way to go Microsoft! 950xl DS unlocked and running well with the latest update.

Seems faster. Seriously, my Lumia 930 seems much faster after this update. And I keep wondering about all the reports of bugginess -- maybe I'm just lucky but the last few builds have been fantastic for me.

What is the battery life like?

Battery life is poor at best, my phone needs a charge every 3 hours. It also got so hot it felt like me leg was on fire. Though its mostly under control when edge is denied background activity.

For me skype is a waste app. It doesn't show skype users from contacts. Then they are gonna merge message... Oooppps

New builds look stable both on pc as well as mobile.....its fluidic interface.....would expect more improvements in basic features.

Since build 14371, easy transfer didnt work with hotspot from lumia, i need my other phone's hotspot to use it.

I knew they would release an update

You are a clairvoyant, bravo ;)

Is it just me or are her release notes WAY more detailed?

Since build 14372 up to this build the sms issue where i cant send receive sms is fix already thanks MS. And wifi disconnecting is i think solve for my lumia532.

Had to pull back to production two or three builds back due to battery issues with my Lumia 950. Battery was mostly doing well, but unpredictably getting totally empty. Does anyone with the same experience know if this has changed?

I am.having trouble with charging since build 14371. Slow charging or no charging and device does not recognize the charger etc, does anyone knows if this is fixed in this one

Runs really fast on Lumia 930. Now let's see how the battery performance is.

Please tell about battery life....

The PDF error is a bit of a deal breaker for me. Especially because they discontinued the Microsoft PDF Reader app. Adobe Reader hasn't been updated in forever -.-'

Foxit reader is good one!

So smooth and stable on my 830, one of the best builds I have come across on the fast ring. Have a problem with film and TV, as the app won't open but that is about it Correction, there were two films and TV apps, just uninstalled the one that did not work. Best build hands down :D

Agree from build 14371 the builds have been really stable on my Nokia Lumia 635 there is some lingering small bugs like can't see what your typing due to the onscreen keyboard hiding it. And some apps placing there icons to low on the screen that they are partly hidden behind the start menu bar.

Users of older phones, avoid this build like a plauge. It kills the battary and now I cant even charge my 1520... Don't know what to do.

Airplane mode and don't qi charge, plug it in, then do a hard reset (reset this device). It's fun rebuilding your phone anyway!!

Mine is working superb, no problems at all. Battery life It's even better than the official release.
Lumia 1520

Edge feels much better on my Icon

Ok but when will they fix the URL resolving issue of Edge ?! It is really annoying to not access a website because such a basic feature is not implemented correctly!

Right after I updated the phone to the latest insider build Microsoft Health won't start. Do I need to factory reset or is this a known issue?

Rayman_30 This is known with Microsoft health I would suggest tho finding the post in feedback hub and giving it a UPVOTE as the more upvotes a bug has the faster Microsoft will fix it for people. ( it Seems )

After I make the update Microsoft edge it's crushing.

The app store and other apps like this windows central app crashes now alot when scrolling, lumis 950

Well as a fast ringer i thought this build would be buggy and unusable... But it works fine for me on Lumia 640....but i like if there were hey cortana feature for sd 400 user

Hey are you able to install apps. Coz on my l640 I wasn't able to do that not even update system app. It shows me error every time.

And what about app wasn't installing on previous build

Just purchased an app and download process got stuck on "Downloading 0.10 KB of 0.1 MB" the same if you try to update any paid app, however free apps updated well.

Store crashes a few seconds into using it. Anyone else see this? Everything else seems to be fine
Nokia 1520.