Metro Studio 1: Thousands of Metro icons, FREE [Developers]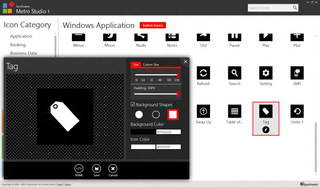 Every so often we cover tools that help out (opens in new tab) developers, but this is in another league. A company called SyncFusion has created a product called Metro Studio 1 which looks to be invaluable to developers and designers alike. The company (opens in new tab) traditionally develops .NET components for ASP.NET, WPF, WinForms, Silverlight, WP7 and others.
Metro Studio 1 comes with 600 unique metro icons that can then be customized through the interface. You can change the size, padding, background shape, and colors of any icon. Plus, the XAML source is provided for the icons, or you can save the PNG. Every icon is vector based (hence why the XAML source is available), so exporting at any size is possible.
Best of all, the studio is totally free, and every icon is royalty-free and can be used in commercial projects.
So go on, download it now (opens in new tab). Thanks, @rmaclean (opens in new tab)
Now that's what I needed! Lovely and absolutely free, thank you very much for it!

I'm interested in learning more about getting started with developing apps, any advice on how to begin?

step 1 is to download the tools Goto create.msdn.com to get them. They are free. The tools come with an emulator for the phone. The second step is to get educated. There is a book at csharpcourse.com that I like. It is free it gives a good introduction to Silverlight apps. If you are a student in high school or post-secondary education dreamspark.com will let you get the full versions of the tools and a free developer account(usually $99). Send me a message in the forums if you have any more questions.

I wrote about this on my site a couple of weeks ago. Regardless this is an awesome tool for any Metro-lovin dev.

Another good site http://thenounproject.com/mission/

This app looked awesome, until I opened it and saw all the rounded edges. And icons that look like they were lifted from a linux distro then converted to black/white. There are some really bad ones in here -- just take a look at that Yen icon. I facepalmed.
Metro doesn't use rounded arrows, checks, crosses, etc anywhere, but this uses them all over the place. A lot of these icons are abstract enough to not exhibit the issue, but most of the simple icons won't fit in on WP7 because of it. There's a lot of great icons in this but the ones I would want the most just won't fit in on any metro platform. It's great that there are so many icons available for free, but things like this make me cringe when I consider what it does to the consistency of the platform design across applications.
Windows Central Newsletter
Thank you for signing up to Windows Central. You will receive a verification email shortly.
There was a problem. Please refresh the page and try again.