MetroMail launches for Windows 8.1, brings native Gmail support in a Modern design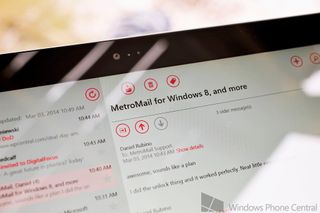 Email. It's essential. It's important. And on Windows 8, there's a dearth of quality Gmail apps that fully embrace the Modern design language. Sure, you have your web-wrapper apps that look like a native Gmail client, but people want the real deal. And push notifications. And Live Tiles.
MetroMail is that full native client for Windows Phone 8. We've covered it in the past and watched as the app has grown over the last few months. Today, its Windows 8.1 counterpart is now available. The best part? If you bought the Windows Phone version, you can generate a code within the app to fully-unlock the Windows 8 app, all for free.
Make no mistake, MetroMail is the real deal. Plus it offers Live Tile syncing across your Windows Phone and Windows 8 devices, to keep all your read/unread email counts synced. Here's what else you can be doing from your Surface or PC:
Instant notifications for new emails with night mode support
Instant live tile syncing between your devices across both Windows 8 and Windows Phone 8
First-class support for archiving, starred emails, and labels
Support for inbox categories (e.g. Primary, Social, Promotions)
Seamlessly manage multiple accounts
Server-side search functionality with support for advanced Gmail search operators
No more broken threads when replying to emails
Support for multiple From addresses within the same account
Optional live tile support for each account
Full support for sending and downloading attachments
Contacts auto-completion from your email account
Full Win8 integration including split view and share support
I have to admit, MetroMail is basically everything you could want in a native Windows 8 RT app. Don't like the default orange look? The app has a full suite of Accent colors to choose from. It supports multiple accounts, allows pinning, archiving, Label management and even signatures.
The Live Tile sync means accessing the app on your phone will reset the tile on your tablet. That's a fantastic feature.
The Windows 8.1 version is free to try for 30 days, with ads and push notifications disabled after that time frame. But, if you have the Windows Phone 8 version – which was just updated to 1.4.2 today – you can generate a code within that app to permanently unlock the in-app purchase for the Windows RT version.
Speaking of, the Windows Phone 8 version received some amazing features a few updates ago, including:
New: Added ability to select a custom notification sound for each account (GDR3 only)
New: SkyDrive support for sending attachments
New: Memory optimizations for low-memory devices
New: Recently received emails are downloaded every 30 mins in the background (requires fast connection)
New: Added notification prompt for new categorized emails
Anyone with a Windows Phone can take advantage of this offer. Simply download both apps from the Stores and follow the prompts when you first launch. The app will walk you through the unlocking process, which took us about a minute to do. Super simple.
Sure, we're big fans of Outlook.com ourselves, but many of us are "stuck" on Gmail for work requirements. If that's the case, at least you can do it in style now with MetroMail. Plus, I hear a lot of new features and plans for this double-app combo are in the pipeline.
Do you use MetroMail? Let us know in comments what you think.
Pick up MetroMail for Windows 8 RT here in the Windows Store (opens in new tab) and/or grab the Windows Phone version by following this link.
Windows Central Newsletter
Get the best of Windows Central in in your inbox, every day!
Daniel Rubino is the Editor-in-chief of Windows Central, head reviewer, podcast co-host, and analyst. He has been covering Microsoft since 2007 when this site was called WMExperts (and later Windows Phone Central). His interests include Windows, laptops, next-gen computing, and for some reason, watches. Before all this tech stuff, he worked on a Ph.D. in linguistics, watched people sleep (for medical purposes!), and ran the projectors at movie theaters because it was fun.
Looks good Posted via the Awesome windows phone central app.

It's been on WP for a while :) Store link: http://www.windowsphone.com/en-us/store/app/metromail/e2505360-4142-4d85... This article is primarily for the new Windows 8 version, released today.

Yea, it's on WP. No Outlook account support so it's almost useless.

Unless you have to use Gmail, at which point it's useful :) To talk about myself: I have happily switched to most Microsoft services, but I am not switching my email provider (yet anyway). Thus I've always needed a decent Gmail app on the platform.

Hence the use of "almost." I'm completely Google free after the Icon was released.

Is this better than the other email client Gmail by ecomerk.

I think it's much better. But then again, I wrote it, so I'm biased :) There is a free 30-day trial with full functionality that you can use to decide though. Plus if you are using Windows 8, for a limited-time you get both apps for the price of one. Plus instant live tile syncing across all your devices.

Andreas, please develop Outlook app too

While i no longer use gmail (outlook ftw), its pretty awesome that the dev implemented a way where you can purchase the app once for both WP and Win8.1. Hopefully that kind of integration gets better in 2015 with the threshold update.

Great attempt but colors could use some help, the choice of blue/grey white and the label colors appear to be competing with eachother. I suggest he gets a UI designer to help him/her touch up design. Great app thou. WIll be gald to see more apps like this.

Example http://dribbble.com/shots/829195-Slate/attachments/86424

That is very nice! Is that an actual app? Or a concept?

Ok thanks. The screenshot is actually helpful. You are right that this concept, makes the current design look pretty bad! Then again, I don't think Mila Kunis is using MetroMail :)

haha .. are you the devloper for this app ? If you are and you need some help with UI ( based on the concpet or something similar) , I could help you out free pro bono. Just let me know. ( or drop you contact address )

Will Google block it in any way in future?

Excellent.!!! Have to download and unlock soon:D

Does this app eliminates the problem of battery drain that you have with the native WP email app when you put Gmail updating every 15min?

Notifications are instant. And yes it does.

I have been using the app from day one and it doesn't affect battery or any other app. I m using Lumia 920.
And app downloads mails in background every 30 min. But notifications come instantly.

That's nice then. I'll maybe buy it.
But do the background downloads can be disabled?

Yes. Just go to background tasks in settings and it can be disabled.

I bought the WP metromail and its great. Will definitely get this for my tablet

Does this app have first-class support for Outlook.com including aliases, sweep, categories, etc.? or is this app strictly a gmail app? I am disappointed by the default mail client in Windows 8.1 and would like a client on both W8.1 and WP8 that supports aliases. Otherwise, the default client on WP8 has treated me well. Suggestions are welcome!

This app is full featured Gmail app. Not outlook app. But provided with Onedrive support, ot is beat gmail app in WP

Kind of annoys me how the simple mail apps are great, but Outlook 2013 has issues. Outlook 2013 just looks weird, and show my emails awfully. Very disappointed, considering the regular Mail app has things that work better than Outlook...

I have the beta Win8 version-- do I need to get the "standard" Marketplace one now?

I am afraid that you have to remove the beta and install this. Thanks for the help!

Any time, friend-- thanks for the pointer!

Is it good for outlook or live ?

RT version? You mean for all Windows 8 platform. x86, x64, ARM...

You are right. To be fair, that's Microsoft's fault. I never know how to refer to the app myself! Do I say Windows 8/RT? That looks redundant. But then again, it only supports devices that have Update 1 insalled, so do I say Windows 8.1/RT 8.1? Even worse!

I already use the MetroMail for WP and I think it is great. Now this app for the Windows 8 will be a great addition for my DV8 pro too. Thanks Andreas, now make one for Outlook as well!

@Apoelin, first off great work! Only request I can think of at the moment would be to make MetroMail work with the App Folder for WP8. As someone who manages multiple accounts, I would love to be able to put each color coded account inside a single App Folder to clean up the Start screen. Could just be nitpicking here though. You will likely be getting a shoutout as an App Pick of the week on our STLTechTalk Podcast this week because of this work.

Hm, haven't looked at all into App Folders. I guess I always assumed that it doesn't need any special coding on behalf of third-party developers. Let me see what I can do. Thanks for supporting the app :)

Metromail is so important for me. It makes sure I get my work emails in a timely manner. Futhermore, Andreas, the dev, is fantastic. I've been in the beta for Metromail and he always responds quickly and with a great attitude. Keep it up, Andreas! :)

Wow, no wonder you complain about people tipping wpcentral sometimes :)

lol, it can be overhwhelming

Please optimize the WP app some more! Its brilliant at doing its thing in its current state, but it really could use a little spit and polish

Agreed. I am not trying to avoid "responsibility", but I also hope that WP8.1 will also help towards that. I think an email client, is hitting the limits of what you can and can't do smoothly. This is especially noticeable on cheaper (and thus more popular) devices.

This is my go-to app for Gmail so I'm definitely downloading it for my Surface.

For Windows RT I guess it's useful, but for regular Windows 8, I just use Mozilla's Thunderbird. It's basically desktop Outlook for non-enterprise home/student users.


I like the Windows 8 Mail-App better. It looks much cleaner than this.

Win 8,1 and WP Is it able to sync the folders with contents created online at google mail? Is it possible to create folder in the on device and sync from pc/device to google mail? is it possible to browse emails and folders offline? Is it possible to filter(by senders email adress) new emails directly into spesific folders when sync.
Windows Central Newsletter
Thank you for signing up to Windows Central. You will receive a verification email shortly.
There was a problem. Please refresh the page and try again.