MetroPCS to launch Microsoft Lumia 640 'mid to late May', priced at $99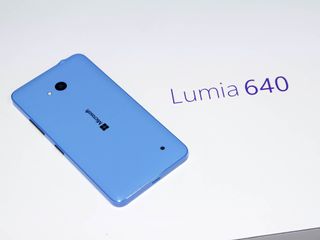 The Lumia 640 was only announced by Microsoft a few weeks ago, but many people are eagerly awaiting its release, slated for 'April'.
MetroPCS is evidently primed for the sale of the entry-level Lumia in 'mid to late May'. The date is slightly later than open market availability although it is not too far pushed back.
Cost of the device is looking to be $99 likely off-contract, although final pricing is not locked in 100% just yet. MetroPCS's version will support LTE although it is not clear if it will be dual SIM.
The information comes to us from a MetroPCS employee who shared with us some internal documentation from the carrier.
The Lumia 640 looks to be a solid entry-level Windows Phone or even a carry over for people waiting for a flagship Windows 10 phone later this year. The specifications make it an admirable choice, especially for just $99 flat.
Microsoft Lumia 640 Core Specifications
Qualcomm Snapdragon 400, 1.2 GHz quad-core processor
5-inch HD (1280x720) IPS LCD, 294 PPI, Glance screen, Corning Gorilla Glass 3, Sunlight readability enhancements
1GB RAM
8 GB internal mass memory + up to 128 GB Micro SD & 30GB free OneDrive cloud storage
Rear camera: 8 MP AF, f/2.2, 1080p @ 30 fps video (continuous autofocus), LED flash, Lumia Camera 5.0 (with Dynamic Flash, HDR)
Front camera: HD 1 MP wide angle, f/2.4, 720p video
We had a chance to play with the phone at Mobile World Congress and came away impressed. Many of you have also responded well to this device, at least on paper.
In the US, T-Mobile is also ready to get the Lumia 640, although no formal date has been announced. Meanwhile, AT&T is getting both the Lumia 640 and its bigger brother, the Lumia 640 XL, bragging that they are the first to carry the budget 5.7-inch Windows Phone. No date is set for either, but we cannot imagine it will be more than a few weeks from now.
Thanks to our source who wishes to remain anonymous
Windows Central Newsletter
Get the best of Windows Central in in your inbox, every day!
Daniel Rubino is the Editor-in-chief of Windows Central, head reviewer, podcast co-host, and analyst. He has been covering Microsoft since 2007 when this site was called WMExperts (and later Windows Phone Central). His interests include Windows, laptops, next-gen computing, and for some reason, watches. Before all this tech stuff, he worked on a Ph.D. in linguistics, watched people sleep (for medical purposes!), and ran the projectors at movie theaters because it was fun.
This is a good device. Although i really want to know when in India but that would be called trolling.

It's just because if there was info about such thing, it would most likely have been mentioned. To me it sounds like people expect that it would be disclosed on wcentrals content section if someone just asked.. Completely wrong place to ask such a thing.

I want Microsoft to build a L520/521 model with a front camera. I guarantee it will be a healthy replace of those two models. Both of them are the most popular Windows Phone but if they bring a newer model of those two with a name like L520 XL, then it must be great.

And bump up RAM to at least 1GB

Almost the same specs as 830 though this one stated as entry level.

Yeah really. How does 8GB more storage, 2MP more camera, Pureview OIS, built in wireless charging, and square edges justify the Lumia 830 to be $450? It should have been set at $249 from the start without the free Fitbit, had some decent marketing, and none of this BS fake Denim fiasco and maybe it would have sold more!!

Couldn't agree more. 830 was doomed when they set that pricing. Just not worth it.

I dont know. I have an 830, and it was paired with a fitbit for 399. To me it was worth it. So I guess to each their own? Although I may upgrade when the next windows phone comes out, right now I really dont feel like im missing anything. I have a work iPhone 6 that i never even look at. I shut it off most days when I walk out the door from work, and dont look at it again till the next morning at 6 am.

Don't get me wrong... the 830 is a great phone. If I had bought one I'd probably be happy too. But... I do think it was too expensive to be successful. And it was only for months ago wasn't it?

@BSobotta... You are the epitome of a Windows Phone fan. Which is a great thing! Well maybe you like Android too.... Who knows. But I love how you're reading your work phone :-)

Every last Nokia branded Lumia had flaws. Mostly it was to expensive for what you'd got hardware like (the Lumia 830) or didn't got features that you'd expect on a smartphone in 2014 on every level, front facing cameras (Lumia 530/630/635) The Lumia 730 was the only decent phone for its pricing.
But Microsofts latest lumia's to correct Nokia's mistakes made this phone also to expensive for what you'd got. So Nokia screw the Lumia line up good in 2014, but nevertheless Lumia sales kept increasing, so with all the good work Microsoft has been doing cleaning up Nokia's mess, 2015 should be an amazing year for Windows Phone and Lumia sales! Posted via the Windows Central App for Android

It didn't need to be $250 at the start, but it definitely should have been sub-$400. You have to realize that the 640 is releasing morethan 6 months later, which is half a tech cycle for mobiles. It's running hardware that's recently been replaced (or is working on it), where as the 830 was carrying the best SoC in that budget class at the time. $350 ould have been acceptable, but the same price as the flagship 920's starting price, plus the "flagship" moniker, those made the device dead to me. I think Microsoft just did it so they could PRETEND they were releasing a device above the line of a budget phone, which only the camera could defend, from a technologcial standpoint.

Wait, I'm late to the game. The 830 has a fake denim???? What's different?

There's a second Denim update for the 830, because it didn't have all the denim-related features out of the box that other similarly-specced Lumias got. The Canadian variants of the 830 just got the "true" denim update in recent days, for example.

It's made with polyester instead of cotton.

Doesn't the XL and 830 have the exact same processor? Should we not expect the same performance from both?

The SoC is the same in the 640, 640 XL, 730, 735, and 830. However, things like varied resolution and display quality/efficiency can cause performance changes across devices.

Except that Chinese markets will have higher specs for Lumia 640XL. I think 2.x ghz quad-core processor and 2GB RAM. Everything else is the same.

If you guys think the build quality of these two phones is the same you're wrong. 640 is like iphone C versions to 830

It's look like the Lumia 920

It doesn't look anything like the 920 to me. More like a larger 635.

I love the way my 635's look

The 730/5 looks like the 920, not this.

I'd actually get the 640 XL. Hope that arrives in the US soon.

I think that L640XL will surprise a lot of people for its value and sales.

I have an 830 and really want a 640XL.

Need that 640 XL asap, to hold me over until the Windows 10 flagships arrive.

Will it perform the same as the 830 though?

It should. It has the same processor.

It should have similar performance, but because it has the 5.7" screen and I like [both] the cameras it has along with the $200-250 price tag. Altogether, it's a better deal. The 830 really should have had a 600 or 800 level snapdragon processor for the price. AND...matte polycarbonate frame FTW!

This sucks. The preview of W10 runs really slow on the 830. I hope it's just the buggy software and not a true representation of how W10 will run on these old devices.

Nokia had already manufactured the 830... Phone roadmaps/designs take some time. Microsoft hasn't officially owned the D/S division a year yet so I honestly doubt any of these recent designs are uniquely theirs.

Entry level?? Its mid range

Call it whatever you want. MetroPCS calls it "Entry LTE". Why the heck do you guys care so much? Are you, like offended or something?

Untapped so early in the day Dan? LOL :)

Lol, even if they call it dump phone I will never care. I know what's under the hood

The Lumia 640 is regarded as entry level simply for its price. Sure, it has specs similar to the Lumia 830 which is a mid-range phone that is marketed as "the affordable flagship". What kind of marketing term could MSFT pin on the Lumia 640 that would do justice to its specs? "The affordable mid-range phone"? Lol. I really don't think it matters what they classify the 640 and 640XL as because it is targeted at a customer base that is very price-sensitive, and as long it manages to appeal to that segment of the market and it sells well, the entry-level or mid-range classification doesn't really matter.

You Just killed me with affordable midrange flagship haahajaja jk ha I found it super interesting that this phone should perform even better than the (my) Lumia 920, regardless that it cost only just $99 dollars. I know 920 is old, but this is very interesting to see.

Lumia 640 is NOT entry-level. 720p and Snapdragon 400 make it mid-range IMO. The new Lumia 435 would be entry-level.

Read my response above. MetroPCS calls it "Entry LTE". Side note: who cares.

Calling it entry-level undersells the value proposition of the device. People don't necessarily read the specs. MetroPCS made a mistake and so did you.

Too bad I disagree and what I write stays.

Haha. Good response Dan. You are the writer. You have that privilege.

I kind of agree with TK2011. "Entry Level = Cheap" - at least that is the impression in most people's mind. This device is anything but cheap - for comparison just look at any entry level Android device, this will blow they away! In fact the NL 640 is a great value for money device. Don't play up the cheap aspect and leave it as a side note to the impressive specs - its for customers to decide the value, and they will be pleasently surprised to see how affordable it is.

Wow. Just wow... This is an awesome phone at an amazing price and now multiple people are complaining about entry level vs mid level. Who gives a flying #$%&. I give up!

Lumia 830: Mid-level in professional attire. Lumia 640: Mid-level in casual attire. (Or beach-going attire if you get the orange.)

You're partially right, people want names, but in Windows Phones it doesn't matter that much since people know that almost every Windows phone is capable enough to get the job done.

I don't know, this might actually help Microsoft as people will see how good an "entry level" Windows Phone is, specially compared to entry level and similarly placed Android phones.

I could care less what it is called or marketed as, all I know is that is one HELLUVA great phone for $99. It is insane!! Would love to have one. When phones at this price are so good, I'm not yearning for that flagship nearly as much. But I do find it interesting that it has on screen buttons, while the 430 has capacitive buttons. I thought on screen buttons were supposed to make it cheaper.

You and I know this is a great value. Average consumers don't. They will look at this "entry-level" Lumia 640 at $100 and a real bottom-of-barrel Android with Snapdragon 200 labeled as "entry-level" for $60 on MetroPCS's website. Which one do you think they consider a better value?

Funny, I've never seen "entry level" labels on either the website or stores. I think the average consumer sees prices first and then compares specs.

How about L640 is a high end budget phone? The L435 an entry level budget phone. But, if the L640 is what to expect as an entry level device, so be it as long as the true mid range & flagship devices really are that.. But so fu@king what?? Internet haters got's to hate!!

They are sayin it's entry level for LTE ... which it is ... the 400 is the cheapest snapdragon SOC including a LTE radio ... tk2011 stop being nitpicky, technically speaking, and trolly.

They should have just called it "Affordable LTE"

All these damn things look alike, we need names not numbers, we need uniqueness not clones, ugh Microsoft when are you going to learn

You act like you walk into a store and see Lumias from 4xx up to 15xx. Most people will never see more than 2 or 3 at once being offered for sale, with the distinction being features/price. Lumia is brand with identity. You could argue Microsoft needs another line of Windows Phones.

They kind of did that when they namd their bottom-of-the-barrel device the Nokia 215. I think he has a point, though, that there is a lot of sameness going on, and it feels like Microsoft is creating more devices for each market than is necessary. The 400 and 500 series could be combined and sold as variants of each other, and the same coudl probably have been said for the 730 and 830 in the fall. No, we don't see each and every variant put into each and every market, but Microsoft likes to announce them in the same forums, and they get covered by the same media markets (such as this site), and it can be rather puzzling as to why there are so many different device variants. How many Lumia devices has put the Snapdragon 400 into? You have the 630, 640, 640 XL, 730, 735, and 830--6 devices for a single SoC, assuming I got them all. What does the 700 series exist for, when the differences between it and the bookend series (600 and 800) are so small?

"it feels like Microsoft is creating more devices for each market than is necessary"

I can see this point and do not have an immediate alternate reason to give as to why they have so many. Clearly someone, somewhere is planning these things, but the logic for why so many is not so evident.

Perhaps. I just don't get why they won't combine some of these device series into international variants, like the 400/500 and 600/700 series. Combine them and just change the last number for different countries/bands, if necessary. I kind of get the feeling they wanted to expand their market a bit, but didn't knwo how to phase out the excess, so they're leaving too much onthe table for no reason.

Or this is just what happens when one company buys another one. I'm sure MSFT has a plan, but given the development time required for our modern pocket-sized supercomputers it just takes a while to bend the product pipeline to the desired shape. Also, let's not forget that they are busy completely reinventing their core product line, too. Honestly, when I look at Gabe Aul's Twitter feed I'm amazed that he is able to get any real work done.

This is just pure speculation on my part, but I think that MSFT may be doing this because all these entry-level products were all in Nokia's pipeline, with development well on the way and the development life cycle may have reached the point of no return, so MSFT decided to just complete these phones and bring them to market. You will then point out, as any sane person would, that it has been over a year since MSFT purchased Nokia, and that there is no way that the development cycle of these "non-hero-status" phones would be that long. I would be inclined to agree with such a statement, and I would then say that maybe MSFT is really, REALLY focused on cementing Windows Phone as a platform that is meant for entry-level with an offering at nearly almost every (low) price point (to a difference of only $10 in between each product). They could also be looking for ways to get rid of any purchasing agreements they might have entered with Qualcomm for the Snapdragon 400. If Nokia had agreed to buy a certain amount of those chips, and then their entry level smartphones failed to gain the volume they hoped, they might have had a lot of excess inventory left. MSFT maybe then had to find a way to get rid of excess hardware resulting from supplier agreements and they might have thought the best way to do this would be to offer many different entry level phones with the same chip with the bare minimum of differentiation in order for it to sell. Excuse the wall of text, but I think any of the possibilities (and maybe more) presented above could be applicable in explaining MSFT's smartphone strategy as of late. There is also the very real possibility that I have no idea what I'm talking about, and that all of the above is nonsense lol.

Good points and thank you for thinking. :) Some of it for sure is still Nokia Asha (and likely also WP) pipeline (eg. 435) and MS said as much.

I'm thinking the Lumia 435/532 was originally a Nokia X3 :P

You mean a new line for what? Premium devices?

No, new line as in new design style.

Do you think the L930/830 look like these devices? I'm all for a change in design for premium devices.

One can also argue that their top of the line spec Windows phone device should share the 'Surface' brand identity, as the Surface Pro is seen as a more premium device. Something nice and simple should suffice ('Surface Phone' harkens Apple's iPhone name simplicity, and right away consumers get an image in their heads). Lumia at this point is being established as a low end and mid range affair.

Knowing Microsoft, they would probaby make 5 different phones and name them the Surface Phone 110, Surface Phone 220, Surface Phone 105, etc.

They do, SURFACE, but they don't want to do it apparently. I'd love a great designed surface phone to suit N next to my SP3

It would be nice to see them trim the line down and just launch maybe one or two per line. Low end, mid tier, and high end and give them proper names nor numbers. Also would be nice to have differentiation between them. Samsung released to many and recently learned that it doesn't work and are now trimming down the galaxy line

They're flooding the market. Getting lots of devices out there and spacing the release dates so that there are more perceived options- likely trying to piggyback off of Google's " be together, not the same" campaign. Besides, you think the Lumia brand is confusing? Try looking at a list of the Android OEM product names.
At least the numbering gives some general idea of what the device will be. Quick, without looking them up, which is better: Samsung Galaxy Avant or Samsung Galaxy Exhibit or Samsung Galaxy Light?
Edit: LG L9 or LG Q3? ZTE Zmax or ZTE Zinger?

At the same time could you tell the difference from the 6 this, 4 that, 7 what and the 8 nevermind?

Sweet. Hope AT&T are similar

That's seems to be some off contract subsidized pricing. And that indicates we're getting more love from at least one carrier.

Great news for those wanting to replace older 521 with

If I was waiting for a flagship, I wouldn't throw money away to buy this or any other cheap device. Don't get that logic at all, why not just wait?

Some people have more money than others to spend? If Apple can sell a $17k watch, I'm not sure a $99 smartphone is much of a indulgement ;)

Yeah, I spend almost double that on my monthly cable/internet triple play bill. Still, it'd be nice if WP supported more audio file types, like FLAC, Ogg and WAVE. With 128gb microSD cards under $100 now, one of these would be a sufficient day to day PMP, but again that file type support :-(, along with ability to save podcasts to the external SD card....

Not everyone is waiting for a flagship. This is something ofa fine starter smartphone for people, and it's going to get Windows 10. The only other people who might look at this are people who just need a device to tide them over to their upgrades, likely due to a broken device.

i for one can't come close to affording a flagship but the 640 fits my size, quality, and cost requriements. This phone will do great in the growing prepaid market.

There are also fine Starter Android devices as well, with ecosytem advantages compared to Windows Phone. Motorola G, Motorola E, etc. Those phones even get better update turn-around than Windows Phones these days... The low end market is just as competitive as the flagship tier, even more so, IMO. Yet, they are putting practically all of their eggs in that basket.

I agree that the Moto G is one of the better all around mid range smartphones you can buy. And I hear that the next version is probably going to be basically a rebadged 2013 Moto X, since that line received a bump in specs last year.

Seriously it is a good device, tested it at work in a beta program and it hums nicely go check the 640 forums for the cam samples I posted compared to a z3, 1020, 930, and a Canon. For the cost I don't see any other phone beating it at 100 or possibly even 150.

Well my 920 is broken. So its something like this or change os. And get a flagship from 1 of those.

Pretty good timing for coz I'm transferring to metro from tmo...640xL would be perfect...

When is this coming to Ghana please...

I'd like to trade in my 635 for one of these.

99 bucks? They're saying 170 GBP here in the UK... that's including tax but if you took that off it would still be £142.. ie close to $200. Perhaps they're expecting it to be discounted, and it needs to be if people are going to take a chance on Winpho (I'm already a convert)

USA Pricing which subsidized, Phone is locked to MetroPCS, they expect you to use MetroPCS service. that is difference..

At least it's off-contract.

Aren't they legally obligated to unlock it now if you ask

MetroPCS will unlock your phone for free after 90 days of consecutive service meaning you have to pay your phone bill for 3 months and then you can request an unlock code from them.

US operators have been selling Windows Phones at cheaper prices even when they are off-contract. Like someone wrote above, I think operators are putting up some subsidies thinking they can recoup from selling services eventually.

Yeah I was taking it as an off-contract price. Here in the UK a phone like this would be free on-contract, and it wouldn't be an expensive contract. We haven't really seen that kind of off-contract discounting from the networks. Still be curious to know what the retail price settles at in the US...

All the prepaid phone carriers in the US eat a little bit of a markdown to get you signed up for their service ... i am betting the unlocked price will be around $200.

$99 would be the full price if purchased from MetroPCS but most likely they will have instant rebates as well on top of that they usually do.

It's locked to MetroPCS for the $99. MetroPCS I believe needs 90 days of service before they give an unlock code. If you try to sign up in store they won't even offer you any plans under $50 a month. You can sign up online for a $40 a month plan. Lumias on US carriers unlock codes aren't as easy to get.

Wow... MetroPCS is actually getting a metro device...

I really like how MSFT went with a screen that has the appropriate number of pixels instead of engaging in the stupid pixel count battles with other phone vendors. The important thing is the quality of the display once you get to 300 ppi.

Except if you're on Sprint. I had to pay $168 to get windows goodness....

why didn't you go for Boost or Virgin Mobile? they're like $50 on Boost. it's an entry level phone, if anything offering it on Sprint was more of a gesture than an actual effort.

This is the WP I have been waiting for! Its got everything I want. It has camera, flash, ffc, nfc, decent screen, good size, blue color, and cheap! I am getting this phone I think... God willing. I really like it and cant wait to put Windows 10 on it! =)

I'm considering this phone. Maybe.

I really want the XL but afraid if it will be a bit too big. Will test it when it comes out. Really like it for the 5MP front camera and 13MP back. Awesome phone. HD display yey;-)

Tracfone, where are you? we want window cell phones. At this price point, a great cell phone to offer users. Better than the Android ones you offer.

Forget about Tracfone - you can now bring GSM phones to TING! Your phone needs to be unlocked but I did so for a couple of older lumia 520s recently through eBay for a few dollars apiece and successfully ported my numbers to Ting's service. Check its coverage map and if it suits you, it's just about the best damn service around. And the support staff are super friendly and excellent.

Who is this phone aimed at that other Lumia lines don't cater to already? When is Microsoft going to pull their finger out and release a premium flagship phone? If they dont release 1 at the same time as the windows 10 release, I feel they're missing a big opportunity.

They already said that the flagships are coming with W10 release. I'd expect a 940/940XL release.

Thanks sporo. I hope you're right regarding the flagship, but I wont hold my breath what they say and what they do can be 2 different things. I still can't see the point of this device though. Microsoft should just have 3 phones, flagship, mid level and entry and ensure that each is the best in its class, not flood the market with so so phones.

This is such an stupid comment. The Lumia 640, 640XL have been recognized to be amazing devices for the price. People speak like if MS has every windows phone available EVERYWHERE. Do you know how many WP devices I can find on MetroPCS now? None. Bitching about the availability of this phone there is beyond ridiculous. You want a flagship, why do you care about what MS offers beyond that. It is clear that you are unqualified to talk about the needs of other people.

Listen cock sucker, when did I dispute the quality of the device? Oh that's right I didn't. And when did I say that I care how many WP devices you can find on MetroPCS? oh that's right I didn't. And when did I bitch about the availability of this phone? Again I didn't! Epic fail!

Well since MS already confirmed in WinHEC 2015, that Windows 10 is coming this Summer. Expect some news for the new Flagship in the coming months.

Windows 10 *for desktop* is coming this Summer. For phones and tablets, W10 is a Fall 2015 affair, since according to Paul Thurrott they will be two completely different SKUs.

I am hoping t-mobile will have the 640xl! I'll upgrade my whole family to it :)

Nice price, good backup/test device.

When in India?
.....
Sorry, I couldn't resist :-P
Anyways, is it possible to get an unlocked version to work on VZW Network? I know I'm being off-subject here, but I would really love the 640 or The 640 XL as a back up phone for my Icon.

I don't think that they're CDMA compatible. That's the worst thing about Verizon, most phones aren't compatible.

I doubt Verizon would activate it.

wait a sec. 100$ without any contract? just buy it and put it whatever sim in it? edit: nvm, metropc is a carrier. i thought it is a reseller.

they require a bit of service (i think it's a year) before unlocking devices.

how different is this from the already popular Lumia 735 ?

This is just a bit bigger, slightly better resolution, has poorer front cam than the 735. That one retails for about 300 in India. If this comes here at 150 or 200, it will butcher both 730 and 735, and the already beleagured 830...

For $99 ... how can you go wrong ? I might just have to pick one of these up, to tide me over, until the flagship arrives.

I want the 640 XL. My 1020 still rocks but the battery life is crap. I can hold the 640 XL until the 1030 (or next flagship with snapdragon 810/pureview/xenon flash) comes out.

really want this on Sprint or Cricket. T-Mobile has garbage coverage in my area and I need lots of data!

You will be able to get this on cricket, just buy the at&t model.

Why is everyone b*tching. Lol

Got no choice. My son needs a phone.

I'm pretty sure this device will be 150-200$ at T-Mobile and AT&T. 99$ is too much of a steal

Nice, becasue what T-Mobile/Metro prices at $99 AT&T usually prices at $50-$70. I am hopeful for a $70 (or less) ATT branded version :)

This is priced much better than the 735 and 830, for comparable specs where it matters for most. Hope it does well.

Can't wait to get the 640 XL on at&t

So the 640XL isn't coming to T-Mobile smh

This is encouraging. If it does come in at that price off-contract, I can't imagine the XL being too much more than another $100 off contract. However, the real problem is AT&T. They messed up the "affordable" part of the 830 just to keep people on contract. I really hope Microsoft puts their foot down and makes sure AT&T keeps it truly affordable off-contract.

at $ 99 its way better than any other phone with this specs....but I am waiting for 640 XL

Should make for a great $29 backup phone come Black Friday 2015. Lol.

An anonymous source eh.
Hmmm!

So will T-Mobile carry the 640xl? I'm starting to think not. They haven't even said a peep about the 830 and they said they'd carry it

Whaa? Lumia 640 is priced around $100? I thought it's gonna be around $250? If so I'd like to have it..

Stop using a cyan Lumia at the cover :-( waiting for one in India(indirect way of asking wen in India :-P)

Hell yea!! Ms is doing too late to launch in india Waiting like hell to get 640xl Awsum features n budget ph... I escape htc iph bb sony just for getting xl

I'm excited to see more options on more carriers. I think that will help US Lumia sales, especially with Win10 in the pipeline. Would I buy this? No, probably not. Loving my Lumia 830 too much.
Windows Central Newsletter
Thank you for signing up to Windows Central. You will receive a verification email shortly.
There was a problem. Please refresh the page and try again.