Mickey, Donald and more included in Disney Crossy Road for Windows 10 on PC and Mobile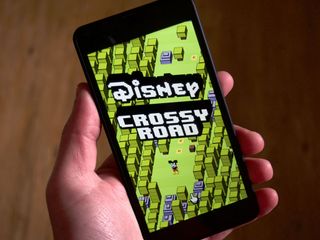 Crossy Road, the fun 8-bit game where players have to cross the road without getting killed, now has a big spin-off. Disney Crossy Road has now been released for Windows 10 on PC and Mobile.
Yes, its the cool indie game from developer Hipster Whale combined with the huge Disney cast of characters and settings. Here's a look at what's included in the game:
COLLECT over 100+ Disney and Pixar figurines, including Mickey, Donald, Buzz Lightyear, Rapunzel, Mufasa, Sadness, Wreck-It Ralph, Madame Leota, and other favorites (many with fun surprises)!
JOURNEY through 8-bit depictions of Al's Toy Barn, the Pride Lands of Africa, the Haunted Mansion, San Fransokyo, and more while enjoying 8-bit versions of familiar tunes like "You've Got a Friend in Me" and "I Just Can't Wait to be King!"
MASTER special themed challenges unique to each of the worlds, such as weathering blizzards, collecting cherries to earn special power-ups, avoiding thundering stampedes of wildebeest, staying clear of falling barrels, and then some!
While the game is free to download and play, Disney Crossy Road does have some in-app purchases to access some of its figurines.
Download Disney Crossy Road from the Windows Store (opens in new tab)
So how does the game look? Perform? Any chance of seeing star wars characters sneaking in? C'mon john!

Downloaded and played a couple rounds to answer my own questions. Performance is slightly jumpy. Could be a lot smoother and will likely happen with a future update. Still has the classic crossly roads feel with overhauled visuals.

Runs great here. Got mickey and a wreck it Ralph costume. Maybe she's born with it, maybe it's Lumia 950xl

Runs good until you pick up a coin for me. 950xl, latest fast ring update.

Just noticed a little stutter here and there on my 950

950 on current public build stutters massively on coin pickup and also lags a bit when lots of things on screen. Weird considering nothing looks graphically intensive at all =/ Did they just skip optimisation?

Also on Windows Phone 8.1

Quite a bit of love from Disney. Lots of titles hitting Win10 lately.

Yeah, Disney has always been good about games on WP, they just don't seem to bring the other apps for Parks and Disney Store.

512 mb ram devices are not suported

My tandy XL isn't supported either. They said 12mhz was going to be all I need. :(

Doesn't even run stable on 3GB RAM. It's pathetic really.

What windows phone are you using with 3gb of ram? I have the 1520 it has 2gb

Lumia 950 and 950XL both have 3GB RAM, as does the Acer Liquid Jade Primo. The HP Elite x3 pushes it even further to 4GB of RAM.

Cant start download... Posted on Lumia 930 with
Windows 10 Mobile

Can confirm this does NOT run in Continuum like the original game.

Most likely because it's on WP8.1 rather than strictly being a Win10 UWP app.

Performance is a bit laggy (the same with the original Crossy Road on my Lumia 735 with Windows 10 Mobile on Production Ring), don't know why, when I was on Windows Phone 8.1 the performance on this same device with the original Crossy Road was marvelous

Ha. It works on WP 8.1 too

it is but it does not support 512mb ram so far.

I'll have to download this for my son, he's starting to get into Disney. I'll just have to make sure the store does it's job and blocks in-app purchases, so I don't go broke, lol

I saw this news first on androidcentral before seeing this here. Its weird(or lucky?) that its available for my windows 10 tablet to download while it is not available for my android. It says that it is not available in my country. The irony is funny here. Welp, I'll try it although I'm not having to much expectations seeing that most of you guys that have more powerful devices are having trouble with this game.

Huh. So I tested it on my CM Alpha Morph tablet. It actually opens very fast and runs very smoothly.

"I love to play CR......"

Good news ! but I prefer the original game ______________________________________________ http://galaxys7.fr/ apple iphone 6s plus
Windows Central Newsletter
Get the best of Windows Central in in your inbox, every day!
Thank you for signing up to Windows Central. You will receive a verification email shortly.
There was a problem. Please refresh the page and try again.