Micro Center selling 8-inch Windows 8.1 WinBook tablet for $99.99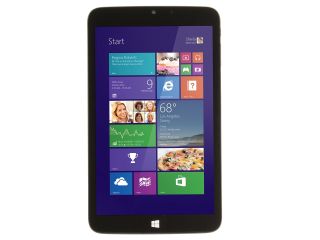 Micro Center, a US electronics retailer, also sells its own line of WinBook tablets and today it has reduced the price of its recently launched 8-inch Windows tablet, the WinBook TW800, down to just $99.99.
That's a $40 reduction from its original $139.99 price. For that amount, you get an 8-inch display with a resolution of 1280x800, along with an Intel Bay Trail processor running at 1.33GHz. It has 1 GB of RAM and 16 GB of onboard storage, along with front and rear cameras that are both two megapixels. It also has a free year of Office 365 included.
The one catch is that this $99.99 price is only available if you go to one of the 25 Micro Center retail store locations in the US. If you happen to live near one, this might be worth a trip. The store is also selling an upgraded version of this same tablet, the WinBook TW801, for $139.99 (a $20 reduction from its original price) that has 2 GB of RAM and 32 GB of storage. Do you live near a Micro Center store and if so do you plan to take avantage of this deal?
Source: Micro Center
Windows Central Newsletter
Get the best of Windows Central in your inbox, every day!
I wish I was living near this store....lol

Should I buy it? I'll be using it Mostly for PDF, Doc, Excel, PPT files. Does it lag reading 80-100mb PDF books- I know Nook Tablet is useless for that..
Btw I live ~10 min from MicroCenter
Upd. On my way to the store, ill get 801. I can return anytime if I don't like it:)

100mb book? How many pages is that.

College book with lots of pictures. 700+ pages :)

Oh! Pictures. After reading your first comment I rushed to check the file size of a 839 page book. It was only 3.45 mb so I was a bit confused because that would make your book 24 319 pages.

Depends on the resolution, contents, etc. Just made a 20-page PDF that is 17.5MB haha

One you made yourself I get because then you wouldn't care about compressing it (I wouldn't). I usually don't scan books I have physical copies of so I assumed the same with AV2RY. I figured if he got it elsewhere the person/organization would care enough to compress it before passing it on. But I get your point.

No I'm actually talking about regular book but in PDF format, I download them from internet. I know the one made yourself would be super laggy

It'll be super laggy. My original Surface RT has 2GB RAM, and it gets bogged down in large or picture heavy PDF documents. This will definitely be worse. Remember, 1 GB RAM is half the amount of new windows phones.

This really isn't a good comparison. The RT is using an ARM based chipset, as this tablet is using a Baytrail x86 processor. I have a bay trail 10.1 inch tablet (HP) and it runs everything I throw at it office wise.

I got 801 with 2gb. If it lags ill return it today :)

I bought it to read pdfs which are basically textbooks with lots of diagrams and graphics. I must say it does not lag at all!!!!!!! But I have the Tw100 which has 2 GB of ram. I don't know about the surface rt but this thing is phenomenal.

It should work. I use a 180mb PDF made out of scanned pages and baytrail shows no slowdown. It works as fast as a 1mb PDF. Device is dell venue 8pro btw. Baytrail is powerful chip, I play burnout paradise with max settings on it.

How does the TW801 compare to the Dell Venue 8 Pro or Asus Vivotab Note 8? 'Cause at that price point it might be worth not having a stylus. I'm mostly concerned about the screen.

I've used the Dell Venue 8 Pro and I can honestly say, this Tablet has bang for the buck...I do have the 32GB version...screen is quite good though the Venue 8 may have a better viewing angle. I was very sur[prised by the screen...I was expecting Iconia W3/Toshibas Encore Mini quality but it is very Dell Venue 8 quality... Full USB 3.0 makes it worth it.

I have the Venue 8 Pro and it is literally the best tablet I've ever owned. The Surface 3 is outstanding, but the size is a bit bulky at times, plus the cost is high. I got the Venue 8 Pro from Costco for $220 and I can honestly say it's the best value out there for a ANY tablet. One drawback is the lack of I/O. The one micro USB port for everything is annoying at times. They should have had HDMI or DP out, a micro USB for Data, and a micro USB for charging/data. Right now you can only charge or do data, not both. However, I modified a USB hub to let me do both. If you are invested in OneDrive (And why the heck wouldn't you be?), the limitations aren't as big if you are moving around normal files. I use a 64gb class 10 micro SD for movies and such.

I'm thinking about driving over. This thing has micro-HDMI, micro-USB (mainly for power), headphone jack, microSD, dual cams (crap, I'm sure, but better than nothing sometimes), full size USB3 port...saw reviews on MC website where people are plugging it into a USB hub and monitor and basically just use it as regular PC. I would probably spring for the $140 model...if the 10" model was on sale I would be thinking of it as well.

I have one and it is very good for the money...about on par with the Venue 8 Pro...

I have one, and its really nice, it's just that its really buggy for me, sometimes the store doesn't open, I can't turn off and on Wi-Fi without restarting, and sometimes restarting takes forever.....

If you just need it for consumption the Toshiba Encore ($99) is an excellent value for the money and would actually work quite well as a kids' tablet.

I would prefer an Office Home and Student edition instead of an year of Office 365.

Wasn't Microsoft including Office 2013 permanently in Windows devices under a certain screen size?

Yup and now idk wtf happen -_- i think for even cheaper prices the OEMs are opting for the 1 year subscription install instead

I think when Microsoft stopped charging the licensing fee for small devices, the Office suite went out the window.

They were including it with RT, but this being "full" Windows, no. Of course, it's Bing edition, free licensing, so I dunno what's happened since they first started.

I will go look at it not sure yet if i will buy.

Wow the 801 model for 140$ is not bad at all, you get 2GB ram and 32GB memory. Again for 140$ i think thats the best the platform has to offer at that price range :-o

The article says only 1 GB RAM.

The 800 only has 1GB the 801 has 2GB.

It has been this price for at least 1.5 months! :O

Nope it hasn't..they just reduced the prices for both today

The TW-800 has been $99, and the TW-801 has been $139.99 for quite some time now, at least in OH.. They even had clearance TW-800s for $40, but they probably had defects like my TW-801.

I have a store about 15 miles from home. I go there often, but not for this. I have a Lumia 1520 so this isn't enough of an upgrade in size. I did pick up a Surface tablet with Touch keyboard for $180 at their Black Friday sale last year.

I picked up one of those Surfaces myself. That was quite the LOOOOONG line, haha.

I have the 32GB version of this tablet and I have to honestly say, it is VERY GOOD for the price. The screen is bright...viewing angles are GOOD, not great, but not a show stopper. The screen flickers every so slightly coming out of sleep but does away quickly. It has about 15GB free after updates and a handful of MODERN apsp installed. FULL USB 3.0 port is the real deal here. I would say this is very much on par with the Dell Venue 8 Pro. It has ran everything I've thrown at it. All ports are on top...takes about 3-4 hours to charge from near empty though. This is the best budget Windows 8.1 tablet out there...

I might check it out. I live near a MicroCenter and they frequently have very good walk-in only deals. In fact, my current PC is based around an i5 3750 and z77 motherboad combo that was less than $200.

What a coincidence, so is my desktop. Except my CPU is a 3570k.

Few days ago Lumia 2520 was on sale for $99 without contract at Micro Center. That was a fun experience looking for one.

Looks good. Will it lunch in India?

I dont think it eats lunch....LOL

Dang! That's sad. They made sheesh kebabs in Indian spices.

Um does any of these allow an physical connection to an external monitor?

http://c783319.r19.cf2.rackcdn.com/images_brands_WinBook_Renderings.jpg
Looks like both models have Micro HDMI out.

live 5 minutes from one, but have no need for this device

Pity they have no stores in Florida.

Wow, that's a pretty good deal. Might look into it. I live in the city Micro Center was founded in (near it's head quarters). Might stop by our local store to take a look. Been looking for a moderately priced tablet for my girlfriend, been holding out for Dell Venue 8 prices to drop. But this might be a better alternative.

I actually drive past the headquarters nearly daily, to get to Kroger, haha.

Saw these in person two weeks ago. They're surprisingly snappy, and have an ips screen! I'd personally say spend the extra $40 and double the RAM and storage, but at $99 if that's your budget, it's a bargain.

I bought a NextBook with 1GB of ram and 16GB of storage and hooked it up to my 27" monitor and a usb hub with mouse, keyboard, and external speakers and HDDs. It worked ok, but the system and storage constraints were evident in the slow operation and almost out of memory status shown by task manager. I'll return this device to Walmart for a refund of my $149. I next bought the MicroCenter WinBook TW801 tablet for $139 because it has 2GB of system ram and 32GB of onboard storage and easily accepts the 64GB SD card in it right now. I've been using it as my desktop computer for the last few days and it seems to work fine. The system and main memory are adequate for most applications I have used so far. These include iTunes streaming videos, Netflix, and Amazon Prime video streaming. The tablet itself isn't as good as my Surface Pro 1, but the SP1 cost $999 and the TW801 cost only $139 and fits in my pocket. You decide for yourself which is more useful. It won't replace my Surface Pro, but it is still a nice machine for the size and weight. Future enhancements should prove very useful as well.

WARNING I bought the unit mentioned in this article last month. Build quality is very good for the price, however, there were several issues that I had with the unit: WiFi failure. Needs reboot to fix (likely software, potentially hardware) WiFi dropping/poor performance. Did not trace the source of this issue. Color banding on screen. Intermittent, extremely annoying! Sometimes reboot fixes. Screen powers off after tapping on the touchscreen. Again, needs reboot to fix. I returned my unit and asked a friend of mine and it seems that people are returning these more frequently than other devices. He then slapped a $99 "Clearance" label on the box :/ Good tablet for the money, but it might be defective. Make sure to test everything before the return window closes. Wish I traced the causes of these issues, but I did not have the time..

Thanks for the heads up...I've had mine for about a week with no issues...will keep an eye on this...

Not better than the Dell Venue 8 Pro 64GB I purchased for $129 at Microsoft Store opening.

This small tabs will be more reliable with ARM processors Snap Drag 410 with 1920 X 1200 1GB RAM 16GB micros SD with modern file manager modern office and we are good.

Any GPS? Yes I know I'm asking a lot

Why all these cheap Windows Tablets aren't available in Europe?! Damn! :-/

I'm so tempted by this deal. My office is only a few minutes away from a Micro Center...

Yes I do live near a Microcenter. Best place to go to for byopc projects

I will drive over at lunch today to check it out.

I'm not "near" MicroCenter, but can get to one an hour from home. I may make that trip this weekend.

I own one for reading kindle books. It's not to bad if use for light duty stuff. I'm a little bit disappointed though that instead of giving you Office 2013 Home and Student edition, they give you office365 membership for one year instead.

Agreed...I do have Office 365 but didn't want to burn one of my 5 licenses for this...would have prefered Home and Student...

Got a microcenter about 45 mins away. This deal will make the drive worth it

MicroCenter is a good store, both online and retail. Nice selection, lots of DIY components, service center, etc. The WinBook line is very entry level, typically with a shorter service-life. Still it's a great price for casual use.

Id love it some of these cheap windows tablets were available in the UK....most are around then £200+ price mark for specs not much better than this. Cheapest ive found was the encore tablet for £179 with similar specs to this. Bet of a difference from $99 to £179

Anyone have or take 1/16 (1GB ram/16GB storage) one? I really want to know how much is the usable storage after unboxing and how well the ram handling average usage like web browsing, document editing, watching video, listening music, or light gaming?

The 32GB model has 15GB free after ALL current updates and a handful of Modern apps installed...so I bet about half that...

It has about 6GB left, I got one yesterday. They also have pretty cheap microsd I picked up a 16GB one for 6.99. My kid started playing games and watching youtube and netflix videos right away and from what I can tell everything plays very smooth.

Ok. Thanks for clarify it. So it's 6GB of usable storage. I guess it's enough for some apps and maybe some light games. So basically, as long as I stay away from resource hungry apps (like Photoshop, Visual Studio and the like), it should be pretty usable, right? Glad to hear that.

Ah ... I forgot to ask about the battery. What is your tablet's battery capacity? For that capacity, how long do you use it from 100% until you need to charge it again (down to 5-10%)? I'm planning on buying local OEM's windows tablet and need to chose between 8" with 3800 mAh or 10" with 6000 mAh. I prefer the small screen for the sake of portability so I'm inclined to 8" one. But if that 3800 mAh is to small, I need to switch to 10" one.

The 8" has a 4800 mAh. I don't know how long the battery lasts (have not play with it long enough yet) what I can tell you is that my kid has been using it on and off for 10 hours and the battery is 60% charged. About the performance I don't have any resource hungry app since this is for the kid but asphalt 8 airborne runs really well if it means anthing to you.

Hmm ... Let say that within 10 hours, your kid is playing it for 3 hours in total. That would be 40% for 3 hours and around 80% for 6 hours. I guess 3800 mAh will do for light usage then. If Asphalt 8 can run well, that mean it should have no problem for my usage. Thanks for the info. That really help me make my decision. :)

wow! this is awesome.... why would anyone want an android or ipad when they can have a full computer for 99$!? they are getting cheaper and cheaper everyday... i just hope the "quality" is ok anyway these things should have 2GB ram at least...

Just went and picked up the tablet, a case, and keyboard with touchpad for $208. I'm stoked to try this thing out.

Let us know what you think...I like mine a lot...

Which one did you get? 800 or 801? And tell us your experience after use it for a day or two. :)

I may get one for my mother in law. Good price point for what you get.

Too bad the Santa Clara microcenter closed down :(

I do live near one (Denver, CO), and I'm seriously considering this purchase, now.

Too bad its in store only!

PSA: when shopping at Microcenter, never give them your email/name/any more info than is required to pay. (so don't give them anything) They will sell your info that you give them. I know this beause they are the only place my dad's name was associated with my email address, and now I get all kinds of emails with his name at my email address.

Can anyone confirm that this tablet supports wireless display out of the box? I know its standard on 8.1, but read that certain pcs do not have compatible hardware.

I have a Surface Pro 3 (i7) & was looking for a companion tablet when the SP3's charging while I'm running around on-site or at home on the toilet. Some thoughts after 5-days with the TW801... Surprisingly, the Atom chip ran smoothly with multi-tasking (web browsing, MS Office, emailing, music & YouTube mainly). Picture & color quality was good for the price although it did have noticeable light bleeding on 2 sides. Sound volume was decent at best. Volume buttons felt cheap & flimsy to the point I think they'd quit working sooner than later. Didn't have any WiFi or Bluetooth issues (just turn off a specific setting in the device manager to avoid constantly getting disconnected with the latter). Somewhat thick & heavy for its screen size but can't complain for the price. Screen felt cheap & not as smooth as other tablets when gliding my fingers. Love the full size USB 3.0 port but then again, you can buy an OTG cable for cheap. Battery is decent as well. I was averaging 7 - 8 hours per charge (~3-hrs). Folio case was of good quality for the price although I wish it had auto wake. In the end, I returned it because the touch sensitivity was pretty bad. Tried a Dell Venue 8 Pro & the difference was noticeable. Others have said the same on Slick deals. I get the fact the components are of lower quality due to the price but I don't think I can deal with the lack of touch sensitivity. It'd have to be $30 - $40 less (in the 2GB RAM & 32GB config) for me to deal with the lack of touch sensitivity.

need 64 bit & LTE before it will sell.