The best of Microsoft in 2022
This is Microsoft's 2016.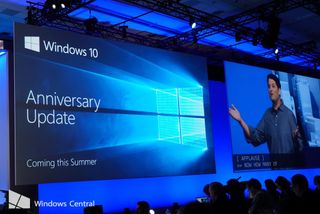 Microsoft had a tremendous year in 2016, with several jaw-dropping announcements that have taken the technology industry by storm. Many have even called Microsoft the new Apple, which is a compliment in and of itself. Still, with 2017 fast approaching, it's time to take a look back at Microsoft's biggest moments in 2016 and prepare for an entire new year.
Windows 10 Anniversary Update
This year saw Microsoft release its first major feature update for Windows 10. Dubbed the "Anniversary Update", this release featured improvements to the Start Menu, Action Center, Settings and Microsoft Edge, and introduced new features such as Windows Ink, Windows Hello in the browser, and a whole lot more.
The Anniversary Update began rolling out on August 2nd for all Windows 10 users, and now accounts for around 86% of the Windows 10 market. That's incredible, and excellent news for developers as it means they don't have to worry too much about fragmentation between the different Windows 10 releases.
Windows 10 Mobile also benefited greatly from the Anniversary Update, as it was the first Windows 10 Mobile release that felt complete. It mended several software bugs, improved performance, and brought full Windows 10 and Windows 10 Mobile much closer together.
Universal Windows Platform
The Universal Windows Platform went even more universal this year, with Microsoft announcing Universal Apps for Xbox One. This unleashed a whole new market of apps for the Xbox, essentially turning it into a very basic PC. Developers can now build apps that target Full Windows 10, Windows 10 Mobile, HoloLens, IoT and Xbox One.
That's an incredible feat, especially considering that Microsoft is one of the first building a universal platform that works across this many types of devices. Developers can now build apps for over 20 million Xbox One's, using the same tools and assets used to build apps for full Windows 10. Impressive.
Not only that, but Microsoft announced a new feature called Xbox Play Anywhere, which allows developers to build one game for Xbox One and Windows 10, and have that game sync cloud saves and licenses across those devices. This means Xbox Play Anywhere games can run on both Xbox One and Windows 10, incredible!
Project Scorpio
Microsoft surprised the entire gaming industry this year by announcing its brand new console, scheduled to launch in the fall of 2017, a whole year early. Microsoft originally had no plans to announce Project Scorpio in 2016, but with looming pressure coming from Sony and the PlayStation 4 Pro, the company felt they needed to get something out there and let gamers know Microsoft is serious about 4K gaming.
The Project Scorpio announcement delivered, hyping up gamers across the globe, and even piquing the interest of gamers on other platforms. Microsoft is building the most powerful console yet — even more so than the mighty PlayStation 4 Pro — and delivering 4K 60fps at the "highest quality pixels"… whatever that means.
Project Scorpio may have been one of Microsoft's biggest announcements in 2016, and we can't wait to see what they've got planned for the platform in 2017.
HoloLens goes on sale
Microsoft HoloLens was unveiled in January 2015, but it wasn't until earlier this year that developers could openly go and buy one and have them to use/develop on at home. HoloLens going on sale marked the first step at bringing a fully featured HoloLens product to the market for consumers, and although that hasn't happened yet, getting HoloLens into the hands of developers allows Microsoft to build up a healthy ecosystem of HoloApps that take advantage of the HoloShell.
What's more, HoloLens recently went on sale in a number of new countries, including the United Kingdom, France and Australia. Now even more developers can get building HoloLens apps!
Surface Studio
Microsoft blew our faces off with its Surface Studio announcement this year. It was known for some time that the company were interested in building an All-In-One PC, but we didn't know exactly what they had planned. When the unveiling finally arrived, it got people talking.
The Surface Studio is a one of a kind All-In-One designed for professionals and creators, and has essentially put Microsoft back on the map for professionals whom are currently tied to Mac. What's more, the unveiling video used a variation of the song "Pure Imagination", which we think played a small part in making said unveiling video go viral.
With over 10 million views on YouTube, the Surface Studio unveiling is the most viewed Surface unveiling video to date, beating the likes of the Surface Pro 3, Surface Book and original Surface RT. That's no small feat, and something we should all be impressed with.
Windows 10 Creators Update
The Creators Update is the next major version of Windows 10, scheduled to launch in early 2017 and is bringing several new features designed for creators. New features such as Paint 3D, HoloShell for VR, People Bar, better syncing between devices, and a whole lot more are all scheduled to show up with the Creators Update.
What's more, the Creators Update will be the first Windows 10 release that features Cortana on IoT devices, allowing hardware makers to build devices dedicated to Cortana, like the Amazon Echo and Google Home. This is a big deal, and it's exciting to see Microsoft building Cortana into more areas of Windows 10, including the set-up experience as unveiled recently.
Microsoft has also improved the way major updates are delivered, no longer requiring the user to download an entire new version of Windows every time a major update is released. With the Creators Update, only the new bits and pieces that have been changed will be downloaded, shrinking download sizes dramatically and hopefully speeding up the upgrade process overall.
Windows 10 on ARM
This is probably the biggest and most noteworthy announcement to come out of Microsoft in 2016: they're bringing full Windows 10, with Win32 app support, to ARM phone processors. Yes, that means the Windows 10 you know and love can run on the new Snapdragon 835 processor, opening up a whole new world of opportunities for hardware makers.
Imagine a super thin Windows 10 PC with excellent battery, powered by a Snapdragon CPU. Or maybe even a smartphone that transforms into a full Windows 10 PC when docked — not Continuum, a full PC. These kinds of devices are now possible now that full Windows 10 is coming to ARM.
The most important part about this announcement is that Microsoft is also bringing Win32 support to these ARM devices. Microsoft's previous attempts at ARM devices — Windows RT — saw classic and essential Win32 apps left out and led to RT's failure, but with Windows 10 on ARM, Microsoft is building emulation right into the OS.
What's next?
Microsoft had a tremendous year in 2016, and now it's time to look forward to 2017. What could next year possibly hold for Microsoft? Will they finally announce a Surface Phone? Will we see full PC games on Project Scorpio? Perhaps a Surface 4 with an ARM CPU? Who knows!
Get the Windows Central Newsletter
All the latest news, reviews, and guides for Windows and Xbox diehards.