Microsoft 365: Everything you need to know about the new productivity subscription
Launching April 21 with new features and benefits on top of Office 365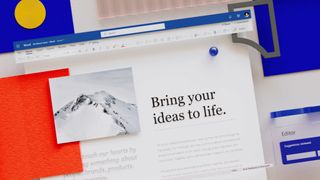 (Image credit: Microsoft)
Microsoft has announced a new subscription aimed at consumers who are looking to keep their life organized between home, work, and family. The new subscription is largely a rebrand of Microsoft Office 365, but with several new benefits and features that extend outside of the traditional suite of Office applications. Such benefits include new cloud-powered experiences that enhance your writing and presenting skills, financing, and online safety.
The new Microsoft 365 subscription is available in two SKUs; one for individuals, and one for families. Microsoft 365 Personal is $6.99 a month, and Microsoft 365 Family is $9.99 per month for up to 6 people. Existing Office 365 Personal and Home subscribers will automatically switch to the new Microsoft 365 subscription when it goes live starting April 21.
Productivity Suite
(opens in new tab)
Productivity across work and life

The new Microsoft 365 subscription for individuals and families brings with it new AI-powered features and benefits inside Microsoft Office, including Word, Outlook, PowerPoint, and Excel, as and also enhances Microsoft Edge, Teams, and Family Safety across Windows 10, Xbox, Android, and iOS.
Microsoft 365 specifications
Category
Microsoft Account
Microsoft 365
Price
Free
$6.99 a month for Personal Plan
$9.99 a month for Family Plan
Office
Web apps and mobile apps for iOS and Android
+ Desktop apps for Windows 10 and macOS with offline editing
Microsoft Editor
Spelling and grammar
+ Advanced grammar and style
PowerPoint Designer
Layout recommendations
Advanced layout recommendations with premium content
PowerPoint Presenter Coach
Filler words and pacing
+ Monotone pitch, originality, and speech refinement
Creative content
2000 templates, 750 images, 25 looping videos, 82 fonts, 320 icons
+ 300 templates, 8000 images, 175 looping videos, 300 fonts, 2800 icons
Money in Excel
No
Yes
OneDrive Storage
5GB per person
1TB per person
OneDrive Personal Vault
3 files
Unlimited up to your storage quota
Ransomware Detection and Recovery
No
Yes
Expiring and password-protected sharing links
No
Yes
Outlook.com Storage
15GB
50GB
Custom email domain
No
Yes
Mobile phone and landline calling with Skype
No
60 minutes per month
Microsoft Support
Account and setup support
Ongoing technical support for Windows 10 and all Microsoft 365 apps
Partner benefits program
No
Yes
The new Microsoft Editor
Microsoft 365 brings with it a brand new Microsoft Editor that has been updated with new features and is now also available inside Microsoft Edge with the Office browser extension. (opens in new tab) Microsoft Editor is a suite of tools that helps you become a better writer by offering grammar, punctuation, and sentence suggestions as you type. It's an AI-powered service, available in more than 20 languages, and can be utilized inside Microsoft Word, Outlook, and Edge, as well as Google Chrome.
The Microsoft Editor is available to all who have a Microsoft account for free, but Microsoft 365 subscribers benefit from advanced grammar and style refinements that will enable you to write with more clarity and conciseness. Functionally, the Microsoft Editor is very similar to competing service Grammarly, which also provides writing suggestions and edits as you type.
PowerPoint Presenter Coach
Also new with Microsoft 365 is an updated PowerPoint Presenter Coach, which uses AI to detect when you're talking too fast, "umming" or "uhhing" too often, and more. Microsoft 365 subscribers benefit from a new monotone pitch feature that will listen to your tone of voice and provide feedback in real-time with suggestions on how you can add variation to your speech where necessary.
Another new feature for Microsoft 365 subscribers is a new speech refinement tool that will analyise your speech and provide suggestions on how you can better put sentences and phrases together. The new monotone pitch and speech refinement suggestions will be free as a preview, but then only available to subscribers of Microsoft 365.
Money in Excel
Microsoft 365 is introducing a new Money feature inside of Excel that will make handling your finances much easier. Subscribers will be able to link bank and credit card information to Excel, which will important money and spending data directly into an excel workbook and provide personalized insights on how you can better manage your money. It will automatically categorize spending habits into different groups so that you can easily see where your money is going every month.
Money in Excel is a Microsoft 365 exclusive feature with no free tier available. So if you want to take advantage of this, you'll have to subscribe.
Premium templates, fonts, and icons
In addition to new features and enhancements to Microsoft Office and the web, Microsoft 365 provides subscribers with new premium content inside of Microsoft Office. PowerPoint Designer will now automatically design presentations for you using over 300 new templates, 8000 images, 175 looping videos, 300 fonts, and 2800 icons, ensuring that your PowerPoint presentation is unique even when using the PowerPoint Designer tool.
Microsoft Teams and Family Safety
Microsoft 365 subscribers will also benefit from an updated version of Microsoft Teams designed for family use. This will be coming later in the year, and will allow families and friends to stay connected and organized across work and life. Features include a new family dashboard, that provides an overview of everything that's happening with members of your family in one place such as upcoming school assignments, calendar events, and recent locations.
In addition to new family features inside Microsoft Teams, Microsoft is bringing its suite of Family Safety tools that are available online to iOS and Android for Microsoft 365 subscribers. This new app will help you ensure your children are safe on their devices, providing parents with screen time insights, app usage details, website activity, location history, and more.
The app can alert you when your children are requesting permission to access an app or website, want to spend money on the Microsoft Store, or have left school or home outside of a set time. On Windows 10, Xbox, and Android, parents can lock down their childrens devices and app access if necessary as well. Family Safety for iOS and Android will be coming later in the year.
Productivity Suite
(opens in new tab)
Productivity across work and life

The new Microsoft 365 subscription for individuals and families brings with it new AI-powered features and benefits inside Microsoft Office, including Word, Outlook, PowerPoint, and Excel, as and also enhances Microsoft Edge, Teams, and Family Safety across Windows 10, Xbox, Android, and iOS.
Zac Bowden is a Senior Editor at Windows Central. Bringing you exclusive coverage into the world of Windows 10 on PCs, tablets, phones, and more. Also an avid collector of rare Microsoft prototype devices! Keep in touch on Twitter: @zacbowden.
Ditto, like is this something we will have to switch?

All office 365 users will switch to Microsoft 365 automatically

Is this a price increase. I use Office 365 prepaid cards stacked up. Will this this still be an option when they expire or is a monthly sub the new norm?

It is the same monthly price as the old O365. Not sure what the yearly price is.

Year price is the same, It just a new name and more features!

Hey, what's with the 50GB of OneDrive storage? Existing O365 home/personal users get 1TB. Is this being lowered? For everyone, or just new subscribers! That is a very significant downgrade!

That is outlook.com storage, not OneDrive, outlook.com is email storage so 50GB of email storage and 1TB of OneDrive storage

Ok thanks for that clarification; I misread that.

Man, it's like people didnt even read the section that they are asking questions about...

Why bother with a clunky Excel financial interface when Microsoft already owns Microsoft Money?
Money remains in widespread use. OFX files are supported by most banks. It has a great interface and many think that it remains the best personal finance program despite having received no love from its owner for a decade.
If that was brought up to date and added to 365 that really would be something to get excited about.
Windows Central Newsletter
Get the best of Windows Central in in your inbox, every day!
Thank you for signing up to Windows Central. You will receive a verification email shortly.
There was a problem. Please refresh the page and try again.