Microsoft is acquiring GitHub for $7.5 billion
Microsoft announces that it is acquiring code repository GitHub for $7.5 billion, confirming the recent rumors.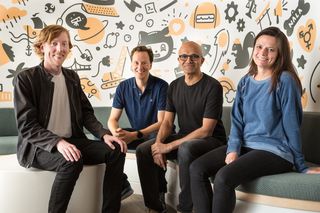 Microsoft has today announced (opens in new tab) that it is acquiring GitHub for $7.5 billion, confirming recent rumors that had suggested Microsoft was in talks with GitHub for a potential acquisition. According to Microsoft, GitHub is a leading software development platform with other 28 million developers worldwide.
Microsoft CEO Satya Nadella said in a blog post that Microsoft is a developer-focused company that is all in on open source technologies, and reassures developers that Microsoft will take good care of GitHub. Microsoft wants to empower developers at ever stage of the development cycle, increase the use of GitHub with enterprise developers, and bring Microsoft's own developer tools and services to new audiences.
The press release goes on to state that GitHub will continue to operate independently, which may reassure some concerned developers over this acquisition. Microsoft says the acquisition will close later this year, with Nat Firedman heading up the CEO position at GitHub. You can read the full press release below.
Windows Central Newsletter
Get the best of Windows Central in in your inbox, every day!
Zac Bowden is a Senior Editor at Windows Central. Bringing you exclusive coverage into the world of Windows on PCs, tablets, phones, and more. Also an avid collector of rare Microsoft prototype devices! Keep in touch on Twitter: @zacbowden.
Will this have any kind of effect on MS stock?

No, shareholders seem to ignore this level of spend..... 🙄

Only when the purchase is a good one :)

Github is not only a source code cloud infrastructure, its also used in all Fortune 500 companies for CI/CD so it is pretty much integrated with all IaaS, PaaS and SaaS technologies and agile methodologies.
This is a huge purchase and will give Microsoft a lot of advantages for moving enterprise software to the cloud in the next decade.

GitHub is used for "Corporate Identity"?

It's Continuous Integration / Continuous Delivery. It means that any tiny change in code is tested automatically and released automatically as you update the "master" version. This originates from these GitHub repositories, so you may very well be using applications that have been automatically delivered from a repo (to an app store for example).

You mean we could be running apps directly from a remote GitHub rep.?

Do you think you could ask this in a little broader more vague way? 😁.
I think the answer is easily, yes. What is more interesting is ' what effect will this have?' - which is much harder.
But, given the success of their cloud division and the potential broad focus (allowing more entry into other kinds of markets, i would expect this to have a positive impact... Unless they over paid... $7.5B is a lot of money!

They overpaid more for Nokia. At least Github is a better choice.

The Nokia D & S acquisition was a necessary one and the talent gain would have far outweighed the spend. But it was not given a chance to succeed as a result this is where we are in terms of the mobile space.

Haha! Yeah I guess I was hoping someone would naturally elaborate after answering my question. I should've asked it different.

From the release, it's a pure stock purchase -- MS isn't paying cash to GitHub, just issuing shares of MS stock to existing GitHub shareholders in exchange for the GitHub stock. However, it also says that they will use cash to buy-back outstanding MS stock, reducing the dilution from the issuance to GitHub shareholders. I suspect that it's about a wash from an accounting perspective. That leaves market perception as the key driver for any share price changes. If the market thinks this will be good for overall earnings over time, you'll see a positive effect. If they think MS over-paid by issuing too much of its own equity ($7.4B) for the purchase, it will take a one-time hit. After that, whether it helps or hurts will be based on how well MS manages the acquisition.

Ok, now this is official. Happened so fast.

How do you know when the acquisition started?

I mean the talks have started no more than a couple of days ago, right? GitHub responded quickly in favor of MSFT, which is really cool.

Actually, they've been talking for a couple of years, but talks just recently got very serious.

"....and reassures developers that Microsoft will take good care of GitHub" - Satya Nadella The statement funnies me a lot...so he surely knows they haven't been taking good care of Startups and consumers/developers are aware??

Yeah, no. GitHub is a really big deal to the functioning of the current Open Source community, so it's a statement recognizing it's importance to it's users. There were similar statements made around the Minecraft acquisition. And GitHub isn't a startup...

GitHub will continue to operate independently
look at Minecraft, look at LinkedIn both doing very well

* Conveniently overlooks Xamarin, LinkedIn,....*

And for all those scared developers. It says GitHub will stay independent.

Yep. MSFT will get what it wants, that's what matters here. Win-win for both.

Well GitHub will continue to operate independently
Think the goal is to keep it independent and help push it forward.

Two things to say... 1) Yes this is very true what Friedman said "developers... drive business processes and functions across organizations". Saving my code in the cloud is great, but I'd much rather have a device to run my code on. Surface phone / Andromeda where are you? Do you even exist? 2) Let's just hope M$ doesn't ruin this great little company by totally corrupting the ideals that have made it beloved with its uberfocus on the "almighty" $. At least there's still https://bitbucket.org/. The .org at the end should save it from corruption for a while.

(GitHub will continue to operate independently)
If anything they playing the help given more resources
And help it a push forward.
And you could always setup your own server

Saving my code in the cloud is great but I'd much rather have a device to run my code on... GitHub is not a website hosting service...

Well I just finished reading an article elsewhere about the rumour of a buy-out by Microsoft and it claimed that 69% of developers said they would quit the platform if it went ahead so let's hope that doesn't happen.

Can you please post a link to that? That would be an interesting read. And yeah... I kinda believe it. Although M$ won't care because they'll be signing on large Enterprises.

How is that LinkedIn adquisition is working for you, Mr Hit Refresh ?

Pretty well? 1.3 billion in revenue and 37% growth YoY for the most recent quarter.

And... this acquisition makes more sense to me than LinkedIn. Microsoft tools were the best, and this could really solidify movements to a more seamless DevOps future. I also like that Nat Friedman is involved. Devs have been moving away from Microsoft for years (with the possible exception of Azure), but these moves can only help. Sure, some may leave GitHub because of Microsoft owning it, but extremely few. If you're using Azure, there's no point anyway.

This is awesome. Huge news for the developer community. Now when will they acquire JetBrains? ReSharper and other JetBrains Toolbox features would make a great addition to Visual Studio.

Microsoft is Azure now. Customers of Azure are companies and developers, not consumers. Microsoft won't invest in consumers business unless Nadella resigns.

Right, which is why they're pumping billions of dollars into Xbox.

And IOT + Azure + AI.
Arcade cabinet, robot, water meter, cashier, surveillance, vending machine, drone, machines in harbor / port run Windows.

And IOT + Azure + AI.
Arcade cabinet, robot, water meter, surveillance, vending machine, drone, machines in harbor / port run Windows.

You're wrong if you think Github only helps developers. Most managers in most companies are also impacted since today Github is the base of successful projects, Github requires security against cyberattacks and that's where Microsoft expertise will come in, so all this intellectual property valued in trillions of dollars will be protected in a safely manner by Microsoft.

As always, us fans want to know if this could possibly have some type of tangible affect on the Microsoft Store...

No. Not even a tenuous and convoluted link between them.

This is impressive, many consumers don't understand it, but they way today IT projects are managed in Fortune 500 companies and Agile, Scrum methodologies depend on integration with Github so this pretty much puts Microsoft on very good advantage over its cloud adversaries like Amazon and Alphabet.
Actually Microsoft will collaborate with Google technologies like Kubernetes which are integrated for deployments with the help of Github.

The words "Fortune 500" are spot on. M$ has about as much chance of truly "getting" the open source movement though as McDonalds does of understanding the organic, natural, locally owned, food movement.

Wonder if they might open source Windows Core OS.

Why do you want that? What benefit can you get? Programmer only care about if they can push one set of code to IOT, AR, MR, PC (incl. S, ARM) and Xbox (even better, to share code between backend and frontend). Let OS absorb the differences == save programmer's time.

This is great news. The purchase price is high, quite a premium. I think GitHub had a market cap of about $2B recently (please correct me if that's way off). But I think it's excellent that MS now owns the single biggest tool/service used by software developers. I expect this to help MS encourage more Windows development by making their tools like Xamarin (another good acquisition), which happen to output more readily to Windows, available to more developers. That's excellent news for developers (improved access to to better tools) and for Windows fans who yearn for more developer support.

As a token of "good faith" they should open-source the iOS and Android code for Groove. Share it on Github, and allow small devs to take it and run with it.

Wow! Try going to GitLab.com today! Sever is swamped. Reaction to the "assimilation" of GitHub? See #movingtogitlab on Twitter.

And GitLab runs on Azure servers. Lol not much sense in moving code there to avoid Ms.

It would be interesting to see how this plays out. However it's a major win for Github, as they are still going to be operating independently.
Windows Central Newsletter
Thank you for signing up to Windows Central. You will receive a verification email shortly.
There was a problem. Please refresh the page and try again.