Microsoft adds more Windows Store publishing features for app developers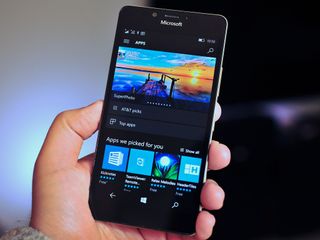 Microsoft is rolling out new Dev Center features for Windows 10 app developers, offering them more options when releasing their apps in the Windows Store.
The biggest new feature, as we reported on Monday, is the new ability for app developers to publish Windows 10 UWP apps to the Xbox Store for Xbox One console owners. In a blog post, Microsoft detailed the other new Dev Center features, including the ability to publish apps to a specific number of people:
Another new feature allows for forced app updates, for use in apps or games which might need quick bug fixes or content updates:
Yet another addition now allows developers to list both minimum and recommended hardware requirements for their Windows 10 application or game. There are quite a few other new additions and improvements to the Dev Center, so Windows 10 app creators should check out the blog post for the full list.
Windows Central Newsletter
Get the best of Windows Central in in your inbox, every day!
Anyone agree with me that the new store ui really ugly? No hate.

100% agreed, it's not that it's ugly, I think it doesn't scale to the device's screen size or to the DPI settings (yet).
The UI is the same on the 950XL and the 650 (Two rows of apps etc)

Agree with scaling issue, same on my 640XL. Icons are too big straight ugly.

Yeah, icons of apps are too big, and because of this, the two raw of apps is bad as well on my 535. But other than that, I like the new Store UI much better than the old one.

I find it to be a lot more organized.

I agree that it's more organized. It's much easier to get to different collections and the like. Is it pretty? No, but then neither are any of the other stores. There comes a point when you have so much info available that your customers need to access that function trumps form.

Yeah it's too much cluttered..

I even complain on the feedback app. It's not just it's ugly, It offers less info at glance than the previous version, and it's slower. I really hate it.

It's not just slower on phones, it is slower on xbox too. Whatever shared system that is powering this new UI across Win10 devices needs a lot of optimization work.

The previous download progress back was better.

I like the new layout but don't like the new buy button and download progress bar. It looks awkward.

definitely agree. its big and ugly, and it doesn't reliably display real life download progress

I wouldn't say ugly but generally, less elegant, particularly on mobile. Quite why we need to see all the minimum and recommended system requirements on app results on a mobile is beyond me - like we can swap out the processor or something. Basic elements are still not shown like current app version and date the app was last updated in the store yet we are forced to view detailed app permissions and supported languages by default. The 'rate and review' section has a welcome improvement filtering current app version comments from the rest but it used to simply show the actual version that commentators were using which was more useful and more precise. I wish 'My Library' would give me more information on app usage - not battery or data - just info on how much time do I spend with app x or y and when did I last use it. Maybe alert me from time to time to so that I can either re-discover an app forgotten or I can get rid of it, save space and data in needless app updates etc.

I just pulled up the store on my Lumia 640 which I haven't upgraded to the Anniversary update, and compared it to my 950 running the Anniversary update. Different taste for different users, but I actually prefer the new UI over the old one, and its a lot more functional

I am very happy with the new dev center (features + UI), but very unhappy with the consumer part of the store (apps). Besides being extremely slow, buggy and laggy, it just looks very bad. It scales very bad (especially on Mobile), has strange/wrong margins, wastes space in many places, misses important information (e.g. version number), etc. Also, why do I need to select the star-rating from a drop-down instead of just clicking on (e.g. 4/5) stars as before? Additionally, the current store (on the insider previews) really hurts our business, as there are constantly bugs (with about every third insider version), which tells my app the user didn't buy the full version. My users get annoyed as they can't use the features they paid for and I get bad ratings. Microsoft support can't help me, as they have no information about previews, so the problem is never solved. (it's here since about 8 months...) Also, the age ratings stuff (which is great to prepare in the developer dashboard), looks so strange on mobile, many users thought it shows that our app has an issue, as a big yellow exclamation mark is shown; while it basically means, using the app needs parental advise... I really hope, Microsoft soon fixes these issues ... :(

Because they not hire someone who can build a clear lineament and cute design, as did google?

Personally I believe the star rating system was changed because there was a bug which caused it to look like you had incorrectly given a 1-star rating right as you submitted your review. Maybe there was a technically need to change it to a dropdown for now?

is not only ugly, misuses of space, blur is useless, and always the same apps appear in the home. In mobile works very badly.

I think Windows Phone 8.1 store UI is much better

Is it me or the swipe left/right to explore more content on lot of sections was removed? ... After a couple of uses, I definetively could say that I miss the previous version. All the content layout is just too static right now.

The "forced update" is a much appreciated gift to our corporate developers. These specific apps are updated almost daily and tech support is almost 99% concerning "My app isn't doing what everyone elses app is doing". Arghhhhh. They haven't updated for 30 builds!
Windows Central Newsletter
Thank you for signing up to Windows Central. You will receive a verification email shortly.
There was a problem. Please refresh the page and try again.