Microsoft announces "MyPeople", a new taskbar feature coming to Windows 10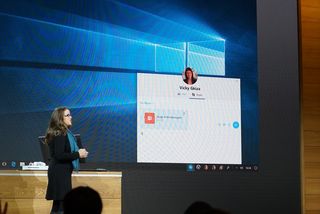 Microsoft has unveiled a new feature called "MyPeople", a quick-access area on the taskbar that showcases your favourite people directly on the taskbar, and allows you to communicate and share directly with them. You can send 3d objects, emoji's and more straight from your desktop.
The feature works with SMS relay through Skype, as well. The feature will also be able to hook into other social services, like GroupMe and more. Microsoft is making it easy to collaborate and share work and messages with your friends, all directly via the taskbar.
MyPeople will be one of many new features showing up in the Windows 10 Creators Update, which is scheduled for launch early next year. Insiders should expect to start seeing these features show up in preview builds in the coming weeks, however. Let us know below what you think of the new MyPeople feature!
Windows Central Newsletter
Get the best of Windows Central in your inbox, every day!
Zac Bowden is a Senior Editor at Windows Central. Bringing you exclusive coverage into the world of Windows on PCs, tablets, phones, and more. Also an avid collector of rare Microsoft prototype devices! Keep in touch on Twitter: @zacbowden.
I'm hoping this is based on a UWP app and will also be integrated into the taskbar in Continuum

Neat. I can't help but think of the new Surface I'm getting when the next generation is released.

Maybe's some of the backend changes for this is what has caused contact photos to vanish in the people app

Oh, so I wasn't the only one then. Good to know :)

Dang, same here when I was moved to the new Outlook.com. That and all my birthdays were all messed up. JUST today, friends with iPhones were reporting the same, and their main accounts on their iPhones are Microsoft accounts...it just seems odd though, but they were telling me that all their contact pics were suddenly gone.

It doesn't feel as much useful to me.

If they only made phones!

I love the mature look of this as a kinda Person (not People) Hub on the messaging side for Windows 10. Imagine this being implemented in Windows Mobile.

Yup - imagine swiping left on your phone and having a People Hub right there in full screen... Can't be too hard to implement. And people have kinda sorta been asking this for yearsssss with windows phone. Implemented exactly as I stated. They're one step closer now

You can open a new thread on uservoice, MS will implement it if there are many people think the same with you

So, why can't we still not simply pin something to taskbar, like websites in Windows 7? This is such a bad implementation.

Should be called "Ma Peeps"

Is this somehing like they wanted to go with in Windows Phone 7.0 and steadily desintegrated from the OS?

That's what it looks like. Glad to see it coming back.

I don't care about people. lol

Cool feature, and great that it's extensible to third parties. It's just a big question mark whether WhatsApp, Facebook Messenger, or any of the other major players out there will bother with it... ​But it would work wonderfully well for me with a few of my major contacts at least. But not all of them.

I really hope it gets Facebook Messenger integration. And Telegram (if they ever release their universal app..)

So miss the social hub in meego.... Wonder what they do differently this time because I thought none of the other social apps liked being tapped into by third party.... Or is it like actionable action center items but just for social?

Actually a good question. Probably in a year or so, I'd imagine they'd focus on basic feature parity first

I wonder if Microsoft will ever implement a - phonebook?

It feels like the return of the motto that I have come to love of windows phone 7 and 8, "putting people first". Was expecting this feature as an interactive live tile. not seeing myself use the interaction with the taskbar. Have never done this with contacts ever in any version of windows or windows mobile. Would have rather see a demo of MyPeople as part of the people app. Like selecting your circle as a group. Opening this group in the app would let you slide between contact message threads like pivot pages an perhaps one pivot page dedicated to having all contacts in one group converse in one groupchat. I like the basic idea Alison is trying to convey. I think there's lot's of devils in the detail of her demo and I think there is a lot of room for improvement, even before the first indsiders build release to at least show some thought of inproved integration within the current feature base. I use my personal contacts as live tiles. Would be nice if MyPeople was integrated in mygroup with the people app as perahps the third pivotpage. I applaud Alison''s idea of improved integration of all the social media and social messaging platforms into a one stop shop app. As she said, that is also how I experience real world use, everyone has their own social bubble. But many in the social bubble also use different platforms. This has for me even become a bigger task of switching bewteen platforms to keep in touch. It would be nice that ALL the platforms could converge into one app regardless of which platform your contacts in your social circle are using. The sad thing about her story, she only focussed on mostly microsoft apps and facebook exclusivly. While likely a large marketshare her remark on "others' is almost just as important. The hardest thing for me is to get my social circle to skype. Many use Whatsapp. It also has better end-to-end encryption than skype. Alison would have truly grabbed my attention if there was an concrete news on being able to seemlessless add whatsapp conversations to MyPeople. While potential acknownledged under the "other" remarkt, the devil will most likely be in the detail. A missed opportunity by microsoft to not calling whatsapp out to say yes to support for MyPeople. It's early days I know, but below the surface of the Creative update and MyPeople there is room for some critique of what it could be.

Great, now even my OS reminds me how antisocial I am.

The feature looks pretty awesome - Don't fancy having too many people pinned on my Surface Pro 3 screen though along with the full Cortana toolbar I use lol. I'm really looking forward to seeing the feature in Insider builds - I got the impression that what they showed was an early proof of concept as it wasn't a live demo so it may be early 2017 that we see this come to insider builds - Fantastic concept so far though meaning you don't have to go into the apps so often for common communications tasks. I have a few key people that I SMS and Skype every day and being able to do that from the task bar will be great, I can focus on comms from those people without having a full skype window loaded up

This is great but I feel like they're starting to clutter the taskbar a bit

I'm predicting this now: Dear Abby, My boyfriend never lets me use his laptop using his user account, and instead created a separate one for me. He said it's for security and so that I could have my stuff and settings the way I wanted them (and can keep them in the cloud using OneDriveTM, thereby allowing me to work on his laptop and other places, as well as on the go). But when I recently looked at my boyfriend's laptop while he was working on it I saw that he had his ex-gf in Windows 10's MyPeopleTM. She wasn't first, that was his boss, then me, then some of his co-workers, and then her. I tried talking to him calmly and politely and he said that I'm exaggerating. That he leaves the settings on automatic and lets the system do the heavy lifting, and that obviously this shows that how unimportant she's become in his life, and how important I am. I told him he can use the ignore feature (select the user, press CTRL-I), but he says he prefers to let his computer work organically. Am I being paranoid? Microsoft Marketing Team Not MyPeopled Enough! <suggested by S.Balmer> I make fun out of love. This feature sounds good to have, and I rarely use the space on the taskbar there, so I could see it working well. It all hinges on the implementation.