Microsoft announces the new 'super affordable' Lumia 430 for just $70 USD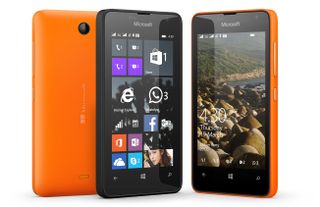 Just how low can Microsoft's Lumia series of Windows Phone go? Evidently, very low as the company this morning is unveiling the 'super affordable' Microsoft Lumia 430 dual-SIM Windows Phone. The announcement was teased yesterday and now it has become a reality.
The ultra-budget dual SIM Lumia is destined for select emerging markets this April including India, the Middle East and Africa, Asia-Pacific, Russia, Kazakhstan, and Belarus all for just $70 USD.
Although the specifications are on the low side, Microsoft did not cut back in the crucial areas that make smartphones important these days. Accordingly, the Lumia 430 has 1 GB of RAM, 8 GB internal storage (micro SD expansion) and both rear and front-facing cameras for video calls. Even better, the device is slated to get Windows 10 later this year when that OS is released.
Microsoft Lumia 430 Dual SIM Specifications
Colors: Orange or Black
Qualcomm Snapdragon 200 1.2 GHz dual-core processor
4-inch WVGA (800 x480) LCD at 235 PPI
Networks: GSM/EDGE: 850/900/1800/1900 MHz WCDMA: 900/2100 MHz
1GB RAM
8 GB internal storage; micro SD up to 128 GB, 30 GB free OneDrive cloud storage
2 MP fixed-focus rear camera; 0.3 MP VGA front-facing camera
Sensors: Accelerometer, Proximity, Ambient Light Sensor
1500 mAh removable battery
BT 4.0, USB 2.0 Micro-USB connector, A-GPS+GLONASS
WLAN 802.11 b/g/n
Size: 120.5 x 63.19 x 10.63 (volumetric) mm
Weight: 127.9 g
Standby time: up to 24 days (576 hours); Talk time: up to 7.6 hours (GSM) up to 8.4 hours (3G)
In a press release, Jo Harlow, Microsoft's corporate vice president for Phones had this to say about the intentions of this device launch:
Although power users will likely gloss over the Lumia 430 for emerging markets, the budget Windows Phone looks to hit all the right notes for both affordability and desirability. In fact, it looks like a "fixed" Lumia 530, which is missing a front-facing camera, ambient light and proximity sensors, and sports only 512 MB of RAM.
With just a 4-inch display, Microsoft looks to capitalize on those who want a smartphone but not smartphone-prices. Considering this phone is capable of running the same software as a high-end Windows Phone, the Lumia 430 could make a significant impact in emerging markets. Its ability to run Windows 10, of course, future-proofs it for the next few years.
The Lumia 430 follows on the heels of the new Lumia 640 and Lumia 640 XL, both announced at Mobile World Congress a few weeks ago.
Windows Central Newsletter
Get the best of Windows Central in in your inbox, every day!
Daniel Rubino is the Editor-in-chief of Windows Central, head reviewer, podcast co-host, and analyst. He has been covering Microsoft since 2007 when this site was called WMExperts (and later Windows Phone Central). His interests include Windows, laptops, next-gen computing, and for some reason, watches. Before all this tech stuff, he worked on a Ph.D. in linguistics, watched people sleep (for medical purposes!), and ran the projectors at movie theaters because it was fun.
I know, it's not a flagship. Still, I find this device fascinating as it once again demonstrates Microsoft's understanding of the market. Think of it this way: this lower series is effectively better than the Lumia 530. It, once again, corrects earlier mistakes in budget phones that were made under Nokia. One small issue is the "select markets" caveat. Whereas the Lumia 530 is available mostly worldwide, this phone looks to be more limited in distribution. Perhaps that is because carriers do not see a wide enough distinction between it and the Lumia 530, or maybe there are other reasons. I think emerging markets are a big deal in mobile. It's this philosophy that grew the PC business (aka the 'race towards the bottom', often spun as a negative). It's not glitzy, but there are billions of people who can benefit from such technology. Having said that, between this and WinHEC yesterday, who here is not psyched for what is coming this fall?

How is this phone different than the Lumia 435 which was announced a while ago?

Microsoft portfolio is getting confusing !!! Overlapping devices within a limited range and almost near near to near same specs and processors in devices .!! :/ at least create some difference in it like 830 should have come up with snapdragon 410 ......... The 640 ,535,735,830 ,640XL ALL HAVE THE same processor .!! At least till a price bracket they should be same and when we pay a little more premium then difference In processors too.!!

Better design and Dual sim (?). That's the only thing I noticed.

I Think the Lumia 435 xl looks really good :P

http://www.microsoft.com/en/mobile/phones/compare/?action=productcompareaction&products=5748466-5289104 Doesn't seem too different apart from the dual sim

Actually check this one. https://www.windowscentral.com/e?link=https2F%2Fclick.linksynergy.co...

1. A little bit smaller battery 2. A little bit smaller in size (volume) 3. A little bit lighter in weight 4. A little bit higher F number in back camera 5. Somewhat cheaper in price

It's a lower specs phore but it's well featured better than the 530. If I wanted a backup phone on the fly, I'll choose it over 530

-5 :) + 2 PPI. Slightly different design (rounder edges - more like 530 or 620, altered back - camera position and speaker). 6-7g lighter. It is bigger, thinner and narrower than the 435 - which is good although the difference is unnoticeable. 60mAh less on battery?? Basically same phone in a bit newer look, newer with phoens is better + cheaper than 435. Seems the 435 will have it rough, maybe.

Exactly what I came here to ask. Microsoft could make much more strategic progression in their battle against bad press if they'd stop announcing all this new junk that they can only fail to properly support. The world doesn't need five of the same phone.

Exactly! We get it - much of the WP sales are in low end models. But people buying low end devices are also much less prone to nitpicking details... Make two or three low end devices with a deciding factor, like size or such. Don't make ten devices with minimal differences!

Actually in markets like India even in the lowrangfe people do nitpicking. Besides it being $30 cheaper than 435 is a huge deal.

But I don't see where they saved that kind of money in this versus the 435. Or why anyone would but a 435 over this? And the 435 only just came out. So my question isn't why this phone, it's why was the 435 released?

430 has dual-sim, 435 does not. Well, at least the 435 doesn't have dual-sim in *my* country, that is.

What?! The Lumia 435 is dual sim! I have one.

Moving to Uganda from the US in April and I am happy to see this, especially as a dual SIM. I love my flagships, but in my week of house and car shopping here, I have seen more lumias than any other smartphone. Looking forward to snagging a few of these, patience people and you'll get your flagship.

Why would you move to uganda?

Our maybe he/she's going to a high-paying job for a major international coffee company operating in Uganda. Being deported is a tragedy for a lot of people, and I prefer not to joke about tragedies.

Will it be running Update 2 or Update 1?

You got me. I'm not only psyched but totally loving what MS is doing. I wonder what there next move is considering all the good news coming in these past few days in terms of hardware n software, except a few apps. I'm pretty sure they might go to as low as 3" and make it 50 USD. I don't know but am excited with the way things are going. Good times are coming.

I think the usability of the UI would start to break down under 4"

Some early Windows Phones were as small as 3.5". The UI worked well enough.

Cant they keep it $30 like 630 :P just kidding

I think it's only available to those markets because of those markets' needs really. In the UK for example, and probably rest of Europe, you'd have no need at all for a dual-sim device. I carry a work phone and personal phone and am required to use that work phone and not allowed to use my personal phone. The work phone in this case is an iPhone. And yes, you're right, Microsoft is using the same strategy they used back in the 80's. It worked before, so I think it'll pay off for them again. Microsoft also needs to capture the low-end market before tackling the high-end. At the moment, anyone in a shop that's given the choice between an iPhone or high-end Android against a high-end Lumia, will go for the iPhone or Android. Simply because of the reputation and for iphones mostly because of the brand.

These devices are perfect for Tweens or Millenials. They tend to break them or lose them and at 70 bucks a pop thats not too bad.

I'm a millennial and I find this racist.

Shouldn't it be ageist? Unless you're joking then don't mind me.

Yep. They get the social media capabilities and selfies

You spun that story better than Oreily!

I got 2 lumia 520s for $80,a 635 for $40 and a lumia 925 for $85. So how come Microsoft can't make a low end phone with a flash? Also why can I get a lumia 520 for around $20 now while this phone the just release will be around $70 in foreign countries? Posted via the Windows Central App for Android on my Oneplus One

AT&T locked phones include a carrier discount. Plus this is RRP, which as we know is different from street sales price.

Totally not the same thing. Lumia 925 started at like $500. We're you complaining about it not being $85? End of life products are often sold at a loss. And I'm 99% sure your 925 was used. I almost never see a decent one under $100 on eBay. Usually more like $125.

99% of the people can't use flash properly anyhow, if you want a flashlight go buy one.

Well said Dan. I am one of the high end desiring users that's most excited about their push into lower price points. Many of us disappointed forget so easily that it wasn't the communicator that solidified Nokia's leadership in smartphones, it was the 2310 and 3310/3320 devices. Cheap and ubiquitous that made Nokia what it is. I see Microsoft towing the same line here and once these devices begin to grab a foothold, the sky is the limit for the windows ecosystem.

I think it was kind of concerning that they are possibly going after the feature phone market ie. 3" screen min. Requirement

I will invest in this product. Microsoft nailed it!!!!! They should also make a version with dual sim CDMA and GSM. I am certain this will be a success. $70 thats really super low cost!

i'm just glad we're seeing 4-inch devices again.

Looking at the markets it's going to... It's going to lower the cost of IED's.

Sorry, might be a stupid question. Seems like there is 3 sensor on top of the screen. On the right might be the FFC, on the left might be the ambient light sensor. So what is the one beside (under the ear piece) the ambient light sensor? Is it LED notification?

Meh. You can race to the bottom all you want but if you neglect your flagship, you will soon find yourself stuck with the label of "poor man's iphone". We all understand that flooding the market with affordable handsets are a necessary evil, what we do not understand is why you, Microsoft, have held several events only to launch variants of the same low end phones. It would have been nice if ONE of those events was for a high end Lumia. They do not want to be the next Nokia here in America. Nokia flooded the American market with low end phones. When they finally got around to making flagship phones, it was too late. Nobody took them seriously here. They became a punchline. When people want to make fun of your phone they would say, "go get a real phone, stop walking around with that cheap Nokia, this isn't the 80s". The Nokia tainted name is one of the reasons WP never took off here in the States. I do understand that Europe is different. I do not want the same thing to happen to Microsoft. Keep the models simple. Enough with the events to announce budget phones. We get it. The next event should be a flagship..... kinda like the Surface Pro 3. Radically different and industry leading. Wake me up when that happens... all these current phones are a snooze fest.

Another new budget phone. Great. I understand that helps with market penetration but it really doesn't seem to add excitement for the ecosystem. Flagship phones do that. Look at all of the apps that are disappearing from the store recently. Do you think yet another budget phone will bring them back? I doubt it. The two big operating systems have new flagships come out once a year or more. My 1520 is about a million years old (in smartphone years) and there aren't even any solid rumors of a new model. I love this phone and the operating system in general but I am becoming frustrated.

Surprisingly I think this need to be a little bit cheaper. Around $30-40 would be the instant-buy price point in those countries. I picked up a 530 for $49 in Australia (carrier locked, but outright price), so surely they can do better in the 2nd and 3rd World markets?

Why 430 don't use on screen navigation key?

Why though? hoping it comes to Australia....I want an upgrade 1gig ram for my 530, I run on 2100 mHz network in Australia so i don't see why it should only be in India/Asia etc. Maybe it's not in stone yet? but article does say APC , only one article said not coming here due to frequences or something, but puzzles me why it wouldn't work anyhow? what about ppl that Travel a lot??. I prefer this style rounded edge over 435 yet Msoft cannot see that frustrating, build them for all???.

Daniel do you think this phone will work in Australia? 2100 Frequency 850 etc. We have 435 but I prefer this Style, so i may have to order from another like Asia / India so annoying !!! , Something Microsoft shouldn't do really frustrating!!. I want to upgrade from 530 as 1gig more ram and the front camera. Your thoughts thanks......

Wow really Microsoft?? Really?!

You know, maybe they also want to get Microsoft branded phones out there. They are basically tweaking phones, perfecting the affordability, and rebranding them. It's probably a good idea to do that. Teach people quickly that MS is the new Nokia.

These are great specs for $70, but this is basically a dual-SIM variant of the 435. Why didn't they just name the 430 and 435 the dual-SIM and single-SIM versions of the 430?
It's even more confusing because single-SIM devices used to be numbered xx0 while their dual-SIM counterparts were numbered xx5.

Haven't compared spec sheets although the first thing that pops out is dual SIM on the 430!

I'm about to ask same question, what the difference from 435?


435 has higher pixel front facing camera

Oh. For the love of God. Really?

I wouldn't say they're going backwards, but it seems like a race to the bottom.

No they literally went backwards from 435 to 430.

The 5 at the end is for variants of the 43x series.

the first number in Lumia is series (4xx, 5xx, 6xx, 7xx, 8xx. 9xx. 10xx. etc...) the second is the generation (0-1 is Windows Phone 7.5, 2 is Windows Phone 8, 3 is Windows Phone 8.1 and Windows Phone 8.1 with Update 1 and 4 is Windows Phone 8.1 with update 2. The third one is just variant.

No, it's the successor to the 620! It's better in every way... Except camera and possibly screen. But at least it's at a sane size. Maybe the end of the year will bring a 620 successor with camera button, proper camera and nice screen.

You can't be serious if u say that its better than 620 in every way. This phone is in everuyway inferior to the 620 except for the 1gb of RAM. The processor in this a dual core Cortex A7 is no where near to the power of the Krait dual core based on cortex A9 ticking in the 620 and it also has a inferior GPU. The camera and screen should also be huge downgrades.

The 620 has already been replaced by the Lumia 640. Suggesting that the 430 replaces the 620 is like saying the Lumia 1520 was replaced by the 640XL. That's not how it works.

Really, the launch of a Lumia 035 is imminent!

Watch out for two numbered device.

The Lumia 035 is packaged in a little plastic bubble and can be purchased for 25 cents after you checkout at the supermarket; located right next to the Redbox machines. Unfortunately it is random whether you will get the Lumia 035 or a plastic ring or fake lips.

You can put a quarter in a gumball machine and have one fall out. You may also pick one up in a McDonald's Happy meal. How about that little surprise you get in a box of cracker Jacks?

LOL this guy own copyright © of this

What is the difference between Lumia 430 and 435

There doesn't seem to be any significant difference which makes it all the more weird to announce the 430 after the 435. Not to mention they already announced next gen 640 series phones. Microsoft has trouble with numbers.

Yeah, I can't imagine it being cheaper to make multiple different (but essentially the same) models than making massive amounts of one model.

Not happy with fixed focus camera

That's what 4,000Rs phone buys you dude !

Not that I'm going to buy one but I would think they would limit the lower end phone cameras to 3MP at least.

Although it is a fixed focus 2MP snapper, it is surprisingly ok (I own the 435)

If they have large 2MP sensors it makes up for less pixels. I remember when digital cameras were 2MP!

I also have an old ZTE Blade phone, which has a 3.2MP auto focus camera.
The 435 photos are vastly superior!! Yes, it isn't a patch on the 1020 - but for the price, I think Microsoft have done an excellent job.

Here comes the whinners..... Anyways, I think this a great phone, and for the price, its hard to beat these kind of specs. The way microsoft is acting these days, I expect great things to come later this year when they announce a flagship.

Its like one low spec phone every 3 weeks. Getting pointless now.... Still pretty cheap.

These are the phones that will take WP from 2% to 12% in 12-15 months after W10.

Um ms would have to come out with a phone every day for the rest of the year to get..........maybe 5%.and definitely not in 15 months......maybe years from now.

Yep. This would be used probably by the ones who will shift to the Windows smartphone just to test the waters after Windows 10.

Only 2mp.. Expecting minimum 5mp camera

Then you'll have to pay more.

Low level android phones have minimum 5mp with flash... For 55 dollers

And those come with long-term OS support, easily upgradable to Android 6.0 in a few years? Nope, they aren't. The software is probably 4.4 KitKat or older on those models, possibly Android 4.2? I am confident this phone will be able to update itself for many iterations ahead, unlike its competition in the same low budget segments.

I own the 435 (along with a 1020).
Get past the camera issue, and you'll find that the 435 is superb! It actually outperforms my 1020 in web browsing....likely because I have never reset my 1020 or cleaned out the cache.
There is no Android for anywhere near the price that offers such a brilliantly smooth and unhindered experience. It just works...and works well.
Also, mine has been connected to WiFi and polling for emails automatically. It has so far lasted 26 hours, and drained just 16% of the battery! It really is a great device for developing markets...and will kick this OS on in the same way the 520 did.

how is the 435?? i own 530... the 430 looks good design though thinner but i think only some countries silly really...will be available in APAC (Asian/Pacific), IMEA (India/Middle East/Africa), Russia, Kazakhstan, Ukraine and Belarus starting next month. Although pricing will be slightly different for each country the estimated retail price is $70 before taxes and subsidies. I wonder if 430 will work in Australia, dont know if comming here though but 435 is..........

And they will have other specs lower (like RAM) and be slow and poor quality. This will provide a much nicer experience

Low Level android are useless. (can only call/sms, other features are Impossible to use, too laggish)

But they are a piece of crap

Look at the price man... It's much better price for those specs.

It price is about same as low cost android nowadays, even cheap android that have same price only have 2mp interpolated camera, which is worse. But this 430 is actually better, not interpolated, with FF camera, enough number of sensors & loaded with 1gb of ram.

Microsoft?? ....understanding the market?????

They do understand the market. They could make a new flagship for the 300 whiny assholes in these comments and nothing would be different or make the cheapest phone in the world and get 500 million new customers to WP. Not surprisingly they're running one of the largest companies in the world and you're whining on the internet in broken English.

You ok buddy??? Have i insulted your favorite company??...just because we love their products and services ,doesn't mean they're doing a great job at delivering them to the mass..relax mate ...everybody knows MS sucks at marketing their products..nothing shocking I said there

Really? 500 million new customers? People who buy their smartphones (I said smartphones and not phones) because of their price are not the poor ones, who might buy the €20 phones that are just that, phones; people who buy cheap smartphones do that because they want to have access to services that smartphones can offer, but since everyone knows that there actually IS an app gap, they won't get WP because they won't be able to play the latest casual gaming frenzy.

Isn't the 435 £29? Which is damn low.

Its been reduced to £24.99 on payg upgrade at CPW.

£19.99 when you factor in Quidco!

They really are disposable prices. I'm hoping that MS now realise that the bottom end is covered. Is the 640 lower mid? The 7 & 8 series are possibly their mid range... Although, I suspect we shall see some of those release in the summer.

I agree. I don't think they'll go any lower than the 400 series. This is really as cheap as it needs to get.

Don't cry about highend/flagship!! It is coming and hinted to be like the surface series!!

That could mean a Microsoft brand Flag ship smart phone made with the Surface Aluminum metal case and slopeing sides and shape just like the surface Pro 3. colors would be black or grey color like the Surface 2 RT is. I remember seeing a sexy Black Windows Surface concept smart phone by concepts site. if it is made like that one it will sell well but look Spartan business like

Well you seem to interpret just like anyone else that doesnt know anything about an upcoming flagship

WHEN ???? Two years without a flagship killed BB, remember....

Also, at least for western markets, you need flagships to sell low end devices, I think that without the Galaxy S series nobody would care about a Galaxy Giò or Ace or whatever it is..

Pretty sure it was much more than lack of a flagship that killed BB

Okay, so lets get this straight 400 series for the budget range, 600 series for the mid range, 800 series for the top mid range, 1000 series top end? Struggling to see where the 500, 700, 900 series would fit in... Anyway I checked Carphone warehouse... They are selling the 435 @ £70... And Microsoft themselves at £50...even if you take away the vat... They are no where near the £29.99 price tag.

CPW sells it for £30 PAYG upgrade, EE sells it for £25

CPW have reduced the PAYG upgrade price to £24.99

Yeah, but a carrier will likely sell it locked at that price, which is fine for the low price if you are comfortable with relying on them to approve Windows OS updates.

It is completely unlocked. I know - I just got one (in Orange, and on the 'Orange' phone network).
CPW only sell unlocked phones...so you can completely disregard the sim free price.
£39.99+£10 top up for new pay as you go users
£24.99 for upgrade users
(£5 off those prices when going through Quidco)

Budget: 4xx low end: 5xx, 6xx mid range: 7xx, 8xx flagship: 9xx, 10xx phablet: xxx XL On that note, I believe MS could merge the 940 with the next successor of the 1020 into one device orrrr the 10xx series will simply be the series with "photography camera," and the successor to the 1520 will simply be the 940 XL (like many have pointed out), so phablet range will simply always be the XL version of certain specced Lumia,s

I wish I could vote this up a thousand times! The naming scheme is actually quite logical & I love that they've streamlined it. I was on a tech site that was comparing the Lumia 640XL to the 1520 instead of the 630/35 it replaces. People are daft.

Logical?!? Two series for each range? How logical is that?!? One is more than enough! Just look at Apple: basically two series for a total of two ranges. And they sell tons. I wouldn't go that low, because low/mid/flagship would be enough for the general public.. maybe low/mid/high/flagship would be ok, too.

that's what I also think. no more 10 series. The replacment for 1020 will be a 950 (5th generation, with Windows 10) and get a suffix like photo. Maybe it will be a 1050. Don't know. Or just no photography phone.

Why does everyone bang on about no flagship everytime a phone for someone not spoilt with loads of disposable income (or clever enough to know they can do 80% or so of what they can do on a $600 phone for $70)? I'm lucky enough to have high end Lumias and want another but Microsoft has already clearly stated not till Windows 10. We know they are doing one, we know they support Qualcomm 810 and it gives time for newer features to be added. At best if they brought one out today it would be no better than the current Androids (exc camera) , have no buzz outside the community as not WP10 and probably be superceded by Android phones from day 1. Hell if that desperate import a Xiaomi and get on their forums ready for the Tech Preview.

Because there are too many people who cannot see any farther than the tip of their nose and for some, I think, a slight resentment that people who have less than them are getting more new phones to play with. Microsoft has already said a flagship is coming (obviously with Windows 10) but they will keep crying for one now, now, now even when it makes no sense to do so.

I think that's an inaccurate generalization for us who wine about flagships. My 1020 is messing up and there is literally nothing available that I see as an upgrade and I got this October 2013 (I'm with AT&T). Smartphones have come so far since then and I really want to take advantage of the advancements. Going over a year without releasing anything for people who want high end hardware will cause people to leave the platform (if they haven't already). Everyone can't wait 6 months because people buy phones each and everyday

I do feel for you guys on the 1020 because I think you got messed over a bit. Of all the Windows Phones Nokia released, they should have put more power into it to support that awesome camera and there is no true replacement. I truly hope MS gives you something good as an upgrade.

Because I live in a country where all people have iphone6 and S5 (Italy), but I love WP and want a f####g flagship to shut up them all !!!!!
It s two years I have 930 (and a 1520) and I m quite bored, want something new, hopefully the best phone in the planet. Does not matter if it costs 1500€, must be the best in class.

And veneta, as much as I respect you and the work you do, can you honestly give me a good reason why they should put one out now with Win 10 around the corner? Yes, they can update it but it's not likely to be timely (look at the rollout of Denim). Also, the 1520 and 930 are barely over a year old. Would you have been alright if the HTC M8 had not been locked to Verizon in the US only?

You literally have nothing going for your life if you need a phone to rub in people's faces to "shut them all up!!!". You might as well give up now.

No, really, I mean.. you didn't manage to shut them all up with the current flagship.. how do you think you will be able to shut them all up with another flagship? Seems to me like the old story "It was ok with 7, let's wait for 7.5 to blow out the minds; actually, 7.8 will do that; well, 8 possibly; erm, with 8.1 it'll be the end of the world; ok then, 10 will destroy them all!"

People are desperate to have something to be excited about, but if the new flagship brings nothing new (we/)they'll just be disappointed. Then there are the unique phones that need incremental updates to fix minor issues, like the 1020. Personally, I agree with MS strategy on focusing on the low end, but can't imagine how 10 variations of the same phone can sell more than 1 model, which should be cheaper due to less work involved in design or adjusting factories to make them. Also, low end is boring, even mid end can be exciting, like the 735, or 830 (but they had to screw that up with SD400 and insane launch pricing).

I think you are forgetting that while there are a lot of these phones, they have varying availability across the globe with most being targeted outside of the countries that buy the most expensive phones. So many of them are going to Africa and other places with a large low-income populace.

True, the availability of the different models is different, but I do not understand how that relates to my comment.

You mentioned 10 variations of the same model and I was bringing out that they are going to different countries. I can't explain why they don't go with just one cheap model because I neither work for MS or live in any of the countries these handsets are going to. Likely there is info about the demographics there we are not privy to. :-). Also, I agree on the pricing for the 830 being silly.

We bang on about flagship because they haven't released anything flagship kind since the 920. My contract finished in November and im still rocking the 920 and im tired of waiting. S6 Edge here i am. Don't mention the 1520 as that's a phablet. The 930 is just trash.

Money drives the ecosystem. Customers with disposable income are the best targets for apps, highest value targets for retailers, service companies, banks introducing apps. A bunch of low income users outside of the US means the platform will continue to fail miserably. High income customers and tech savvy users want the best products, and they are the highest and best users for devs to make apps for. That is the cruel reality of it. It has been years since a true flagship has been introduced, no other company has done that and certainly no succesful company. The rudderless WP ship is adrift in a sea of cheap junky devices and losing market share in the markets that produce dev revenue.

$70? Ha? Then why to go for Lumia 435?

Lumia 435 can be had for £19.99 in the UK.... ;)

Really? Where, might get one for that price just to use for holidays etc. Posted via the Windows Central App for Android

You need to have an eligible pay as you go upgrade sim (one that you have used in the past 6 months).
The deal is at Carphone Warehouse for £24.99. Make sure you go through Quidco to earn an extra £5 cash back (bringing it down to £19.99).
Orange, black and green are available. All of the phones are unlocked, regardless of what network sim card you 'upgrade'

Why does this come as a surprise to everybody, seriously? Microsoft for the time being is bent on releasing cheap ass phones in order to get the product out to emerging markets. In this case, its quantity that sells, not quality. If it sells, then they'll start throwing out more high end devices such as flagships. But making too many flagships right now for a product that doesn't sell well currently due to lack of dev support and proper marketing is just a huge waste of money. If I were to create a new type of sandwich that I knew the world would love I would want to broadcast that as much as I could to get the world aware. How many commercials of Windows Phones have you seen from Microsoft throughout this past year or so besides hearing about it online? That's what I thought. You can't just create something incredible and all of a sudden expect people to know about it and sell well. This is what Microsoft finally understands they were doing wrong, and that's why they're trying to fix it and get the word out with these low end devices, though they should start with more commercials and not internet ads/ tech blogs. More high end devices will come once Windows Phone gets the support it needs from consumers and developers. But for now, you'd be lucky to receive even one flagship. Why the hell can't people understand that?

4% = don't sell
Iphone6 = 1000$ = 18% = sell

0%= dont sell
4%= sells but struggling badly

I mean is at least 1 high-end device so much to ask for? I mean they could've created a slim version of the 930 (like the 925) and I would've been happy. I'm on AT&T and there is nothing to upgrade to (I have a 1020 on its last leg). 1520 is too big a device for me, I tried it out twice

Well there's nothing wrong with having 1 flagship, it definitely has been awhile since Microsoft released one there's no denying that. But by how much people complain on here they're acting like Microsoft needs to focus on creating nothing but flagships, which isn't a good business sense to do until more market share is gained. A flagship will most likely make a difference, but it's not going to be a big enough of an impact to get developers on board to the platform. Windows Phones biggest problem right now is third party support, not the lack of a high end device

Well hey they do just as much as high end, and if lose/drop no big deal :D

Wow...
I think this is what the mobile lovers want!!

I wished they brought out a Lumia 930 dual sim varient!

I have to laugh at the last statement as we don't know if Windows 10 will run on a high end phone. I am being facetious. Just hunkered down waiting for a build to come to more Lumias.

Awesome mobile at this price range $70

If this cheap phone have 1GB RAM, we need next 7xx & 8xx have 2 GB RAM and next flagship MUST have 4 GB RAM!

It's not by the amount of RAM, It's by What the phone needs to Run Smoothly.
I have a 1 GB Flagship (Lumia 830) and I don't think I ever noticed that the RAM is not good.
It's not a race. :)

But I'm not sure 1GB of ram is enough for apps next year (or two), like everyone says for 512MB Lumia in 2013 :)
Smooth is also depends on OS, W10 might need bigger ram alone in future.

Well my 1020 stutters and lags with 2GB RAM so it needs more than that.

RAM is not supposed to go into a device for the sake of bragging. It has 1 GB in order to run all apps! It is excellent. Does not mean that flagships need more just because. They sometimes need more because of high resolution displays driving up RAM usage and they will need a thicker or bigger battery if the screen size is bigger. Bigger screen means more reason for higher resolution. So, putting in an insane amount of memory, let's say 16 GB RAM, in a Lumia 1040 or whatever will do what? It might actually need 3 or 4 GB if it is ultra high res and the graphics chip demands it, but putting in more RAM drains the battery faster, so if Microsoft notices battery issues, they will probably put it at 2 GB or 3 GB. They should, however, offer 64 GB SSD models of the flagship. Now THAT is an actual consideration they will seriously discuss, I'm sure. They might be better off with 32 GB, though, adding a micro-SD slot for cards at up to 128 GB so you can take tons of photos and even buy a spare 128 GB extra card and really go paparazzi with RAW format photos at 41 megapixels each. If you put in too much RAM, the battery will have to be made thicker, bigger or smarter (quickcharge and what not, solar cells, kinetic energy, etc). Just look at the iPhone 6 Plus with 1 GB RAM, full HD display. I think this article should clear some of it up for you. Education is the key to get people to understand technical engineering decisions: http://tech.firstpost.com/news-analysis/heres-why-iphone-with-1gb-ram-pe...

Guys, technology and software is always expanding. 512MB in 2013 is all enough, but 1GB in 2015 is look like the minimum requirement if you want to play any games an run all apps smoothly.
But maybe next year as technology grows advanced, we'll see 2GB minimum ram & quad core 1GHz as minimum for run any apps. And bigger screen needs more. Maybe with 64 bit Windows 10 mobile will allow us to see 8 GB ram along with an octa core processor.

You have absolutely no idea how technology works, do you?

Yes, I have no idea about it. You happy? Different from iOS, Windows is in between Android and iOS in terms of background process. Android could eats more memory in background because it use a lot of programs, and iOS is just simple Unix based with polished appearance, so it don't need much process. IF Windows 10 getting more feature in future, like passive listening cortana, standby camera (that's why flagship lumia camera open faster), and more to be comes later in future. Yes, phone will need more process for the OS alone. Before action center appear in WP8.1 the minimum ram is 256MB, and now after it 512MB. To enable "Hey Cortana" you need SD800 and 2GB of RAM. You think where did the temporary data it processed from except from an into RAM?

Keep it 60,dollars ppl will go mad behind it

How low can Microsoft go??
Lmao they already discovered petroleum... Just one more step to go and they'll discover the bottom of the ocean :D

Wan't to know how Samsung Gained their current market share ?
Look at how many low end devices they made.

Nokia too! One of the best selling phone's of all time was the 1100 which was the cheapest variant available. At the time you could get a high end N or E series phone with a 2 mp Carl Zeiss camera and all the bells and whistles but the 1100 was what most of the world could afford. It was stable, had exellent battery life,texted,called & even had cool games & a flashlight so it sold by the bucket load and set a new world record!

My 620 can, so yeah maybe. I don't know what GPU in it.

No. It can play back 720p video without issue. 1080P is a no go.
Then again, why would you be trying to play back a 1080P video on a screen that cannot show any of the details!

Do we need another cheep Windows phone?

No flash, no camera button, no deal...

You will not find those on very low-end devices like this one. In fact, I believe only PureView phones will have the camera button from now on.

Is a camera button really that expensive to add in?

i think it is, it a physical button so you have to connection with the board. Personnally I think the camera button was a great feature in Windows Phone device, but nobody really cares about feature like this.

I think the dedicated camera button is popular. My entire family of 8 uses Windows Phone and they all use the dedicated camera button to quickly wake their phones and snap a picture. I cannot even imagine not having it, actually.

I have the Lumia 635 and it difficult to live without the camera button. I can understand Microsoft not to use the camera for 400 to 700 Lumia series. This is the biggest market for mobile device (under 400$) in the world and none of them has a camera button.

Ffs, I understand that low end phones sell the best, and it's good to Microsoft wants to get as much market share as possible, but stop now with the low end phones. PLEASE

Not sure why you are so bothered by it and how it affects you... if you don't want a budget device then simply ignore the articles and dont buy one.
There are people in this world who actually really appreciate a $70 smartphone because they simply cant afford anything more and a smartphone is important to them because it allows them to cut down on their phone bills by using apps such as viber/skype/whatsapp etc. even if they live in the same neighborhood. So PLEASE get out of your bubble and keep the "less fortunate" in mind as they too deserve be a part of society.
While they would appreciate every feature their $70 phone has to offer, most of us with flagships probably complain why our flagships has sd800 but not a sd801 or why we didnt have a toggle button for data connection..
Im glad MS is making sure their products and services are available for everyone because I believe it facilitates life for ppl in poorer locations/countries to get further in their life if they choose to, through the means of educating themselves online, communicating and meeting ppl through social networks etc.
Sorry for my "rant" but I just find it ridiculous why ppl get angry when devices they dont want are being released, despite a flagship already being announced and existing options (that are great) already available for the time being.

I agree but they also need to make it avaliable in all markets, Poor live i all countries.

Nobody seems to know what are the differences between this and 435?

The market in which they are released...and a few minor differences.
The 435 is a great little phone by the way.

Ok, good, now the flagship please :)

Not windows 10 no thanks!!!!

This is good for developing country market, many people in my country (Indonesia) which not live in a big city only can afford under $100 mobile phone. With super affordable lumias, people can experienced the smoothness windows phone than cheap chinesse android that lag like hell.

Ya, ini kemajuan banget, seharga hp smartfren tapi kualitas jauh diatas. Kita butuh yg sejutaan dengan kualitas yang memadai.

Kalo bisa tambahin flash+af ajib tuh

android harga 1.5 jt aja ga ada yang pake itu. haha

Betul bgt bro, cocok bgt buat gantiin hp nyokap yg sekarang pake Mito yg bsa nonton tv haha

I want Lumia 740 with better battery and front cam when compared to Lumia 730.

I estimated to see 740 in next 2 months.

What's the point of releasing x30 and x40 phones at the same time?

True. All the Windows 10 upgradeable, 2014 devices should be 40's now.

If only it had on-screen buttons :/ I'm never buying another phone with an uncentered screen.

You are funny, while everyone complaint about on screen softkey you are wanting it.

This is the most silly complaint so far! Capacitive buttons are considered a good thing by most people - it gives you more usable screen space!
Also, look at the photo -- the screen IS centred anyway!!!

I too prefer the on screen buttons, especially if they hide away like on my 735. Posted via the Windows Central App for Android

They need to support out their nomenclature - lower number phoned better than higher ones? Good it's limited release as it's just scuppered the 530. I'm guessing the flagship is going to be a one series, or just be called "one". Like the xbox. The one will run windows term and get a sharp call from htc. Good grief.

FgI think, In MS's perspective WP is the theatre where you can watch the movie, wherever you sitting. Whether its balcony or sand on floor(tharai ticket)
But who enjoys the movie at its fullest endeavour...?

Yeah, it reach finish line in 5th position.

If am not mistaken Microsoft began setting pretty good prices for their last products: Xbox One, WPhones and Windows 10 (will be free in many cases).

Looks like they're doing a pretty good job replacing Asha. Will be nice to see a flagship though in a few months.

This looks much better then bulky 435 and 532. Finally a low-end Lumia that is easy to recommend.

Why only in select markets? This is a perfect phone for children outside the house in wealthy markets. Nobody will steal this phone and won't be such drama if lost.

It's awesome there dominating the low end but ill continue to pine for the flagship in the mean time

Microsoft is doing great. I liked Steve Ballmer, but since Sataya came to the show, he made a revolutionary change.

Very nice design, looks almost like the iPhone 5C. One good thing about cheap Lumia's is the fact you don't need to buy an external case.

I think that 2 flagships is more than enough (Lumia 930 and HTC M8). Look at iPhone, people doesn't have to decide which iPhone is the best, they just buy the last one and this is one of the main reasons they have such tremendous success. If you buy a Galaxy people with Sony will say it's crap, if you buy a HTC people with Nexus will laugh at you because of lag, bloat and the fact you have the last year Android.

The 930 is not for USA! Only m8 . And USA variant was for Verizon and even that one got discontinued. T- mobile flagship? Nope. Verizon? Nope. Sprint?. Nope att? M8 and two year old 1520 wow lots of flagships to choose from..smh!

930 doesn't have microSD, therefore it sucks. The same goes for the iPhone :P

I'm very impressed to see Microsoft is compromising much less than Nokia in its lower end devices. It bodes well for the future higher range phones. You're getting a lot of value.

So did they forget that 435 exists and re-launched it as 430?

This is actually becoming a joke.

While i have a Lumia 730 that i use as my second phone. I tried to keep up with the numbers but i am lost now about all the 3s and the 4s :)

Very interesting! I'd like to see more affordable phones with smaller screens.

Forget the carriers at this price it's affordable outright. Only wish Microsoft sold devices online to a Worldwide market suitability only dependant on GSM & 4G Lte radio frequencies. HERE in Australia nothing is able to be purchased from the Microsoft online site. Unlike Google where their NEXUS devices can be purchased directly from Google. Apple of course has numerous stores in each capital city and the ability to purchase online. Microsoft products are neither recommended or promoted by the major CARRIERS here and generally speaking offer minimal choice of the 930 and a few superseded devices. Lol... Cheers from Down Under.

So wait, this $70 budget emerging market phone will be getting an update to Windows 10, but the Lumia series 820/920/925/1020 will likely be getting a cut down version, due to 'hardware restrictions'? Somebody explain this to me like to a five year old.

Okeydokey... Big bad daddy doesn't wike deem as much as the new ones so they get to sit with the grownups and the other ones don't Posted from my HTC M8

It's simple. Older phone have older hardware like less memory. Therefore will have less OS features possible.
Buy a newer phone with newer hardware and you will get the latest features.. Same as any phone or PC in the history of the world

I think this "Microsoft is doing great at the low end" is really over blown. I think they did well this last holiday season because they were selling more low end lumias at huge discounts. The impression I had was that many were being used as stocking suffers or mp3 players. I will start looking at the actual data and post my findings in the forums, but I think these accounts of MS "killing it" at the low end are greatly exaggerated. I think they are hanging in there but not taking in huge profits or market share as a result. I suspect that in growing markets everyone is seeing increased sales (ie china) and that MS isn't gaining significant market share, just selling more units that aren't buying anything from the app store.

These types of devices probably do next to nothing to attract developers. An audience that buys $70 budget phones, more likely than not, doesn't spend money on store apps or games. It's why, say, a trendy new app like Meerkat is on iOS only first; their audience is considered desirable, even if it's a fraction of Android's. The app is free for now, but eventual in-app advertising will be focused on an audience that opens its wallet.

You're absolutely right, low end sales do nothing to attract developers. People around here need to realize that before getting so excited about low end sales.

Actually cheap phones make developers pick one up simply to play with one. Had a call yesterday and my friend said he'd picked up a 535 to play with. He wanted to see what the development was like. Accessible phones are important at all levels

If that was true then why haven't there been a meaningful increase in apps since the 520 was released? Cheap phones is what got people on board with developing for IOS and android?

That is incorrect. The number of apps blossomed after the 520 was released.

You're right, after the 520 was released but that was also when the high end lumias were released. I'm not going to attribute the increase in apps in 2013 to the L520, thats ridiculous. I should have clarified my statement- I meant that there hasn't been a meaningful increase since 520 sales have been good - which was the 4th quarter of last year. We weren't hearing about stellar L520 sales in 2013, only in 2014 when they dropped the price substantially (and probably weren't making much profit on them).

"An audience that buys $70 budget phones, more likely than not, doesn't spend money on store apps or games." Exactly. All it does is give them the ability to download free trials and then give one-star reviews that say, "Make it free. Why isn't this free?!" If I could digitally punch them all in the face every time they adulterated the review scores in the Store.

@coip I couldn't agree with you more!

I really think it's time Microsoft reigned in pumping out all of these new low-end phones and consolidate the line somewhat better than where it is right now. It's time they started taking care of the US market better and start producing some awesome commercials building up the hype of Windows 10 on a flagship phone or 2 available on all carriers. My local news stations (plural) have already been talking about it and that is truly remarkable in itself since it is usually all about the other guys. If they allow the interest to wain again there won't really be any good come from doing so. Yes.. I am excited about Windows 10 and what it will bring too.. But I am worried about where the phones are headed more. If all they want is to be the king of the low-end there isn't a viable reason for me to buy a new WP. Posted from my HTC M8

When the SD810 is on the street and WP10 is on the street you'll have your flagship. Until then there are lots of phones with better than iPhone 6 flagship specs. 930/1520.M8 etc...

android phones are available in lowest to higher price group..if low budget customer want to use smartphone,then whatever will be their choice(i mean company),that will be on android OS..so to be in every pocket,and make ."windows os" in mind of everyone...microsoft has to create options.but yes the specifications are really too confusing.

I know this isn't destined for US, but it makes me think of an idea. MS should partner with T-Mobile to offer this phone for free to anyone switching over. They could call it the "Unpurchase" or something as part of Uncarrier 10.0 or whatever. "We are now removing the last barrier to switching over: Having to actually buy a phone!"

In a way some do this already. I know 635 was free after rebate on some carriers on pay as you go

why this phone doesnt have a flash light!!!!

It's not a Nokia, its a Microsoft (lol)

Nokia wasn't putting flashes on their cheap smartphones either.

the rear camera cant be that much good as its being shown on the picture

Haven't MS been watching Samsung? Samsung did this whole lets launch a new variant every other week thing, and how did that work out financially for the company? Is get a few % of market share worth not making any profit?

All I want now is a Lumia 040

How does this compare to the Asha phones in terms of pricing? I know MS wants to eventually phase those out. Is this phone effectively the new Asha?

It's great if Microsoft have Android smartphone cos I like it than windows.

Trolling trolling trolling

Nice to see capacitive buttons there. I hope the new flagship has them when it's released later this year.

So frustrating.....they announce a new budget phone like every week. At least ANNOUNCE a higher end phone. Doesn't even have to come out yet. At least give the non-budget crowd something to look forward to.

so i guess the biggest difference between this and 435 is where bot will be available. but still i dont understand why they bothered.

Not another cheap low end!

Another unnecessary low end phone thanks Microsoft

what the difference from 430 and 435? :/

Good move here fixes the 530 issue get into emerging markets and build a solid relationship with all your customers. It would make no sense for ms to release a flagship until windows 10 goes live.

Difference b/w Lumia 435 & Lumia 430 can anybody tell me

It would be nice to have something like this for Verizon in the US. Backup phone since mine broke and Verizon doesn't have another Windows Phone that I want right now...

Nice. I always have a flagship, but I would by this for a gift or media player and test for a smartphone. It fixes the shortcomings of the 635. If Microsoft is sewing up the low end like this... Just think of what their flagship will be like. It will make an impact like the surface did... It took 3 versions, but the surface pro 3 is a hit. Consumers want it and the tablet race dying down. People have one or the other... Now they want something new, exciting, different or one that can work. I think same with the phone. Microsoft need to keep going at this stride of being "cool" and most importantly innovative as they are getting the right attention without forcing it. By the time fall comes they will be set up. As I always said, Microsoft is ahead of the game whether the consumer knew it or not.. Google and Apple knew it despite their propaganda. only a fool will underestimate their competition... No Microsoft dont underestimate them.

Surface became successful when they ditched the lower end and went for the high.

I think your point about the Lumia 530 is why Microsoft is releasing so many low end phones. Retailers and carriers don't want to take the 5 different low end models that Microsoft gives them, so Microsoft creates this low end for these few markets, those low ends for those few markets and then this shotgun approach gets them a good low end phone around the world. Unfortunately, Nokia's incompetence with the Lumia 530 really screwed things up.

I think the difference here is that Nokia was in it to make profit off of hardware and that Microsoft makes money off of software and services. They're probably making zero dollars off of the hardware, but it's certainly adding software users. Think about Google and how they used to do Nexus. They'd sell them at or below cost - not to make money off the hardware, but off services and ad revenue.

the 435 is a great phone i got one and it works great no lagging really fast internet fast not really tryed the camera but for £40 its a steal

what the difference from this one and 435..?
when is it coming out?
i bought 2 635 for using overseas, but i wouldnt mind using this instead. i should b getting them today.

Drake said it best, "started from the bottom........" And Microsoft still there lol

I dont understand Windows phone users complaint that too many phone models is a confusing stat of affairs. Especially since all models aren't available in all mrkts anyway. Before coming to WP i used Android for years. There are literally hundreds of android models out there and more coming all the time. Stop being so anal.

But not from the same brand. The only android OEM that has uncountable number of identical devices is Samsung, there are literally so many that you hear of a new one everyday!

635 has been on sale for under $30, will we be able to get this for $12?

sounds good https://www.youtube.com/watch?v=BAVpcAIhhPQ

How can a $70 Lumia 435 be a "great deal" when Microsoft is almost throwing cheaper (~$50) Lumia 635s at people in the US?

God more junk phones. This flailing 100 variant of junk phone strategy is one of the main reason the ship be sinking. WP will never attract devs without a user base that has disposable income. These confusing, exclusive, region specific, cheap devices are multiplying like cockroaches. They are running out of numbers between 400 and 700.

Will it be available in the US

Ugh! I want Nokia back! I'm sick of all these low end devices! I want more high end devices, I don't know about you however. This is how you compete in the phone industry. You need high end models!

You get what you pay for with these low-end devices...

This phone will be $70.But when it comes in India its price will be jacked up to $80 atleast due to taxes. This also happened with 435 so this would make these two phones inferior to much better specced phones like Android One, Asus Zenphone C and Moto E for example. This phone should have been $50 not $70 since
Windows Central Newsletter
Thank you for signing up to Windows Central. You will receive a verification email shortly.
There was a problem. Please refresh the page and try again.