Microsoft announces new Surface programs; states that it has been getting "a lot of interest"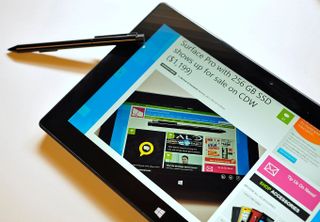 While analysts are stating that Microsoft's Surface isn't doing as well as hoped, yesterday the Redmond technology company stated that they have "had a LOT of interest from businesses, schools and universities wanting to use Surface." Today, Surface is currently available in 29 different markets and over 10,000 physical stores worldwide.
Three major announcement about Surfaces availability in the USA, commercial partnerships, and education were announced.
First, Microsoft is beginning the first phase of an expansion plan into business channels that will allow purchasing through authorized resellers. The list of resellers include CDW, CompuCom Systems, En Pointe Technologies, Insight Enterprises, SHI International, Softchoice, Softmart, PC Connection, PCM Inc., and Zones Inc.
The new availability through commercial resellers will allow additional services for enterprise customers including asset tagging, custom imaging, kitting, onsite service, device recycling, and data protection. When working with machines on a large scale, services like these allow for a more efficient and hassle free IT environment.
Microsoft announced that over the next few months it will be working to authorize more commercial distributors in resellers in countries around the globe.
Secondly, the company is announcing a new program known as AppsForSurface; available to Independent Software Vendors, the program will provide funding for developers working to develop more applications for the Windows App Store. We aren't talking about angry birds and temple run though, the program aims to bring key enterprise apps to Surface and Windows 8 machines.
Companies have already begun to sign up for AppsForSurface and current members include AirStrip, Citrix, Houghton Mifflin Harcourt, and Sage.
Lastly, the already announced Surface program for education will be expanded into commercial channels. The deal currently allows qualifying educational institutes to purchase the Surface RT starting at $199. Microsoft hopes that the expansion of the program will "help to get Surface in the hands of even more educators and students."
Is the Surface doing better than analysts think or is Microsoft hyping up faux information – let us know what you think in the comments below.
Source: Surface Blog
Windows Central Newsletter
Get the best of Windows Central in your inbox, every day!
I don't care, I just want a dang surface pro 2 with Haswell in time for the fall!

Yep. I'm waiting for Win8 tablet with Haswell.

If it can make it with 8Gb of RAM is even better!

If they make it 13 inches and Intel HD Graphics 5000 that is even better! Was about to get the Vaio Pro 13, but it has 802.11n and Graphics 4400.

Yes.. they should just use the smart frame design Intel showed a while ago. A 13 inch screen in a 11 inch mechanical would be perfect for the surface pro.
They could also use the fanless Haswell ..

If they make it 17" and attach a Keyboard to it that would be super Awesome.... and also a laptop.

...more Haswell posts with no connection to reality. Haswell is going to be nothing more than an incremental improvement. In fact, the initial 4th generation products bring at best comparable battery life but nothing more. The continuing gullibility vis a vis intel marketing BS astounds me. Next year people will be in line for next Intel revolutionary processor and will then believe the promise that 2015 will be the year things change. The same people will then also poke fun at Apple users for their sheepish gullibility.


Okay Mr. Fucking High and Mighty, the Haswell was specifically made to increase battery life, which is my main gripe with the Surface Pro. The Upgraded Macbooks have already been shown to have significantly longer battery life than the last generation, so unless you have a source, I'm calling bull on your supposed "fact".
If the Surface Pro 2 does not have Haswell, or if it has Haswell and does not have better than 4 hours of battery life, guess what Mr. "I'm so much better than everyone else"? I won't buy it.
You sound like a grade A level douche who likes to act like he's superior when he knows nothing.

Complete wrong on just about every point, good job.

I saw 'Microsoft announces new surface' and got so excited but unfortunately it's not the new surface hardware. :(

I'm sure WPC will have a invitation to that event. Its not gonna just pop out of nowhere... Hopefully we'll see something before the end of September...

You know the rule. Analysts, Weathermen, and sports writers are the only people who can be wrong all the time and still keep their jobs.

I really want a surface pro...but only once the capacity and battery have improved! And the rollout is so slooooow! Everytime I go to local electrical chain stores, they have nothing of note and what they have is technologically speaking 'old' hardware at top prices!!!

Its a shame its not doing so well. I traded in my iPad4 for this and much prefer the Surface RT. It has so many advantages over the iPad its unreal.
The UI is much quicker and swiping guestures are much better. Having all the windows built in drivers is amazing, pretty much all my USB stuff works. Networking is much better, can connect and share files so much easier than on iPad, just like a PC really. And having MS Office when I'm travelling has been a real bonus.
Downloaded 8.1 for it the other day and it just makes it even better.
Its all about brands though, and Apple is renound for being the best but I just feel the are lacking at the moment.


I think apple made some really good moves when they first started moving into the mobile/tablet...and now they are in a position where they can make tons of hardware and not be afraid of not selling out! Microsoft and Nokia play it so safe, they end up losing interest because they haven't quite conquered the hearts and minds of the average consumer that compels them to wait it out!

Totally agree with you on all points. My Surface RT is far more productive then the iPad, iPad Mini, Samsung Note 10.1, etc (I admin the MDM at my work so I have all of these devices). Only thing missing for me is a Cisco Junos Pulse client but I am hoping thats coming soon.

The IPAD's main advantage is apps. The metro store is growing nicely, but until there is app parity, the ipad is a better buy at the same price. After all, it's the apps that make any computer useful. If the growth of the app market continues, they will probably have most of the major apps within 18 months. At that point, the RT will be an equal or better value than the Ipad. In the mean time, the windows pro machines are a better choice because you get to use all the legacy x86 apps. It might have worse battery life, but it is much more useful.

I think that depends on what you use a tablet for. I traded an iPad for Surface RT and have only missed my banking app. It was a small thing to give up considering the website works better on RT. Otherwise, I dont really meed a lot of apps.

Everyone don't need tons of app. At most you will have 100 apps installed in your device. What matters is the quality of apps which microsoft store for Windows 8 and phone already have and growing. So I think I can sacrifice some apps for the producitvity of surface.

Well I finally saw a surface for the first time yesterday (outside of a store). I still have yet to come across someone else with a wp

I have been seeing Lumias everywhere. I don't feel like the oddball anymore.

I've seen WP in the wild, yet to see a Surface

I have seen both WP and Surface Pro in the wild. I have yet to see a Surface RT anywhere but in stores.

One person I know who did buy a Surface RT back around Christmas sent it back after dealing with a 4-hour update shortly after turning it on. My guess is that the first update was a patch for the less than satisfying Wi-Fi driver, which was the cause of a less than stable Wi-Fi connection during her first update. Too bad. I know she would have loved it had she stuck it out.

The reseller thing is ESSENTIAL not just for commercial space (where its a matter of convenience to get resellers that enterprise customers already work with selling Surfaces) but for governments, where it's often a non-starter if your device is not available through an authorized reseller because of procurement rules.

I had been holding out for a Nokia tablet but bit the bullet with the $199 educator deal. I love it, but it also doesn't feel very refined. The People tile is absolutely awful compared to my WP (it randomly leaves out tweets and facebook posts whenever I refresh). I definitely like it but I was hoping it wouldn't feel like it was just released.

couldn't agree with you anymore. The people app is pathetic. It pisses me off when I try to use it. Even with 8.1 the performance isn't that great. It's the one app I try to use everyday but it leaves me feeling disappointed. Why can't it fast like WP 8 app? I'm really starting to regret buying the RT. I'm going to wait for Pro 2 and leave RT behind from now on.

Just release the Haswel Surface Pro 2, ill be all over it like a rash

That and a SIM slot and I'm all sold. So love the design of the Surface Pro but the fact that you cannot use it for a long timespan when doing some intense 3D modeling or 2D Concepting and that you need either plug in USB hardware or share your phones broadband connection to be able to be online while on the go is a deal killer for me. That makes me Sad.

I am actually glad they skipped the built-in 3G/4G/LTE data connection. Saves me a nice chunk of change for data-only plan. I already always have my phone on me, and my plan includes tethering. Tethering to my HD7 has been great, and there is very little battery drain on my phone even after upwards of a couple hours of tethering.

A variant to include a SIM slot would have been great though. I personally do not want to carrie around all cables just to be conntected - Most of the time I only have the bags my pants provide. So the less additional stuff I need to carry around the better.
That said, I would need to rely on sharing my phones's broadband through wi-fi and that sucks on the battery like nothin'.
I already have a data-only plan that includes a volume of 10gb and an extra SIM would only cost additional 10€ (the contract itself only costs me 30€). Everything I do with my mobile devices is done online; I do calls via Skype (incl. world wide and that for consistent prices) & send messages also through Skype as well or use WhatsApp.
So having the choice that suits best for a particular way of doing things would be nice.


If only Surface are sold here in Indonesia, I am gonna be the first to grab it, especially the Pro!

Release in more countries!

A new 7-8 inch Surface RT with a Qualcomm CPU for $199.99 and an active digitizer version for for $249.99 would be a phenomenal idea. While it may sound enticing to have an x86 based tablet at this level, I think the prospect of good Store-apps in the near future is alright, if not great.

The native Bing apps are poised to get a solid upgrade in Windows 8.1, and Office for Metro will join in due time (2014). Outside of Microsoft we'll be seeing Flipboard, Foursquare and VLC, and as of late, I am seeing some really nice, quality apps pop up in the Windows Store. For example, consider Torrex (Beta), a functional torrent downloader, and then Social NV, a solid 3rd party Facebook app!

Sure, we likely won't see as many apps as Android or iOS, but Windows RT has a number of added capabilities that dilute the necessity of many apps. Consider Flash in Internet Explorer allows one to stream media, thereby negating the necessity of cable network apps to stream catch-up TV, movies, etc. This is rock solid IMHO.

Honestly, with Flipboard alone I can see myself spending 40-50% of my typical time in Metro, throw in Office and we're hitting 70-80%.


Your price points are way out of whack in that the components list you mentioned placed your dream device in the red for MS. They could try and sell these at cost to get them competitive and make money in the App store but they are already fire selling their current devices at a loss.

Sure, but getting to those price points should be the goal. Maybe leave the VaporMG casing for higher-end Surface models such as the Pro, and for entry-level models use a simple non-unibody plastic casing? Note how I kept even screen types out of the loop, perhaps cut a few corners there too?

In any case, the goal of these devices should be to get them into as many hands as possible, and in the process ensure that a lot of people are using Bing Search, Maps, News, etc (other Bing apps), Skype (w/adverts) as possible. Heck, instead of bundling each unit with a free copy of Office Home, why not develop an offline HTML5-based versions ala OWA, but upped a little bit in the way of functions (to be good enough)? And load them with advertisements too...

...but in all of that, give users the option to pay like $100 more to get rid of all advertisements on the entry-level Surfaces.

What I like about the Surface RT is the build quality is so high and the full Office (now with Outlook) is a deal sealer for me.
Suface in itself does not have to make money hand over fist for it to be successful as it is a model PC for other OEMs to strive for. Just as the Acer 8" full W8 tablet is sub-par and not even worth the low price it cost, a sub-par Surface RT will not be a winner. A 8" Surface RT tab with the same specs at ~$300 might be doable.

That Acer is over priced.

Perhaps MS can reserve the Surface brand for a premium brand, and in tandem, have a cheaper brand to set the bar for budget devices? I believe MS (or an OEM) need to hit the $200 marker for 7-8 inch Windows tablets, it's time to double down and drive the point home.

Quindi il surface a 199 lo danno anche nei negozi adesso?

Then the surface to 199 give it in stores now?

Let's face it, overall the RT is inferior to the iPad. And I'm all about the Surface Pro for its added productivity capabilities. I want want want, but the price for the specs are steep. I can buy a superior-spec'd laptop for half the cost. THIS is Microsoft's problem with its sales. Until prices come down, or added benefit is included, it will continue to be a niche market, unfortunately.

Let's face it, RT by specs alone is NOT inferior to iPad in any way EXCEPT apps availability and popularity.

Surface Pro, as it has ALWAYS BEEN, is not an iPad competitor. It is a MacBook Air competitor, and a spectacular one at that.

That said, I agree that price is always a factor... cost must be proportionate to what REAL customers are able and willing to spend. But clearly you're missing out on all the advertising showing how much cheaper Win8 systems are compared to Apple.

Other than apps how is the surface rt inferior to the ipad?

Surface RT destroys the iPad. Obliterates it into its constituent parts. We're talking annihilation at the vibrating strings level.

I have been piloting an RT at work for our vendor network and when I take it home and compare it to my wife's 4th gen iPad, the RT doesn't sit on par. The RT lacks apps, performance stumbles at times, display is not as good as the retina, doesn't feel as good in hand, battery doesn't last as long, inferior speakers, and doesn't load web pages as fast. There are a couple of other things but you get my point. Sorry if that isn't what you want to read.
The RT does have advantages over the iPad, yes, such as the UI and ports, but most people use a tablet for ease of apps/social/media, and this is where the RT is behind the iPad. We both own 8X windows phones so no we're not iSheep. And no I wouldn't compare the RT to the Pro. They're totally different animals…..the pro being an animal I want to mount.

When Safari on iOS requests a page from a website, most websites identify the browser as a mobile device and deliver a truncated version of the site with CSS. Surface RT has a full IE browser and is delivered the full web page which might explain a bit of the speed factor as well as full Flash support. On the Surface RT desktop version of IE, you can also run accelerators, extensions, tracking protection lists, and other plug-ins along with far more granular control over how your browser functions.
As far as smoothness and fluidness, I did notice that after a few firmware updates, RT ran smoother. Now with 8.1, its very smooth. And because its Windows at its core, you can always tweak the performance in Advance System Settings. And RT has Defender turned on by default, you can always disable that if you like to gain a few more ounces of speed. There is also a tweak out there for decreasing the "touch friction" to speed up touch.

How is the Surface RT inferior to the iPad? I can think of a multitude of ways the S-RT is far better than an iPad... Full USB port that 95% of USB devices work with HDMI port with full Win+P duplicate/extended monitor connectivity MicroSDXC port for memory extension The very best web browser on any tablet with IE with full Flash support (w/8.1 IE11 with WebGL) Full mouse support (better for RDP and desktop app usage, Android has this as well, iOS is lacking) Remote Assistance to allow full RDP into the RT device Full Office apps (w/8.1 full Outlook as well) Multiple apps running side by side (w/8.1 up to 4 with multiple IE windows as well) True multitasking including desktop apps Full printer support including: direct USB plug-in, Home Group sharing, enterprise print servers, direct LAN IP, etc Full Explorer file exposure Etc. That is just a small list of how Surface RT is a much better device than the iPad. The only thing iOS has going are the number of apps but that is eroding and the full IE browser makes that point moot most of the time. What does your list of iPad ++ look like?

At the company I work, Citrix is used all over the place. It would be great to be able to use a well adapted Win8 Citrix App on my own laptop instead the need for these crappy corporate notebooks that are used at my work. If I then also could run it my work software on a Surface Pro ... That would be the day!

Analysts don't always know what they're talking about, lol.

But even ignoring the sales factor, any efforts to reach out to new developers and customers is a good thing. It's good to see them launch these programs and trying to court new development for the platform.

Remember, folks, Microsoft is all about third attempts... first is to test the waters, second is to come out swinging, and third is where they decimate the competition. 8.1 is second attempt.

If it would only be possible to vote comments up. :)

I'm tired of hearing the negatives. My Surface RT has been a great purchase for me and that is with two f'n iPads in the household. I'm tired of the unfounded, B.S., negative reviews, people knocking it that never used, etc. All I keep hearing is sluggishness. The only time I have experienced slow down is with 5 memory heavy apps open or when I loaded the thing to 1 ½ GB of available space. I threw a SD card in (my only complaint - had to use the mount trick), moved my media libraries to it, and the thing spend right the hell back up. Screw these negative reviews. Microsoft, for the Surface 2 go Xbox and sell the thing for a loss, install 2TB of memory, pig-back two 1gb nVidia memory cards, add a octoplet-core preocessor, and put a god damn jet rocket off the back end if the thing.

You will like 8.1.... No more memory mount trick required and everything flows a bit more smooth. A great refresh to the Surface R/T. 8.1 lets you move the libraries to the memory card with no complaints.

Really? I didn't hear that about the memory mount? I just put the card in and my libraries save there? Am I going to have to unmount? Because I'm going to have to find directions for that :)

Just right click on the SD Card, select "include in library" and then select one of the 4 options - Documents, Pictures, Music, Videos. Simple.

So if you save the library, its will use the SD card as the default save? Or do you have to manually place them on the SD card? Sorry about so many questions.

Sorry, I don't fully understand what you mean by "use the SD Card as default save". I use my SD card for storing photos - I do manually transfer them from my L920 to a folder on the SD Card. And since I've added my SD Card to the Pictures library, these photos immediately show up in the Photos app.

Yes, you can use it for default save. All the Apps and O/S accept the card as the default location.

I haven't tried 8.1 but SD library support is really a good news.

Actually yes and no......you don't have to unmount because the upgrade does it for you. After 8.1 installs you will find the card dismounted and sitting there as drive letter "D". All your library links will be broken.

You will not need to remount.....just reconnect your library to the appropriate folders on the newly discovered "D" drive.

Yup, you can now add SD card to libraries in 8.1! For 8.0 you can't add SD card to libraries. The workaround was to create an empty folder on your c: and mount it. The folder will show everything on your SD card and you can add that folder to your libraries. So your 32GB surface could become a 96GB surface if you have a 64GB micro SD card.

Agreed. Loving 8.1RT on my Surface RT.

Thumbs up there. It is really nice and fluid. I put 8.1 on my Surface R/T and Home PC. Running beautifully on both systems and the improvements really are evidents in the U/I.

Surface really feels more fluid and responsive. I had no complaints before but I do see an improvement.

Did you try the "show more tiles" option? Love the increased number of tiles on the start screen.

Lord...you people are killing me..when is the official version suppose to be released?

Yes....and it puts all the tiles that you have from other PC's out there to make it easier to install apps you have on one machine to another PC.
"missionsparta".....if you are adventurous you should try it. The only downside is that everyone is saying that when the production version comes out you would have to reload your apps. For me that's not much a big deal. I can install Apps just as long as my data is all there. I have no regrets that I've installed the 8.1 preview. On the contrary.........quite enjoying it!!


Yes, worth trying. However, if you're one of those (like myself) who'd like to have the option of going back to 8RT at some point, make sure you create a recovery USB before installing 8.1 :)
Having said that, my experience with 8.1RT has been very good and I don't think I'll be using that USB drive at all. :)

Android and Apple people are terrified it will catch on because the masses could figure out it truly is a better platform.

I've said that a thousand times. They are terrified of all their friends going completely Microsoft and having repurchase all new apps, accessories,etc.

I might pick up a Surface when the one with Snapdragon comes out.

Give me the damn VPN clients and the Surface RT will finally be the tablet for business to be able to work Office docs and Outlook mail on the run, but still log into my work computer with the outstanding RDP client.

Got to agree here. Really needs the VPN apps from the major vendors. With 8.1 and the release of the APIs, I really hope these are coming.

Unfortuantely the Surface for Education program is only for instituional purchases, not personal purchases. Microsoft should really open up the program to faculty/staff and student purchases.

My only other gripe with Windows 8, which really isn't about Windows 8, is the Xbox Music and Xbox Video apps...horrible. Most of us have found Music Info as our Music app savior. Most though dont know about Movie Premier to organize and view your movies and TV show files. FANTASTIC. Everyone should give it a try. Its what Xbox Video should have been.

I urgently need a new laptop in next 10 days..my needs r MS Office and some video editing softwares..
Am thinking of Surface Pro but am not sure..should I wait for Pro 2..what options do you folks suggest??

I would wait. Battery needs to improve. 4.5hrs is not excellent.

Effin love my 128gb Pro with 8.1 XD

The actual RT performance in real work usage compared to an iPad is slower. If someone wants apps that load quick then RT is not the answer. I'm not saying it's pathetic slow, but it really needs more horsepower. The people app is sad, I really don't see why it's not as fast as the windows phone app.

Didn't read the comments, but just wanted to say. In Germany they don't let students buy surfaces in that 'education' sale. At least that's what the universities keep telling us.

If the Surface RT was available to the average Joe for $250 I would buy it in a heart beat.

The Dell XPS 10 RT was on-sale for a short period for $199 without the dock and a bit less than $250 with the dock included. If Surface were available for $250 with the touchcover I'll go for the surface!

I think maybe not doing good as expected because it's so expensive. Its a beautiful machine. Just not everyone can drop $1,000 at the drop of a hat.