Microsoft announces Office 365 Personal, new subscription choice coming Spring 2014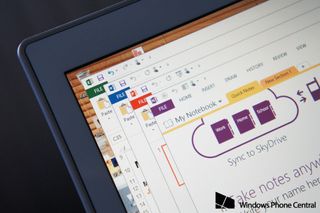 Microsoft's Office 365 has been a runaway success since launch. Office 365 is the subscription-based online Office suite and has been very popular for Microsoft. How popular? Office 365 Home Premium turned a year old recently. In its first year it picked up 3.5 million subscribers. An impressive feat in the consumer space for a product that costs $100 per year.
Though Office 365 Home Premium might be just a bit too much for people. Which is why starting this spring, Microsoft will be offering a new version of its subscription service – Office 365 Personal.
Is Office 365 Home Premium overkill for you? It might be since Home Premium costs $99.99 USD per year and allows up Office installations on up to 5 different machines. You also get an additional 20 GB of OneDrive storage tied to your Microsoft account. However most normal people don't have an Ultrabook for everyday of the week, which is why Microsoft is offering Office 365 Personal.
Office 365 Personal is designed for a single individual. While the Home Premium variant might be shared among different members in a household. As an Office 365 Personal subscriber, you'll be able to install Office on up to one PC (or Mac) and one tablet. The price is reduced from $99.99 per year for Home Premium to just $69.99/USD for Office 365 Personal. You can go month-to-month with Office 365 Personal for $6.99/USD a month.
Users of Personal will get the same features as Home, plus "60 minutes of Skype calling per month, 20 GB of additional OneDrive storage and always be up to date with the most recent version of Office".
Speaking of Office 365 Home Premium, that's the old name. Or at least it will be. When Office 365 Personal comes this spring, Office 365 Home Premium will be rebranded to just Office 365 Home. Not major news, but easier names are always a good thing when it comes to a Microsoft product. Remember Windows Phone 7 Series?
Anybody out there thinking of picking up Office 365 Personal when it rolls out? Or is the $30 price reduction not worth losing four Office installations on your PC's? Sound off below!
Source: Microsoft Office Blog (opens in new tab)
I'm running it on my two PCs, my wife's two PCsand step-daughter's. So what I have is great.

I share a subscription with a buddy. $20 an install is great.

I'll stick with Home. We have an install on my gaming rig, my wife's Macbook Air, my Surface Pro 2, and we expect her iPad Mini soon. Yes, we are a divided household...

Divided household with good products(surface,mac) and bad products ( iPad mini)

I'm sticking with Home, as I already have it installed in 4 different PCs. On a separate subject, it sucks that you can't do any commercial work in Home Premium. I had to buy a separate Small Business Premium subscription just for that.

What do you mean you can't do any commercial work?

You're not legally allowed to use Office 365 for commercial or non-profit work. Source: http://office.microsoft.com/en-us/products/microsoft-software-license-te...

Granted, if a non-profit you likely qualify for Office 365 E1 for free anyways, or E3 for an extremely discounted price, so you should not be considering Office 365 Home for that use anyways.

How do they know you don't use it for commercial work?

So it's like, using outlook, "sorry, can't answer that email due to legal issues..."

I have office 365 university edition. $79 for 4 years. Up to 2 Devices and 2 smart phones (iOS or android). $20 a year is a better deal than 365 Personal. I would go the extra $30 and get 5 computers Posted via the WPC App for Android!

That is true, but only available for those with an active .edu email. Wish I could join in on that deal as well.

I don't see the logic behind buying Office 365 for household use. It's a better investment, in my opinion, to buy a normal version of Office (House and Students or Professional). Office isn't , realistically, something you need to upgrade that often. I, for example, upgraded from Office 2003 to 2013. And only intend to upgrade again in 2023. Nothing will change that dramatically in that time that will render Office obsolete. Actually, if it wasn't for the SkyDrive integration, I would probably still be using Office 2003.

What's SkyDrive? The only cloud storage solution Microsoft makes is OneDrive!

Yeah it was called SkyDrive until a few weaks ago. And in my PC it still shows SkyDrive. So I'll keep calling it whatever the hell I want :P besides, it will take time to get used to that horrible new name ;)

Yeah this is a silly response. I call it skydrive out of habit plenty often.

So, you're one of those people who create old format documents that I have to open in 'Compatibilty Mode'? :-)

Not anymore. But yes, I still have a ton of documents in .doc format. Microsoft should have included a mass convertor with Office. They didn't so I only update the format as I open them :P

I agree. I don't like the subscription model. It's overpriced for folks like myself who don't really care about being on the bleeding edge of word processing and spreadsheet programs for home use. I have 2013 Home and Student and another copy of 2013 Professional (which I got through my brother who worked for MS), and I expect that they'll probably be fine for the next 6-10 years. I don't want to keep paying every year/month to use applications that are run locally off my computer. With unlimited voice and text on my cell phone plan, I have no use for Skype credit either, and my OneDrive is plenty large.

Keep in mind that if you need multiple copies of office home premium at $99 a year is cheaper.

Is it? Think about it. Each copy of Office Home costs around 120€. That's 21€ more for a perpetual license. Office 365 costs you 99€ a year for 5 computers. But you'll have to pay it for as long as you use it.
Now imagine you *do* need the 5 licenses. Office Home will cost you 600 that you pay once. You can use it for, say, the next 10 years.
Using 365, at the end of those same 10, you'll have paid 990.
I don't think it is a good long-term investment, really.

It depends on what you need. Sure, I could still be using Office 2003. But almost everyone that I exchange documents with on a regular basis now uses the .docx format. For me, that $300 is worth getting rid of the inconvenience and wasted time dealing with imperfect file conversions.

Already use the Home premium version and will stick with it.

Just have a desktop that uses my subscription. My surface has it for free. This is good news and i will change to this the free 20gig isn't much and the free Skype minutes are next to useless cant call mobiles or 0845 numbers

you might find this useful: http://www.saynoto0870.com/search.php

Is this just a reduction of licenses or does it also reduce some of the professional apps from the suite?

I thought all windows tablet with windows 8.1 comes with office?

All 8" tablets do, but larger tablets might not. The Surface Pro does not, AFAIK.

I don't think they classify Surface Pro as tablet though....?

Only RT devices come with Office. I think all W8 ones require you to buy it.

Lenovo Miix 2 and Dell Venue 8 Pro has Office by default. The one equal with student version. IMO, all Windows 8.1 tablets that has 8" or lower has it. CMIIW.

No, only Windows RT and tablets smaller or equal to 8" running Windows 8.1

Actually, it is 10" for quite a while now.

Great news, I only need 1 PC and 1 tablet. Was going to cancel my pro subscription next time, but now I will keep it. Hopefully they will convert and prorate my pro subscription! But I doubt it.

I have Office 2013 Home & Student, and I plan to keep till support runs off. I don't like subscription based software, except for Antivirus.

Same here, I generally prefer to pay for my software outright. Though happily my copy of Office came with my DV8 Pro, so I didn't have to.

Agreed. Home & student should be enough. What kind of improvements in one or two years for office-kind app anyways? 3-6 years upgrade interval should be enough for the most case.

Did I read that right? You go from 5 installs for $99/year to only one install for $69/year. Shouldn't the price be closer to $30/year? That would be more inline with the price/licence ratio. I have a very common setup of two laptops, and one ultrabook/tablet in my house. Why would anyone pay $69/device instead of $99 for the entire house hold? I guess if you only have one device, but as soon as you get a second device, you'd be better off with the $99/year.

The business of making money rarely works like that bro.

2 devices. 1 PC and 1 tablet.

If I have 1 PC and 1 Lenovo Miix 2 10", what will that count? 1 PC and 1 ultrabook, or 1 PC and 1 tablet? :D

I had a similar question so I called Microsoft and asked them. Basically if your Lenovo Miix 2 has Windows RT installed on it, it is considered a tablet, if it has x86/x64 Windows installed, it's a PC.

I think the idea is that the current subscription is really meant for households of multiple individuals. There are a lot of people who are their entire household.

I have 3 running on office 365... And have 2 more licences left! Brilliant idea!

365 University FTW! I'll be using it well past when I graduate grad school!

been using student 2013 so good for least 3 more years.

I only use it for myself, so the yearly plan for Personal is perfect!

There's also a $10 monthly subscription that I'm using.

Same here, $10 bucks a month for Skype minutes and,extra 20gb onedrive storage is neat. Having genuine office on 5 devices that are up to date are just sweetens it

I have a perpetual license of 2013, so I won't need this anytime soon. But, Office 365 still sounds like a viable option for later...especially w/ university

I wish MS would roll in an Xbox live gold pass with Home. Then have $200 plan that includes Xbox music. All for 5 users. I can dream.

I think they should just bundle everything for $100/yr/household. Call it the Microsoft Property Tax. You get the Microsoft buffet of home OS, Office, XBox Gold, and music.

I said something similar in the forums, or comments on another thread recently. They really could have a lot sewn up with that. £3 per month for windows, £3 for office with Skype plus extra £2 for 365. £3pm Xbox Live, £3 for Xbox music. Or £10pm month for the lot. Hell, they could even bundle 1 film per week from Netflix too.

365 home allows using it by any user/account of a PC, is individual edition going to work the same way? If not, 30% price reduce is definitely not worth for those who have a family pc.

The new plan isn't meant for multiple users.

Well, looks like they finally milked that "Home Premium" name dry, from the Windows Vista days.

A couple gripes: 1) 2 maximum licenses and only $30 cheaper? Rip-off. (So $10 per license, per year, and $50 for 20GB of storage?) Give me the option to just pay for the licensing fee for the amount of licenses I want and any amount of additional storage I may want added a la carte. 2) Office 365 Premium would've been a way better name than Office 365 Home.

As with most things, there's savings in volume.

How would it know if the device is a tablet?

I'm thinking the same thing. Although I assume my Surface Pro will count as a PC and not a tablet.

Someone above mentioned that they called Microsoft and asked. They said based on your processor. If it runs on x86 or x64 then it will be considered a PC. if it runs on ARM then it is a tablet.

Finally a license for individuals, it was ridiculous to get and pay for 5 licenses when you hae just one PC and a tablet. It would have been even better if they made it $60/year.

Agreed. Pricing seems a little too high for Personal compared to Home.

May be it may become cheap this time

Now they really needs to make 2013 home & student cheaper. Back in 2011 I brought office 2010 for £90 for 3 pc's NO subscription. Now, if I want to upgrade to office 2013 its £109 for just 1 pc! Rip Off!!!

Exactly why I switched to Office 365 Home Pro/Premium/whatever. I couldn't justify $600 to get everyone up to the same version. (I had a mix of 2003, 2007 and 2010. Home tech support is much easier when everyone is using the same thing. I don't need nor want to bring my day job home.)

Ok my question is why purchase these subscription ones at all, I'll use the free office online on OneDrive and just share folders to whoever I want. Or am I missing something?

Some people actually use advanced Word features and don't just use it as a Notepad. For those that have no idea how to even use styles or set up table of contents then by all means they are better off using the free online versions [unless of course they don't have internet access].

Still insulting on price for home users.
Until office 2013 you could pick up Office Home and Student (word, excel, powerpoint, and sometimes onenote) for $120 which could be installed on up to 3 machines. That breaks down to $40/machine.
On top of that, it would take 3 years before the next version of office, making the price $13.33/machine/year... and many people only upgrade very 2 revisions, so cut that cost in half again. The thing is that most of us don't need the full version of Office. Word, Excel, PPT, and OneNote really are all that most of us need. Throw in a bit of Skydrive space and charge $20/machine/year and MS is still going to end out on top, while offering a much better experience for users. Even $25/machine/year would be justifiable in my book. But $60 for one computer is ridiculous, and while $100 for 5 computers is a great price there are a lot of us who simply don't have 5 computers. MS, we need better options!

I use the Office 2013 on my desktop and Surface 2 Pro under the Home User Program through work for $15 for 2 installs. The Surface 2 has it already and my ultrabook sits on the shelf unused since i got the S2 Pro :)

TBH I don't see the logic in buying Office at all for home use. I reckon that OpenOffice will do just fine for the majority of home users.

I'd rather use Libre Office than Open Office. The current Open Office are handled by Oracle. Most of the old devs are fork it to Libre Office. But for light weight usage, Kingsoft office will do just fine. It support 2003 & 2007 version of documents (word, spreadsheet & presentation). It's small, fast loaded and it's free.

It was handed over to The Apache Software Foundation a while ago so no Oracle anywhere anymore. But yeah, LibreOffice works just as well.

I tried that route a few times, but it wasn't worth the hassle. There is a cost to most free software that doesn't involve money.

Looks like a good deal. It would fit my needs well, as far as I can tell.

I'll stick with Office 365 Home. However the name change is very much welcome :)

I recently subscribed to Office University edition. Nice deal, $20 per year. Only for two systems, but the other benefits are good. Aside: I wish I could transfer the subscription from an older Microsoft account to a newer one that I am trying to consolidate on. If I didn't already have that, I'd be inclined toward the new personal offering. But I'd have a problem if I had two computers later on (not a tablet). In which case the 'full' Home subscription would be better.

Not for me. I need all my installs.

I'm lucky I work for the government as I get officer for $10 thanks to the Home Use Program

For me, This is sweet. Om just one PC and one surface is what i need.

I have a Surface Pro 2 and a PC with Office. I think this is a great offer. But I will not buy it, ARRRRR

60 minutes of Skype per month and 20Gb OneDrive... With full Office for just $70 a year? I'm definitely in.

Well, for basic home use I'm more than happy with the free Office Online. It is great how much functionality they put into it for free.
Windows Central Newsletter
Thank you for signing up to Windows Central. You will receive a verification email shortly.
There was a problem. Please refresh the page and try again.