Microsoft announces Xbox 360 game support for Xbox One
At it's #XboxE3 briefing in LA, Microsoft just opened up with a bang by announcing backwards compatibility for Xbox One so you can now play all your Xbox 360 games on the new console!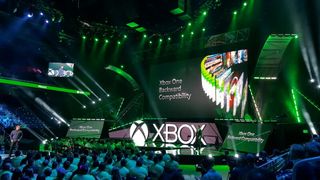 (Image credit: Windows Central)
Digital titles already purchased will just appear in your library on the Xbox One, but better still all your disks amassed over the years can also be used.
Microsoft demonstrated Mass Effect from the Xbox 360 running on the Xbox One where it ""runs exactly as on the 360, but better."
The feature will become available to all during the holiday season, but Xbox Preview members will get to try it out starting from today. Multiplayer support is included as are Xbox One specifics such as taking screenshots and broadcasting. Initially there will be 100 titles ready to roll with hundreds more coming soon after.
It requires no work from developers but it does require their permission. But apart from that it's what many Xbox One owners have been waiting for since, well, pretty much day one!
Join us in our #XboxE3 liveblog for much more live from LA!
Get the Windows Central Newsletter
All the latest news, reviews, and guides for Windows and Xbox diehards.
Managing Editor - Tech, Reviews
Richard Devine is a Managing Editor at Windows Central with over a decade of experience. A former Project Manager and long-term tech addict, he joined Mobile Nations in 2011 and has been found on Android Central and iMore as well as Windows Central. Currently, you'll find him steering the site's coverage of all manner of PC hardware and reviews. Find him on Mastodon at mstdn.social/@richdevine
OMG! Just watched the announcement...didn't see that coming... FTW!!!

#NoOneDid I am just so awed right now! Like legit. Wonder if it'll work with Guitar Hero or Multiplayer. So many questions still to be answered!

If they would just announce a Media Center replacement, I could finally retire my 360s, and buy 3 more XB1s. Come on Microsoft, you threw me a bone...how about meat in it?

i never owned a 360, what is the difference between the one and the 360 media center wise? i use plex with mine and it handles lots, but i guess 360 could play a lot natively? mind you the xb1 has the media player now

I called it a few days ago. Everyone said I was nuts.

Yeah. Richard, it's disc not disk title when referring to optical disc.
Disk refers to hard disk.

https://support.apple.com/en-us/HT201697
He's right.

This will get me to buy an Xbox one now. Had way too huge of a library to switch.

HOLY SH*T MICROSOFT!!! Well... I guess they won E3

Sony hasn't gone yet. If they announce PS4 to PS3, they'll all be on equal footing. MS has the less brutal technical work to pull off on BC though. It'll be interesting to see the response tonight.

More like ps1/2 emulation

I don't think they will or could if I'm honest. Somehow ms found a way around the architecture difference which prevented this happening at system launch. I suspect some form of virtualization happening here to allow this. I always said irrespective of the ps4 power, you cant beat ms at software. You can pretty much manipulate any software to work with the hardware available. Ain't watched all the show but this announcement just sealed the deal to move on from my 360.

Ps3 has Blueray discs, PS4 doesn't so it cannot play PS3 games because of that.

:\ where did u make this crap up from

Holy Moly! Only the other day I was contemplating maybe they need a more powerful SOC to do this.... apparently not! Now that is a huge leg up over the PS4 if they run without any hiccups :D.

I dont think sony can counter this, PS3 had a completely different architecture. So ,they would have to emulate it, and you know how well PS3 emulators work on PC. Since, PS4, XB1 and PC have the same architecture..

And this is no different the cpu portion is still ibm PowerPC. Here we go again with incompatible game engines

Correct me, if I'm wrong, but the 360 was build upon a Power PC (RISC pocessor) architecture, whereas the One is build upon regular x86 technology. It can't get more different than that. I could be wrong about the architectures though. It's just what I remember having read somewhere.

The one runs on 3 operating systems, one for games, one for apps wtc and the other to bridge them to enable snap etc

I know, but that doesn't say anything about the underlying architecture. And whether it's different from that of the 360. Which is what this was all about in the first place.

Well it's an emulator so all the games are pretty much emulated. Generally with anything emulated, you either need to have direct access to resources or use work arounds. However both are still resource intensive, with the latter method even more so. Only time will tell if this will suffer the same as the ill-fated emotion engine (hope not). Lastly the ps3 used the "cell" architecture which is also vastly different than the architecture used in the ps4 which is x86. Personally I think Sony can counter this; we shouldn't forget the ps4 has more graphical grunt than the x1. Never the less time will tell if Sony choose to go fist to fist with Microsoft in terms of features (I've noticed a Spotify icon in the xmb which wasn't there 2 weeks ago). If they, it would mean doing a few u-turns. The console battle has just gotten pretty darn interesting imo.

Excellent, all the Xbox 360 games for gold are then portable and available to download in Xbox One??

Please someone confirm. If the games with gold will transfer over as well I'm buying an xbox one asap!

This is what i'm hoping too... would be mad awesome PLUS integrating x360 store to/beside the x1 store

It would also mean some of us have missed out on an insane amount of free games! Damn it lol.

Eeeeeeeeeeeeeeeeeeeeeeee I'm crying.

I hope this includes guitar hero:/

Wow.... this is massive. One massive advantage over Sony right here.

That's for sure, since PS3 games cannot be played locally on the PS4, they are streamed and we know the consequences of games that are streamed from a remote server, while on Xbox, the 360 games will run locally on your game console.

Not to mention the silly rental fees for streaming. This is huge for Xbox.

"She's MUH sexbox and 'er name is Sony!"

The PS fanboys have ben routinely citicizing XB1for not hving backcompat - which is odd because 1) PS4 does not have backcomat, 2) Sony yanked backcompat rom PS3 and that was OK because the excuse was nobody wants to play old games on the new consoles, 3) they criticized games like the MCC because MS is just recycling games for the new console because there are no games for XB1 (even though Sony has been doing the same with games like Last Of Us remastered). Now that XB1 has backcompat, wonder what they will argue now.

Who cares, really. Just enjoy what you like and let them complain.

I and many others care. The PS people created a lot of FUD surrounding XB1 which has harmed sales. Higher sales mean more games. Very few XB users criticized the DRM that was in place at the E3 announcement of the XB1, it was the PS users and even Sony themselves that made it a big deal. It was even talked about that the PS4 would have the same exact setup, but once they saw how the PS users were using it to attack XB Sony quickly changed their minds. Then, as I wrote, the PS users were the ones making a big deal about XB1 not being backcompat, even though their favorite system did not support it. They scared people away without talking about how their favorite did not support it either. It is all about creating confusion about the XB1, and where there is confusion people will go with the other system. More people for one system, more games are written for it, and exclusives for that other system.

Microsoft did a lot of that all on their own. Regardless, this is huge. And pretty much solidifies my decision to go with the Xbone when I finally do upgrade to the current generation. Posted via the Windows Central App for Android

Microsoft said exactly what their system was, but then Sony, Sony fans, and people who have their own reasons to see MS fail was running at full steam to generate FUD around the XB1. MS had a system in place to share games with other people. Sony put out a little "how to share PS4 games" video skit that was completely and purposely misleading. It is much like the Win10 upgrade and subscription fee FUD. Three times now Microsoft has said that for the first year you can upgrade to Win10 and there will not be a subscription fee. But yet people are still trying to create confusion by saying that after the first year Microsoft will lock your Windows install until you pay them to unlock it. Microsoft says that is not true, the tech media reports on it, but the people who have an agenda claims that Microsoft is really just lying to us and are going to charge us a subscription. After a month it becomes a big issue again, Microsoft denies it, wash, rinse, repeat.

Sony's mistake is they try to make all by they own, Microsoft's strategy to join forces with Oculus VR team announced last week is just a start, I'm sure Microsoft's collaboration with other companies on gaming is what will drive innovation going forward, and not the opposite (Sony).

B..B...But, PS4 has better RAM.........../s

Teh Cell! The funny thing about the 360 vs. PS3 and XB1 and PS4 generations is how even Sony's own claims have reduced expectations on the PS4. Sony had held training for Wal-Mart employees where they handed out training docs stating that the PS3 was three times more powerful than the 360. We saw that this was not really true, and quite often the 360 performed better than the PS3 version. Then the excuses started - it was the developer's fault for not knowing how to use the system, it was the tool developers fault for not creating good enough compilers (Sony is the one that provides the compilers, so really they were blaming Sony), it was Microsoft's fault because the 360's hardware was so weak developers were crippling PS3 games so they could have one codebase, etc. etc. etc. Sony now claims that the PS4 is only 1.5x more powerful than the XB1. And while the first few 3rd party cross plat games on the XB1 was not as good in resolution and framerate as the PS4 (which throws out the developers writing to the lowest common denominator argument), but today there is no difference in resolution or framerate. But if Sony is now saying they are only 1.5x better, and we saw that 3x better was not really 3x better, then is the PS4 really 1.5x better?

Everytime I thought about upgrading to Xbox One, losing the games I own and still enjoy was the biggest personal barrier. Now I'm really tempted.

Same here, but since some titles first i guess i will wait a little, and...i have an embarrasing secret... i play kinect games on my 360

I play them too, and on my Xbox One

I play them three, my xbox too ;)

My Kinect gets plenty of use as well. :D I don't think I'd consider buying the Xbox One without it.

Agreed. Kinect is friggin awesome! Just for the voice commands alone is just heaven for me. Just need some innovative devs to come out with some more smart ways to use Kinect in games - but I wouldn't be without it.

No need for embarrassment. Some of the Kinect games for Xbox 360 are pretty cool. Not to mention the workout you get by playing them. I am a little concerned that the 360 Kinect games might not work because of the major differences in Kinect hardware. Likewise, I'm also concerned about playability of any games that require custom controllers. This will be fun to test, either way.

Only game I would've bought a 1st gen kinnect for would be fm4 just to get the "Look Ma, No Controller!" Achievement & maybe try totemball & rrr

Same issue here. Now I'm seriously considering buying an Xbox one to sit alongside my 360.

This is the first time I'm getting excited about Xbox (PS3 owner looking for 8th generation consoles)

Holy CRAP!!!! YESSSSSSSSSSSSSS!!!!!!!!!!!

So who can get me into the preview program? :P

Check the Xbox one forum.

Shots fired, shots fired!! Sony taking heavy casualties!!

It's not over yet.... Sony still has their presentation...but yes it looks good right now. :D

Sony?what is sony?a fish?

Wonder how the achievements work. Can you continue where you left off?

This sucks for the people who sold all of their 360 games because Microsoft said it will never do it. Because it was backwards thinking, this just pisses me off.

They never once said it was never coming. Infact they actually hinted at it may come in the future.

That's totally on the people that sold their games. If the game was worth it to you to want to play it still, you'd keep your 360 and play it. Otherwise, it's just your fault.

But it's amazing for people who have only had a 360 for 2 years and 95% of their games are digital :)....such as myself! Score one for the late adapters :)

Sadly some publishers were greedy and wanted the full amount for 3 year old games & when users wouldn't pay up they eventually delisted them

So all the remasters are a bit redundant kinda

Not exactly. This doesn't just magically make the old games appear as hi-def 1080p or 60fps among other benefits for the remasters.

Plus its up to the studio as to which 360 games work on Xbox one. I'm willing to guess that none of the retread games will work. Since that will defeat the purpose.

Just like xb original games it all depends on if the game engine that some of these games were built with will get compatibility update to run on an all x86-64 architecture

Hence "a bit redundant kinda"

Holy crap that's awesome!

You just made everyone in my house very happy! Our 360 is like the fifth member of the family, since everyone include my wife has logged many hard hours on it. We will probably be getting the Xbone this summer because we were waiting for an upgraded model to be released. 1TB here I come!

This has to be one of the best announcements of E3!!!!!!! I was reluctant to upgrade to Xbox One because I didn't want to lose my 360 library. Nothing holding me back now!!!! Obviously you won't be able to play 360 games that already have an XB1 version, like GTA5 and Titanfall, but games like Fallout 3 should be ready to play.

and it just got more tempting to get an xbox one... I agree, i wonder if xbox games with gold count as well.

I hope so, if not that would be the only deal breaker here for me.

Goodtime to sell your old 360 console...

Great News!! Makes the decision in getting the XB1 a whole lot easier now.

If this includes Media Center, I will finally open my XboxOne.

Shutup and take my money! This is the best thing that happened to Xbox One since its launch! Ok, now I'm wondering why Microsoft stock is down, this is impressive, this makes PS4 strategy to stream PS3 games to PS4 something of the past. As the Xbox 360 games will run locally on the Xbox One.

Tech stocks in general are down today. Nothing to do with MS. It's just the normal ups and downs. Also, the average investor has no idea that E3 is even happening.

Only thing is will our game saves be compatible

This is awesome, since I still have my 360 games. My two reasons for holding on to my 360 are almost answered; RB4 will of course take over that aspect (as I do not care about Keyboard and pro guitar), but I still want to know; does this includ 360 Kinect titles? I know the units themselves are completely different, but will I be able to play original Dance Central and Sports with the Xbox One Kinect? I suuuuure hope so!

Id like to know that aswell. Kinda would like to try some of the vision games though eg. RRR totem ball

A video on the XBox site makes it sound like Kinect is out: "Because this is just a software version of the 360, we can't do any USB peripherals or access the original Kinect." That doesn't totally rule out using the One's Kinect, but it sure sounds unlikely. Rock Band and the like is probably not gonna happen either.

Glad I'm in the preview :D

How do I become xbox preview member. HELP HELP HELP PLZ PLZ PLZ!!!!!

just give us yout Gamertag and someone will hook you up. There is a thread in the xbox forums here too. http://forums.windowscentral.com/xbox-one/318084-xbox-preview-invites.html

Wonder how to get your savefiles transferd.

Id like to think either through the cloud or some transfer tool update that would convert & move them to a usb drive

I just had seen that I could get $175(I think) for a working 360, and I was thinking why would I want to do that and not be able to play my old games.....maybe this us the reason :D

Well I guess now I don't have an excuse to not get an Xbox One. I was almost getting an HTPC.

Holy crap totally trading in my 360 for another Xbox One now!

Will there be a way to transfer files from the 360 hard drive to the Xbox One?

I want to be a preview member

Post your gamertag and I'll invite you

Gamertag: The Destr Thank you very much.

Please invite me as well if you can. Gamer tag: ilaiyaraaja Thanks!

Gamertag: pGz I Chrispy The thing in the middle is an "i"

I've sent invites to you all (The Destr, ilaiyaraaja, pGz I Chrispy). From what I remember it takes about a week to be accepted. Enjoy! :)

Your headline sucked. Shouldn't you place "Backward compatibility" within the headline...that's what is called burying the lead. With that being said, this is the biggest news out of E3!!! Period!

That is phenomenal news and makes the One more appealing since most of the games currently released for it aren't to my taste. Good going Microsoft!

OK, so who wants to send me a preview invite?!? Pretty please??? judeau13

Add me on xbox.... "jasongibbins"

Please someone send me an invite for the preview programm. I beg you >.>

Gamertag: pGz I Chrispy
The person who sends me an invite gets 1 million internet points

Add me on xbox ... "jasongibbins"

Sweet! Just hope they don't abandon the idea like they did with the 360. It plays about 50 old original games. But they stopped there.

Glad I kept my Marvel vs Capcom 3

So they say it's gonna be available for Preview users later today. But they also say devs need to sort of permit their games to be played on a One. So is there a list of games that can already be played on a One once the preview launches?

Now it make sense for me to get a xb1 because I mostly play fighting games on my 360. Hopefully they will make my TE fight stick compatible.

Would it be possible to get a preview invite sent to Rudiepoo1

Add me on xbox.. "jasongibbins"

Just cause 2, my fav game! On my Xbox one! Woohooh..!

Unbelievable... Didn't see this coming. #blindsided

I'd love to get a preview invite ;) I'd be willing to trade a code for the Halo 3 odst add on for the MCC. Gt: The Big Snit.

Add me on xbox. "jasongibbins"

Figures I had uninrolled(because I was think of getting a 11tb unit) the other day but changed my mind last night

Yea, but can it play PS4 games? Lol I WANT STREET FIGHTER 5 and it's PS4 exclusive.

Can anyone send me an invite to the preview program please? Never got an invite from xbox even though I was on the 360 preview program! GT: Pfc75

Add me on xbox "jasongibbins"

This is what everyone has been waiting for! Its perfect! Now, all we need to know for non Xbox Preview people on when this will come out. Please let this be soon!

That seals it for me then. I will get the Xbone now and play my 360 titles as they become usable on it and still keep the 360 plugged in next to it for those that aren't yet. This is what the great majority of us have been waiting for. Ex

better how? more fast? more beautiful? more FPS???

My question is how? Disc or hard-drive from 360? Posted via the Windows Central App for Android

Is there a list online somewhere? Posted via the Windows Central App for Android

The Xbox Feedback site lets you vote on which games you want supported: https://xbox.uservoice.com/forums/298503-backwards-compatibility

Add me to preview please! Gamer tag is BigJLovesFood63

Add me as friend on xbox and ill sort it out for you. "jasongibbins"

I'm a little disappointed, just because I ignored 360 GWG forever because I assumed I was done playing 360 games. This changes that, so I might start claiming them from the site now.

SayonaraOldNapolencomplexYellers

Crap. Was hoping for backward compatibility with my original Xbox games. ;-)

FUDGE!! Now I have to get an XBOX One! (okay I don't really have to)

Can someone invite me to the preview program? I so want this! :p Live: checkeredmike

Add me as friend and ill sort it out for you. "jasongibbins"

I don't know what takes out the HOLY CRAP moment in these last 24 hrs... The Game of Thrones Season 5 finale or XBox backward compatibility!!

I'll add some more people to the preview if you add me as friend on xbox. My gamer tag is "jasongibbins"

This is awesome. i currently have a 360 and some games, so this would save me some money at first from buying the games I already have.