Microsoft asks if you'd be happy with selling back digital Xbox One games for 10%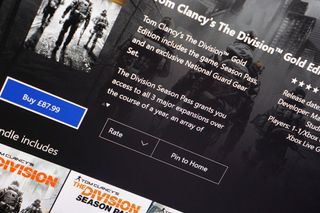 Imagine if Microsoft were able to provide the means to sell back those digital copies you have installed on your Xbox One, just like you would a physical disc down at GameStop. That's what a recent survey has asked the community; if they'd be happy if such a feature were made available. Unfortunately, the trade-in price for said digital content is 10% of what you paid at the point of purchase in store credit.
The thought of Microsoft offering the means for consumers to trade-in or sell back digital copies is an interesting idea. There's definitely room for a service to be available for digital games, be it peer-to-peer trading or something of the sorts. It's worth noting that this is just a survey, and does not mean in any way that this is in the pipeline for the Xbox platform. (Especially if the majority of consumers see the sell-back fee as too insignificant.)
What are your thoughts on this? Let us know in the comments if you'd be happy with selling back your digital games back to Microsoft.
Rich Edmonds is Senior Editor of PC hardware at Windows Central, covering everything related to PC components and NAS. He's been involved in technology for more than a decade and knows a thing or two about the magic inside a PC chassis. You can follow him over on Twitter at @RichEdmonds.
Good idea, 10% is not that bad considering what you get at game shops for trade it. Through it could be a little higher.

yeah, but it's stating 10% of what you paid at the moment. Game shops use the current price, and many old games isn't worth more than $3-5 if you are lucky.

If you sell a Pokémon game, you could have more than what you actually paid :)

I went to EB Games back in Canada to sell some old GameCube games I never played anymore. At the time, the Wii was just launching so there was still a demand in the store for GC games. Several games they said would only pay a dollar for. Seriously the plastic of the disc and case + booklet is worth more than a dollar, not to mention the software. It was a frigging insult especially when you look at how much the same games were going for on EBay It's easy to guess that I walked out with my games. I'd rather give them away to a friend or someone who'd enjoy them than to sell them for a buck at EB Games for them to resell the same game for $20-30. If they're going to rip me and others off for a buck and to make that much off them, I would rather give them to someone for free so they don't give their money to them. As for the question in the report, it's a good idea. Even though it's 10%, I'm sure there are some who have games they regret getting or have zero interest in playing again. Might as well get some money for them..... So long as it's more than a dollar ;) From WC W10M App on a 950XL

At 10%, I think I'd just hold on to my digital purchases... but there's much bigger ripoffs out there. I'd imagine that if I were the kinda guy who bought sports games, I'd love to be reimbursed $6 for a $60 Madden game instead of it becoming outmoded and worthless after one year.

Wow, this is big picture for MS. They could go even higher if they wanted to and still profitable for them, long term. What they would do with this, and why they would do it, they will lure users who would usually think of selling their games, to buy digital instead. By doing so, they would reduce the amount of pre-own physical copies out there, hence, reduce the pre-own marketplace, which is only profitable for EB games, not MS or the publishers.

Yeah I can believe that. What sad is they don't do very good reconditioning either ive bought the odd game used & its horribly scratched. So the odd time I dont preorder I still usually buy new a few months later seeing as it usually only a $10-20 markup

10% is too little because games are way too expensive on the store, game is still cheaper

For a $60 game.... They should start at $10 minimum. Otherwise anything in the single digits is insulting. 10% of $60 is what? $6 no thanks........

Considering stores like Gamestop take trades so they can resell the game and make profit, I think $6 is great. It's not like MS can make ANY extra profit off a game that you sell them back. It's a 100% loss on the $6 or what ever you get for it that can never be made back. Of course I'd like to see more, but I think it's certainly fair.

This is a really important distinction to make. Microsoft isn't setting up a used digital games market. they're literally just saying, we'll give you a little bit of money for no reason. yeah, you can argue it incentivizes digital over physical, but not much.

That you know of. Whos to day thats now how they can swing in the future 75% off titles cause of the pre owened thing. I can see MS buying back games to reoffer them at 75% off so say like 10$ instead of 60$ and make another profit. You can log and keep track of anything in todays digital age. I could easily think of a way to design this. This is what places do for gift cards. same concept.

that makes no sense. its an infinite resource. there's no difference between selling a brand new license or your "used" license. they can't "reoffer" a digital license. the only possibility to a marketplace is for one person to sell to another which publishers would never accept without a cut.

I wish they'd just broker a market like that, allowing gamers to sell to each other with publishers and MS getting some cut to make it worth their while. Right now (I think) they get nothing from discs resold through ebay, Craigslist, in person, etc. In not sure what pubs get from GameStop, etc. Posted from my Nexus 5X

I would certainly be all for that. I have sold plenty of games on eBay. I'm positive that they get no cut through private sales like that, and unless anything has changed, they also get nothing from Gamestop (or other retail stores) selling used. I would think, the only thing holding that up is how do you value something that is digital as 'used' It has absolutely no wear and tear, and it's just as good as the day it was bought (possibly better if there have been patches to fix bugs) and how much of that are pubs and MS getting?

Yeah, I see what you're saying except digital content doesn't really work like that given the licensing and whatnot. They could change it, but given that would require going against what is the norm i can see that causing a lot of legal issues...plus, it isn't really up to them as Microsoft doesn't own the software.

That's a great point. What might also be nice is if you could then re-buy the game at the trade-in price if you changed your mind, rather than buying it all over again. Yeah, I know, who would sell them game back and then want to buy it again, but I'm sure it happens. Say you played it and it was just OK, but then they added some new DLC and that made you want to try it again.

Lol one of the 1st games I bought for 360 I bought later on for achievement cleanup & it was dirt cheap new

Yea id be pretty happy with $10

I agree. 10% is good for me.

Would be great when you see a game announced for Games with Gold that you already own :-)

That happened to me with Fable 3, got the free one from GWG, that weekend I was at Block Buster renting a couple movies and asked how much I could get for my CD copy, they offered me a wooping 87 cents

When it says 10% does that mean you bought a game for £50, want to refund it so they give you £5 back? Or £45 back? Because if you go into Game(the shop) they wont give you £45 for a used game. Especially depending on how old it is.

10% of the paid price (so 5), not 10% LESS than the paid price

Guys, Microsoft is not testing this idea to keep you happy or to resell a digital license, the whole idea is to give you some money that you wasn't expecting, "free money" so you can purchase more games with it, the more credits you get for old games the more you'll end up spending in new ones, very clever.

I agree, 10% is actually generous as things stand today. Because they aren't 'reclaiming' anything that they can sell again. It's more of a here's some credit towards other stuff. Almost like a reward. IF, in the near future, they could reclaim the actual user license, AND have the rights to resell it for their own profit, then that would be different. IF that were the case, an AWESOME scenario would be if they were able to charge you 10% of the current value of the digital game in question, and allow you to transfer the license to someone else (ie, sell your digital copy, for a 10% fee. Or trade it to your friend so they can enjoy it). But as it stands now, they get nothing at all for 'paying you' to take back your digital game (unless they specified a license deal or something in the survey/questionaire that wasn't mentioned).

And eeeeh... Will they sell second hand digitally delivered games for 15% then ☺
Didn't think so....

I would be happier if I can sell my used Windows Phone...

You can, lots of places... like eBay, etc...

Lol wish I could sell back some of the crappy misrepresented wp games

I know that the community said no to always be connected to internet feature (why oh why) making it impossible to turn a physical disc into a digital game. ​I really wish it was possible to make my disc to a digital game though. After that my game disc is useless as a license, except it's working as a install disc

This is how the Xbox One used to be, but then a bunch of people complained

I'm so pissed that MS caved to the complainers and removed this functionality. It was the thing I was looking most forward to because it would've given me the benefits of both physical game sales and convenience of digital titles. F the people who had knee jerk reactions and didn't actually check the facts before complaining. They ruined a good thing for everyone.

yeah, i agree with that... The only downside though was that you couldn't land the game to a friend for him to try it out...

I used to dislike the idea of digital games, movies, etc, but as internet speeds, quality, features, have increased, I find myself wanting to convert everything to digital. For games, one digital copy allows my wife and I to play on two consoles at the same time which would require two physical discs otherwise. For movies, the VUDU ability to 'convert' your physical discs into digital copies (that can be shared with your family) is awesome. $1 - $2 per disc (more if you want to upgrade from DVD to "HD quality", but they also offer a 50% discount for converting 10 or more movies at a time with their home conversion process. Awesome stuff. I'd love to do that with games, though they'd have to have a method to take your game disc to make that feasible. (VUDU lets you keep your disc as well).

You can but at your own cost. I for example converted my nfs rivals at a $6 loss(traded it in at eb towards some other game I was planning to preorder anyway) when it went on sale the 1st time on xb1.
At least it easier on xb1 then 360 where you had to end up deleting the disc image

I know a lot of people would likely to complain if it was 10% despite being 100% more than what we can currently trade them in for (i.e. none), although personally I think it should be different for each game based on some form criteria e.g. If a game is less than a week old you should get 60% of it back, or like Steam if you owned a game for less than a certain amount of time & played than a certain amount of hours you should get a full refund.

This. Also it should incorporate this to Windows 10 for computers as well, especially now that they expand their game section there as well.

Lol yeah there are a few titles on wp/w store I regret buying wish there was some type of time limited refund policy

you seem to be forgettig that this is a money loser for them. there is absolutely no difference selling a new digital license or a used icense. It's not like they can somehow resell that license for a profit. they are only doing this to hopefully get enough people to switch to digital game delivery that they can remove the dvd drive from the console and save some money on the distribution costs of physical discs.

MS may offer an Xbox without a drive but they will need to sell them with the drive for the foreseeable future given that it is commonly used as a Blu Ray/DVD Player. I dont see those mediums going away any time soon.

Actually if you think of it this way it adds capacity to handle new customers for that game or a new game entirely

Something relative to nothing is not 100%, it's infinite

They do need to doing something either selling the digital games cheaper to start with, id like to see a trading system between the xbox community or as this post states offering a rebuy. 10% seems to low to me tho.

New titles cost around $50. After some time they are sold for $5. This offer is not for you to earn money or get them back. You pay for your game to enjoy it. It is so you can sell very old games that you own, but you have newer and better sequels and you are just not going to play the old ones. You don't need them. You can sell them. Now 10% is a lot of money comapred to what Steam offers. Because everything what you can do with your game on Steam is DELETE it. No refunds! [Marcus ;)]

It's a start I suppose. Digital needs to be cheaper full stop. They should not be selling digital titles for more than physical costs.

Hahaha, such ignorance of free market capitalism is astounding!

why? the costs of that disc and case is maybe a $1. you want them to discount digital copies by a $1? The only reason users still want physical copies is because they can resell it. however, the developer and publisher don't make a penny from that. So, why shoud they make a smaller profit from digital copies.

You answered your own question: companies should discount digital games to encourage more people to buy digital games, which cannot be bought used, resold, rented, traded, or lent. That's more money in their pockets.

There are also distribution costs, pressing costs, was for staff to handle the discs. There is a lot more cost in creating a disc than there is in digital.

Sure keep telling yourself that im sure MS fees for putting games on the store are just as expensive as disc format licensing

yes please, so I can get rid of The Division. this is actually a really good idea because I get annoyed when i have alot of games i cant get rid of

What's wrong with the division

Other than pretty much everything?

Tells me a lot thanks. /s

Same with watchdogs, biggest POS ever

GTA V is garbage. I'd sell my digital copy of it in a heartbeat. Hell, I'd smash it into pieces if I could.

Agreed! I was gonna sell it back, but I only got it for $5, so I might get 50 cents. Might as well keep it in case I'm ever bored enough to pick it up again Posted via the Windows Central App for Android

I'm not one to trade in games. I usually keep my games. So I wouldn't use this service. I am grateful for the preowned games section at GAME UK though. And Grainger Games but prefer GAME since Grainger don't give me points for buying games anymore, only trading in. GAME still give me loyalty points for buying games.

Not a chance at 10% my games are worth more then that to me, 10% feels low considering the price we pay in the first place

10 % is way too little! I bought Elder Scrolls Online, played it only once and now I can sell it for only 7 or 8 bucks? I dont think so! At least 50% or else no deal!

Haha, you drive a hard bargain. Do you understand that Microsoft can't actually resell that digital "copy" so it is essentially charitable that they're even considering giving 10% back? In other words, be happy if they even give you a penny back for it.

How do you know Microsoft can't resell them? Have there been any court cases on this?

I'm not sure if they can't, but it would have the same exact effect as selling a new license to someone else.


You should perhaps play it a bit more before deciding you don't want it. You don't even come close to scratching the surface the tiniest bit if you only play for a couple of hours, like most huge games.

What will Microsoft get by doing this? If implemented, they would literally just be giving away money for nothing in return. I mean its a digital copy, not a disc that they can re-sell.

Then they don't need to keep games available for download for ages.

I can think of two reasons. Either they are trying to make digital downloads more appealing, or they hope you use the money to buy more games.

All they have to do to make digi downloads more appealing is to stop riping us off to start with. How the hell can they justify the 30% ish premium for a DD when it costs them so much less to get the game to you and not have to even take into account that you might sell it and they lose the license fee?

***** if I bought a game for 100$ and you want me to be happy with 10$!!?? Screw You!!! At least 50% and that to no refund! Instead exchanging games with other players at 50% rate!!! That what I call sexy!!!! What do you guys think about this!?

No publisher in the world would agree to that, they already don't like what happens in stores.

I think "sell back" and "refund" is something completely different.

It's a whole lot better than the $0 or 0% that you get for digital copies right now for games that just sit gathering virtual dust in your account never to be played again and having zero value to yourself.

I think you don't understand how business works and you're just self entitled. You paid $100 and you're ready to get rid of it, so you either got your $100 of fun out of it, or you didn't do your research beforehand and got burned. The fact that you're getting ANYTHING for it is infiniately more than you'd get previously.

Bernie Sanders supporters don't understand how business works and are self-entitled...

If you want more than 10% sell it on e-bay or craig's list. E-Bay will get your market rate for your game.

I'd be happy selling back my BLU Win JR LTE at the purchased price. ;-)

The article is a little misleading, they aren't buying them back they're paying you 10% of the cost to delete the licence from your account. Buying them back implies they're going to sell it on again cheaper than a 'new' version like stores do, which is not the case.

It's not misleading, it's lay terms. How many retards would hear about deleting a license from their account and not have a clue what they are talking about. Honestly, they could even be recycling the license code, sooooo it could be true.

For 10% I would not be interested.

What makes you think Microsoft is interested or cares. They just shafted half their W10M user base by not offering an upgrade.

If you can sell them for 10% of the price you bought it, thats seems fair. Anyway, I buy my games on Steam or Humble Bundle for my PC and save an enormous amount of money, even when you have to calculate in the higher price of the PC in the beginning. I buy 10 games for 10$ (Humble Bundle) up to 250$, never more. So only with 10 games I saved the money to buy a quite nice GPU. I dont say that PC gaming is better..its just different and in the end, when you play many games, its really much cheaper.

He'll no!!! Too stingy f@#k!

Yes Posted via the Windows Central App for Android

They should have some type of p2p merchant store where people post their games for sale and you can buy their license. The experience would be just like buying a game through the windows/xbox store and MS can pocket 5-10% for the transaction. About the same fee as amazon and ebay. Posted from Windows Central for Windows 10

they'd probably only get publisher buy-in if they get a cut as well. i can see this hurting the physical market because publishers would then chime that they get a cut of digital, why not physical. not saying their argument makes sense, but i can see the possibility of that scenario causing a lot of people heartburn.

Publishers tried by requiring you to buy an online pass but those users who don't play online didn't buy into it

To all those complaining that 10% of what you paid is too low...every other platform is currently offering 0%. Do the math. I for one welcome the idea. I have a bunch of digital games that I no longer wish to play. Posted via the Windows Central App for Android

You expect morons here to do be reasonable, let alone do math No, the sense of entitlement is strong in this crowd.

Silly isn't it? They get 0% elsewhere and complaing for getting 10%! Basically they bought and played off their 100% of the game, now they barely or ever use it, and complain that MS is trying to give them money back!

No, but how about sell games I have already bought that are then given away with Gold a couple of months later. Some months both the 2 360 and 2 XB1 games I've already have bought.

Not good enough Posted via the Windows Central App for Android

Better than nothing, cannot complain about the effort.

10%????? So for a $60 game, I'd get $6? Ummmm.....no. That's way too little. I'd rather have the option to gift those old games to friends of mine and get nothing in return. Cop E Ryte........ Cause everything I do is official!

Like your idea! But publishers wont be happy with that, as it will decrease sales! Posted via the Windows Central App for BlackBerry

Yeah but what will MS do with the repurchased licenses? Does it even matter since it's digital?

Yes, both would be better. Just speaking in terms of having one choice.

How about instead of giving 10% back they just discount the game ahead of time? They would already be saving money by not having to make any physical disc or case. But somehow the digital games end up being more for a longer time. I would switch over to all digital downloads right now if they lowered the games to 39.99,crap even $49.99. And would buy more games on top of that. And they already charge the price of a game for the DLC

I much prefer the digi downloads, but you're spot on. The stupidly higher price when there is no packaging, manufacturing of discs, shipping of disks, shelf space to be rented (MS and sony pay for shelf pace in many big retailers) is aggravating to the extreme. I have multiple consoles, and constantly swapping discs between bedroom and lounge xboxes would drive me nuts. Its a pity the idiots out there made such a huge fuss regarding MS's 'always connected' initial plan where the disk was just transport for the game data but the license to play the game was attached to your account rather than the disc itself being used as DRM and license 'token'.

Whats sad is like Nintendo(& origin) theres little to no reading material left. But no option to download a PDF copy. & when there's a remaster of a game their dont bother to go the extra mile for the retail copy anymore

Yes I need to sell some digital games Posted via the Windows Central App for Android

I don't know where's the problem to give each buyer of a digital license the key to his purchase. So you can sell it by your own. If I could only get 10% out of selling a used game disk I would rather keep it
..

I would prefer to convert physical to digital and throw the disc away!
Physical games are cheaper than digital! Weird Posted via the Windows Central App for BlackBerry

Wait, I thought it worked like that. Are you required to insert the disc every time you want to play an already installed game???? This is batshit crazy.

If you bought it on disc, yes. The disc itself is the copy protection/DRM and license, just like in the old days before Steam/Origin/etc where you had to insert the game disk into your PC to prove you'd bought the game instead of copied it from a friend (thank god for gamecopyworld.com). MS's original plan was to have each game linked to your account and the disc just be used initially for installation, but the whiny idiots bitched and complained and sony turned it into a huge beat up, so much we now have this stupid system unless you pay a HUGE premium for the digi download version (up to 30% more than buying the retail version with disc).

Of course you do, otherwise what's stopping people from installing games on other consoles? If you tie the license to your account after installing the game, people can't trade in games.

At least with xb1 if we were to buy the digital copy later & trade-in the disc the already installed copy can be converted unlike the 360 god model(& xbla trial conversion) which requires you to delete and download the image you already installed

Yes! This is what I really want (I bought some games with my Xbox One not knowing about the awesomeness that is digital only)

This is why they just increased prices by 10%?

Still a better price than GameStop would give you. That place is a major rip off. I had taken in a bunch of "limited edition" Final Fantasy games several years back, shortly after Playstation 2 had come out, they were going to give me $2 a piece for them when I could have sold them on eBay for much more than that. I still have them in my attic somewhere. I think I have a few hard to find games for PS1 as well like Juggernaut and Clocktower (I & II).

So those games you still have are just sitting there unplayed and quite possibly unplayable unless you still have your PS1 and it somehow still works. Hard to see how you 'won'.

Lol yeah eb/gs are a ripoff to both the buyer & the sell sometimes when games that are still sold new are available

Not a bad idea but I don't see why it shouldn't be made extensive to any digital game, not just the always pampered Xbox users.

While 10% of a digital title 's original asked price is something, it's hardly enough to tempt me away from physical. Quite often I can resell an old game for a decent amount of money and, for some games, I can get more than I paid for it originally. Plus, if there were any extras or preorder bonuses, I can sell those too. Digital, as it is, is still one giant money sink with little benefit outside of convenience and this piddling amount they are offering in return isn't worth it.

Better than the game setting unplayed and not getting anything for it

10% in co.parison to the 0% I can get for the games that are collecting digi-dust on my hard drive isn't too shabby. I'd take it.

It's a good idea I would love it

I'd take an analogy from my most-played Xbox game for my ideal: the MyTeam mode in NBA2K. You basically get two options: auction or quick sell. So my suggestion would be that you can do two things with digital games: 1. Sell to another person. Microsoft can take 5% or 10% off the sale for themselves to pay for the extra servers required to keep that function running - I'm not expecting them to lose money making our lives easier. It could be an open auction framework (I know that would take significant development time) or direct sell to a XBL friend at whatever price you agree to. I know if there was a digital auction system I would check it regularly for bargains and probably increase my rate of buying new games. 2. Quick sell, back to Microsoft for 10% of what you paid. Most would likely view this as a last resort if the other falls flat or if you just need that little bit of money in a hurry. The idea is to capture similar options that are available with discs. I could put discs on eBay and try to find the highest bidder. I could sell it to my friend at a price we agree to. Or in the worst case, I could drop it off at EB Games/Gamestop to at least get something for it.

So you want Microsoft to develop, market, and maintain a system where they could make about a dollar on a game versus making $25 on selling a new one on an already existing system? Sounds reasonable...

Maybe only for gold members. Honda doesn't make money when you buy a used car, but they'll sell you parts to service it.

Basically paying 90% of full retail price to rent the game. No thanks.

10%? humm.... Let me think about it! (my taxes are 11.5%. Still -1.6% short to start to get something back from value paid). No deal for me. wondering, would "Digital Used games" be at a lower price? :D

Your math is waaay off there buddy. If you paid any amount and got ANY money back, you got money back. You honesly sound like a dolt trying to figure taxes into it and everything.

math 101 buddy game: $59.99 +TAX (11.5%= $6.90) = $66.89 getting 10% would be not even full tax back you moron. Only someone like you would be anxious to get that amount back to purchase a new game.... plus tax. pd. remember to take your pills

Man some people are just beyond help. Do you get anything back now if you don't want a digital game? No, so that's 0 return. If they implement a return of 10% do you get anything back? Yes and that's 10% return. It doesn't matter what your taxes are, you still recieve money back. I don't know how someone can be so stupid as to not understand that.

For £50 AAA games, you get £30 back if you trade it in during it's first week of release at Game UK. Because it's a game that they want people to trade fast as they know they can resell it straight away. So that's 60% back in the first week for BIG games. After that it drops VERY QUICKLY while the retail/preowned price hardly moves. Usually to like £18 trade-in credit after that first week grace period. But that's still better than 10%. So even from a store view, 10% is rubbish. Posted from Windows Central for Windows 10 Mobile

But that is for a physical game. No trade backs on the digital purchases. So 10% is better than no return option at all.
I think they are asking this more for older unplayed games. Not so much newly purchased.

Oh, yeah. Sure. I understand that the prices go down after time and that 10% is better than nothing. I just mean that in comparison, 10% isn't that good. I think it should be based on the time since the game was released or when you purchased it or some other factors that would affect price/trade. Maybe. I don't know. Places like Game UK base it on the amount they have had traded in and how in demand the game is. 10% across ALL titles, regardless of demand or price, doesn't seem like it's been thought out very well. It shouldn't be a set 10% for everything across the board is what I mean.

Just create a marketplace similar to amazon or eBay.

I remember there was a service based in US quite a few years ago that you would either buy points to use to acquire games or if your trading in games to earn points & the person who traded the game fit the bill to mail it(or if you lived in US I think they fit the bill)

Meh, too little to be good for me personally but do wish thay they would sell digital games for 10% less than physical copies. Posted via the Windows Central App for Android

We need a 24 hour return period, even with a 10% penalty for games that suck. That way the publishers will strive for better games. Getting 6.00 for a new game that blows isn't enough. They need to balance that situation THEN maybe 10% is better than nothing.

Under EU law you can already return digital goods, with some limitations.

Who knows maybe ea will try it thru access

A digital market place (as has been mentioned many times) or being able to GIFT used digital games would also be a game changer.