Microsoft Band 2 gets another small firmware update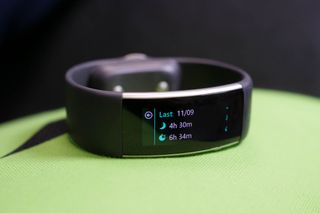 Microsoft is pushing out a new firmware update for its Microsoft Band 2 fitness wearable, along with an update for the Microsoft Health app. However, both appear to be minor updates with no indication of any new features or improvements.
These two new updates come just a few days after Microsoft released major updates for the Band 2 and the Health app, which added a number of new features. If you do notice anything significant with this latest update, feel free to post about it in the comments.
Thanks to everyone for the tips!
Download Microsoft Health from the Windows Store now (opens in new tab)
*cries watching his poor Band first gen*

I'm watching mine slow disintegrate. But that won't stop me getting one of these when it dies. Older units work great and gained so many features in their life time. We can't feel bad.

Seems faster (sorry, couldn't resist). Maybe I'm bicycling faster.

And texting from my band is broken again, after being fixed from the last update

Try reinstalling Microsoft Health. Seems to fix it for me... then it usually breaks again after a few days... *sigh*

That never worked for me. The last update fixed the issue. This one broke it again. It goes back to connecting occasionally, and Cortana can't hear me

Reinstall Microsoft Health and make sure you remove the Band from the list of Bluetooth devices.

Caleb, thanks for the tip. I confirmed it worked.

Cortana has selective hearing like a girlfriend or boyfriend:) choosing when to listen, then maybe responding:P

Reinstalling is only a short/temporary fix. Lasts a day or two at best. Considering this is the ONLY complaint I have heard consistently for the last month and a half I don't know what they THINK these firmware updates are fixing but they are almost definitely not fixing anything anyone cares about. Mine is almost unusable on my 950xl. Keyboard doesn't work, Cortana doesn't work, reminders come in hours later, text messages come in intermittantly. My local MS store has started warning people against buying the band if they own a Win 10 phone. Sorry for my attitude, I'm getting miffed that my $250 piece of hardware isn't working even remotely as advertised. What exactly do we have to do to get this fixed? What do we have to do to get it acknowledged as a problem? Uservoice has like 9 upvotes for this problem and not even a section on it for the Band 2 so it's just in the "other" section. Anyone with Twitter wanna start spamming MS about this? This should be on an Ask Dan...Can someone make that happen?

On windows 10 it isn't going to work like 8.1 until they are ready for official.

Windows 10 IS officially out, its on three commercial products being sold world wide. This notion that its not official because its not on older devices is ludicrous

I've never gotten it to work other than windows 8.1. Worked so well on my 920 ):

It's working much better on windows 10. I've watched it go from not being supported at all to barely supported to fully supported but very buggy, to now where it works very well except for needing a good few bugs ironed out. We are close and we have to understand we aren't on an official release yet.

aren't on an official release of wha yet? If you mean windows 10 then you must be mistaken... since clearly i have a phone in my hand that was shipped with windows 10 from the start...

Windows 10 mobile is official but not finished. 10586.0 was the most stable build to be shipped out

This happens to you too? Seems I have to reset my band every few days, and an update always seems to break texting from the band.

It broke my music controls when using bluetooth. Granted that seemed to always be broken on Windows Phone and I just switched to a Nexus 5X last week and it was working until that update came through this morning.

Mine won't update, errors out on step 5. The band restarts before it completes and the Health app complains the the band is missing.

Mine updated fine. Did you have it charging

You'll need to unregister the band from the app and then reset the band to factory, then re pair it and make sure you can sync and adjust your icons and that it saves. That should tell you it's all good and you'll get the update somewhere in there and it should work.

I have had this problem before when the battery level is too low. I had to charge it for a while before the update would push through.

Mine does this as well every update, but after pressing ok on the error it tries again and then succeeds.

Is it true that Band 2 suffers a design flaw? I heard a lot about the strap splitting open and all. Posted from Windows Central for Windows 10

There is one where a small wite found in the clasp can become damaged and not allow your band to turn on or charge.

I need to be careful then. I accidentally yanked off the charger from my band

Mine did. Just got it replaced under warranty. Have not heard it was widespread but haven't looked into it at all.

Yeah it happened to me too. I got it replaced also. Hope doesn't happen again once it's out of warranty.

I have had a band 2 replaced because the strap splitted open 1 cm from the screen (where the unit inside the straps stops) According to the support it wasn't the first time she replaced a band because of it

My band 2 split also. Problem is I am in Nigeria now and won't be in Europe til September. I got my band in December. Posted from Windows Central for Windows 10

My band 2 split also. Problem is I am in Nigeria now and won't be in Europe til September. I got my band in December. Posted from Windows Central for Windows 10

Email notifications still broken

Mine work. So does app notifications which include email so I removed the email tile so I could fit another tile since having both email and notifications tile was redundant.

Mine stopped working when the new insider build was released but started working with the update from last night.

Probably a fix for the syncing issue betweent he band and the app. Before the update my band would have more steps than my app would count.

Cortana finally working on mine for music and texts.

I had the band one when it came out and got the band two when it came out because of how impressed I was with the one knowing it was like a beta device. The band two is absolutely incredibly beautiful and awesome. With windows phone 8.1, the band worked flawlessly and amazingly well. With the windows insider builds, windows 10, the band has been horrible but has gotten a whole lot better from where it started with each new build. As of now, everything seems to be working except with notifications being slightly slower and delayed than they were in 8.1 and it's inconsistent too so most of the time it's pretty smooth while sometimes delayed. The biggest issue though is responding to texts, I'll try to use voice or keyboard and usually voice works but sometimes it doesn't and almost every time the keyboard either freezes ok the connecting screen or it will freeze half way through typing and I can't send a message so I end up having to use the phone anyway. I do know that when the official windows phone 10 release will have these issues ironed out because they've already had it working perfectly with 8.1, so I know it will be perfect very soon for 10.

I use my band 2 with insider preview on my Icon, most of the time notifications appear on the band a split second faster than they do on the phone. I've never seen them delayed.

I have the same issues with the texting part. It will show connecting and never connect. I hope this feature gets fixes quickly because it was a features I used a lot with my 1020 paired with the Band One. I am used in the Band 2 with a 950 (Att version) on the latest insider build.

Windows 10 mobile is officially released.

Getting my band 2 in the mail today! Very excited!

Awesome I think you'll enjoy it Posted from Windows Central for Windows 10

Lol but you don't know him

The app keeps adding extra steps, cal and the time is wrong for example when I go to sleep at 10:00 pm its says that I went to sleep at 1:36 am and woke up at 9:27 am when I really woke up at 6:30 am. Is there any fix for this?

My band 2 is not working for more than one hour before it shutdown completely and this update didn't fix it . It was working fine till the last update Posted via the Windows Central App for Android

Can anyone confirm if they fixed the flaw where you get an email and it shows in the mail icon and notification with your phone having Windows 10? Only reason I rolled back to 8.1 denim.

Not sure I follow, Email comes through as I would expect on my Windows 10 phone and on my Band 2

Does the email also show on your Notification Tile? Or only the Email Tile? Or both?

On my band 2, with latest update, emails are still shown on both, I removed the email tile and use notification instead. Email tiles is redundant in this case!

Sharing a hike on Facebook finally adds a picture with the stats.

Naah! Still don't feel it:(

I wish the fix small issues on Band 1 - does not always charge. - turn off after a period of time when I use it to monitor activity or sleep.. Time and notification work well with windows 8.1 on Lumia 640

I seem to be getting duplicate notifications on my Band 2...

Getting duplicate notifications, no Cortana again and Battery on my 950xl is disappearing faster than I can charge it, hoping this would have fixed things. Posted from Windows Central for Windows 10

Same here on Lumia 640. Battery is better though I think. No Cortana on my band Posted from Windows Central for Windows 10

I just got my Band today and feeling very pleased! Everything works just great and it feels quite comfortable. Though, is there a way of checking for updates, or it just happens automatically?

Updates come via the Health app and it wil tell you an update is available that probably should of happened when you set it up for the first time as an update would almost certainly been available.

It fixed the texting issues on my 950Xl

I have occasional issues with replying with quick message to incoming call. Message is not sent from my lumia 950xl. But I had that issue before.

Still waiting for a XL size. How difficult is that, Microsoft?

XL???
The current phisical size is perfect for me an easy to use (screen on the inside)... Anything bigger would be far too intrusive for me... Perhaps an even bigger screen in the same phisical foot print (less black borders) ?

Mine started crashing after the last update. It turns itself off and can't be restarted unless I plug it into the charger. Than it asks me to enter the time and date. After that it works again for a few days. Hopefully this update fixes that. I already did a factory reset but that didn't fix it.

This just started happening to mine too after this mornings update. Weird thing is that it still tracks my steps, calories, etc and syncs with my phone, but the screen is completely blank as if it is dead. And it asks me to put in time and date when I charge it.

Yep, the update made it worse. Now it happens every couple of hours.

Just updated. Can't tell any difference so far....

I put my Icon back to 8.1 due to all the issues my Band 2 was experiencing. Now it works great. Looks like with all the comments my Icon will stay on 8.1.

Sounds crazy but I have a Band 2 and 950xl. They wouldn't talk until I disabled the Hello feature and my login password. Now it all works great...

I love the band 2 but I can't have my Vo2max despite a huge number of hard runnings. Anybody fixed that issue?

This update is actually not a minor update for developers!
The Band 2 (not Band 1) now allows for background tasks on the phone thanks to these updates. Let me explain:
Before the update, you could make a Band app that displayed information and contained basic buttons. In order for the app to respond to button presses, the app had to be actively running in the foreground on both the Band and on the phone. With the recent updates, now the app does not need to be running in the foreground on the phone. Developers can now hook up the button events to a background task. This is a task that will launch when the user presses a button. Then in the background task the developer can detect which button got pressed, and perform actions accordingly. This is also documented in the Microsoft Band documentation (section 9.3.2)

John, Could you please include the version numbers of the updates (Band and Health app) in the posts? My Band 2 updated the night before this article was posted and it was already updated a few days ago (when the last update was released). However, only the Band 2 updated, I did not receive an update for the Health app. I was checking all day yesterday to see if anything would hit but never saw an app update. I'm assuming the Band 2 update a couple of nights ago is the one this article is referring to but I'm not sure. My current Health app version is 2.3.20217.0

Just ordered mine, will microsoft ever give the option to display the time verticaly?? would be so useful. Or is there a way to do this? Thanks

I really like most of what my Band 1 did and what Band 2 does, but I'm about to try the FitBit Blaze. The Band ( both versions ) seem to be very inaccurate in heart rate and calories burned in workout/exercise mode. every time I get on the treadmil to warm up for about 20 minutes before a workout within 30 seconds of turning the band on my heart rate goes right up from 62 to the 100's and as high as 168. Even throughout my workout the heart rate monitor jumps all around and the high is always much higher then the reality. I really don't hear much if anything about the accuracy of the heart monitor during workouts from anyone anywhere. I do know that it's no me because I've had 3 Band 1's and 2 Band 2's and it's always the same. While I know that a wrist monitor will never be as accurate as a chest strap I'm really hoping the FitBit Blaze tech is more on par.
Windows Central Newsletter
Get the best of Windows Central in in your inbox, every day!
Thank you for signing up to Windows Central. You will receive a verification email shortly.
There was a problem. Please refresh the page and try again.