How to use Cortana on the Microsoft Band 2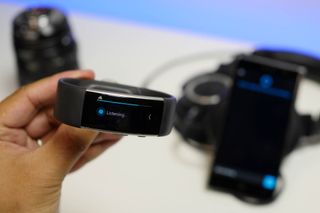 The Microsoft Band 2 works on Windows 10 Mobile, iOS, and Android, but Windows users have a cool feature that is currently exclusive to them. It's Cortana, the personal assistant we've grown to love. How does it work with the Microsoft Band 2? Read on to find out.
In order for Cortana to work on your Microsoft Band 2, you need Cortana to be installed on your phone. Just press and hold the Action button on your Microsoft Band 2 for 2 seconds. You can use Cortana even when the display is off. You do not need to tap the Cortana tile. Just make sure your phone is nearby. Cortana uses the mic on your Microsoft Band 2 to listen when you speak. The mic is the tiny hole next to the power button.
After you speak, Cortana opens on your Windows phone and responds to your request. Depending on your request, it displays the response on the Band 2's display itself or lets you know if you need to view your phone to complete the request.
You can try these examples:
Wake me up at 8 AM.
Remind me to get milk when I leave the office.
Tell me a joke.
Create a note: Open the red door.
How many calories in an egg?
Text Dan: Want to play Halo?
If you have the Cortana tile pinned on your phone and the Cortana tile is active on your Microsoft Band 2, you will receive notifications such as news and sports to your band. You can disable this. Go to the Microsoft Health app on your phone and tap the hamburger button. Tap Manage tiles, tap Cortana, and then turn off notifications. You will still be able to bring up Cortana on your band by pressing and holding the action button.
How do you feel about Cortana on Microsoft Band 2? Let us know in the comments!
Download the Microsoft Health app (opens in new tab)
Buy the Microsoft Band 2 (opens in new tab)
Still waiting for my Band to arrive. 2 weeks to go before I get Cortana on my wrist....

Just lay your phone on your wrist, and say "hey Cortana"" ...
......
You're welcome.

so when I'm riding my Motocross and doing a 30~70 foot jumps on SX tracks, and doing a 80+ miles loop in the most harshest trailers with Whoops and rocks and bushes,.................would the phone track my heart rate, stay nicely on my wrist that gets hit severely in every pump/jump, track UV index, track Calories I'm burning while I'm on the most demanding sport in the world,....................................I can promise you no phone can. That is 1 of the reason MS band was invented with 11 built in sensors including GPS,(UNLIKE CrApple wannabe watch toy).

All these Band 2 posts are just taunting those of us who's preorders got lost by FedEx...

It's really bad for those of us who can't afford one right now...... Wish I could've financed it in with my new Harley... SMDH..
.......
I really need it!!

Its not just lost, its also broken, scratched and tossed around so the innards are broken.

Ha ha. I got mine Monday. Thought I would rub it in a bit.

Love this feature! Still pretty hit or miss for me with Win10 mobile though. Anybody else having this problem?

Is the B2 running Windows10❓❓

If you are about OS directly on B2 than no, it is not Windows 10 for IoT :(

Yup. Slow and sometimes won't do nothing. Still cool tho

Yes, I'm having this problem. On Windows 10 mobile latest insider build, Band 2, Lumia 920 trying to use Cortana by pressing & holding action is often met with the error that implies Bluetooth isn't on, even though it clearly is (Band notifications from the phone work fine) and sometimes Cortana even launches on the phone as proof. If it does get past the error then on subsequent conversation with Cortana through the Band (e.g. to confirm) then you get the error, or the "Sorry" error. 1 out of about 10 exchanges I tried was completely successful, and it was just a web search where Cortana on the Band told me to look to the phone to see the result... and that's the boring sort of query I almost never do. I've given this feedback on Windows Feedback.

Yeah, its still broken in current W10 builds. I hope they fix this soon.

Awful and not working with current Win 10 Insider builds.

Is the Cortana experience the same as with the Band 1?

It's the same - But sounds like it works with Windows 10 Mobile already. With my Band 1, I still get the message that the current version of MS Health doesn't support talking to Cortana (After installing the app and first opening it)

There is no Cortana functionality on W10M with band v1 at the moment

Are you sure? I just ask Cortana on B1 to check weather for tomorrow and it worked, sure there was long delay but it definitely worked. Btw, I am running 10581 on 640xl.

no, I'm not. Just tried and you are correct. It works fine when I ask for weather. If I try to text somebody though it stumbles. It doesn't really understand what I'm saying and quits when I get to the point to speak the text. so, it's kinda working. thanks also on 640XL here

Well there is some, as her live tile being pinned to the phone does push info to the band. But yeah, no voice.

Are you 100% sure Band 2 Cortana integration works with Windows 10 Mobile already? The Microsoft Health app prompts to say speaking to Cortana doesn't currently work - I would be surprised and disappointed if Band 2 works (Cortana wise, everything else works fine) with W10M, but Band 1 still doesn't.

Weird, after trying a few times it does work every now and again with Band 1 and W10M, I was able to ask what's the time in Spain and it worked

Not consistantly at all for me. About 1/10 success rate. I consider it completely broken.

I really dont understand why cortana has to open in the phone? Plus the responses are very slow at least with a band 2 and a lumia 640 running Windows 10.

It has to open the phone because the phone is the tech with the antenna.. or the connection to the internet. How is it going to search for the weather in Arizona without the phone? (for instance)

Like I said Android smart watches don't have to open anything up and answers you back in less then 1 second. I think Microsoft need to do something along those lines.

I think he is talking about Cortana unlocking the screen even inside pockets. if you have to take the phone out, you don't need the band. Cortana is also useless with earphones for the same reason. it defeats the purpose of using your voice for me, really stupid.

It was faster on WP 8.1. Its doesnt work it all for me on my 1020 with Windows 10 builds. Hopefully this gets fixed and sped up in the final build.

My CEO is a pilot, so he is hopelessly tied to IOS because of a very sophisticated Aviation app that is 100% leveraged only on that platform. (Foreflight) Regardless, I torture him with the capabilities of Windows mobile. (starting with 8.1 and the amazing 1520) Anyways, the Band 2 Cortana was my latest. I walked into his office this morning with the 1520 still in my backpack, after stepping of my motorcycle. As I approached his desk I spoke towards my wrist "Text (short pause) Roger (short pause) So where is my Starbucks you bootlegger? He looked at me trying to figure out what trick I had up my sleave. I glanced down at the Band and hit the action button for send. Almost immediately that funny little buzz of his iPhone interrupted his attention towards me. But then he acknowledged his notification. And it dawned on him what just happened. Wicked cool. Even easier when replying to an incoming text with the band. We live in amazing times.
Snake

Nice! Are you running 8.1 or WM10 Preview?

Awesome story. It's always nice to flaunt our gadgets. Where do you live? I'm unfamiliar with any current slang use of the word "bootlegger".

One of my favorite uses is turning on my hue lights. Through the Huetro for hue app I can say "lights on/off" to Cortana and my living room lights turn on

Stop teasing me... I'm waiting for mine to arrive in 2 weeks time :-)

It's cool but I think it's to slow to respond. Maybe a update would help.

Edit: W10 10581 (my bad bro)
Admittedly it is still very buggy. To get high probability of success, make sure previous Cortana session is closed on phone. It's real hard to nail the timing if Cortana is already open. Either I gotta practice, or just wait until they get it more refined. But the trick for me is in the pauses. And you know it nailed it when the band 2 screen is still in listening mode and prompts to say "send it". When that happens, even the send is spoken, not an action press.
I'm patient. I'm not frustrated during the development stage of all this W10 brave new world. I see where it's going. Simply amazing to me.

10871? Where did you get that from? We are still stuck with 10581, damn you Microsoft. :-/

Bootlegger is not what you might think, in this case. (although I am on the Gulf Coast. :) ) Instead, I razz him because about 15 years ago he thought I would load a software program on his PC that was licensed on another. He got his first passionate speech from me. Lol I called him bootlegger. It kinda stuck. (only in private, of course)

I just wish it worked on Band 1 and Wp 10

M favorite is when I get home and tell my band, turn wife on. Wow....last night was crazy.....granted i said it in front of her....

I dont think my wife supports that feature.

Build 10586 and Cortana still not working on band2 :(

Update, it's working but BLE seems to be an issue if the band and phone are not right by each other which is pretty useless imo. Phone in pocket is too far apparently. Love everything else though!

Man, I'm getting really itchy, I'm going to end up buying a Band 2 just as a phone companion, it looks like an amazing technology to have, for everything. I might even start doing excercise.

Was hoping for Android cortana support, since cortana is on Android now. Hopefully soon. Posted via the Windows Central App for Android

Question for those that preordered on the first day. When I was making my order, the website said something about hurrying to order because I qualify for a free add on or something like that. I received my band 2...but nothing else. Did anyone get the free add on?

Is there any news about changing Cortana to work in any region as long as the default language is English? Right now I can't use Cortana since it would require me to change my region and that would break Marketplace functions, and maybe other apps.
Thank you.

Can anyone tell me what the functionality is like on an iphone? (I.e. Day to day like phone call and text message notifications)

Microsoft band 2 is brilliant blows iwatch out of the water. Cortana is brilliant in every level. Remember all you complainers windows 10 Mobile isn't out yet so like the preview stated months ago, Cortana not in preview. You want her use 8.1 and love her and wait for official release and everyone will be happy.

Im runing W10 build 10581 on a Lumia ICON. My Band 2 is working as advertised, with the exception of Cortana. I need to experiment some more, but it appears to not work if I am in Bluetooth range of another paired device. When Im at work where I have no other paired devices in range, Cortana works fine. I havent triied texting or anything, but simple queries work fine.

I'm very tempted to get a MS band to help me stay hands free while working, it's a bit of a shame that it doesn't have a speaker built in as it may be hard to hear cortana's audible responses if my phone is on the desk while I'm working on a car or something. Anyway, as neither the band or band 2 have a built in speaker, what features would the band 2 give me to improve funtionality over the band 1? I'll use it as a fitness watch as well, but I'm just talking about for work usage here.

hope this will work on iphone soon. will have to wait until verizon got off their sorry a55 and let me use the 950/XL.

HELP!!! I have the Microsoft Band 2 but I can't use Cortana, I press the action button and nothing happens. I am using my Lumia with the latest build of W10M ITP and I am trying to use Cortana en Spanish. Any suggestions? Do you know if is possible or just work with the English Cortana?

I share the same issue: If I keep the language in English, Cortana is activated If I switch to Italian language, the Action button doesn't do anything. I talked with MS Customer Service and I've been told that the band is available only in the US & UK, so it supports English only. I shared my concerns and tried with Pimp My Band APP (for Band#1 it made the magic but looks like Band#2 doesn't fully support language switch from Pimp My Band. You can anyway do other things). https://www.microsoft.com/en-US/store/apps/Pimp-my-Band/9NBLGGH08Q8W

same here... but I dont understand why! band2 has italian language. cortana on the phone is in italian.. the only thing it has to do is send my voice to the phone that will understand it and act. but no. it doesent workl...

Absolutely loving my Band 2, which I'm currently using with Android (Note 4). It has me seriously considering a Windows phone in order to use Cortana with it, even though I would have to switch to AT&T to get the Lumia 950XL. I had problems with Cortana on my Surface 3 upgraded to Win10, but it works beautifully on my Surface 4 so I'm really interested in the prospect of having it on the watch where it's really needed.

currently microsoft band 2 all updates. holding the action button does nothing. cortana is not an option in the app for tiles. i am on an iphone 5s

Not interested unless Microsoft put all the features on non Windows phones, including Cortana and replying to messages.
Windows Central Newsletter
Get the best of Windows Central in in your inbox, every day!
Thank you for signing up to Windows Central. You will receive a verification email shortly.
There was a problem. Please refresh the page and try again.