Microsoft Band is out of stock in all sizes on the Microsoft Store site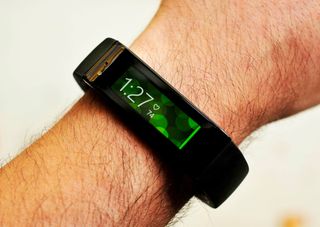 The Microsoft Band made quite a splash with its brisk unveiling, and since then stock of all three sizes on the Microsoft Store has completely dried up. At $199 it isn't exactly in "impulse buy" range for many people, and you have to think Microsoft had quite a few of them in anticipation of the launch, so a complete sell out is interesting to see.
If you weren't able to get an order in online your best shot will be to hit up a Microsoft Store in person, though that may not be a guaranteed proposition when you see the pictures of considerable lines that have formed.
Hopefully we'll see online stock replenished in short order.
Source: Microsoft Store (opens in new tab)
Hope it arrive to other countries!

Drove about 8 hours from Canada to states to get me one. I'm loving it. I haven't figured out if it integrates with the MSN health and fitness app.

Its got it own app called Microsoft health I do believe I don't think MSN health has anything to do with it I could be wrong cuz that's just a little weird you would think it would work with MSN health.

They both access the same information

Yes I have the Microsoft health app. But if it does somehow share the info with the MSN health and fitness as well, I haven't found the option yet.

The MSN Health app works with Health Vault. They don't currently sync, but Microsoft has announced that they are working on making the new Microsoft Health sync with Health Vault as well. It's just not ready yet.

Learn to use periods and comma's... Your comment was difficult to put into contextual sentences...

"Periods" are something that ladies have every month... it's a bit difficult to use them in sentences :P

Can then band tell me when my girlfriend is going to have her Period?.

this Drake wanna give a clinic about punctuation, but he used an apostrophe to pluralize....HMMMMMMMMMMM

LOL, but at least you understand... And hey, maybe he could have used two instead of one...

Man, that's REAL Microsoft dedication right there!

Now only the Fitnesspal on windows phone tho. Or u need the Microsoft Health app.

Check for "Microsoft Health" in the store.. I dunno if I can send links in this website but I will try http://www.windowsphone.com/s?appid=0168b504-ca18-46b8-b60a-0f6fdc271c81

Wish I could drive that far...

The problem I have with the approach they are taking is that it gives very little information about the actual desire for the product in the market. In my deductions this product is basically being bought by MS fans and you can bet that there are at least 100 fans in the surrounding areas of their very limited stores. Then you have online sales, but again I'm guessing not a lot of units. If we add to that the fact that there wasn't a key note or anything, the only way one would know about the device is by reading tech sites such as this one, which makes my point stronger and makes me think this is the first wave of heavily invested enthusiasts. I would love to see the prodcut succed so hopefully we will see it back in stores soon.

If MS had made this available worldwide they would have made quite a profit, because most WP users would definitely drop or at least put aside other fitness band just to support MS... Unfortunately the rest of the world must now wait......

Well clearly it didn't really hurt them as they seem to have sold out of the ones they had. Selling them elsewhere wouldn't have helped if they are limited on the supply.

People in the US have to wait, too.

Maybe they're testing the market to see what the response is before releasing to rest of the world?

I think the cortana integration is behind the lack of global release. Think about it, they'd have to have different marketing strategies for different regions that have yet to receive cortana. If MS plays well they can use the band to drive sales of WP as cortana differentiates the experience of the band on the supported platforms. It gives a unique and holistic experience.

I order 10 of those bands just kidding I wish I could afford one right now

You should have. Might have been able to resell them at double the price now... $)

Wow, you're not wrong. There are bids over$500 on eBay for these things. I'm pretty keen but not $500 keen.

Could resell to UK. Easy money as everything here is twice the price :)

Use a package forwarding service First one on my search results: http://www.shipito.com/

Does it still fit properly though?

Best smartwatch/band design out there, Microsoft need to be more aggresive with this, everyone loves it

yup intelligent design by not cramming all sensors and battery and stuff in one place instead distributing them and using the strap as well but not very pleasing to the eye. But the former beats the latter apparently. I wonder what the Nokia team is up to if this was made by the surface team. I expect them to make an even better full fledged smartwatch ​ ​ ​

It was stupid from Microsoft not to promote it with a keynote or something like that

I think that was the plan but app store leaks forced them to unveil it.

Nah, leaks didn't do anything.They announced it at night and by morning they were at every Microsoft store. That can only happen through planning.

Yup. I have all apple products, but they seriously dropped the ball on the Apple Watch and very few are calling them out on it. Meanwhile, THIS is the product I wanted, with HRM and GPS in one low-profile device with at least 2 days (bare minimum) charge, excellent sleep tracking and health metrics. To not put a GPS in the Apple Watch was a humongous oversight and I think all the internet hub-bub that forgives this error are in for a rude awakening when the thing comes out and virtually every other company is way ahead of the game because they put a GPS in with a heart rate monitor. Whomever also has bluetooth with music storage first will also get my money. The thing about the Band is it's available RIGHT NOW. For me, it was between the Gear S (too big, too attached to Android as I have an iPhone 6), the TomTom Cardio (too much like the Garmin 210 I already own and wont do sleep tracking), and the Sony Smartwatch 3 (love it and planned on getting it, but no HRM). But if you google Microsoft Band, the product is taking a shellacking with all kinds of criticisms from bloggers and tech review websites, meanwhile, the people who know what they wanted in one of these devices all along are lining up to purchase one. I don't think it's Microsoft fans at all, I think it's people who wanted a fitness tracker with HRM AND GPS in the same device. Why the blogs and tech sites can't seem to figure this out, nor seem to figure out why the Apple Watch is a huge disappointment to many runners who don't want to take their now larger iPhone on a run, is beyond me. I'm now starting to believe that there really is a reality distortion field.

Good news really. I want one asap! Next payday for sure.

Sold out... Next payday, they might still be out...

I was going to get one tomorrow :(

The Oakbrook store in Chicago was out of medium's by lunchtime today.

I hope the Microsoft Store in Chicago downtown have some on tomorrow

I bought one this morning at 9:45 and the guy said they had about 40 total.

So... 40 x 60 stores... Ok lets be generous and say 100 per store. 6000 units. Not exactly a massive number. Hope the real number is much higher.

Do you know how much stock Microsoft had for its online store 6,000 might not be much but without knowing how many Microsoft sold online its impossible to really tell how well they did. Plus is it 40 per store total all sizes or 40 of each size

Like I said I hope the real number was much higher.

40 remaining, not 40 total. It's unlikely that they receive stock every day.

Sounded to me more like 40 total, and if was said at 9.45 am the total probably couldn't have been over the 100 I assumed. :)

I got the last Large today around 2:30...I was surprised they even had any left!

I got the last medium at Oakbrook today at 1:30. They said they had sold a bunch of them.

Portland store had moved quite a few before I got mine around 11

i was at the oakbrook store around 6 pm and they were totally out. ordered my wife a small online in the store and by the time we got home the online store was totally out of all sizes. crossing my fingers that my order ships

Do you still need this. I think MS has given u good exercise just trying to find one in stores.

I'm drunk yet your comment brought me back to my senses. Hahaha

Was hoping to hear this, it means people want it. Get them outside the US!

Damn and I was hoping to purchase one in the coming weeks

Definitely a good reception. MS should learn from this, announce a new device and make it available asap. :)

Being a tech company actually you know - go tech with the launch... Announce the product and during the announcement symbolically wander over hit a button and tell people they can now order online - add a little flair :)

I think they're still really scared of having another Surface RT, so they make a small batch to gauge interest..

Those Mother Duckers!! I need one!!!!

Went to the physical store after work @ costs mesa....the medium size all sold out....but they still got S & L.

Portland, OR out of all sizes but small (3 left) as of 2pm today.

Glad I ordered online then. I was tempted to make the early drive up from Eugene.

I wonder how many they had in stock. 100k??

Well, if what was told to the guy above was correct, more like just a few thousand. And I am fairly sure it's not anywhere near 100k

Keep in mind the stock in stores is not going to directly mirror online stock. I imagine online can take a much higher number of orders based on potential production coming in, etc.

Ordered mine a few hours ago and got next day shipping for free. I'll have it tomorrow or Monday Yee Haw can't wait. Now I will feel like 007 lol :D I know go ahead and say it I know Jealous I know sorry couldn't wait.

Are you sure it's next day? 2 days shipping is free next day should be around $15

When I called last night the guy offered me free next day but I had to have it day one so I got off the phone and was first in line for South Coast Plaza store in orange county

Yes it's next day for free, because the rep on the phone was trying to help me change it to free 2 day.
she had to cancel my 1st order to create a new order with the 2 day.
but she was having trouble so she gave me next day for free.

I'm glad I ordered mine early this am.

I have to convince the Mrs that this is a must have essential! :D. Gotta have one!

Buy them all... Buy them all... Buy them all...

Microsoft have made a smart watch with the stuff you actually want in it, and have run with it, and tbf I wanted one straight away, just for the level of fitness tracking, and the long battery life:)

I hope this enthusiasm will carry over to WP soon. Whatever MS did with the Band it needs to be done with WP

U mean th commercial specially?

The commercial was really inspiring actually

Indeed, the commercial was like the Surface NFL ad. But the main difference is that the band' commercial came out on the saaame day the product was actually launched and made available to everyone (US only).

I went to the Microsoft store in Charlotte, NC around 4:00pm and they were completely sold out of the medium and large Bands already. They did have display models of all three sizes out for people to try them on, so I was lucky to experience it first-hand. I must say, I was really impressed with the Band! I put my name on the pre-order list for them to call me when the next batch comes in and to put it on hold, but I'm scared to think how long that would be (after seeing a ship-date of ordering it online through https://www.windowscentral.com/e?link=https2F%2Fclick.linksynergy.co... in mediums at 12/18/2014.. yikes!). I guess they underestimated how many people wanted one! haha

Well they're claiming that they've chosen to go with a small batch so that they cam test it out... In that sense the move does make some sense. It's best to have a small group to test out the product rather than a very large group, but now that so many people have bought it, MS might move the date up, because the data coming in will be or should be enough

I got the order in but rather than shipping it still says In Process. Kind of annoyed I didn't drive to the store now, but it's a little drive away..

This is the way Microsoft should introduce all hardware. Talk about it then release it the next day. Rather than telling me about it then releasing it two or three months later.

Yeah. Agreed. And set the price realistic too like this. E.g. If the initial Surface RT had been say $250 they would have sold a bunch more. I'm curious many iPhone and Android buyers there are.

yeah, i saw iphone and samsung users(playing with their phones while in line), and yes there were two long lines around 10:45am this morning.

When I was at the store I counted 10 iPhone owners that came just to buy the band. I used a display computer to charge it before I took off. Wanted to use it right away.

Xbox one and smartwatch deal would be awesome. Like making one offer for the Christmas.

That would be cool! They could even include a white version with the Sunset Overdrive Xbox!

Agreed. The rest of the world will have forgotten about this by the time they actually release it. Silly Microsoft...

This is good news and hopefully even better news when we get the actual numbers. Picked mine up in store this morning (well, my wife did) and the actually had people lined up. This is the way a launch should be done. Get the info out and have it in stores next day.

I didnt even know this existed must located one asap

Microsoft Store did say quantities were limited. Curious as to how many they actually sold. I would imagine they would try to restock them fairly soon. It is the holiday shopping season, after all. I'm glad I ordered mine (size Small) online earlier today. I got a ship date of "by 11/6". So not too horribly long to wait. I can look forward to the hands-on reviews in the mean time.

Yup lol they had this plan to release this device as a guide really, to launch the new Microsoft Health platform and look now lol they've sold out im sure quicker than they predicted.

At least Microsoft is doing better and I believe that they will improve with their Lumia Phones.

Honestly I am going to wait for the second iteration of this product. But I think it's awesome that it's selling! Yes I know limited numbers and a limited release but still, this is good news!

Just think about it. By the time the iwatch or whatever apple is calling it is released. Microsoft will already be on the 2nd Gen model or at least have it far in development. Who know what new features or hardware it could pack by then. For one I would like to see a speaker and NFC added maybe even wireless charging. I know it not technically a watch but it gots all the features of a watch and more. So what could it be by the time the apple iwatch is released. And if it keeps selling good like it is now it could have a hell of a head start with a better price better battery life. And just like there xboxs each Gen gets better.

Not to mention, Microsoft has a good track record with the Xbox getting much better within generation due to software updates. There's a lot of potential still even with the 1st generation of Band.

No carriers in the way of Xbox and the Band, we should see very rapid development of this device and service.

I want NFC and water proofing personally. I would prefer a swapable battery or a better power port over wireless charging. If I could just plug it into a portable battery in my pocket or pack while I'm wearing it out on the trails I'd be content. Yeah I'm looking forward to MS's future wearable's if this product is this good out of the gate. I'd be interesting to see if they try making a pair of sport smart glasses/HUD.

Very surprising. I didn't think anyone have a crap about these things.

Im pretty surprised lol at 200$ I mean... idk im just surprised lol

When I first saw the announcement, I thought not much of it given my meh experience with the Fitbit Flex. Then I read about it, and read about it some more, and the thing looks sweet. A bit concerned about battery life but that's about it.

I dunno, maybe because its from MS and not fitbit. I stopped using fitbits due to the poor quality and worthless warranty that they provide. I feel much more comfortable paying 200 to microsoft then another penny to fitbit. However, it would be nice if MS would go ahead an set a release date for the 830, my current lumia can't even sync with one of these bands if I was to buy one.

I'm keeping track of my battery currently, figured, I would charge it when I shower and get dressed in the mornings, about thirty minutes a day, so hopefully I won't have to do a full recharge for a while.

Yeah and people are actually queuing up at a Microsoft Store? lol not Bad

I went to ms store here in Cincinnati and they were sold out of medium and large bands. Only small was available which didnt fit me. They told me that they are expecting shipment tomorrow so I ordered a medium one. Hopefully i will be able to get it tomorrow.

Hey Chicago peeps, good to see more of us on here. I plan on getting one of the these eventually as well, love the features and really good to see a strong initial interest in the product.

Good thing I ordered mine just in time

Went to Microsoft in Houston after work today and its completely sold out on all sizes. There's a good 10-15 people in line to try the band. I haven't seen an interest like this with a fitness band before. Funny because beside the Microsoft band are fitbit band and nobody cares.

Got a medium from the Microsoft store in the Woodlands as they opened. There were only 2 of us looking at them that early so I'm not sure how the crowd was in the afternoon. So far I'm loving it.

Thank you for posting about the Galleria store as I was told by my rep that of I couldn't wait until the grand opening of the Microsoft store at Baybrook I could get one there. I won't waste a trip

I ran into Glendale Galleria on my lunch and bought one...they said they were almost out by 1:30pm and that even didn't realize the watch was launching "early" last night. They told me that the watch was supposed to launched at midnight...but it was leaked early. I got one!!!! It's pretty sweet!

I grew up in Glendale. Nice....

I hope they make a make a different design.

Cool. Nice everyone loved it so. Commercial were good too.

What did they have like 10 per store? Lol. I really can't see spending $200 on this. Maybe $50.

I hope you don't get into bussines studies. You would suck at it. if you think 10 sensors and built in GPS cost 50 bucks

Always one. I bet he also complains about the $0.99 menu at McDonalds cost to much.

Yes, and the Surface Pro 3 should be $250, lol.

Who do you think this is a moms and pop operation. It Microsoft tech giants and they are giants. First of they had way more then 10. I'm not sure the exact amount per store my guess would be 40 of each size.plus there also sold out online and nobody now how many Microsoft had for there online store but it wouldn't surprise me that the sold 100k unit if not more. A tech giant like Microsoft would have no problem getting that many this fast. And since nobody besides Microsoft know when this went into production there's no knowing how many they stockpiled before launch but it was was more then 10 per store. Also its worth every bit the two hundred dollars. Just with the Cortana integration by its self but what you looking at is a fitness band smartwatch combo.

Hopefully MS expands sales to major retail channels like Amazon, Best Buy, Wal Mart and Costco.

Your ignorance is plentiful.

Yeah, right. So they should price it 2.5 times lower than the fitbit flex which doesn't even have a screen? Keep dreaming!

I really like the concept but for me the price is out of my range. I'm sure the price will drop in the future though.

Bought mine from the Santa Monica store today at 11am... Store was dead I was one of the few who was there to buy one... LOVE it so far, exceeded expectations my Pebble Steel didn't!

Crazy idea, do this for the phones. Announce and have them in the store for all carriers the next day.

Lumia 1030 Snapdragon 805, 2k display 3200mah battery, shoot 4k video With 41megapixle sensor, plays 4K videos, with a fast camera module and Slow motion capture USB3.1 OTG/HOST , audio USB and all others.

I love your idea for the 1030 but gosh this is Microsoft we may never see it. Maybe some of the partners will buy it from them and build us one.

Can't happen. FCC filings are done during the R&D stage, so the word leaks out about phones. IE: McClaren. Watches are essentially relays that use the phone's cellular network, so no filing needed. Hence the fast announcement to launch turnaround.

Just received my shipping notice so I got in under the wire! Reports of long lines and sold out inventory may be a good omen, both for the success of the device and potential expansion of markets.

I'm a believer that watches should be round, but with MSFT's band, it seems that by not trying to look like a watch, it ends up looking better than all the smartwatches I've seen so far...

Mine is in the mail on its way!

And they think that it will not sell outside of US??? Pffff. Try Worldwide shipping and you will see. But Microsoft just think on US. Sadly!

Who and where said they think it would not sell elsewhere?

Mmmm thats why the product is only on sale in one country first. Thats marketing. If not, what's for? Why do you think Microsoft doesn't offer worldwide shipping?

Maybe, just maybe it is very expensive to launch internationally. Also, when you slip out news at night about a new product that will launch the following morning, its pretty hard to gauge the demand. In fact, it is hard to gauge the demand for any new product regardless of hype, but with literally a few hours from announcement to launch, how do you honestly believe they will know how people will react to the product? They aren't mind readers, and they must be cautious when entering a new device market. It will go international, go breathe a little, and remember that just over 24 hours ago, your life was perfectly fine without the knowledge that this device even existed. I promise you that you will be fine! Patients is a virtue.

Believe me...Im very patient. Is not urgent for me to get the band. But there are some things about Microsoft marketing that I will never understand. One example...Surface.

They haventshipped every
Where because in different regions they need different language support. Cortana doesn't work everywhere yet so they would have to make different ads targeting different markets. Its not as easy as telling the marketing group to code different languages into the band and ship them. There are a large number of factors.

I really don't think that the problem is Cortana. Android and iOS doesn't have support for it.

I could imagine that they wanted to test the market first. Or maybe, as Cortana also works with this band, they wait for Cortana availability in more countries.

That cant be the reason, since iOS and Android don't have Cortana anyway.

I tried to buy one today. They didn't have my size

Kudos to them in the very oversaturated "pedometer and heart rate!!" device market. I don't know how thye did it, but I'm surprised given the crazy crowded market for these things. Everyone makes one now a days. I wear a Fitbit Zip and Moto 360. My phone also counts my steps. EVERYTHING IS A PEDOMETER!!1 (and yes, I do realize this band does more than that...save your keystrokes)

I'll still waste the keystrokes... My wife has a FitBit which is basically the same simple accelerometer in your phone. This is a different league. For $100 more you get a massively functional device for less than any of the competition. My order is placed...

Loosely translated: I don't know how they did it, because all the other devices can already do this. (by the way the other devices can't do this, yet I'm still mystified and I don't want to hear your explanation) :)

Hurry up and release in Europe in particular uk, I've been waiting for this for ages!

Thank God mine just shipped!

They did this by simultaneously releasing the cross platform apps. Then, they announced that those with competing devices, called partners, would also be able to use the data cloud and apps. They also announced this week that they are working with FitBit, so those devices and apps will benefit as well. This is the new model. Be inclusive.

Without real numbers this doesn't mean anything. All it means is they might have sold 20K units.

This thing doesn't have any advertisment, annouced late at night and released today. I think 20k is a good achievement for MS

Or it means they might have sold 500K. Why is the Debbie Downer perspective more or less credible than the fanboy one?

https://www.youtube.com/watch?v=IJ_R-G_i4Xk

I would not be surprised if the number was at or less than 20,000. I think the lack of advertising, exclusivity to MS stores and USA, and selling out within one day point to them intentionally making a limited initial run to get it into tthe hands of enthusiastic early adopters so that they can see if anything needs to be tweaked before a larger release later on (Maybe Black Friday?)

Its about being realistic. 500k? Don't be stupid. Even stuff like the 3DS only sold just over a million in the US at launch day.

Yes, 500K is equally stupid as "might have sold 20K." You missed the point--it was about Debbie Downer, not specific numbers.

I ordered mine at 11:04pm CST on the 29th. Still says in process... and I got 2 day shipping. I was really hoping to see the shipping email today. :(

Me too... I guess they are very popular!

What size did you order? From the comments, it appears that the small and medium sized Bands are the quickest sellers. I ordered a large last night around 11 Central time, and got my shipping confirmation early this afternoon. Hopefully, you'll get your notice soon.

Me too - mine arrives tomorrow between 9:30 and 1:30 per UPS.

The Microsoft Store is very slow on shipping. I had 2 day shipping on a computer, and it was over a week before it left the warehouse ... which is when the shipping time starts. It was "in stock" and on the shelf the whole time.

I called to see how many my local store had at 10:30 AM yesterday (getting a small and large for my wife and I) and then the sales rep said well you can just order through me and get it tomorrow with free overnight shipping so I figured that'd save a trip to the mall. This morning rolls around only got a tracking # for my wife's small (which hasn't updated yet to actually show when it will be delivered). I call up the sales folks at 3pm this afternoon and the customer service said "I'd have them this weekend" - believe it when I see it. Just sucks if I would have known I wouldn't have ordered on the phone and would have just gone to the store - never again.

I honestly doubt they had much supply. Could be wrong though...

Got mine at the Florida Mall in Orlando. The other Orlando store and Tampa stores were sold out - but this store was pretty well stocked.

Omg I love that place. It's funny how the Apple store is right next by and it's sooo crowded. MS store is so chill, has places to sit, and the workers give free soda and juice. I am going to get mine on Black Friday.

Apple has built a rep as THE place to go buy the coolest consumer gadgets over the last 10+ years. Surface Pro 3 and Band are a good start towards getting people mentally oriented that way towards Microsoft.I think having a Surface Phone could be a tipping point if it's absolutely cutting edge tech and top of the line specs.

Yupp they should come to know how good are Microsoft products and how stupid is android products.

Does it work with Lumia 920/

Hey, yes it does. I have my band connected to my Lumia 920 and all notifications, Cortana, etc. all work perfectly.

How accurate are the sensors? Heart rate in particular...

Very accurate from my observation. Takes about 5 seconds to 'lock' onto your pulse when you put it on. Haven't noticed a difference with the sensor on the inside out outside of my wrist, but it's MUCH easier to use with the screen on the inside. Steps, mileage, and calorie burn are all more accurate than my fitbit.

Wow....it really sounds like Microsoft have batted this one out of the park. I wish it was available in the UK. The notification system alone would be worth it for me....so to have all of these accurate sensors giving me fitness insights is just the icing on the cake.
Thanks for the feedback

I got mine at the Lexington KY store (large kiosk) tonight. They still had all the sizes as of 7:30, but I didn't ask how many. Said they've sold alot.

I'ma get on Black Friday.

#ILoveMyMicrosoftBand #♥CortanaOnMyWrist♥ At Roosevelt Field store in NY they sold 7 during my purchase. They must've sold out; I was there shortly after the doors opened.

I got mine this evening in Delaware. It looked like they had a decent supply.

Nice to see these new gadgets catching fire, remains to be seen if this trend will get the couch locked off their assess and actually get fit!?.

Got one today at Tyson's Corner MS Store and loving it! Top shelf quality. MS team really did a great job.

This is a big chance for Microsoft to make a splash in this market. Hopefully they get more ready so more people can get their hands on it!

As soon as I get the Cyan update from those Fcker at Verizon I am getting one.

Perhaps, but I rather wait for Cyan so I get all the benefits like Cortana....Anyway, I can't even download the Microsoft Health app on my L928 because its needs WP8.1 as per the store.

Just get Developer Preview.......!

+1520 to Dev Preview, very stable!

plenty off them at my local store. picked one up myself.

This is great news. It looks like Microsoft has a hit on its hands. Microsoft seems to be on a roll lately with their hardware. Hopefully, the next high-end WP device that they release will get this kind of attention and more importantly, the sales.

I'm really surprised how they pulled this off. It's not like we were all waiting for it, at least I wasn't.. Heck I just heard of it before bed last night! Kudos to the team!

Okay, here is how it worked. Announce the device, release and run a convincing advertisement and in less than 10hrs, roll out the device. Know what the implication of that is? Yes, no time for critics to rationalize, compare, contrast, pre-review, even the arch rivals have little time to reel out articles watering down the device which means no time to decide on "not getting one". The only way therefore to experience what the advert says, other than from endless pages of phantom reviews from critics, is to have a concrete feel of the device i.e. owning one. And plus the fact that you don't need to rationalise so much before giving out the moderately affordable $200 price tag (in contrast to a cut-throat $500 iWatch), it becomes a big hit even to i-Robots and Androi-medas. It's simply the element of surprise that MSFT used on this one which to me is nice. A 3 month window period between announcement and release would have given ample time for fans and critics alike to have a field day of mud-slinging at MSFT's idea of a smart watch let alone the device itself, the exciting expectation of which will have been DOA at the end of a 3 month waiting period.

It's also possible that they just made a great product that hit the sweet spot. :)

@xan You are so right on this. Don't give those anti-microsoft asshile reporters a chance to review it. I have said this many times, never send walt mossberg, john gruber a review unit. Instead send those people a note, please don't review our product. You can have many good reviews but a few malicious reviews could ruin a product. I don't know why those asshiles have a right to exist in tech world.

I didn't waste any time and ordered mine asap last night. Glad I did!! They should definitely do launches like this more often!

Ip67 reading 1m for 30 minutes under water.. So one can do laps in swimming pool? Can it do well in the shower?

Its not waterproof, just water resistant (splash proof)

Should get the Windows Central team on that one. Take a shower, go for a swim, let us know if 1m for 30 is accurate ;)

Heard this story before. Is it used to drive hype?

I would hardly think so. It's pissing me off because now I gotta wait to buy one. Unless later today more is in stock, I think it's not a hype thing but a 'lets see how well it's received' thing.

Mission Viejo, CA store was sold out of medium and small a little past noon. No lines and most of the workers were helping peope with other stuff. I have had good buying experiences at Microsoft stores in the past but this time it was not so great. Thought about letting them know where they failed with the experience but left it alone. So far I'm loving the band! :)

The great thing is, I've got a hunch (I'm always right :P ) that when this comes to the UK, it will have black or white colour options, possibly orange or green too :D #wishing

Picked mine up at the Valley Fair mall in Santa Clara this afternoon. They had a bunch in stock. The Silicon Valley stores tend to get a good supply.

Around what time did you happen to go? I called at 7 they said sold out of all sizes.

Couldn't get one this evening, so disappointed, can't wait to get one! Leaving my Fitbit Flex behind for this :)

I hope I'll be able to buy the band here in Qatar.

Got mine from Oakbrook (Chicago) in large this afternoon. They were sold out of small and med. Got home set it up went to the gym had a guided workout that kicked my butt, saw the data showed my wife and now she is pissed I did not get her one. I have to say the guided workout was awesome,just like a trainer with out the cost.i figure if I use this 4 times I break even.

I think it looks pretty sweet by no way I'm paying $200 for it.

Just bought from the Microsoft store. Enjoying it so far.

I am a bit displeased that after buying it online only minutes after it was released, my "2Day Express Delivery" is turning out to take 4 days, so no fun with the new toy this weekend.

Hey everyone, I'm really loving this band but what I realized are 2 things: 1, emoji do not display on the band screen. 2, Asian foreign languages (at least Japanese) don't display either. Both emoji and Asian languages show as rectangles on the band screen. I know this is a U.S. item but maybe in the future both will be enabled through updates. That will be nice.

Guess this points to getting it out the door and create awarness befoe Apple Watch hype.

I'm not entirely convinced that the Watch hype will translate into sales. Cross shopping between the two is debatable. More so, there is the question of whether people who love watches will want an Apple Watch. Apple is trying to reinvent something that has had alot of time to become the curated product that it is. Those who love time pieces tend to be a different breed. The Microsoft Band is something else. It is truly additive and complementary from a utilitarian point of view. The Apple Watch could sell like hot cakes but if it does, it is unlikely to have an appeal to someone who invests thousands in a TAG Heuer. It's hard to say but if anything, I don't think that Microsoft released this before it was ready. Language support outside of en-US wouldn't be a top priority for a US only launch.

I got my MS shiping email earlier today. That means mine is coming on Monday.

Glad I live close to my store in Corte Madera... I left the office to buy two after watching Daniel's unboxing... Then had to return the small for a medium for my girl... I tried the medium in store, but purchased a large... If you are ordering online, please print the fit guide so you will get the right one.. the first time. We are loving ours... Cant wait to use it and let it tell us what we "dont" know and help us where it can. I love the GPS built in and the notifications already. Thoes to things alone help me where I do not need to take my phone out. My girl loves it and she has it paired to her iphone. Oh yeah unexpectantly... I now use Cortana whereas I did not before. I can just tell her to text, call, etc and it is done without taking out my phone... Of course, making a phone call is only good for in the car or when I am wearing a bluetooth earpiece. I dont need a smart watch.. What I wanted is what I got... A really helpful and integrated band.

Now this is how MS has to launch Surface Phone in 2015. Just *boom* announce it and the next day it's on sale.

Short supply + high demand = Apples strategy! They finally worked it out! I'll definitely be getting one as soon as they are available in Australia.

Except Apple never has a short supply. They just have so much demand that it makes any supply "short".

That silly Mac Pro cylinder thing had short supply.

They seem to have plenty in San Diego. Picked up two today.

I hope they'll announce Xbox music sync. Fit it surge has it

I can sell my now if anyone wants from me but the price..... Haha

Mine will be here tomorrow by 3 PM.
Along with my Microsoft Display Adapter Miracast thing.
Nice.

ohh approx 12,000₹ oh costly

Portland Oregon sold out all sizes by 5pm

A month ago I walked into a Verizon store with two friends. I bought a Lumia Icon. My friends bought an iPhone and an Android. We have these paid for by work and were told to do nothing that would void warrantees. Would anybody care to comment on which of the three of us bought the least compatible phone for the Microsoft Band? Just curious if my guess is right. Which two of the three of us bought the phones that CAN work with the Microsoft Band without installing anything that affects the warrantee? Which one of us has the only phone with an OS that cannot fulfill that? Any takers? Anybody? I'm sure this forum is full of folks who would love to take a guess. Windows fans and all...

Dan has already confirmed that the band works without needing the Cyan firmware. Grow a pair of oaks and install Dev Preview.... If you ever need warranty support, you can just use the Nokia software support tool.
(Here in the UK, I have had warranty service on my 1020 even though it had Dev Preview installed).
Yes, the Icon situation isn't ideal.... But it isn't the crisis you make it out to be!

I know what you are saying spinzero. But wpcamand makes a fair point. Microsoft needs to invest time and energy in it's own customer base. I realize the numbers are tiny compared to Apple and Android customers, but they are trying to build a loyal base and this is not the way to do it. I'm not so sure how hard it would be to add a few more people to the development team and make this stuff work with WP8.

I am guessing that this isn't available for WP8 because the software API's just aren't there to allow it to work...
WP8.1 has surpassed WP8 in market share....and there are now only a few devices that don't have the Cyan/8.1 upgrade path open to them. ALL of those devices are eligible for Developer Preview though....so EVERY Lumia device can have Microsoft Band support....
Camand's user case is quite unusual because his business says he can't install Dev Preview....and Verizon are uniquely bad in updating Windows Phones...
I don't think Microsoft should commit developer resources for such relatively unique user cases. Verizon are the ones at fault.

Right, it's just a numbers game. They clearly felt it wasn't worth the effort. As far as the API argument; Well they wrote the API, so they could enhance it. It's not a hard obstacle the same way it would be for supporting an older version of iOS. At any rate, it is what it is! If you want to use the WP platform you need to be prepared to act like an early adopter. In a very real way, WP was still somewhat of a Prototype product until WP 8.1. To me it only now feels "finished" and stable.

True.
In all honesty, if WP8 is the price one pays for being an early adopter, I'm happy to have paid the price. My 1020 has been great...and has given me priceless photos, new music (via MixRadio), and a personal feel that I just haven't ever had on iOS or Android.
The Band, the unified Windows 10 ecosystem and the unlimited OneDrive space for Office 365 subscribers tells me that Microsoft are now a real force to be reckoned with. That will surely be the shot in the arm that Windows Phone has been needing!
Now Microsoft, give me a 1030!!

Are you guys missing the point where his employer (who paid for the phone) has told him not to do anything to void the warranty. Microsoft is treating its own product like a 2nd class citizen. Kind if like OneDrive for WP cant be pin protected, yet the android and iPhone version can.

I think we get the point bushrts. Personally I agree. But we're saying they simply made a calculated business decision with their choice and thought the numbers didn't justify investing in support of WP8. If we don't like it we can go buy an iPhone. But I guess MSFT is betting we won't. No sense complaining. If anything I think customers using Verizon should start thinking hard about options to move away from them. They clearly are not committed to supporting their WP customers.

Lay blame where it belongs - Verizon.

Just checked one out in person. Best fitness band I've seen yet. Getting one next month. Fortunately our Microsoft store has them in stock.

Nice! Whens India getting it?

Okay..Ive been using this thing for about 6hrs...its awesome. Love the detailed data. I'm using it with my fav Lumia 925...its pretty cool. It seems so simple at first...but its pretty deep. Haven't been able to get Cortana working yet....but I'm sure its something I've overlooked.

You need to have installed all of the latest Dev Preview updates in order to get Cortana working (oh, and make sure the Band is set to work in the background via battery saver)

Strange things do happen, bring out a ohone with MS will the momentum is still there! Sure the stock was very very limited, no wander it was for NA only. A good band markets itself; interesting to say the least.

I wonder what percentage are being bought by WP users. Could be the iphonies and Android people buying them up..

IPhone users are I interested from all accounts I've seen. My girlfriend has one and she is an iPhone user. From online, I see many comments from iPhone super fans bashing the device, but for the most part people who were not really interested in wearables are looking at the band. Being first may just be a great thing and the secret lunch created buzz. Apple watch desirers are bashing it for all the wrong reasons that band buyers/admirers are loving it. The fact that Microsoft can really compete with android and apple wear due to the fact that it is cross platform is key. If they eventually allow the band to work with siri/GYalk, there will be no real excuse groups of people can't and wont have the same band, the same experience , different phones. Shoot, the phones take the back seat. Or pocket.

Siri has limited extensibility and Google Now (assuming you were referring to this and not Google Talk) may have similar limitations. On the other hand, I firmly believe that Microsoft should release Cortana on other platforms ASAP.

I went to the Microsoft store in Columbia (MD) and they were out of smalls :(

I bough an lumia the other day (an excellent phone), just because i was short to get the samsung s4. The thing is that, looks like i'm not on the looser side of smartphones...i hope..

Re: Alexwinphone,
Welcome to the "Windows Phone" community.

By the way.
What quantity MS had for Ms band in the stock?

All 1000 sold out. Pffft unless they give us sales numbers who cares? C'mon have some balls be honest!

How would sales figures affect the quality of the product? Amazon doesn't report sales figures for Kindle, Apple reports on iPhone and iPad but they bundle all of their Mac sales into a single figure. Consumers have seemingly become obsessed with unit sales figures but to what end? Are you concerned about support? Are you rooting for the MSFT team? Are you a shareholder? I just don't get it. If you like it, buy it. If you are not an early adopter, wait. Seems pretty simple to me.

Will the band have hot fixes, service packs, and BSODs? I am waiting for the 2nd generation MSFT band.

While we all understand waiting for "any" v2 product usually nets a better experience because they learned and built on v1... But the bsod and such remarks reeks... But if that is what you truly are afraid of.. Ok.. I personally have seen break/bugs/glitches on every device no matter the platform. Not one is more notorious.. The user is almost always the problem verse the hardware... So I would hold back if I knew I could potentially mess something up too... But with the band... There is no need. It is easy to use, fine workmanship, and very relevant. If in fact your excuse to wait is funds or lack of belief in product relevance... Wait y do I care?! I fell for it... Back to enjoying my band!

Desperately need a XL size!!! Their Large runs small. Need it for us big boys and girls...

If you're so big, you need to get off your ass and lose some weight before you can step into the band arena. There's levels to this shit :)

So, I guess that all the guys in the NFL who weigh 250 and run a 4.4 second sprint are unhealthy? Furthermore, if someone is notably large and unhealthy, this would serve to better tailor workouts and minimize risk. If he says that he wants an XL, who are you to say that he shouldn't be able to have one? That is presumptuous and disrespectful at best.

I know. But it got a laugh out of Kaymd

If that is what you were going for, you nailed it.

Indeed, as im not normally a troll

It's cool man. Just believe that health and fitness shouldn't be limited to a select group of people.

I got mine today at about 3:30 at the woodlands store. They still had several smalls and mediums, and a few larges minus the large that I got for myself. Loving it so far.

I got a medium band today at the Microsoft Store in Century City. The salesperson said they were unprepared for how popular it would be.

Lol, that's what my local store said... They sold out of small and medium's :(

wow, that is really impressive not surprised though. The band as MS called it is one product that I think they got the name right this time considering how MS gives awful names to their product. Another factor could be the device working with all platforms. Android, iOS and Windows, not sure about BlackBerry though but wish it was supported. The price too is not too high considering that of its competitors. Good luck MS with the band.

Surface isn't awful name its and its a Microsoft product. Ppl should realise potential of a Microsoft product which it really is.

I don't understand how these are selling for $200 when I can do the same things with my phone, but good job to Microsoft for pulling that off.

Dude you missed the point its so you don't have to have your phone on you and your phone can't record your heart rate or measure your sleep patterns have you even read what this thing does or just comment first learn later?

There's not going to be a situation where I am not going to have my phone on me, so that point is moot. It can definitely do a lot, but still not nearly enough that it's justifiable to not have your phone on you, so anything it does that your phone can also do is now redudant (I mean, it can't even play it's own music as far as I can tell). Recording your heart rate takes 6 seconds for a good estimate or 15 seconds for a very accurate one all without any technology (I guess I should mention I'm trained as an Emergency Medical Responder so it's second nature to me). The only thing with this band that I couldn't already do with a $100 phone + $30 watch combo is the sleep tracking, but that's absolutely not worth more than my phone and watch combined.

I thought the same thing! But this thing is pretty cool and in more times than not, its that much easier just to look at your wrist than pull you phone out.

The fact that it can track my run without carrying my 1520 is the feature that convinced me to buy this device.

Definitely can't wait to buy one. I'm very interested in it.

GOSH IT IS OVER 400$ ON EBAY.COM

That's where all 50 of them went.

Haha, you are so funny! /s

I live in Sweden and tried to order one for several hours yesterday. I tried to order it and use reship.com to get an American-based address which seemed to work... at first. After a while I received a mail asking me to contact MS Store to sort out the problem. They spent about 15 minutes trying to manually register my purchase but MS Store could not accept my Swedish VISA card for some reason. I then tried to order it by using reship.coms service where they place the order for me, but Microsoft does not allow them to buy anything because they deliver their gods outside the US. I cannot understand why Microsoft is constantly making it so hard to use their services and products as a foreigner. Since I got my first Windows Phone it has been a constant struggle to bypass made up barriers to use the features that makes the OS unique. I don't know how many hours I've spent comparing features by changing region, regional format and language as well as trying differenct accounts registred as Swedish, Britsh and American to find out which settings/account to use to get the best out of Windows Phone.

Man I fully understand you. Generally speaking I DO hate thus regional and language specific stuff. They should allow us to choose. You want you mother tongue country of living, you can. You want a more general/maybe English or American version, you can. No, all of them force us to be like they want us to be. This drives me crazy...

I hope that they will release it in Germany as well once Cortana rolls out here. Nice product!

this is Microsoft's 2nd entry into the wearable Watch type device. the design is nice and futuristic but looks a little chunky to me but you have to forgive this because it's packed with a lot of sensors. The next model no doubt will have a curved screen that will wrap around your wrist and will have smaller sensors and will be slicker looking. this device and the Surface 3 class Tablet/Laptop Hybrid computers are putting Microsoft in the minds of a lot of People as a company that is making cool useful Devices. Microsoft however needs to make a really cheaper Atom CPU Surface full Windows 8.1 / Windows 10 class tablet that sell for under 450 USA dollars to really break into the tablet market. Current Surface 3 Tablets are great tablets but cost too much to a lot of People.

Microsoft aren't targeting poor people Samsung have 80% of smart phone market and almost no profit what's the point?

Not surprised, this thing is a killer deal and better than the competition imo. Will get one the day it comes into the uk!

Shame Windows Phone doesn't sell like this.

To people that actually own the Band: Question: I have 44 mm wrist height. Shall I go for the large one or medium one?

I'm in a similar range, and went with the large so I can have some play with sizing.

It's an excellent price, a price that will attract impulse buyers. Would love to see mobile phones flying off the shelves like this! Now get out to England. And maybe make it waterproof!!!

Damm not available @ Portugal

Slap on the face for all those smart asses who said it wouldn't sell!!!

They probably made 20 of each :P

Hopefully enough of a sign that people are interested for Microsoft to start selling these bad boys world wide (UK)

I need to wait til next Friday (paycheck)

Cross platform and GPS are the big wins with this. Nothing worse than changing phone and losing compatibility of a raft of devices.

Linking to a picture of a line outsider the Bellevue store isn't indicative of too much since it's close to the main Microsoft campus. I bought mine in Charlotte about noon, and they did sell out by around 4 (I asked them later, and as someone above commented similarly). But since Charlotte is also near another Microsoft campus I was scanning the comments above to see if other stores were selling out also. And it appears they were (along with the online store). So I would say it went pretty good, no matter what the allocation as it certainly could not have done any better based on their current plan if they are out. Obviously it could have done better if they planned bigger and still ran out, but per the plan it seems to be doing well. I like the device, I need the help :) so I hope it stays on my wrist long enough to validate the extended warranty I bought.

This is a great sign! I hope this gives the product some momentum to release in the UK!

Do we have any actual number of how many were sold? Information on international availability would also be great!

Go check Ebay, I'm sure you could get one there for $399.

Yep, the usual vultures bought them to run off to Ebay. Plenty available for hundreds more than it actually costs.

The was a five unit limit in San Diego.

There are ways around that.

I'd be interested to know the breakdown of sales by Windows Phone, Android, and iOS. I suppose number of app store downloads would give a pretty good idea.

Me too, as I suspect it is not WP users who are responsible for causing them to sell out. This is good for Microsoft but bad for Windows Phone IMHO. This proves to the CEO that they need universal services to stay in the game. I suspect we will keep seeing examples of this and Windows Phone will be relegated to budget and mid tier. That is the only market where Windows Phone could thrive.

Or, maybe people will see how much they like this, and five windows phone a try?? Just saying

I like the look of the smaller European version, with the wrapped screen.

where is this European version??? Link please. Aren't they only for US now?

My local store only had larges last night when I got mine....

That's good news. The CNet review was very positive. The reviewer even admitted he was a little surprised how good it was given Microsoft's track record. See, no one "hates" Microsoft really. They are generally negative but MSFT usually deserves it. if they want to solve the problem simply stop complaining and INNOVATE. Make things faster, better, and cheaper than the other guys and people will buy your stuff. It's just that simple. I also love that they are not only focusing on THEIR OS to break into this mobile market. There are lots of ways in. Sometimes the side door is easier. People shouldn't be so hard on them for creating products and services that work on Apple and Android. it's smart. yesterday a lot of people bought the Microsoft Band who use an iPhone. Now they have a Microsoft product in their hands AND if they like it they will be more inclined to consider a Windows Phone next time.

You are spot on with this. Microsoft seems to be coming to terms with consumer product development.

Lovely product. I knew it is partial product of Surface team by looking at it, because it is so elegant like Surface. But it is a bit too thick I think.

Cortana integration is still (at least for the time being) exclusively ours. Speaking voice commands into my wrist feels like a page out of a Science Fiction novel. IMHO we just one upped the fruit phone and the robot

I just called the Frisco, Texas location, but they're sold out, they're having a grand opening of a Dallas location next week, I'm hoping, if I get there early enough, I can snag one, if they have any in stock.

I called Indianapolis and was told they were out of stock. Then I went there anyways to try out the sizes and they had lots of Bands on the shelf. Not sure why I was told they were out of stock on the phone.

Its a bit too bulky for my taste, otherwise I would consider one

technology is just not there yet to make a "Dick Tracy" watch yet. But I suspect in 5 years it will be there. It's the battery that still kills us.

SON OF A .... come on MS stop doing these tiny releases. Eh, I understand. They went all out with Zune and got burned on it. They're testing the waters. I get that. So, now that they see the demand is high, they should ship more out. Online is out of stock and all the stores I tried were out. Geeez. :P

They're going for 300+ on eBay. :( Here's waiting for a restock.

Making calls and texts with the band...is just awesome!!!

Any news on when we might see this product in UK?

And they are all on eBay with $90-$150 added to the MS store prices.

Ordered it online and was told 2 day shipping, thinking it would get to me by Tuesday (11/4). Look at the order history on the online store and states: "Ships: 11/6/2014" Come on Microsoft! That's just dishonest. If you're out of stock, be forthright about it. Don't bait and switch your customers. That just makes me want to go elsewhere. I cancelled my order... Not a fan of the whole the Apple-esque "keep supply low and sensationalism high" approach.

Haven't seen this since the Xbox360, but a microsoft product actually has a battle for a product, with a significant premium on Ebay! An example is a current auction with 16 participants that has taken the price up to $365 for the $199 band... Glad I ordered mine in time... perhaps I will just turn it around... we'll see. Pretty cool though!!!

Indianapolis still has Bands in stock!

They have loads in all sizes at Ala Mohana center in Honolulu. Picked one up before flying back to Vancouver

If anyone wants a medium Band and can't find one send me a note and I'll sell you mine. Not happy with it as there is no app like Fitbit's that allows me to track everything from one app. Not liking having to use one app for calories and steps, another to track my bike rides, and a third to set goals and track calories to those goals. Oh and dang this thing is heavy compared to everything else on the market.

went is it back in store i love one
Windows Central Newsletter
Get the best of Windows Central in in your inbox, every day!
Thank you for signing up to Windows Central. You will receive a verification email shortly.
There was a problem. Please refresh the page and try again.