Microsoft brings its Power BI business intelligence software to Windows 10 Mobile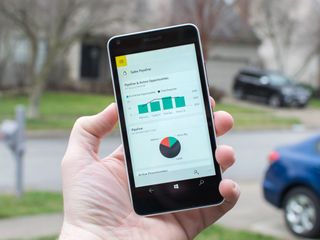 Microsoft has bought its Power BI business intelligence software and services to Windows 10 Mobile smartphones. The company has now launched the official Power BI app for its mobile operating system, which allows businesses and enterprise customers access to its data gathering and anaysis tools.
Microsoft says:
Microsoft says it will update the app for Windows 10 PC and tablet users in the near future.
Download Microsoft Power BI for Windows 10 Mobile (opens in new tab)
Source: Microsoft (opens in new tab)
Look at that; A Microsoft product finally makes it's way to the Microsoft mobile OS.

Chairs will go airborne at Nadellas office.

Here's some irony (consistency?): PowerBI doesn't natively connect to many of Microsoft's ERP platforms, but it does to SAP and Oracle. So much for going "all in" on Microsoft.

Business phone confirmed!!!

They better get moving with their productivity apps for WM if they want business to use WP

Lol :) Optimistic....I like it :)

Typical. So typical. I can't login using my Microsoft account. What am I missing?

go to powerbi.com and signup for free first.

Got it, many thanks. They might want to mention that by "account" they don't actually mean the MS account, rather the BI account.

BI is a paid product but you so you need to activate it first obviuosly but it can be tied to your personal Microsoft Account if you want. Same as with Azure.

This is IMO the best product Microsoft has on the market right now. It's so sick it pretty much feels magical.

Except if you're on a Microsoft ERP like Dynamics GP, SL or NAV. Works great with SAP or Oracle though /smh

I guess it depends how you use it. I'm running a small business and don't need something as complex as any of those complete systems you've listed but I can easily import stuff from Excel spreadsheet to B1 and analyze it for literally cents to create forecasts and other data - and it's so easy to use.

You're missing the point. Windows Phone isn't the only user base MS has abandoned.

Are you saying Power BI doesn't work with Dynamics?

Doesn't work on Dynamics GP, NAV or SL. GP has the largest installed base of all the MS ERP platforms. It does work on CRM, and possibly AX, but that's it.

This can be installed on PCs/Tablets now.

OK, my apologies for being simple. Could someone tell me how to sign in? Explain everything, like I'm 4 years old.

Really great app..Its really helpful to growing your business.

Finally!!!!! I mean 6-8 months later than all other platforms!! I guess we should thank you Microsoft...
Windows Central Newsletter
Get the best of Windows Central in in your inbox, every day!
Thank you for signing up to Windows Central. You will receive a verification email shortly.
There was a problem. Please refresh the page and try again.