Microsoft is building a 'news and weather' widget into the taskbar on Windows 10
At-a-glance weather and news is coming to the taskbar on Windows 10 starting today for Windows Insiders.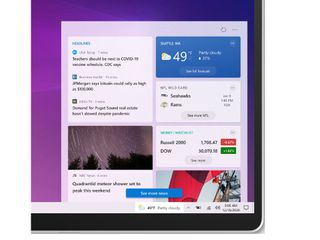 (Image credit: Microsoft)
What you need to know
A news and interests widget is coming to the taskbar.
It provides at a glance news and weather info.
Is available today in the Insider Dev Channel (Build 21286).
Today, Microsoft announced that Windows 10 would soon be getting a news and weather widget integrated into the taskbar, giving you at-a-glance weather and news information with a flyout interface that provides a more detailed overview. The new feature is part of Microsoft's Sun Valley effort, which aims to reinvigorate the Windows UX with new features and designs.
The feature is officially called "news and interests" and can be found to the left of the system tray on the taskbar. When minimized, the widget will show you the current weather and any news alerts. Clicking on it will open a flyout with an ad-free experience showcasing the latest news, detailed weather information, and more.
Today, the feature is available in the Windows Insider Dev Channel (Build 21286) and will roll out to the public later in the year.
Microsoft highlights the following features as part of the news and interests widget:
Staying up to date: Quickly glance at your news and interests directly from the taskbar. Get caught up on the latest headlines, weather, sports, and more, then go back to whatever you were doing without disrupting your workflow. You have convenient access to news and interesting content from over 4,500 global brands such as The New York Times, BBC or The Verge, and gorgeous live weather maps. Select an article to open a streamlined reading view with fewer distractions, so you can save time and stay focused.
Personalize your feed: You can tell us which content you like seeing or don't like seeing (select More options … and choose "More stories like this" or "Fewer stories like this") and over time, more stories about the things you care about will show up in your feed, including ones you might otherwise miss. You can also use emoji to react to stories, too.
You're in control: At Microsoft, we believe privacy starts with putting you in control and giving you the tools and information, you need to make informed choices. Through news and interests, there is quick access to the Microsoft Privacy Dashboard. Through the Microsoft Edge browser, there are built-in controls to limit tracking from advertisers and third parties. And if news and interests doesn't appeal to you, you can easily turn it off by right-clicking on the taskbar.
Users can choose to hide the feature if they prefer not to have an information ticker in the taskbar by right-clicking it. Interestingly, the feature requires the new Microsoft Edge to be installed to function. Without it, the new feature doesn't work. We're expecting many more features to show up for Windows 10 in the coming weeks, including a refreshed design with rounded corners and more.
In the meantime, what are your thoughts on the news and interests widget coming to Windows 10? Let us know in the comments.
You can learn how to join the Windows Insider Program in our how-to guide and more about today's announcement from Microsoft.
Zac Bowden is a Senior Editor at Windows Central. Bringing you exclusive coverage into the world of Windows 10 on PCs, tablets, phones, and more. Also an avid collector of rare Microsoft prototype devices! Keep in touch on Twitter: @zacbowden.
This smells like a Windows 10X feature compensating for the lack of live tiles there. Perhaps also preparation for removal of live tiles at some point down the road?

Yeah, I think this the first step towards transitioning away from live tiles. News and weather were the two live tiles I'd miss most, without something like this to replace them.

Definitely feels like a 10X feature. I love it.

I love it also. It looks very beautiful.

It does make more sense here. The problem with Live Tiles is they live in the Start Menu, which most only go to open Apps.

Are you saying that most people will open this feed more frequently than start menu? I doubt it.

I think he means that users will see it more often here on the task bar than other start menu.

Well this one actually have similar to Live Tiles, but just lives on Taskbar. Actually they can really do this with existing Live Tiles infrastructure I guess, it just that they stopped evolving it since last few Windows 10 releases. At most we just got Jump List support which isn't really new to Windows. For me, they just have to reuse Live Tiles system and give it a new home. Allow to out on Desktop and this one on Taskbar. They make it as a widget, which is already been a requested feature since they introduced Live Tiles. Making it a widget is a final evolution of Live Tiles, the rest are just moving it a new home and looks.

I would like that aXross. Hope they do it that way

@aXross I've been harping on about the need for flexibility for live tiles for years lol.... I'm glad they finally are adding this or re-adding features (depends how you look at it, especially if one is familiar with windows 7 widgets/gadgets.)

We will see how this goes. Now I can't even test this due to this stupid A/B Test again. Apparently not everybody will get this and able to test. But yeah, I wonder what is the unified direction they will take. At the moment its kinda convoluted now with this and Live Tile still exist. For me, just make the Live Tiles add interactivity and make it as a widget and allow ti pin outside Start menu and be done with it. Apple manage to catch up who used to have the most static homescreen for ages (not counting Mac OS who already have widgets long time ago).

Also, it's a nice pace of change to see so many screenshots in the new build blog post. Hopefully a sign of more to come.

Why are people obsessed with the news. It's all bad news. Moths to a flame.

I might actually have to start getting the cutting edge Insider builds again. Hasn't seemed worthwhile for a long time, but this looks like it's going to be a fun year for Windows development.

I don't get it. If you want widgets just install vista and you'll do one better with aero

@Hiswona "just install Vista" you say... you daft man? 😜
Who in their right mind would deliberately install Vista when they could install 7 and use gadgets. Not to mention all the other caveats that comes with Vista and 7.

And the sport widget, and porn widget, how about covid19 widget?
Panos is bringing his android laucher. That's what he needs to run win32 on android

"And the sport widget, and porn widget, how about covid19 widget?"

You have some weird hobbies, but I commend you for being so public about your interests. You do you, bud.

Ah I'm sure there will be some crackers for you too Dan.
Just imagine the Bill Gates vaccine for Africa on the covid 19 widget.
Can you imagine the rollout of this build. Will go absolutely viral

What about the dumb slippery slope comments widget?

Glad to read this note, my taskbar is full enough! - "Users can choose to hide the feature if they prefer not to have an information ticker in the taskbar by right-clicking it."

Amen. I already enough ways to get news. The News Live tile would actually make sense if they re-established deep linking. Then if you saw something that caught your interest, you could tap it and it would go to it. Live Tiles are pretty broken. Constantly have the Mail tile show a preview of a mail I deleted hours ago. Real useful

"" Preview of mail you deleted hours ago."" This happens when you delete the mail in another app. Mail app does not sync inactive. Will only realize the mail is deleted once you open the app. Its not a broken tile.

This looks ace and long overdue compared to other modern operating systems. 2021 is going to be big year for Windows. The Surface Pro X is only going to get better when all the changes drop. I like the Weather app but Microsoft has relied to much on Apps when integration is better. Your Phone isn't anywhere near as good as it could be if it was integrated.

And unlike the People feature this will be useful. People only supporting Email and Skype was also a nice idea with no purpose.

It's the other way around. There is an api in place, so if e.g. Facebook ever get interested they could support it

Well People Bar lacked 3rd party support big time. Even Microsoft themselves didn't even think it exist, thus it failed so hard. I hope they can revive that and have Microsoft themselves fully take advantage of it. Make MS Teams, Office 365 fully support it, then Enterprise might even enable it on their work machine once they find it useful.

@aXross I agree, they should have extended the people hub functionality with Teams, Office 365, Dynamics, Sway and Delve. It would've been infinitely more useful especially in a slowpoke citrix environment/virtual workspace.

That's what Microsoft should have done with People Bar at least. What killed it is due to Microsoft themselves not fully supporting it. Why would third-party invest on something that the creator themselves don't even use. It's a shame really. It has a neat idea but lacked support and proper execution.

I guess this is an A/B test again as I have no option to enable or disable it

Same here. I do not have it.

At this point, I still love Windows. There's nothing wrong with a useful and practical partial or complete refresh of the OS that makes sense and makes end user experience enjoyable. I loved Live Tiles on the Windows Phone, as it made sense. The main problem, they never really flushed it out with some of those actionable features. Being able to glance info from certain apps works. Look at iOS 14. It's not that it didn't work. implementation was key and it certainly helps when you have developers that will take advantage of such a feature. Unfortunately, Windows Phone/10 Mobile suffered from that on a large scale. Many Devs barely updated their apps, let alone making apps that focused on MS unique tile features. So, removing them in Windows 10 makes sense. They aren't really all that useful in the Start menu and not useful in tablet mode/touch screen.

I don't think that this feature is in part of the plot to kill the Live Tiles.
I perceive it as similar to Skype Meet Now or My People, but it still feels wrong on a few levels.
The links are opening in Edge, not native app, and it's adding another clutter to taskbar.
The same feed is already in Edge.
I know that you can disable it, but have they actually check, how it would look, if someone left full searchbar, My People, this widget, Skype Meet Now with regular mess the tray is together?
Microsoft should focus on empowering Live Tiles, rather than creating different feeds.
It's sending wrong message that every app should create it's own feed, rather than support the Live Tiles.
The possibility to combine information from different apps into one is the main advantage of Live Tiles.
Also, Am I the only one, who don't need to see the weather constantly?
It's ridicilous, it is on taskbar, start menu, edge new page and if that's not enough than you may also set it on lockscreen instead of calendar.

"Also, Am I the only one, who don't need to see the weather constantly?" No, you are not. I am constantly amazed at all of the "weather-at-a-glance" things that are thrown at us. Besides, this is Windows. Windows 10. The vast majority of people using Windows 10 these days are doing so at work. I don't need any more distractions/clutter on my taskbar when I am trying to fix some weird SQL issue. Or whatever I happen to be working on. If I want the weather I can look at my iPad or phone, where I have a very nice and accurate Weather Channel app. Unlike the weather app on Win 10, which is always wrong because it ALWAYS gets my location wrong.

@naddy6969 Create a user account for your work and another for personal use. This way you don't have the constant issue of clutter and auto run programmes all popping up at sign-in such as MS Teams, Citrix, etc . Also create custom tool bars and minimise clutter. My point is just because you haven't taken steps to minimise your clutter. Don't disparage a feature others will find useful 😅.

Useless webview2 feature no one asked for. This is just to drive msn.com usage and ad revenue. It doesn't even respect the user browser choice yet. It opens in the old Edge. Probably will be removed in the future like my people. Welcome back 2001. https://i.imgur.com/pISxPka.jpg

Actually the fact that it is through Edge is only better, means better privacy and possibly even using extensions for it. Also you do not have to use it, it remains your choice. Nobody is holding a gun to your head lol.

I use the Start menu and the Live tiles therefore this feature is redundant; others, who for example do not use the Tiles, may have some use for it although Cortana was already covering it.

This looks great but it loses its meaning. Why click on the menu when you can just open the app?

Why not just ignore the app when you have this with a widget? And perhaps this even supports Edge extensions.

Just allow to put widgets in some confined space on desktop instead of cluttering taskbar space.

Yeah I do agree with that, even better give it as a possibility. Sort of like an overlay that is visible on both the desktop and start menu.
I do think the widget on a taskbar is a good idea as an extra option, it would be a good taskbar filler for casuals or people who type to start programma's etc.

I have been reporting in feedback to MS since Win 8 to let us put Live Tiles on the desktop so we can always monitor them. I think there must not be too many of us who care about that. At least on the Taskbar achieves the "always visible" advantage of Live Tiles from the Windows Phone design. I'd like to have the options to do both and would probably use some only on desktop, some only on Taskbar, and weather possible in both places (snapshot on Taskbar, details in a big Live Tile on the desktop).

Totally wrong Apple-like approach. First of all, I don't know why icons pinned to the taskbar don't behave the exact same as tiles pinned to the Start Menu. (e.g.: right-click quick menu on the start menu has Open new private window for Edge. The same is not available on the taskbar. There is something different in underlying functionality. totally wierd.) Icons pinned to the taskbar should simply be tiles as well for which you have the same option to switch off live tile functionality. Second. This weather and news functionality should simply be Live Tile functionality extended. Or rather Live Tiles should be a simplified behaviour of this panel for Weather and News. They should appear as fly-outs for apps pinned to the taskbar when they don't have an opened instance. These should not be hard-coded stuff in the OS or shell. Pinned apps to taskbar without instance running is perfectly good space wasted already to add this functionality to and to make it an available extension for other apps.

I like your suggestion for how they should work, but I also think what MS is showing now is better than nothing.

"e.g.: right-click quick menu on the start menu has Open new private window for Edge. The same is not available on the taskbar." It is for me.

I might catch fire for this, but my concern over the news app is the sources. The news app built into an operating system used by hundreds of millions of people should not be limited to reflecting the political views of 1 company's political preferences (or of a single content team at that company). It sounds like there will be many sources, which is great, but at least in the current MS News app (as far as I know), while it also supports many sources, you can't avoid the hard left-leaning defaults on the home page. You can add other sources, but nothing changes the curated home page view to reflect those various points of view. The only general news sources listed here are NYT and BBC, which are both pretty far left. They are good sources for sure, but should be counterbalanced by other perspectives.

@GraniteStateColin. Facts are Facts. They have no political leaning to one side or the other.

Stop whining. You can choose your news sources, just like you can with the News app.

Options are great, but the taskbar is already way too full of crap by default. It is not good design to just put everything there! Maybe they could use this to replace one of the ads on Xbox.

I'm guessing there will be tie-ins with the Action Center as well. Hopefully, this would be tunable so you could say I want notifications for Technology but not for Politics for example. So far so good as long as it is not annoying to make use of.

I'm with this Windows version, but I can't find how to activate the widget.

For those who have this build and do not see this functionality or see it behave differently than described in the article, here is the relevant quote from the Microsoft announcement: "We are also testing different variations of this experience so some Insiders may see a different experience than others. "

I want that in the start menu

Microsoft makes decisions based on aggregating your data and interests.

Is this feature enabled by default? 21286.1000 I can't find it in taskbar preferences!

I can't find the feature anywhere while i am using the latest built of Windows 21286 and edge.
Is it because i live in the Netherlands?

Same situation here... same country

option 1: click weather app on the taskbar to see all details about weather.
option 2: click action center on the taskbar (with a small! delay, thanks to incredibly amateurish coding and lack of multi thread) to see some details about weather.
nice(!)

As long as we can disable it. I don't want a news feed built into the OS. I want to choose where and when I read the news. An (optional) Live Tile would be better.

Does this mean Microsoft News Bar Beta is dead?
Windows Central Newsletter
Thank you for signing up to Windows Central. You will receive a verification email shortly.
There was a problem. Please refresh the page and try again.