Microsoft bundles 12 months Xbox Live Gold with annual Office 365 subscriptions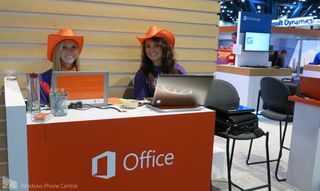 Microsoft is offering 12 month Xbox Live Gold subscriptions for free with Office 365 Home Premium and University annual subscriptions, as well as the physical boxed products. All purchases before September 28th will be eligible for the free Xbox Live upgrade. If you're yet to get the new Office suite and own an Xbox, now is a perfect opportunity to get stuck in.
You'll be able to redeem your Xbox Live code by signing in with the same Microsoft account that has the Office subscription activated. It's a sweet deal and will save some money in the long run, plus you're getting the full Office suite.
The offer is available from today in the following countries: Argentina, Australia, Austria, Belgium, Brazil, Canada, Chile, Colombia, Czech Republic, Denmark, Finland, France, Germany, Greece, Hong Kong, Hungary, Ireland, Israel, Italy, Korea, Mexico, Netherlands, New Zealand, Norway, Poland, Portugal, Russia, Saudi Arabia, Singapore, Slovakia, South Africa, Spain, Sweden, Switzerland, Taiwan, Turkey, United Arab Emirates, United Kingdom. Update: If you're in the United States you too can take advantage of this! See the details here for the US. If you guys are abroad, check the official details here. Thanks for the clarification David!
Source: TNW
Windows Central Newsletter
Get the best of Windows Central in your inbox, every day!
Rich Edmonds was formerly a Senior Editor of PC hardware at Windows Central, covering everything related to PC components and NAS. He's been involved in technology for more than a decade and knows a thing or two about the magic inside a PC chassis. You can follow him on Twitter at @RichEdmonds.
Updated...US is included
http://www.engadget.com/2013/07/18/office-365-subscription-now-includes-12-months-of-free-xbox-live/

Now bundle Xbox music too, make one umbrella subscription

Now that would be a must buy for me!

Your making way too much sense for Microsoft please stop :-I

agreed, i need a 'Microsoft Pro/Elite' monthly subscription, £40-60pa for my xbox, office, skype needs, why has this not been done already?

But how much is an Office 365 Home Premium subscription in the UK?

I just bought one last week, think I would still be eligible?

Nevermind, not for US of A

According to the rules, if you didn't buy it today through Sept 28, you're ineligible.

Right more reason for me to get it now, even though i don't own a xbox

Got the 365 university subscription for £59.99, 2 pcs, 5 phones for 4 years. Sweet!

There, all of you complaining about U.S.-only deals. You don't have to wait until August for Spartan Assault, AND you get a chance at a free year of Xbox LIVE Gold.

It looks like I got my Office 365 subscription 2 months to early...

I wonder if we can cancel our existing one, get a refund (or prorated refund), and then get a new sub to get the offer...

This is insane... give it to pretty much the whole freaking world EXCEPT your own damn country on the BIG deals, but the little things you give US only. Makes no freaking sense.

And they wonder why the entire Xbox fan base is angry at them.

Quit your whining. You know how many things MS does that are US only? A year of Xbox Live can be had for what, about $35? Hardly a "BIG" deal. A sizeable deal, sure, but it's not that huge.

Thats like 2.5 grey goose martinis! Thats a big deal. I measure everything in terms of martinis.

I looked at the actual office365 site and it shows that this deal is in fact available in the United States so disater adverted i think.
To bad this is a limited time offer. I know I wouldn't want to keep this subscription up every year just for Office. But if the $99 got me xbox live for a year and the extra Skydrive storage (two things I have anyway) I wouldn't mind the extra $30 to keep all my computers current with the latest office suite.

That's a pretty good deal!!!!

Finally Microsoft is starting to leverage their products and combine them in smart ways. I think the obvious slogan for this deal should be: "Work Hard, Play Hard".

Doesn't work with University right?

Do the girls come with it?

Office 365 girls are hotter than Open Office girls! And we got orange cowboy hat!!!

that sucks I got a subsription few months ago, should have waited I guess


Why isn't the price of office 365 included in the article??

Damn, those girls are hot. (I just wanted to be sexist prick #3)

I just made that image my static wallpaper. I guess I'm #4? ;)

http://i.imgur.com/CACbON2.jpg :)

What COMPLETE AND UTTER BS...if you already have a 365 subscription, you're shit out of luck. WTF!?!?