Microsoft begins certifying hardware running Windows Phone 8.1 for Bluetooth 4.0 LE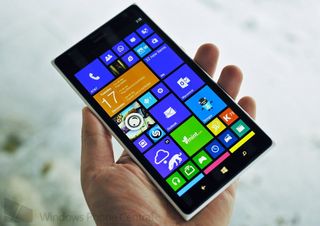 Microsoft has added another Windows Phone to the Bluetooth certification process, the Lumia 1520 ("Lumia 1520 Bluetooth update to WP8.1"). This phablet joins the Lumia 930 and Lumia 630, all certified for Bluetooth 4.0 LE to take advantage of connected hardware without sacrificing heavily on battery. The company had Windows Phone 8.1 itself certified earlier this year.
While support already implemented came from Nokia on top of Windows Phone 8, Microsoft is now ensuring every handset running Windows Phone 8.1, which is capable of Bluetooth 4.0 LE, will be supported. Those who backed Microsoft's mobile platform have patiently waited for updates to arrive, which would enable companies like Fitbit to release official apps and provide reason for consumers to switch to Windows Phone.
Source: Bluetooth SIG, via: WMPU
Windows Central Newsletter
Get the best of Windows Central in your inbox, every day!
Rich Edmonds was formerly a Senior Editor of PC hardware at Windows Central, covering everything related to PC components and NAS. He's been involved in technology for more than a decade and knows a thing or two about the magic inside a PC chassis. You can follow him on Twitter at @RichEdmonds.
Who cares ? We want apps like flash transfer & superbeam.

Like the one in Star Trek? Hahaha

BLUETOOTH, THE THING THAT DOESN'T USE WIFI AND TRANSFER YOUR DATA

Why so pushy? Ah, never mind.

Add a virtual flying saucer to that!

Actually, no, we don't. Or at least not everyone. I couldn't care less about either of those.

LOL, that was my first thought too! Personally, I do want a Fitbit app that can sync

Flash is dead. Get with the decade.

it's not flash player, i think what he meant is an app that can transfer files using wifi network, but without the internet

Well that makes a whole lot more sense!

Seems fasterest... There, I put them all together.

It seemed, it seems, it always will seem STALE, get over it already.

Like I always say, the 1520 is the gift that keeps on giving.

Cousin Eddie and the jelly of the month club xD

Will my phone support BT4.0?

Every WP 8.1 will support!!

Even L520?I don't think it would

Yes the lumia 520 had BT 4.0 before any WP had amber.
http://en.wikipedia.org/wiki/Nokia_Lumia_520

The L520 likely will support it, yes. But not all devices that will receive the update to 8.1 have hardware that is capable of BT4.0LE. Samsung and HTC to my knowledge will update their devices but they won't gain 4.0LE Support in the process.

Samsung does have 4.0 for what purpose who knows

No that is not true, only certain phones support BT 4.0. Nokia Lumia 920 and higher support BT 4.0 but none lower than that, that's what i heard atleast. I don't know about other brands like HTC or Samsung but we will see i guess.

"No that is not true,"...",that's what I heard at least."

Lol werd. Any phone built on the snapdragon S4 or 800 has the required hardware to support BT LE. W're just getting shanked by MS and the OEMs.

Every Lumia running WP 8 is supports BT 4.0

So where's the big world changing news? This :P

If its a Cortana Hologram feature. Yes that would be upsetting good news. :)

Any more negative comments, anyone??? Lol so many people seem dissatisfied no matter what features we get.

Everyone is just a little agitated because we are still waiting for a flagship to be released with last years specs...

Yep, I still can't replace my 920 because the 930 won't be released in the US and nothing else is coming until the fall (maybe). And no I can't use a 6" phone.

I really think some comments comes from non-WP users...

Treasure tag BT 4.0. I got one and a Lumia 820. Does 820 hardware support BT 4.0?

Yes, every phone that can get WP8.1 can do Bluetooth 4.0.

Not quite, the Lumias do. For HTC and Samsung there is no confirmation and likely they won't support it.

Samsung has 4.0 just not the Le spec.

Really wanna know what the whole game changing feature that's supposedly going to "upset the world"

Ohh that will be delivered by google :P
If it runs on Android, I'm least worried :P :P

Microsoft buying google... Lol

Microsoft is buying Monster Electronics to compete with the Apple/Beats merger.

Microsoft buying Nintendo to improve their mobile game platform

Ha! I like that idea. Sadly that won't happen as Nintendo has mountains of money and even more pride. A Japanese corporation of their prestige and history would never sell to an American corporation like Microsoft. Just saying.

I think WP 8.1 will take half day to update cause too much features...

if you have crappy internet, yeah :P

Now they need to make a damn UVO (which is made by MS) app for my Kia Cadenza!! Hurry ya asses up!

I want pioneer app for my Deck :(

I want official Ford Sync app with send destination to car integration for navigation.

econd paragraph, first row -> "While support already implemented came from Nokia on top of Windows Phone 8"

I hope the Ativ S also gets it! Please Samsung!

It supports 4.0 but not of the Le variety like its gs3 note 2 counterparts

will my Lumia 925 support blth 4.0?

From Nokias website: "Latest software release for Nokia Lumia 925 is Lumia Black (3051.40000.134x.10xx)
•Bluetooth 4.0 LE – preserve energy while staying connected via Bluetooth
•Get better Bluetooth connection quality, enhanced battery monitoring, and other stability and usability improvements" And for anyone else asking, almost every Lumia got 4.0LE with the Lumia Black Update. Visit Nokias support site and just click on your device, then Software Updates And Downloads, and first thing that pops up is Lumia Black.

Who cares as far as Mclaren supports BT4.0!

I was hoping for HID support.


Does this mean 8.1 for the 1520 is imminent?

Lumia 520 & other 8 g.b. Internals have already 1.9 g.b./7.2 g.b. for system...after update will it be 4.0 g.b./7.2 g.b.....& in wp an 40m..b. game e.g. Temple run 2 takes 160 m.b. Of internal.....everyone at least 32 g.b. Sdcard going be necessary & apps run slower installed in sdcard...hope it gets solved in official release....

Do they run slower on SD ? mine work just fine !
maybe if it was class 2

Some apps doesn't let you download to sdcard....MS please realease budget phones with more internal storage..& flash

U should be able to transfer over once they have

& other space + temporary = 1.8 g.b. Free space in wp8.1 start=2 g.b. No. Of 40 m.b. games you can download = 10with no extra apps & music or videos

All Nokia should have them that are wp8 just hasn't been enabled to take advantage because software wasn't ready, Nokia did q good job ensuring phones last at least the 18month mark, that's why I got the 1520 after my sim card slot went bad on 920

I just want Bluetooth keyboard support for my 1520...

I jus want to kno when the 8.1 update is coming out, I'm in Texas but haven't heard a word about it yet, tired of hearing all the different stuff being added already

Does Lumia Icon = Lumia 930? I know it doesn't technically, but it seems pretty much the same.

Lol, it's the same but 930 doesn't have the verzion logo, and has more colors

I think it is, pretty much.. only differences are one came with 8.0, and (AT&T only?), while the 930 everyone else can get and comes with 8.1.

Verizon. I am a humble owner.

For all you f**cking retards out there EVERY freaking LUMIA is capable of BT 4.0. Now quit asking

I think actually its one of those unwritten chassis requirements was to have 4.0(like nfc wasnt in the known chassis specs) but have the Le profile was optional

oops... how about the forgotten lumia 810?

The 810 (hardware wise) is capable of bt 4.0, it's just that it will never receive the update required to do so

Were also getting yet another update to Hands Free Profile HFP

Even if I have, like everyone of you, the wp8.1 developer preview I would ask:... When the official 8.1 version will be released ?

July 4, 2014. A challange to MS! CIA, KGB, M15, may have that answer!? Cyan wiill pop-up sometime in the 21st century.

does this mean that we are closer to getting smartwatch support?

I can't wait. I've been looking forward to the day my Fitbit could sync directly to my 1520.

My nokia Bluetooth a bit flakey on 8.1 like the range is alot shorter

I just want bluetooth that will support a keyboard.