Microsoft clarifies the differences between mobile and desktop Office apps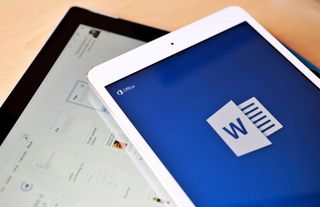 Microsoft has clarified the main differences, in both price and features, of the mobile Office apps compared to the full-featured desktop and laptop applications made for professional users. In the latter case, customers will have to purchase an Office 365 subscription in order to use those apps.
Recently, Microsoft allowed users of the Office apps for Android and iOS devices to create, edit and view documents for free, rather than requiring an Office 365 subscription. In a blog post this week, Microsoft's Kirk Koenigsbauer says that devices up to a certain screen size will have free viewing and editing access. He stated:
Consumers also have the option of purchasing an Office 365 Personal or Home subscription which offers more features. Koenigbauer said:
Finally, business users of Office apps will be required to sign up for some kind of Office 365 subscription plan. Koenigbauer says:
Microsoft also revealed that the current combined number of subscriptions to Office 365 Home and Office 365 Personal is now over 9.2 million, while commercial seats for Office 365 had increased by 88% compared to the same time a year ago.
Source: Microsoft (opens in new tab)
Windows Central Newsletter
Get the best of Windows Central in in your inbox, every day!
It's not legal to activate your Windows 10 key without a product key. It is not as difficult as you image to solve this problem. Why not just buy a genuine product from theMicrosoft official site or its partner site www.Microsoftkeystores.com . Same product and lower price with more effective service and support. This is my personal experience and hope this also can help you.

I am afraid that you are unable to activate your Windows 8.1 activation key without a product key. You can just order one from the online site http://www.MicrosoftStoreinc.com cooperated with Microsoft. All the product keys are legitimate and official. Then just activate your Windows 8.1 activation key with the purchased product key. The activation process is simple and easy to operate.

Mobile first..cloud first...apple first...droid first..................aaaaaand Windows phone laaaaaaaaasssst...!!!

lol yeah that's why they have Windows 10, and that's why they have full office on Windows tablets...can you please come from under that rock!

Except... it already had Office since the beginning?

But may be just for the namesakes??

@Bacalaohombre:
But that wasn't "real" office. The (current) Office on Windows Phone is almost as capable as notepad.
I obviously don't expect "full" regular/desktop Office on a phone. But it's a ducking DISGRACE that iOS and Android get a more feature complete Office than Microsoft's own Windows, and to add insult to injury, the time span Microsoft comforts itself taking to deliver a more feature rich Office to Windows Phone is the ultimate SHAME Microsoft can put on their customers (we're not talking one or two month here, but a year or more...).

WindowsPhoenix-- I couldn't agree more. It's more than just not having a comparable app, it's absolutely disrespectful to us loyal WP users!!

@jssm650:
Thank you.
And what bugs me even more, is that there is no viable justification for the delay.
I don't care if there were APIs missing in old/current versions of Windows Phone, because this is Microsoft's own fault in the first place. And I especially don't care about the big Windows 10 convergence marketing fiesta Microsoft plans, because this marketing duck-up is no justification to let EXISTING Windows users wait longer.

Wants some cheese with that whine?

So no full scope office suite for personal use without subscription?

If you like to keep up with the latest software updates, the subscription based plan is pretty great, and costs less than it used to when we had to buy upgrades and new versions every couple of years. I love it with Adobe, and will likely go that way soon with my Office apps.

All I really care about is will it support macros and which versions will. I never see people asking those questions. Are people unaware of how useful those are and how much easier they can make things? Especially on a touch device without a keyboard. So many steps reduced to just one click. I cannot imagine using excel on a tablet without them.

Think you need to get the full version for that.

Now that Microsoft has announced Windows 10 for Phone will support Bluetooth keyboards, will WP10 also support cloud printing? This feature will be mission-critical for Office Mobile - printing documents without wires or USB connectors.

Why would they when manufacturers like Samsung are already doing the work for them

Yes, I'm aware Samsung's own office suite supports cloud printing. But this would be a great feature for Windows Phone 10 too. Bluetooth keyboard support complimented by cloud printing directly from your WP10.

If Windows 10 is universal, then your pc could print, then probably yes

Windows 10 isn't "universal" though. There are different variants of Windows 10 designed for different platforms. Each is a subset of the full Windows 10 codebase. I doubt the phone version of Windows 10 will include the full Windows printing subsystem since that subsystem, its utilities, and drivers were never designed for phone hardware.

I am pretty sure they already announced (or it was leaked) that WP10 would have wireless printing via the new driverless protocol. You are probably right that we won't see the 'Windows Printing Subsystem", but it is possible. Especially when you remember that after Vista, it is a rather simple XAML based system that can even host legacy GDI printing via XPS.
As for the codebase similarity, they can bring any portion of Windows 10 to WP that they want, it is only a matter of what makes sense. NT is scary (awesome) portable, and bringing over even complex systems is fairly effortless. Just look at Windows RT, there wasn't a lot of work there, just a recompile for ARM and a custom HAL. Also, being the same architectures, any work done on RT can still be used on WP (They should have been the same OS from the begining, with a dynamic UI. Even today, there is no reason they are backporting pen/input systems to WP10, it was already done and far richer in RT.)

Hopefully I can keep full office on my Surface 2 as a consolation prize.

You will. Office RT is included with the Windows RT OS. I pre-ordered the original Surface RT on day 1, and it still works fine without a subscription. I do happen to have an Office 365 subscription too for my other devices, but my RT device doesn't count as one of them which is a bonus.

I thought there were limits on RT office like macros and such.

Because macros don't run on ARM

Office including Outlook is part of Windows RT 8.1. I see no reason why they should downgrade us to mobile version.

It's less than 10.1 inches anyway.

Right you are. I've always heard it referred to as a 10 inch device so I assumed it really was. Thanks for the correction.

Can you tell me the story about the "365" name behind the office name?? ;)

I presumed it was a reference to 24/7/365.

Yeah always usable and the best.

Except during leap years.

Office 365 doesn't work on leap day. ;)

Msft promised unlimited OneDrive for Office 365 and has allocated 10 TB already. What is this about 1 TB only?

It's unlimited (10TB) for the primary account holder, anyone you add to your account gets allocated 1TB for their account. So on Home edition with up to 5 accounts it's basically up to 15TB in total.

Not true. It's 1TB for everyone, but if you need more you get more. So they're all unlimited but start at 1TB.

Does anyone use a Dell Venue 8 Pro as their daily workstation? The "pro" designation is there but it is of course less that 10.1 inches in screen size.

There's no governing body policing the use of "Pro", sadly. Microsoft's definition is just that, their definition. OEMs can define it in other ways if they choose. In the case of Dell, they use it to differentiate between Android (non-Pro) and Windows (Pro) tablets.

That and if you want "pro" it should be above 27 inch.

Yea... we bought a couple for the office. Let me tell you what a chore it was trying to get the higher ups to understand that the Pro in the Dell model does not mean that it comes with Windows 8.1 Pro without paying the premium price!

One question, if i buy a 8" tablet w8.1 eg. The Toshiba 8" encore does it have the free Version of office or i must buy office 2013 or o365 to view and edit document?

It should tell you wherever you're buying it from. They usually have office or one year office 365 included. With windows 10 you'll just be able to download the modern apps.

What are some thoughts on this?
I can only speak for myself, but I'm not paying another subscription. I'll use Open Office or WPS Office for free. I fear Average Joe or Jan won't either, and this may push Microsoft away from consumers, am I wrong?

If you think those free suites are better than Office than go for it.

Well yes and no. Most people only know office so no problem there and they've been paying for it for years.

Average Joe or Jan installing open office...really. Most of them having been buying expensive copies upfront. People are getting used to sub models.

I had been intending to use the touch-friendly Office apps on my PC down the road when they became available. So far they seem like they should be plenty sufficient for my home needs. But if I have to choose between buying a 365 subscription or continuing to use my combination of Open Office and Word/Excel online, I will choose the latter.

I'd say the sub model makes loads of sense if you have more than one machine. If you need, say, Office Home and Business, that's $220 per computer, or 99 per year for 5 computers for Office 365, with a bunch more perks thrown in.

It appears that almost 10 million people disagree with you.

Then use a tablet, it will remain free. Or... Use the Free Online Version that is quite feature rich (better than Open Office with regard to some things.) Or... Realize that $10 a month for the latest version of Office for yourself and 5 family members/friends and unlimited OneDrive store is a good deal, like 99% of the user base has already done.

so when those great new office touch apps deploy, everyone can get it for free on 10" or below devices(+office 36 subscription for premium features). for bigger devices a office 365 subscription is mandatory, just like for x86 office softwares. got it right?

I really don't like subscriptions.

Then buy Office 2013 or Office 2016. They HAVE NOT REMOVED THE OPTION TO BUY THEM.

Isn't it onedrive unlimited storage with office 365 home?

Or personal. Personal, one account, home five accounts.

What about the Surface Pro (1 and 2)? Or any 'mobile' device with a desktop dock or way to use on the desktop? I hook my Pro 2 up to a secondary monitor at home along with a mouse and full keyboard to use on my desk. Though that was over of the ideas of the Surface devices.

What is your question exactly.

what about them? they never came with free office. you had to buy it separately. since they are not sellng 1 and 2 anymore, you don't have to worry if it will come with office.

I'll be curious to see where the real technical lines are. What really is "enhanced editing"? When do I get macros and advanced features. What device types will support which levels.

I don't think the mobile versions will support macros.

Nope way to many options for. A phone haha.

great.... Microsoft Office is amazing...

Well, I just use office online for my basic needs.

I thought at the end we'll be getting a better office experience as an windows phone adopters. I don't get how MS is treating is own platform. They show no loyalty at all to its customers, we are the ones sticking with them when things weren't great, and we are the last ones to be treated right.
Before anyone dare says anything funny to me, I've been using Windows phone only since 06. Reply careful.

Yes, totally agree. I am not a power-user when it comes to the Office suite, I only need the ability to add text, pictures, basic animation - all of which Office Online provides. The only thing it doesn't provides is the option to copy slides across presentations. I wanted Windows phone's Office to have at least image support and slide copying. Sadly, they have never ever paid enough attention to the WP version.

Does that mean that in future versions of Office, if I'm using it on my HP Stream 7 I'll lose access to Outlook & have to use the built in Mail, Calendar & Contacts apps in Windows & only have access to the same 3 office apps as Android & iOS, as the only reason I'm using my Stream 7 with Office over my Nexus 7 is for Outlook, Publisher & Access as they're not available to Android or iOS?

if you subscribe or buy iffice, you will have the full suite including outlook. the free version might not have it.

I'm currently using Office for free through the years free Office 365 Personal that came with my HP Stream 7, weather I'll stick with that or move to Home and get the extra licenses I'm not certain but ether before or after Win 10 is launced I'll be on a monthly subscription. So it's good to know that Office on my HP Stream 7 will be the same as Office on my Toshiba Laptop.

Office 365 is the newest cash cow in Redmond just like old office.

Willl business users be able to use .xlsm files with vba macro's to their full extend on a laptop/tablet/phone?

Please make a basic version of Office for bigger screens too. WordPad should just be Word for free.

To be honest, I don't think Microsoft needs to be doing this. If you already have a licensed copy of Microsoft Office then you should be able to get office on your tablet with the same level of functionality as your laptop. It really is absurd. Tablets today are just as capable as laptops from 2006 or later and they still don't have a word processor as capable as those laptops. Why do tablet apps have to be so handicapped? No grammar checking... Why?

I really think the best touch implementation will be one that uses an optimized keyboard.
Even the current touch versions of Office retains too much 'legacy' thinking based on using external peripherals like keyboards and pointing devices.
I think it will make the touch experience a lot more user friendly if functions are incorporated at the bottom of the screen in conjunction with the keyboard, like this
https://youtu.be/1dc6N1ZYRpA?t=1m45s
Windows Central Newsletter
Thank you for signing up to Windows Central. You will receive a verification email shortly.
There was a problem. Please refresh the page and try again.