Microsoft closes Outlook.com Premium to new subscribers
By Dan Thorp-Lancaster last updated
Microsoft is no longer offering Outlook.com premium subscriptions to new subscribers.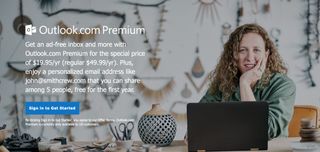 Microsoft announced today that it has begun rolling out Outlook.com Premium features to Office 365 Home and Personal subscribers, but one other change initially slipped under the radar. In a related support document (opens in new tab) (via ZDNet), Microsoft revealed that it is closing the Outlook.com Premium standalone subscription to new subscribers.
From Microsoft:
Though the service is now closed to new subscribers, current subscribers can continue to renew their subscriptions to hold onto personalized domains and email addresses. Microsoft says it is "working on a solution that will enable you to transfer your domain to other providers." For anyone who would like to end their standalone subscription now that premium features are included in Office 365, Microsoft says it is not offering refunds "due to the special promotional price" of Outlook.com Premium.
It's an interesting move, particularly considering Outlook.com Premium only left preview in early 2017. However, now that certain premium features, including the ad-free experience, are included in Office 365 Home and Personal subscriptions, Microsoft is likely looking to consolidate its offerings.
Dan Thorp-Lancaster is the Editor in Chief for Windows Central. He began working with Windows Central as a news writer in 2014 and is obsessed with tech of all sorts. You can follow Dan on Twitter @DthorpL and Instagram @heyitsdtl. Got a hot tip? Send it to daniel.thorp-lancaster@futurenet.com.
While this was only 19.99 there was barely any benefit other then ad free email.
Microsoft had an opportunity to create a great experience and just like other consumer focused products put little to no effort into it.

Except, now combining this with Office 365 Personal or Home, there IS extra value.

all got better spam detection with it. but being roll in to office 365 is great

I switched because i was paying more for a biz O365 account just for hosted Exchange to use with my personal domain. Course i also have O365 Home for the office suite, so i kinda feel like i triple paid for same service now until my biz acct expires.

Personal O365 is $69.99/yr, compared to $19.99/yr for Outlook.com Premium (US prices). You gain Office apps for up to 5 devices, 1TB of OneDrive storage, and now Outlook.com premium features. As an O365 Home user, this makes total sense. I hated paying for O365 AND Outlook.com premium.

Just to point out, Personal is only for 1 user and up to 3 devices (1 PC/Mac, 1 tablet, 1 phone). Office 365 Home does make sense in many cases. Personal is now a slightly better value than it was, but still not as good of a value as Home.

Which product or service from Microsoft can one trust these days??? It feels like the kill switch is always there...

Please, read the ChrisLynch's comment above yours.

Its only matter of time Outlook will be killed off for customers. They will force Office 365 subscription on everything and everyone soon.

365 offers alot of bang for the buck. Compare apple. You get a crappy word processor, spreadsheet program and keynote for "free". Then, you have to pay 179.98 with tax. cdn, for 2 tb of storage. I have 2 tb of onedrive, plus Office suite for 119.99. A much better value

i came here looking for negative comments. And it did not disappoint. You people whine at everything. Even email services.

I left outlook.com (regular) and purchased an office365 subscription a year ago for the domain support. after moving my e-mail to office 365 they finally came out with the premium offering so I moved again as I preferred the lower cost outlook premium in combination with my office home license for the office apps. I really don't need an office 365 business account (actually 2) for me and my wife and my part time business. Now I have overlapping accounts and no clue which product that will discontinue next.

So will they move custom domain support into Office Home as well, or are they going to push anybody who wants that into an Office Business Essentials (or higher)? That was the one selling point of Outlook Premium to me. Like the other features, it makes a lot of sense in Office Home (designed for families) so you can have a domain for your family. You shouldn't have to deal with all the extra overhead of an Office365 Business to get that.

Absolutely - custom domain support for Office Personal/Home is the key piece I'm desparately hoping/waiting for as well.

Microsoft kicking yet more of its customers, when will they learn? Onedrive storage, zapped from under our feet, Zune Zapped, Groove Zapped, Nokia Zapped, Outlook Premium Zapped, Mobile Zapped. They need a new name.. Microzap, they are great at zapping stuff.

Thought that was the most obvious move... Surprised it didn't happen sooner.

Well this never made it to Australia anyway (only reason I would've jumped on it was for the custom domain).

Yes it did make it to Australia, I took out a subscription several months ago and got my custom domain

When did that happen? I didn't even see any article for it.

Maybe it's just me but maybe not! Why do i have the worst customer service with all Microsoft products except hardware? They changed my Outlook.com Premium admin configuration so now I can not renew my subscription to Outlook.com Premium. After 12 days working with their 3rd party email customer support through HelpShift, I have only had both my email accounts not able to work correctly and my custom email not able to send at all. I really have had a lot of abuse from Microsoft that I think moving completely to Google services might be the way to solve my abusive relationship Microsoft.
Windows Central Newsletter
Get the best of Windows Central in in your inbox, every day!
Thank you for signing up to Windows Central. You will receive a verification email shortly.
There was a problem. Please refresh the page and try again.