Microsoft's Outlook.com Premium now open to everyone in the U.S.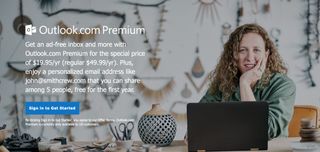 Despite a lack of any official word, it looks like Outlook.com Premium has exited preview. As reported by Thurrott.com, the premium version of the web email appears to have dropped the preview tag that it's carried since it started testing last year, pointing towards its general availability.
For those unfamiliar, Outlook.com Premium is, well, a premium version of the web-based email service. Microsoft is currently charging $19.95 per year for the service, though it will eventually shoot up to its regular price of $49.95 at the end of March. For the money, Outlook.com Premium provides a personalized email domain that you can share with up to 5 other people. Premium also removed banner ads from your Outlook.com mailbox.
At the moment, Outlook.com Premium appears to still be U.S. only, so you'll have to wait for access if you live elsewhere in the world. For now, you can learn more about Outlook.com Premium by heading to its website and checking out the service's FAQ.
Dan Thorp-Lancaster is the former Editor-in-Chief of Windows Central. He began working with Windows Central, Android Central, and iMore as a news writer in 2014 and is obsessed with tech of all sorts. You can follow Dan on Twitter @DthorpL and Instagram @heyitsdtl.
Can you still just purchase ad-free outlook.com or is that getting absorbed into Premium?

How much does ad free cost?

Honestly, I don't even remember anymore. It was fairly inexpensive, but i had gotten a few months of it prior to the outlook.com upgrade. i don't know where to find the information anymore from the new interface...

Used to be $19.99 per year or something like that..

Yes I want to know this answer as well

From what I know it got absorbed into Premium. My ad-free expired and I had to no choice (well, I did have one) but to sign up for Premium. I just hope it stays at $20 a year and not the "regular 49.99" price they came up with..............

It will. Also, an ellipsis is "..." and no more.

Not sure if this is replacing ad-free, but when I attempted to sign up for Premium, I received the message "Good news! Since you already have an Outlook.com Ad-Free subscription, your Outlook.com Premium Subscription is included at no extra charge." Didn't even realize that I already have an ad-free subscription..

"At the moment, Outlook.com Premium appears to still be U.S. only" Nothing new. Rest of the world doesn't exist for Microsoft.

Who pays for this? Either you use the Windows 10 mail app or the full blown Outlook.

I doubt a small business invest in removing ads from their mail provider.

Right, but a small business would want to have their own domain.

Yeah, but you this way Microsoft owns the domain. Sounds really crappy for businesses.

How so? Microsoft is very reilable. Many organizations use their services without issues.

What I have a problem with is this: "Microsoft will register and purchase the email domain on your behalf (Microsoft retains ownership of the email domain)." While this might be a good deal for some users, no one can see the future What if some small company out there want's to switch to google in 5 years, or if someone just host their own mail server? Or if someone wants to build their own website on the same domain? (You could get your own domain, incl. imap/smtp servers and some basic web hotel storage, for less than $10 a year, and be the actual owner of the domain. And you can still use Outlook to send/receive mails from it.) I'm just opposed to the whole "getting locked in" idea. Why should Microsoft own the domain if you're the one paying for it? :-)

That's exactly why you should register your domain elsewhere before signing up for this :)

That's only if you buy the domain from Microsoft. If you just use your own that's from another registrar, it's yours.

It's not about removing ads, it's about having 5 email addresses and aliases, with the ability to easily share contacts, calendars, etc., on your own custom domain. The ads are a perk, not a motivator.

No, this isn't a small business product. It's a consumer product. You can have no more than 5 email aliases on your domain. That would be a VERY small business.

And when logging in from a computer that's not your own.

I can deal with one ad or adblocks ...

Ad block doesn't remove ad space.

I can deal with such a minor thing.

Takes up too much space on my old Surface Pro 2. Wish ad free was included with o365 home.

I use the Windows 10 Mail app and full blown Outlook, yet I've paid for this. $20 is a great price to use my own personal domain name for email addresses.

Does this mean Outlook.com Premium is no longer free with your Office 365 subscription? It use to be but I no longer see that on the site anymore.

ditto; curious where that went

No it seems s no extra charge for me with office 365 subscription. And when I click the manage subscription on the premium setting, it goes to office 365 subscription page, so I assume it is still included in office 365

Doesn't seem to be included with my Office 365 Subscription. When I try to access it it wants me to sign up. Perhaps if you signed up while it was in preview you are grandfathered in for those cases where some people are reporting that it still works for them.

$10 per year for the custom domain after the first year, 1 domain for the 5 users. $20 per year for the service itself. So $30 per year / 5 users = $6 per year. For comparison, Office365 Business Essentials, which is better hosted email and a bunch of other tools, is $5 per month or $60 per year per user. This seems like a good solution for something like a family who wants to share a custom domain but doesn't need any of that other stuff of Office Business. Moot point for us in Canada at least for now, but this is a good offering.

The service goes up to $49.95/yr after this promotion ends in March. Also, am not sure if the 5 users are also just part of the deal.

If you get in at $19.95, you stay at that level. 5 users are just part of the deal. There is no option for fewer or more.

I have the Office365 Business Essentials and I really like it plus in those 5$ per month I get 1TB of OneDrive for my freelancing gig which is awesome when I have to share the videos with my clients. What is annoying is that with the Essentials you cannot even use the Mobile apps with that account...

Can someone who is currently using this with custom domain and multiple users clarify how it works? Do they log into Outlook using name@customdomain? Can they somehow link this to their own MS Account to take advantage of an Office 365 Home subscription?

So the created email address becomes a live.com alias. You can logon as either the main account or the name@customdomain logon. Each user is able to establish an additional 4 aliases using the custom domain. (When you I signed up for Premium, I had already had two alises: my main live.com address and my new name@customdomain address. I was told that I've created two of six aliases available.)

It's really dumb, but it works like this: you create an outlook.com account (and you MUST leave that alias attached to the account, per the terms of service), and then sign up for the service. Your first email account once you sign up for Premium is an alias connected to that Outlook.com account. You can set it as primary. Then you can invite others by sending them an email inviting them to outlook.com. If they accept, they create a new outlook.com account but with your domain. There is really no admin interface to speak of. You can go to premium.outlook.com and, as the main account, invite up to 4 additional people, and on your own account, you can add aliases. Up to 6, though it counts your first domain alias twice for some reason. Probably a glitch that might eventually get fixed. You cannot reset passwords for your users, nor add aliases for them, they have to do it themselves. It's a pale, sad shadow of what Windows Live Domains was.

Thank you so much for the information.

Not being able to set a catch-all address is pretty much a deal breaker for me.

I've been waiting for them to bring back the catch all account feature since they dropped the free live domains service.

Sadly, Live Domains was a far superior service to Outlook premium, IMHO. They really screwed up by dropping it. The Outlook premium admin features are a joke.

Agreed. They could have taken what they had with live domains and slapped a reasonable price tag on it and I would have paid. With the current offerings, I'm always on the fence as they continue to feel incomplete.

I just hope they don't cheapen the current Outlook.com, by making it less than it is.

Yup! As Microsoft so often has come to be known; they exit Preview only to screw up the accounts that were working just fine! I enrolled two domains on Outlook Premium in December and they worked realy good with Outlook 2016 on Windows 10. Now as of 10 days ago, I received an email message on the accounts stating that I had been disconnected from Outlook.com and I need to follow the directions to reconnect. Instead of the process being as easy as it was during the preview, I encountered so many problems on setting up my email account for my primary domain that I have resorted to using Windows Mail for that account. The other domain set up correctly only after using the procedure Microsoft was discouraging against using. Duh!

The problem I've most seen is that people either don't setup, or incorrectly setup, the CNAME record for Autodiscover in their DNS settings. It just needs to be named "autodiscover" (it'll look like "autodiscover.yourdomain.com" for most), have a TTL of 3600 (you can do 600 temporarily to get propagation going in 10 minutes if your DNS host will allow it), and then give it a value of "autodiscover.outlook.com". Works great once propagation occurs. Usually under an hour.

I will look into my settings to make sure they are correct but if not, I will use your suggestion above and let you know how it goes. Thanks!

I am in Canada, I can use it, and also for those who already subscribe to office 365, this will come with it with no extra charge

Anybody here still paying $50/year for MSN Premium like I am? hehe, and considering switching to this? I believe MSN Premium allows 10 extra accounts...though obviously not custom domain. As far as I know, the lingering perk of MSN Premium is no ads, no account expiration based on use, and maybe one or two other things. I would love to lock-in that $20/year, but idk...
Windows Central Newsletter
Thank you for signing up to Windows Central. You will receive a verification email shortly.
There was a problem. Please refresh the page and try again.