Microsoft concludes Motion Monitor beta program, urges users to download Bing Health + Fitness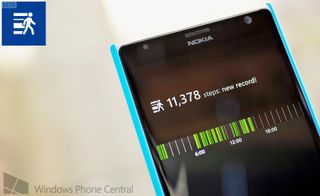 Motion Monitor is a handy app for those who wish to get in shape, using nothing more than their smartphone. Microsoft has fired out an email detailing that the app will be pulled from the Store for incompatibility with Lumia Cyan, but Bing Health + Fitness and other third-party apps will be available for download.
The SensoreCore SDK takes advantage of internal sensors on new Windows Phones to sense when you're moving and how intense said activity was. Essentially, it turns your smartphone into a smart pedometer with the Lumia Cyan firmware update installed, combined with Snapdragon 80x chipsets.
The email thanks beta testers for taking part in the Nokia Motion Monitor beta, especially those who actively provided feedback. The app itself was previewing functionality, which can be offered in other apps utilizing the SensorCore SDK, including Bing Health & Fitness by Microsoft. Unfortunately, Motion Monitor will no longer work after installing the Lumia Cyan update (due to it being a preview) and thus the app will be pulled from the Store.
It's recommended you install Bing Health & Fitness (or third-party alternative), once the Lumia Cyan firmware update is available for the pedometer functionality to work. This will ensure the apps will be able to monitor activity once Lumia Cyan is installed - Lumia 1520 and Lumia Icon will be compatible once Lumia Cyan is released, while the Lumia 630, Lumia 635, and Lumia 930 are already supported. Were you part of the Motion Monitor beta? Let us know your thoughts on said functionality in the comments.
If you already don't have Bing Health + Fitness, you should really give it a go as it's much more comprehensive than Motion Monitor in terms of news and features. If you have a Lumia 630, the built in pedometer is also more refined.
Rich Edmonds is Senior Editor of PC hardware at Windows Central, covering everything related to PC components and NAS. He's been involved in technology for more than a decade and knows a thing or two about the magic inside a PC chassis. You can follow him over on Twitter at @RichEdmonds.
Does this mean we can expect the Lumia Cyan firmware soon? The power button issue on my Icon and WP8.1 is driving me nuts.

'Soon' as in weeks to maybe even a month or two, depending on your OEM, model and carrier/country, then yes, it's soon.

Since when in July can we expect it to roll out Dan?

Here in India we don't have carrier issues. When the update is released it will be for all the users in the country. I expect cyan to be released asap for everyone

Seems you must be a very new user of the WP 8 platform, or you didnt learn from the past 18 months experience :DDD

you my friend must be mistaken.. If you're in India you generally get all updates asap, because therre is no carrier bifurcation here. Simply put, we get the update as soon as they decide to make it availabe to unlocked phones in our country. I think they might release it with the lumia 930. which I hope is soon, lots of people are looking forward to it launching but I hope they market it properly here as the middle/upper class masses are just iphone/android sheeps and need to know what these phones are capable of..

I understand I will be waiting on my carrier to deploy this. I was more interested in if this means that Nokia/Microsoft has the firmware ready for carriers to begin testing.

What about Phones that are not Supported for Example 820

Well, let's see. First, you couldn't use Motion Monitor in the first place, so no need to replace it. Number two, you can always download Bing Health + Fitness as that works on all devices and three, you're never going to have SensorCore and a pedometer in your Lumia 820, due to having older hardware and it not being supported.

Ha I just wanted to know if I would stoop having to rely on GPS Tracker from Bing Health + Fitness. Guess its Time for an upgrade LOL

Is that the same for 520.

Yup, no support for older devices

I'll take BT LE functionality for my fitbit on my 925.

"once the Lumia Cyan firmware update is available " is the most readed sentence here in the last weeks.
In the time we get cyan MS will be announcing the Windows Phone 8.1 Update 3 this way. :/

Now we have to wait until probably October for Cyan to get this functionality. If 8.1 and Cyan roll out before then I'll be highly surprised.

Well...Motion Monitor really didn't matter to people on 8.1 developers preview, since it was incompatible with it and never worked for me on my L1520...

Ive been using the beta on my Lumia 1520 - I wished it showed more information. But im glad we will soon have that capability. I had a fitbit that I loved but it got lost while I was doing some sprints. It will be good to compare to my old data once I get the update

So all we need now is that Microsoft smartwatch!

Mhm. At the Moment I use both Apps on my 1520. With Bing you have to start workout to track data. Motion Monitor just counting every movement of Phone in background, which is really cool. Would miss this feature ...

Exactly some users just arnt that hardcore hell i used to use 3ds & before that a pokèwalker

Lol. Pokewalkers. Those were the days.
*nostalgia sets in*

I really dont need the extra fluff that bing fitness has any other alternatives

Im sad that the 925 will miss out on this....

Downloaded the app yesterday
Showed me how much I walked each day since I bought my phone (630)
I kept SensorCore turned on but had no idea how I could use it...
Until I downloaded the Bing health+fitness app...

I hope motion monitor finds its was as a selection in Bing health and fitness. I like it

Looks to me like ill be wanting to upgrade to some new hardware once those new phones are ready for the picking in the fall!

No carrier to interfere here and I'll probably have to wait until September or October. Took that long to get both amber and black...

I like this application, hope it is added as a feature in Bing health & fitness.

Wish my 925 supported that.. Going to have to upgrade next year.

my old sonny ericcson w580 would do this why so much hardware needed?

because your sony walkman phone had a pedometer built in.

Is there already a link to that rollout schedule on the Nokia website for cyan?

Does anyone know if the 928 has the necessary hardware to support this? I fired up the Bing Health and Fitness app and couldn't see anywhere a setting for pedometer. Thanks!

Very good app. Will it work on 925?

I love Motion Monitor. I'm pretty sad to here this news T_T.

This is the first time that I've felt that my 920 has taken a step towards obsolescence since I bought it at launch. Pretty amazing that it's taken 18 months for me to even think "Oh, I wish my phone had that". And it's not like it's even a critical thing that I must rush out and replace my phone for. I'll just make sure the next Lumia I get has this (which I'm sure they all will going forwards). Oh, sweet red 920, how I love thee.

Health and fitness recently updated to not allow other microsoft accounts: it's tied to the phone account. Since I like to keep my health information separate from my personal account, well...

What is that in the picture? The yellow one. Is that the 930? Someone answer please.

The app has never worked on my wifes 1520. I dont know of a way to test SensorCore. The motion beta app always just said zero steps for her. And she would run and make me snacks all the time. Posted via Windows Phone Central App because my lumia is being repaired

Need to upgrade for hardware.... But what to buy.. 630 have 512 MB ram, 930 No sd card support and above this model not affordable for me. Think cannot use this feature in my 1320 :(

Does this mean there going to fix health and fitness and make it usable?

I'll use bing health and fitness once it supports altitude and can publish to other platforms.
Windows Central Newsletter
Get the best of Windows Central in in your inbox, every day!
Thank you for signing up to Windows Central. You will receive a verification email shortly.
There was a problem. Please refresh the page and try again.