Nokia's SensorCore opens up Windows Phone to health and fitness apps galore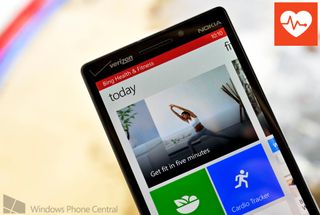 Nokia announced not only new hardware at Build this year, but also SensorCore for developers. This Software Development Kit enables developers to utilize sensors on a Lumia Windows Phone without sacrificing battery life a whole deal – perfect for health and fitness apps or services that rely on sensors for data.
How it all works is by using a new software solution to run at low power levels, but is also able to provide the data applications require when in use. The SDK and new software from Nokia essentially acts as a buffer of somewhat between the sensors and installed apps. While this won't mean much to consumers, it's progress for developers.
There's a shortage of official support from vendors of fitness products (Fitbit to name but one), but this SDK will hopefully look to address issues with actual tracking apps, alongside improvements in Windows Phone such as Bluetooth 4.0 LE. It will aid said companies to create solutions with better power management. The low power capabilities of SensorCore will be available on the Lumia 1520, Lumia Icon and Lumia 930. Affordable hardware will also be included; the Lumia 630 and Lumia 635.
Much like Bing Health and Fitness, the Windows Phone will be able to record steps and save this information without utilizing much power. That's just a single example, which can open up for new possibilities.
When will this be available for developers to download? Nokia states the SDK will be released "soon".
Source: Nokia
Windows Central Newsletter
Get the best of Windows Central in in your inbox, every day!
Rich Edmonds was formerly a Senior Editor of PC hardware at Windows Central, covering everything related to PC components and NAS. He's been involved in technology for more than a decade and knows a thing or two about the magic inside a PC chassis. You can follow him on Twitter at @RichEdmonds.
I was really hoping for some fitbit announcement at the Nokia event. The fitbit apps on the HTC One M8 and iPhone 5s both allow the app to use the phones' motion sensors to calculate activity data and have the option to transition to a fitbit device whenever the user decides to upgrade so I expected some of that functionality here as well. We know they're working on an app, I just wish it were out soon so i didn't have to bring along my sync dongle to sync with my surface's Fitbit app.

This is good, Nokia is doing right exposing their API's to app developers, more quality apps will be produced. There are tons of apps that taps to Nokia Camera API already.

Can Bing Health & Fitness already do the step recording with the Lumia 1520 or is this coming in a separate update? I use Nokia Motion Monitor which works really well, but I hate using multiple apps to track stuff like this.

Supposedly, the screen shot I've seen, Bing Hwalth and Fitness would need to be updated. It does show "steps", etc. like in Nokias Motion Monitor. Hopefully it does come l.

I read some reviews when it was first launched and someone mentioned that the app was counting his commute as an exercise. I don't know if that has been fixed or yet. I didn't install and try because of that.

Is there anything similar for other lumias atm?

there is adidas micoach,its free and works well

I guess Endomondo will have to work on a second update.

Cool. Keepin up with the comp, just a step behind by not having software on the phone that tracks it all. Could of been something to make a big deal of at the launch.

USING NOKIA'S MOTION MONITOR on my Icon now.

Window shopping in Red Light District burns of a few calories :D

what about ur d, no love for it eh ?

Am I to understand that this will only work for newly released hardware then? Even though lower spec hardware is mentioned, only new/ish Lumia models were listed. Correct me if I'm wrong which I hope I am. +1020

It seems to be a feature in quad core phones, our 1020s are only dual core

I was afraid of that...but at least we have a beast of a camera - although the video pales in comparison to my previous 920 :/ - and glance which the 930 don't have!
All in all...I'll live, lol!

Lol, yes I'm going to keep using my fitbit even when my international 1520 arrives, my wife's att 1520 registered three steps in my hand holding while holding it still and navigating through the app.

I wish MS and Nokia would learn the meaning of soon, and how to,get the carriers and OEMs to update faster than "In the coming months"

Soon™ is a well known established time. It was made famous by the World of Warcraft devs, and is often used to announce when new features will be released. Other developers have since started using it as well.

Wake me up when a fitness tracker or even Pebble Steel cares enough to release an official app.

Considering WP 8 has a 30 minute interval on updating Live Tiles (and other app restrictions), it will be useless knowing what heart rate is every 30 minutes! We can't even have a decent GPS tracking app that updates/refreshed more often than every 30 minutes!

Read the notes, 8.1 changes that to a minimum of once a minute. There are more than a few GPS tracking apps that updates/refreshes more than once every 30 minutes.

Where did they say that in the article? I didn't see it

This is great news!! My Fitbit classic went swimming in my washing machine several weeks ago (it didn't make it for those wondering). I am on vacation in Netherlands and Belgium, walked for hours, and woud have loved to been able to track my steps. I wasn't going to drop $100 for another Fitbit. I am getting a W8.1 phone in July, look forward to being able to track my summer vacation with it.

Scott do you have tried Nomad Buddy? http://www.windowsphone.com/it-it/store/app/nomad-buddy/2f108835-5f14-47...

Haven't tried it yet. Thank for the tip. I will check it out.

It would be neat to have a blood glucose meter that could transmit data in this way. It would be nice to have a meter and an app that would integrate this data, along with food tracking, and exercise.

How awesome it would be if they announce that older lumias like 925 and 1020 have it !, like When the n95 had a sensor (can't remember which one) nobody knew it was there until it was enabled by a software update.

That's great news and something developers have been looking forward to. I doubt though it'll have much impact any time soon. At the moment and for the foreseeable future, these phones are a tiny fraction of the marketshare, so there'll be little commercial sense in utilising this SDK. Once the 530 is out that will change, but I wouldn't really expect much to happen until then...

Why isn't Xbox Fitness available on the Windows Phone? Seems like an obvious move to have Xbox One track home workous and then have it on the phone to track you through the day or when traveling.

Because WP is last (usually) ecosystem to get an app, even from MS. Sad but true.

Interesting that SensorCore is a software solution that is available on low end devices, but not on Lumia 1020 or Lumia 92X series phones. By interesting, I mean frustrating.

you know what else is frustrating? nokia fixing WP for MSFT. I mean just how lame can you be when your OEM partner has to basically take development to be able to stay a float because you were too busy with kids corner...

i think it's a software solution but you need specific hardware for it. the step counter, for example.

Its a hardware thing, the 1520 can do it and the phones announced have the ability to run at low power due to the new Qualcomm Snapdragon chips. And the Icon/930 will have it as well. But not the 920/1020 due to hardware limitations.

Who cares about such stuff anyway? Real men work out without a smartphone or other electronic stuff. I even don't understand people who listen to music while running...
Windows Central Newsletter
Thank you for signing up to Windows Central. You will receive a verification email shortly.
There was a problem. Please refresh the page and try again.