Microsoft confirms it has acquired 6Wunderkinder and its Wunderlist app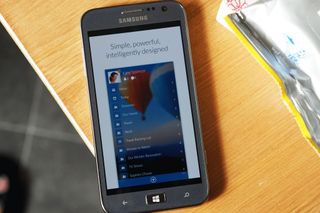 Microsoft has finally confirmed that it has acquired the German-based company 6Wunderkinder and its popular mobile "to-do list" app Wunderlist. While the specific financial terms of the deal were not disclosed, a previous report from the Wall Street Journal claims that Microsoft paid between $100 to $200 million for 6Wunderkinder.
In a blog post, Eran Megiddo. Microsoft's General Manager for OneNote, stated:
Christian Reber, the founder and CEO of 6Wunderkinder, confirmed that he will continue to lead the Wunderlist development team in its Berlin home office. He added:
Source: Microsoft (opens in new tab), Wunderlist
Get the Windows Central Newsletter
All the latest news, reviews, and guides for Windows and Xbox diehards.
CEO not retiring after $200 mil, still wants to keep his job

Dude might be in his thirty's.... I have several friends who've made plenty of money to retire with, but they are in their 30's,, and still enjoy progressing...
®®®®®®®®®®®®
It's not always about the $$$$$$$

in CrApple's Greedy case, its all about the money, and nothing else, and how they can screw their customers and rip them off, over and over and over again, and again. Everyone else, i agree with you 100%.

Haters like you continue to cry and yet millions buy their products.... Posted via the Windows Central App for Android

Apple is running a business... Yes it is largely all about the money... To each individual it might not be so, but you are referring to the corporation, so yes, profit takes precedence..
......
How do they screw the customers, and rip them off over, and over❓
What does Apple promise their customers that they don't do❓

So if I code a killer App, I can sell it for $$$$$$$$$$$$$. Might be more interesting than collecting a few dollars a year from Ads.

It's less the app that they bought and more its user base.

True,, never thought about that.... It's not like MS can't develop just as good a utility.

I read a good article about it after their purchase of Accompli regarding it and the calendar app. Can't find it right now, but basically it said they could either spend time catching up, or they could spend the same amount of time rebranding an existing app but benefit by having customers that wouldn't otherwise have chosen a Microsoft product. When your brand has stigma attached to it there is a lot of value in buying customers who wouldn't usually consider you.

This is a correct assessment of most IP purchases. I saw this happen first hand (Installshield, Windows Defender, Skype)

Yeah, and people feel weird about name changes, but they get over it... MS is most likely gonna change this to "OneList" or something...
.....
The prime example of this is MS buying Nokia... People complained about the name change on the devices at first, but nobody gives a flip now. What MS is essentially doing here is converting users into MS fans without their consent, and playing on their needs... Cool❗

Pushbullet is great for reading up on Microsoft acquisitions.

As long as they merge it with OneNote instead of keeping it as an entirely separate program.

Yes you are right.. I agree with you..

Pretty safe bet they will, notice which MS rep is commenting: "In a blog post, Eran Megiddo. Microsoft's General Manager for OneNote, stated:"

Would make more sense integrating it into calendar instead as its task manager leaves much to be desired

Maybe if I wanted tasks done by days rather than a longer time frame. Calendar already handles days by day tasks down to the half hour. My tasks are a little more flexible than day by day. If Onenote's ability was augmented by this, it would be better than it is.


Tasks are different than appointments. I'd like to see this integrated with Outlook/calendar with due dates and reminders and unfinished tasks at the top of the day.

No, actually, they're not. An appointment is a task.

I totally agree with you. At some point tasks need to be scheduled in time and that is what a calendar is for. Also, Microsoft should not carry forward the legacy of Office Outlook having People, Calendar and Mail in 1 app. Calendar should integrate with Alarms, World Clock, Tasks. Mail should integrate with Skype, Dialer and other means of communication.

No thank you. Keep it from OneNote and throw it in Outlook.

Why can't it have options for both? If anything, it needs to be integrated into notifications on WP.

It needs to be kept a separate program. It does me no good as part of OneNote. I do not use OneNote. I want a solid task management/To-Do-List app that is cross-platform. Once Wunderlist is a universal app and the tasks are stored on OneDrive, I can use it on my Windows desktop, tablet and Andriod phone and stop using Tasks To Do Pro with Toodledo Sync.

Maybe it should be made into a web app

slbaley1, Are you using WunderList primarily for Mobile access? Wunderlist seems a "lite" for business. How are you using it? I don't know why, but wunderlist does not allow WP browser access when editing/creating task lists.

There is already both a Windows 8.1 app, and a WP Wunderlist app, they sync perfectly with the web based Wunderlist...........its already available - it just needs to be fully integrated into Outlook with a tie into Onenote. There should be a tasklist on Outlook, just like there is a calendar (in the W10 application). Your already able to add dates / times / invite people to Wunderlist, and send notifications to your email / Phone, but it doesnt integrate into your outlook calendar, which it should. Also, in Onenote, you should be able to select a note, and create a task from your note (ie.....the tie in).

Nasellok, I like the WP wunderlist app. Clean, easy to use. No problems. However, I prefer mobile browser and wunderlist does not provide that for editing task lists. You mention "there should be a tasklist on Outlook". I'm confused, my version of Outlook 2013 and Office 365 both have tasks lists and I can view them in my calendar.

I will be using it primarily for Mobile access as a consumer to keep track of things I have to do during the day. The only "Business like" feature I need is repeating tasks based on due date. I have one repeating task that repeats every 10 years - renewing my domain name. I have repeating tasks setup for daily, monthy, quarterly, and yearly. Also have one repeating task setup to repeat every 5 years.

slbaily1, I see what you mean about Mobile access. Wunderlist is a real good example of mobile first design. The task list UI's are clean on both desktop browser and mobile. The setup, creation of tasks is easy and quick. Microsoft seems to create many more layers. I like Microsoft solutions, but they can be a big commitment and overkill in many circumstance. I think Microsofts Office 365 is a great move into mobile but lack the user base that wunderlist has. Many people who use wunderlist will be really surprised with microsofts office 365 offerings/solutions and they'll like it. Microsoft bought wunderlists users to use Office tools.

Agreed - keep it separate. One thing Microsoft could do is still give you the option to show your Wunderlist tasks natively in OneNote / Outlook Calendar. Maybe they could let you insert a Wunderlist task list like you currently can insert an Excel spreadsheet. They could even sync tags between Wunderlist and OneNote. There's nothing preventing them from integrating their products any way they want. I'll be happy as long as Wunderlist remains a standalone app for managing tasks.

Cortana will make it even more interesting

Next up: Snapchat (I know it won't happen)

Snapchat doesn't have any long term guarantee that it will continue to be of interest to consumers... Because of that I seriously doubt that MS has any interest in it...
.......
MS acquirers mostly utilities,, because they will be needed for the foreseeable future..
......
I personally think Instagram is less a fad than SC.. I'd rather see MS acquire something like Instagram if they decide to go that route... Nevertheless, I do agree that MS could benefit from something popular, and fun.

SC will NEVER sell you MS, due to the fact that the owner if an iSHEEP, and use to work for CrApple, and he hates MS( there was an article about thaton WindowsCentral too). So that's out of the question. FB owns the Instagram, so i don't think they would sell it to MS, since FB is pretty happy with their purchase. Having said that, I think MS should go after "Twitter", IMO. I think Twitter has a lot of potential, and MS could really benefit from it, with integrating it with Bing, Skype,....... somehow. Sky is the limit. i think Twitter has tons of potential, that their management is not seeing, or/and doing. just my thought.

I heard that they are working on an app yesterday.

Snapchat IS definitely coming to Windows

Source?? Not saying you are incorrect... just that I casually check on this every now and again but haven't seen anything to give me any hope lol.

Actually, WC reported that SC said so.. Look it up.

Look it up?? You make it sound like I don't follow the site or read the forums. Do you maybe mean the article entitled literally: "Vague Snapchat tweet gets Windows Phone hopes up, but try not to get too excited"? That article that says quote: "For fear of getting disappointed again, we should try and curb the excitement. Because none of this is in any way a 'confirmation' that Snapchat 'gave in' or anything."? So, no. WC absolutely did NOT report that an app was coming. Look it up :) I stand by my statement of asking for confirmation because, as I said above, I haven't seen anything to give me any hope. If it is true and is coming, awesome. We all win. But I'm a skeptic... I need an official statement or report from a vetted source (something the staff here does an excellent job of compared to other sites).

Chill out.. Im just saying that they reported that it was said, not that anyone said it was 100% true.....
......
Nevertheless, when market share increases SC will definitely come.. It's inevitable. That's really what everyone is saying...

Next: Slack and basecamp please? :)

Slack already has had many offers. They're not selling.

Why are they buying apps that barely anyone knows about in the first place

because they are smart and wunderlist is a top productivity app

Android and iOS users know a lot about Acompli, Sunrise and Wunderlist. Windows Phone users? Maybe not so much, but these are all VERY popular apps.

Wunderlist is pretty popular on Windows.

Im using this for work :)

Jancouver, Are you using WunderList just for tasks lists? I'm having a hard time understanding why users like WunderList. Some ideas why users might like it: cross-platform, accessibility, ease of access, mobile, UX? I'm not impressed by the task files that are created. Maybe it's a workflow thing????

I find it great - whats the alternative for TO-DO lists - Wunderlist already allows you to create tasks, invite others to a task, assign due dates / times, etc.........if it was properly integrated with Outlook / Office, it would be killer!! MS is making Outlook the go-to email applicaiton on every platform, and thats whats important. The thing I really like, is that you can have sub-tasks, comments, attach files.........but I think Trello does the file attachment and comment section a bit better. With a little TLC, and Office integration, the skys the limit.

Naellok, There's no alternative to TO-DO lists. They're essential and easy to do. However, there are workflow and app alternatives. Outlook 2013/Office 365 provides task lists / To-Do that provides much of the functionality you mention. When working with a team or tracking velocity, I like Jira the best. Hansoft and Trello are other examples. I think more options and alternatives are great for outlook, office, Microsoft. I'm just trying to determine if users like wunderlist because of the great features, integration, mobile first approach, or they don't know other alternatives that provide the same functionality just under a different name.

Re JerrySmithlll,
I'm trying Wunderlist in my small business and I'm skeptical of its ability to track 100's of Project related tasks and sub-tasks and accommodate changing priorities among the team. Does anyone use Wunderlist for this?

Kevin, I'm new to wunderlist and just created a task list. It's basic, but there seems to be problems with sub-tasks and images. Check it out here. https://wunderli.st/X1xvjJ I'm thinking wunderlist is great for individual users managing their own smaller personal tasks. However, as a team (business) it's important to understand velocity, user stories, tasks, bugs, etc. and manage it in one central area. I like Jira. I hear good things about Trello. Many people in the forum are talking about wunderlist integration with other API's and devices (android, ios, wp) and I think that's a strong point that many solutions don't provide. Also, it's definatley a mobile first design and it show in the UI and UX.

Define 'barely anyone'....this is one of the most popular mobile task mgmt apps around.

Just because your don't use it, it doesn't mean nobody knows about it. It's a really popular app.

*That everyone except you knows about. Time to find a new house to live in, because you can't live under that rock forever!

OneNote integration or OneList?

OneNote integration is coming soon as confirmed by Wunderlist..

Microsoft please acquire snapchat :-)

Microsoft please acquire google and facebook.

Screw it, just acquire the entire US.

Please acquire whole world and give us free salary :D

Just acquire India and Brazil and the whining will stop :P

Well Snapchat is 100% coming to Windows in the near future so no need for that

Buy me MS. I'm only $30 million! That's a steal @ the prices you been paying. :) RT though, I like that MS is quietly buying a bigger user base. Just think of the millions of people who use the three apps they have bought that love them but have no idea they actually love MS. If they keep this trend alive, every Apple user will also be a MS user, between Bing powered Siri and MS owning all the most popular productivity apps (all google users already belong to MS, cause patens). I don't ever expect any of these acquisitions to be fully integrated into MS platforms. They will prob remain their own entities.

"all Google users already belong to MS, cause patents" Microsoft and Apple cross license patents. Does that mean you're an Apple user?

It pains me to agree but to an extent yea we all are but were talking minuscule. Lol

This is awesome news. Such a great service.

May I pitch to Microsoft to buy my startup as well: Compu-global-hyper-mega-net.

Simpsons, anyone?! Le sigh.

People don't appreciate good humour - they only come here to complain or argue :P

Wunderlist seems nice but i am really deep into onenote now

I really hope they deeply integrate it into OneNote. OneNote is my daily go-to app, but the list functionality has always been bare minimum. Now that they have Wunderlist, it would be amazing if they added a "New Wunderlist" option after the "New Page" option, so we can put 'pages" and 'wunderlists" in our OneNote sections :D

OneNote is great but it is really very different from Wunderlist. They could really compliment each other if integrated with Outlook Calendar and Outlook Tasks.

good for them and us appreantly they are buying their way into Mobile space and it shows they are serious about productivity and smartphones

Just hope, sincerely hope, they don't screw Wunderlist up.. It's one of my most used apps..

Amazing! Now they can integrate it into OneNote and Outlook Calendar and it'll be a game changer!

The 6 keeps making me think they're talking about a Rudy Huyn app, haha.

I think their acquisition of Revolution Analytics a few weeks back was more intriguing and valuable than this one, but there wasn't much reporting on that buy-out, for some reason. Windows Central didn't even mention it, let alone analyze it.

I just looked that up and I'm not quite sure what the big deal is. What's so important about Revolution Analytics?

It is a company that takes R--an open-source statistical programming language that is quickly replacing the major players (Stata, SAS, SPSS, etc) in popularity in academia (research, education) and enterprise (big data analytics)--and compensates for the deficiencies of the open-source program by bringing in cloud computing and server capabilities, such as via Hadoop. It's one of the few purchases Microsoft has made that is happening while still on the early side of the upward trend in popularity and ubiquity. Basically, big data analytics is getting huge, and fast, and R and Hadoop are leading the way. Now Microsoft has one of the leading firms that are pioneering that charge. It's also interesting to see them embrace these open-source applications and profit off them by complementing and improving them, which is pretty different from the Microsoft of old.

Re: Coip,
wow, I think? You have alot of words and some abbreviations I don't know? If I understand correctly, then I hope you are right about them being on the cutting edge and it leading to something significant. (May I ask, what is the value of "big data"? First, I'll have to research what big data is.)

The short version is that that acquisition is good for Microsoft's enterprise, server, and cloud businesses. Big data refers to enormous data sets that are too big too analyze well on a single computer. They require cloud-connected databases and multi-processing. It's the difference between a graduate student with a laptop analyzing survey data on a few hundred individuals vs. Facebook analyzing hundreds of millions of them. All major corporations and governments are moving towards big data analytics, and Revolution Analytics is a good shoe in that door, especially if Microsoft ties it in with Azure. (The abbreviations--Stata, SAS, SPSS--are the names of statistical software programs that compete with R, the open-source statistical software program).

Re: Jas00555,
I researched it too and the web site looked great but was just alot of words?

Seeing this happen indicates that there'll be a lot of exciting future at Microsoft.
And also.. Why dont they just make the xbox music and video subscription "One" ? I mean.. Like on xbox.. Atleast a free album every week and a movie just like on games with Gold.. As long as you have subscription, the music is yours and the games and the videos...and make it cheaper. Make an optional Office 365 add-on with unlimited onedrive.. And boom! And also on Windows Store,if you have subscription at least free app and games a week :) oh i was just dreaming.
But so excited at Microsoft.

Y not any video streaming site to compete with YouTube?Better they start this now if they want to overpower YouTube by 2022!After all it is Google's!We have to stop using it some day!

They tried buying Twitch but Twitch went with Amazon instead.

Nope daily motion sucks. Vimeo is good but still far behind u tube. And u tube doesn't earn profit. Better not to invest as of now in a video streaming.

Ms already failed years ago with soapbox. Why should they try it again?

Vimeo is great. I make a point of checking them out, to show them support against the google "monopoly". Does Vimeo make a profit?

Offtop.
What is point about 6 as first character of company name and apps like 6tag etc?

6 is used by Rudy Huyn to differentiate his apps from the original ones.

Which actually started from his first '6' app, which was a third party Vine app (6sec). The 6 is only in there because Vine videos are 6 seconds long.

I'm thinking it will be somehow integrated into Cortana or OneNote maybe.

Now we just need to wait for them to confirm or deny Silent Hill during E3.

They already denied it a few days ago. It's not happening.

I have been using it, easy to use and the plug in for hotmail/ outlook calendar is great. Think this is a great purchase.

Re: semerdar34,
Plug in? Tell us more.

Looks like all the eggs are headed for one basket... Good luck Microsoft I hope whatever your plan is it works. Because the way I see it, either windows mobile will either tank or it would be a revolution... No middle ground.

The flawless Ativ s in the picture

Why why why????? Ms have own app onenote. Needed only to level up to wunderlist level. What of workers working in microsoft camp???

Re: myjoyta,
Wunderlist is totally different from OneNote. They act differently and are for different uses. They should merge features with Outlook Tasks and then IMPROVE.

With Family Room on WP8.x being jettisoned... having Wunderlist in their portfolio makes a lot of sense.

Re: MsftMan,
You can share OneNote lists without using Family Room and our family has set up a Family group on GroupMe. That said, yes the additional features of Wunderlist will be welcome.