Microsoft congratulates Sony on their PlayStation launch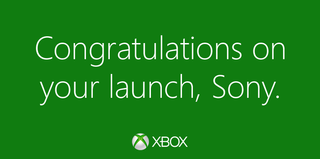 While we are a week away from the launch of the Xbox One, Sony has already launched their PlayStation 4 and fans are lining up to pick up their new units. In the wake of the event, Microsoft has tweeted at their rivals and congratulated them on the launch.
It is a nice gesture on Microsoft's part that can be viewed as genuine, or as sarcastic commentary. The company has been known to congratulate their rivals on launches, so it really isn't far from the average spectrum of what goes on at Microsoft. The tweet was posted at 6 AM EST and the official PlayStation account owned by Sony has yet to respond.
Have you preordered an Xbox One for next week or did you pick up your PlayStation 4 today? I have my Day One preorder and can't wait for the console to invade my living room - how about you?
Source: Twitter
Get the Windows Central Newsletter
All the latest news, reviews, and guides for Windows and Xbox diehards.
Yes it is. I enjoy my time, but I just want to fast forward to next week!

I just cancelled my day one preorder. Sadly, it looks like the PS4 is just the all-around better console. Congratulations to those who are getting theirs today, and I sincerely hope those who laid out the extra $100 for the XBOne also enjoy their purchase. I'll be waiting on the sideline for the dust to settle.

What did you learn about the ps4 today that you didn't already know? What makes it a better all-around console?

Nothing today. Just a coincidence. But the PS4 has the better first and second party support (Naughty Dog alone is enough to tilt the balance), and is clearly much, much more powerful. That said, if after the holidays it looks as though the XBone has been successful, I may reconsider. I do love the idea of Skyping from my TV.

I hope you made the right decision..

I should feel sorry for you but I don't. 261 customers on Amazon report dead consoles on arrival, Sony holds them on the phone for 2 or more hours and then tell them they will have to receive the console for repair and then send it back. Which can about 2-5 weeks. Let us know how long it takes for you to get your newly purchased console repaired. http://www.amazon.com/PlayStation-4-Launch-Edition/product-reviews/B00BG...

All the bitterness rivalry makes me chuckle. New technology always have failure rates, whether it be a TV, mobile phone, laptop. Doesn't mean it's a failure.

I HAVE NEVER BEEN THIS EXCITED FOR GAMING SINCE GTA V CAME OUT. DON'T EXPECT MANY COMMENTS FROM ME AFTER NEXT WEEK.

You will be missed, not. L0L.

Didn't GTA V just come out? Isn't that like saying, I haven't been this excited since yesterday?

I mean, it was like 2 months ago. I guess 5,270,400 seconds could feel like yesterday

Nah, it's more like saying you have been this excitedin 2 months.

That's usually how I am when I get caught up in internet porn...

I haven't been this exited since just before the flop and guilt phase, but now, 10 minutes later i can go again! :D

I was waiting for someone to make that joke

Wait you write comments??? LOL jk enjoy...

Day One preorder heading my direction as well. Can't wait - next weekend is wall to wall Xbox.

This is beautiful business :)

You really don't understand the reference? http://youtu.be/TE8lB7I97kE

That is sooo obscure. I'd never heard of it. Don't expect people to understand the babbling.

Y u do dis kjordan_29? :'(

Not really. The voiceover work is by a guy called Duke. He's done a bunch of pretty funny YouTube vids. The one I linked to wasn't official but showed the intentionally poor spelling. Anyway, it was pretty massive on the internet for a while (on reddit, 9gag etc) and the phrase "like dis if you cry evrytime" is a popular meme.

I'll likely go with the XBone, but not until next Christmas. Or until a next gen Arkham game comes out. I have all three, not about to miss the 4th.

Or XB1 if you're looking for an abbreviation.

I never see your comments on here, except for when it's about the Xbox, and it's always derogatory. Do you have OCD, or did you make a conscious choice to be a fixated retard? No hard feelings, I'm just curious.

I didn't try to be nice, I aimed at violating your feelings.

Do you usually sit in from of your computer trying to violate other people's feelings over TCP/IP? Now I'm worried about you.

Stop feeding this guy, he is a troll, but apparently doesn't realize it

Spent 2 hours outside of BB to get PS4, they didn't have enough. Went home, checked Amazon at midnight and they were selling it openly. Grabbed one, went to bed. Gonna resell and use the profit to invest into my XBOX1 purchase.

Why didn't I think of that! Put a bid at 400$ and let it skyrocket to a grand!

Why would people pay more after release? I understand before release, not after

I've seen it done. People do.

It's just weird... if they were that keen for it, you'd think they'd have pre-ordered a long time ago

Late shoppers or they buy and sell even at higher price.

I'm waiting.. 1. because I don't have the money. 2. Because I rather see if there are bugs. Other than that, I plan for sure to get an Xbox One

I have to wait until it gets hacked

I can't get the day one edition, but I'm getting the standard on the 22nd, and excited!

Why would anyone buy the Xbox one?have u seen the size of that thing... More like xBehemoth One!

This is sarcasm, right? Because I know I base my console decision on size. "Oh my gawd, I don't have enough room on my TV stand for that thing! I'll get a PS4. Or better yet, I'll just set a gameboy up there!"

If I'm not mistaken, the PS4 is bigger in depth than the XBOX One, by somewhere around 2-3 inches I think. It is taller and wider, but depth wise, the PS4 is a tad bigger.

You need to look at the facts before posting stupid things

Yes, like diod123 said you can only post stupid things if you look at the facts first.

exactly...wait, what? haha ... ok, I guess I could have worded that better

The Wobblestation 4 is no small console either.

Lol. Both are on display at Target, the PS4 is slightly bigger than the ONE

2 corporations and one fight. Between the customers of course :D

I will make the call somewhen early next year when the bugs and flaws of the first gen HW and SW are known and clear. Not sure yet which console I will get. I have a PS3 now, but I really like the way the XB seems to be a complete entertainment center... I will just wait for the reviews on both sides and then pick whatever fits me best.

I don't think sarcastic. Major Nelson tweeted his congratulations to Shuhei Yoshida just after the midnight launch, Shu tweeting back his thanks and offering best wishes for the following week. Sure these guys are in competition, but they are all gamers and gadget lovers.

Microsoft should team up with Sony quit all the hat COME TOGETHER RIGHT NOW OVER ME LOL

That sounded inappropriate.

I picked one up (ps4) last night at midnight. I went to Best Buy at 5:30pm, and to my surprise was the 2nd one in line. Tickets were handed out around 9:30pm and we got to leave and come back at midnight. The tickets were valid until 1am. It was too late to play it but tonight I'll be on it all night.

That is indeed what she said.

I'm getting the big Xboner! And yeah, she'll be on all night.

Apple could had sued sony for whatever if it is making iConsoles

Have PS4 pre-ordered for a few months and can't wait!

I'm all PlayStation, having a ps1, ps2, PSP but skipped the ps3. Gonna grab a ps4 and get my Metal Gear Solid V on.

Both MSGV games were announced for Xbox 360 and Xbox One, which I'll be enjoying on my Xbox One.

Metal gears is no longer exclusive.... +1 to MS

And PS got Halo, everyone wins.

i preordered the ps4 back in August, so i am gonna grab it today after work with COD: Ghost. I also got an extra controller too in case my friends want to come over and play on the ps4.

X1 for me. Can't come soon enough!

Unfortunately I have to buy a new windshield for my car.. Stupid Dallas highway's and earth movers..

i think u should go xbone and forza....driving will be more awesome than ur car with windshield

Dont you have insurance? Insurance covers windshields with something around a 100 deductable...no excuses!

In the state of Florida, its law that insurance has to cover 100% the cost of a broken windshield. Because even the slightest deductible would mean some deadbeats would never get it fixed, and its considered a serious hazard. So hence the law.

Not in Texas.. But I like that law❕

No, mine is my $500 deductible.. I have Allstate.

In any case Microsoft and Sony will benefit from console sales. I hope Sony or Microsoft would make the Playstation app for windows phone :D

If Microsoft meant this sarcastically...they fail ar sarcasm. Because all that Sony did was put their console out first in way more markets than MS will put Xbone. I think it's a sincere congratulation. That said, I'm not picking either of them. I'm happy with my PS3.
In the future, when both release slimmer versions of the consoles, reinstate media streaming capabilities etc etc etc I may look at them and choose one. I have a preference for the PS obviously but I'll look at both offers and decide. Currently neither justifies changing from the PS3.

There is no hint at sarcasm in that message. I don't know how the author got that idea.

Congratulations on your post.

Bring on the 22nd...... SO EXCITED.

Day One edition for me. I'm doing the jump from Playstation to Xbox One. I just hope that someone can manage to find a way to connect either the PS3 or PS4 remote to the Xbox One using a bleutooth dongle/adapter. I just prefer the feel and layout of it of the PS remote.

Welcome aboard the "ONE". And congratulations to the SONY fans hope its all you dreamed n more, now for the True Next Gen experience Nov 22 will be the DAY.

You can hook up your PS4/PS3 to the Xbox One via HDMI and still play it.

Sorry XBone fans - not interested in a machine built primarily for advertising, surveillance, living room dominance, and finally gaming. I'll get a PS4 which puts gaming first and foremost. I certainly wouldn't buy either of these consoles at launch, though. That's just asking to get screwed.

Come on! Do your research and think a little bit. XBONE is a versatile machine. You want games only, done. Entertainment, done. Both, all there. You also have choice of not using Kinect done! And for $500, you've just saved yourself more money not buying other entertainment toys in the living room or anywhere in your house.

That's hilarious after Sony's amended T&C stated that they will be collecting data including video and voice to send to their partners or release upon legal request. Um you may want to do some research outside of the regular MS bashing forums.

Nice try, but that's nothing unique to the PS4 and is only applicable to what you choose to communicate over PSN. Anyone with half a brain would expect the operator of any such network to monitor communications over that network for abuse to the best of their abilities. Would you really expect your communications over PSN or Xbox Live to be unmonitored? Then again, given the reputation that voice chat over these networks has, I can see how you might think that nobody is paying any attention...

Hang on so the reason you won't buy a an XB1 is perfectly justifiable when it comes to the PS4?

Not at all. I simply distinguish between voice/video chat over PSN/Xbox Live vs. every single thing going on in my home even when the console is supposedly powered off. I realize my standards are absurdly high, though.

I hear the PS4 also comes with a free tinfoil hat.

Is this where I say something about PC Master Race? I might get an Xbox One sometime in 2014 or 2015 to play the next Halo (if I can't play it on PC); my 360 has been relegated to a media console, something a Roku can do for far less money.

Been preordered for months. Patiently waiting!

Internally they are hating them and hoping for failure, a'la Nintendo WiiU :-)

Im waiting for xbox one . For PS4 , im just waiting till someone make it available as emulator :P i dont really looking up to PS . It just most of my favourite game is go to PS series (final fantasy and tales series) i dont have ps2 just ps2 emu and im only playing ff and tales series :D for xbox game i will and definately get the original engine xD for PS engine see you in my PC as emulator

Tales of vesperia was XB and now Kingdom Hearts, so i assume this can continue

Ps4 all the way. Xbox One cant even do 1080p Call of Duty. Its like all the non-gaming features come at the cost of the core gaming experience. That should be a deal breaker for most since it is, you know, a gaming console.

Did you watch IGN side by compare of current and last generation graphics? Just slight improvements. Game play wise, no different. All just ports of the same game. I expected current generation games to show things more radical and awesome inspiring than just ports and improved graphics. You git bro? This is why MS, I believe, is bundling Kinect so that devs, if they decided, incorporate Kinect so the experience wouldn't feel like games are just ports.

To be fair that game looks extremely horrible in all platforms (including PC at 1440p).

For me it comes down to software and user interface and as much as I tried (psp, pspgo, ps3) I just couldn't enjoy Sony's UI experience. Also trying to find friends and connect to online games was just a chore. A lot of my friends switched from PS3 as their primary platform to Xbox just because it was easier to create an online group and the experience was consistent across all games. If Sony can address this I may look at a PS4 further down the track.

And the whole resolution flap os bs is just that. Developers did not have the time to push to 1080p. The SDK was a moving target, and didn't go gold until after the games went gold.

I also don't think that there is sarcasm in play. The XBox team knows how difficult it is to create a modern gaming console, so they can value this accomplishment for what it is. On the question: I have a XBox 360 and had a PS3. However, I will not buy a next gen console, but instead built my own HTPC with gaming capabilities. It is more silent than my existing XBox 360 and much more energy efficient. Furthermore, I am totally flexible, I am able to do things that I cannot do on the consoles (e.g. watch TV using a dedicated Satellite card; watch movies with subtitles; ...) and my screen will not be spamed with ads (until I start Steam ;)). The only downside was the price, which was much more than a XBox One or PS3.

Lol I love all the "I'm not getting it at launch. I'm going to wait for all the bugs to be worked out" aka "I cant afford it right now/all the preorders were gone" :)

Or some people would like to wait out the reviews and/or see if the systems will break within a couple months of use, or simply can't decide yet, you twat.

And if it does "break"? Owners can take a break from the ridiculous fun they've been having with it (only possible by actually owning one, of course) and send it in for a free warranty repair. Ridiculous fun then continues immediately afterwards. ...Sorry, I never ever understood that kind of logic you're perpetuating. These are complex machines and games. There are ALWAYS bugs. A platform's age doesn't even enter into it. Ya just can't afford it, plain and simp. It's ok, we understand.. These are tough times. Frikkin' Obama...

Nope, that's not the point. I could afford both if i wanted to, because I have a "tech" fund, in which I safely lock up my money, because I know I'm a tech junkie, and there will be at least one gadget that I'll want to buy every year. For instance, I can't make up my mind if I want a Lumia 2520 or a Surface 2. I can afford both, but do I need both? No. Just like the Xbox and PS4. Do I want both? Yes Do I need both? No I could buy the other down the road, but I don't want to buy something if it has a high risk of breaking at launch, despite the warranty. I want it to work like it is supposed to. And no It's not freaking Obama, I'm from Europe dude

Looking at the large library of games for the PS3 and 360, I think people can have "ridiculous" fun with them while waiting for issues to be fixed on the new consoles and more interesting games.

That's what warranties are for.

as the problems poppping up now with the PS4 show, waiting does make sense... If I wanted to, I could go out and buy the PS4 today and the XB next week.. has nothing to do with money or being late for preorder... has to do with wanting to avoid what many face at the very beginning of the lauch of a brand new system: frustration :)

While I have an XB1 on preorder since E3. I can understand the reason why many want to wait. Anyone remember the RROD?

Here is my one and only issue with Xbox, and it has to do with the controller. LB is Left Button / RB is Right Button LT is Left Trigger / RT is Right Trigger The Trigger is the bottom button, and the Button is the top button. I constantly think T is for Top and B is for Bottom, and it always screws me up when I get an in game prompt to hit a button. On my old PS2 I never had that issue, L1/R1 and L2/R2 is less confusing. That said, Xbox's 4 main buttons are easier to remember. I'm assuming this is all the same on the XBone, can't find anything on the top buttons saying that they're any different. But I'll still probably buy one over the PS4.

well you do realize that the "trigger" is analog(e.g. you can control how much gas you put on in racing games) and it rumbles based on how much you pull it, right? try do that on a button.

LB and RB actually stand for Left Bumper and Right Bumper respectively. Looking straight at the controller, you can see the bumpers "protecting" the top of the controller. Think of them that way, maybe it'll help differentiate them from the triggers?

I picked a PS3 over the 360 because it has blueray and didnt have to pay to Play online and now both systems offer almost the same , any advice on which one should i pick , can list all the features and exclusive games? I'd like a partial review don't need a fan boy of either console

Well I wont be giving you a review lol, but you can deff head to either Xbox or PS4 website and see the exclusive games and launch titles for both. I been telling people who have asked me the same question to ask themselves one question, I think its a legitimate question and one that wont yell out "fan boy or bias" What do you want the next gen console to do for you, what are you expecting from a console you will own for 8+ years? Just gaming? some gaming and some entertainment? casual gaming and more entertainment? Or maybe you own a ps3 or 360 now, so what do you use that console for? do you use the apps on your 360 more than playing games? I know it already sounds kind of bias asking those questions because you can predict what the answer is and which console does entertainment better, its obviously Xbox. BUT I have friends who really don't use Netflix, Hulu, Watch ESPN or NFL network, they just love playing games and completing the story modes.

As crazy as it may sound, I bought an XBOX 360 primarily for ESPN3. Now, it really doesn't matter as the programming for ESPN3 has been cut tremendously. I remember I used to get stuff that came on ESPN and ESPN2. Now, I just get the replays.
Of course GEARS OF WAR played a hand in that as well. That game used to be like Heroine to me. I would be up til like 3am in the morning playing it. It was so fricking addictive to me. It gave me a lot of sleepless nights.
Now, I'm so up on MS ecosystem, it would make better sense to get an XBOX ONE. I have A ZUNE HD,WP, W8.1, XBOX MUSIC and XBL subscriptions.

Thats the same reason i got a PS3. I am getting a XB1 because of the integration to the Microsoft Ecosystem, plus it is more of an all in one entertainment solution than any other device supporting dnla, skydrive, and others. Plus the snap feature is going to be one of those ninja features no one will see coming (pun intented).

Is it just me, or does this seem intentionally apathetic? Like, if it had said "Congratulations on your launch, Sony!" it would've seemed more genuine, but this just seems bleh.

Going with a PS4 for the pure gaming experience plus the exclusives, Xbox gaming on my surface and WP is enough for now, I have an Xbox 360 and a ps3, and I never use the 360.

Can I pin a WPCentral live tile to my XboxOne home screen?

Now that's a good question

Well, you can pin the wpcentral website to your pins now on 360, so you'll be able to do the same on XB1 with pins on the home screen... Though it probably won't be a live tile. I wonder if live tiles can actually exist via those pins though...

I'm waiting for my Xbox one... my brother picked up a PS4 last night, so I will check it out this weekend... They announced Uncharted for the PS4 last night....So I will be ordering a PS4 sometime next year before the release. It's one of those very few games that I would buy a whole system for... Just like I picked up a WiiU JUST for Super Mario 3D land that is coming out... Lucky I only paid $80 for a 32gb model :)

$80??? I would've bought it in a heartbeat for that price.

How did you snag an $80 WiiU?

Xbox One Day One Edition for me. Already got the Day One Edition Xbox Live Card. Pretty damn stoked for this puppy.

Getting one but I hope they have enough in stores!

Microsoft is much nicer than I am.

I got my PS4. Updating right now... No Xbone for me. Can't afford both, but I'm planning on getting it at a later date!

Nobody is getting anything until Christmas!

A bit off topic lads, but if anyone has pre ordered their Day One edition from https://www.windowscentral.com/e?link=https2F%2Fclick.linksynergy.co... UK, can you please tell me if they have already charged your account or not? I had received an email from the store saying that they would start processing the pre-orders on the 15th but I haven't been charged yet.

I'm a PS man!! But the one looks amazing too. Either way, Next Gen gaming has arrived!!

I will end up getting both.

if you search for ps4, ps4 problems comes up within the top 5 suggestions... doesn't look too great for the ps4 right now... I sure hope MS has a better launch...

return the console by next week, for a better gaming experience. :)

Xbox One pre-ordered and awaiting next week. It should be a great time!

XB1 Day One come to PaPa!

I'm considering a PS4. It's a shame, since I've had the original Xbox and 2 360s, I'm on my second Windows phone, I own a Surface and I've run every version of Windows since 3.1. Unfortunately, however, the Xbox One is simply too expensive for me to justify.

Get it at Rakuten. They'll probably have like 20 percent credit back around Black Friday. So, that would make it like 400, with 100 for you to spend on whatever laters. At the minimum it would be 10 percent credit, so that would make the ONE 450 and you more than likely don't have to worry about taxes for now ;-) If they have anything like 20 percent, I'm getting the ONE this year. Otherwise, I'ma wait til January or something.

Damn commy helping them fund another pearl harbor.... XBOX ONE U.S.A U.S.A U.S.A cuz Murica FUCK YEA!...

Always thought MS missed an obvious marketing opportunity by not releasing a red white and blue console that played the star spangled banner on boot-up. You know something subtle and sincere like Xbox One 'Land of the Free (just not healthcare)' Edition

You got me at "star spangled banner on boot-up"...LOL

Getting an xb1. Failed to preorder, so I'm gonna brave the lines for midnight launch and cross my fingers. Never done a day one launch line before...

Same here. Didn't decide to get one until yesterday...did it for Diablo3, with preorder though. get there early.

Hope you get it bro. Happy gaming

I hope the Xbox One gets a bigger launch than the PS4.

Nokia also "Welcomed Samsung back to Windows Phone" when they announced the ATIV S. Well, it made sense by then because Samsung didn't (and still doesn't) give a shit about WP, which is clearly not the case here as Sony is serious about gaming!

Microsoft's IE division sent Mozilla a cake every time they had a major release back when they were doing slower release cycles. Mozilla responded in kind with a Firefox cake when IE10 was released.

Classy gesture, since MS and Sony are in talks for a Sony made Windows phone...Hmmmn...

Love that microsoft did this.... let's see what sony does next week :)

Currently own a couple PS3s but I mainly use them for media services (and Uncharted releases). Really like the XB1 except I'm worried that a lot of its media features are US-centric and unavailable in Australia. Therefore, we pay more for something less valuable. Think I'll wait a little while and see how handicapped it is first...

Pre ordered my XBox One as soon as it was available, and if you remember, they weren't the Day One editions. So, I had to cancel my original preorder and preorder the Day One Edition. Same thing with Forza 5, had to cancel and the re-preorder the Limited Edition.... Oh the insanity....

Pre ordered my XBox One as soon as it was available, and if you remember, they weren't the Day One editions. So, I had to cancel my original preorder and preorder the Day One Edition. Same thing with Forza 5, had to cancel and the re-preorder the Limited Edition.... Oh the insanity....

Good sports from Microsoft, hopefully Sony will do the same!

nay, that's more of sarcastic than genuine

I love my pc... And the only game that matters to me is DOTA 2. Never really into XBOX or PS. I'm excited for the other folks out there though. Happy gaming :)

Can't wait to get a PS4 lol. I'm a WindowsPhonist but when it comes to gaming its either PlayStation or PC. :) (Keep in mind I also own an Xbox 360)

What games are everyone looking at?

XBone vs. Wobblestation. I look forward to the failure rates in the coming months. (Hopefully minimal in both cases.)

After I have satisfied my other gadget needs, I'll get a WiiU. PS4 and XBone don't interest me, as there are no games on them that interest me yet.

Surprised someone mentioned Wii U here. I have one. Its unreal to be honest.

TBH, Wii U and Oculus Rift are pretty much the only thing I look forward to in gaming, the other things just seem like the "same old" stuff. :)

You mean like a new Mario or Zelda game...

Gameplay -wise those characters have probably seen more variation than the whole of PS3's or 360's library, so yeah, but I'd prefer new IP.

I'll get both as soon as the dust is settled..