Microsoft clicks in a massive Surface tablet in London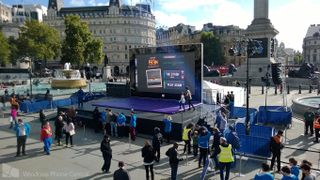 What's Microsoft good at when it comes to promoting products? Erecting massive constructs of said product in public places. The latest to be reproduced is the Surface 2 tablet, which was spotted at Trafalgar Square in London. A huge 17-foot construct. We popped along to see what the fuss was all about.
Microsoft has just launched its second generation of Surface tablets here in the UK. The giant Surface tablet at Trafalgar Square wasn't simply a dummy, you're looking at a fully functional Surface tablet (connected to a unit via cable), built for giants. Microsoft also didn't just erect the huge construct, but the company also enlisted the help of Dizzee Rascal, a chart-topping artist, for some help with PR.
Check out some more shots from the event below.
Rich Edmonds is Senior Editor of PC hardware at Windows Central, covering everything related to PC components and NAS. He's been involved in technology for more than a decade and knows a thing or two about the magic inside a PC chassis. You can follow him over on Twitter at @RichEdmonds.
Could you imagine playing Halo: SA on this thing

so he erected and it surfaced?

Microsoft truly is rising higher and higher.

Then they'll have to head home.

they need to rise the quality and number of apps for surface 2 to stand a fighting chance


naw even if windows dominated apps, and quality of apps, you'd still have to deprogram peoples minds, apple could probally sell and empty case with no electronics in it and people would still fall for it

That's practically what they're doing now. New ipads are every bit as boring as the last one.

love the deprogram ! but thats very true . showed a few friends the surface 2 an they all liked the build and feel but were the apps .

They're playing Jackie Wilson music that causes the river of hate slime under New York to make the Statue of Liberty walk...across the ocean to use her giant Surface??!?! <mind blown>

That so 80s, in a cool way!

It's about time they rose to the occation, they've been too soft. It's time to play hardball, and this huge erection is exactly what they needed to make people come.

I also like the fountain, it's very fitting.

Can the erection still fold over onto my lap?

No, its too big for you to handle

I think everyone saw a conversation like this coming.

No, he surfaced an errection.

What is that app in the last photo?

It was a tweet wall that I think they made for the event. It was aggregating #GiantSurface hash tags

Jay there should of been a wp central app on that screen!

What angle is that kickstand at?

There really are some funny comments on here.

Playing twister on the trackpad tho

DAMN! I hope its still there on sunday (this weekend), stuck at work on saturday... 7 am to 7pm... bleugh.

Afraid it was today only :(

Jay,when is the WPC app for Windows 8.1 going to be released?

Is there any point? I mean, I understand about having a WPC app for a phone, but what's wrong with pinning the website?

All the ads and extra scripts loading and sometimes a non responding comment box, etc are the things you will not have in an app like that on WP.

Cheers mate, for clearing that up for me.

I asked that question a year ago in an email. I got a very disrespectful answer from Rubino. :(

In what way was Mr Rubino, disrespectful to you?

Lose the comma, you fool.

Probably something like that :)

Ha ha ha -- Robert, that comment made my day.

Lets get the game rolling.

Going to London tomorrow, I might see this!

Someone's having fun playing jetpack joyride on that huge screen :)

Is the girl with the white gym shoes on in the second photo levitating off the ground!?

No she's jumping on the space bar :) the huge keyboard was fully functional!

When are we going to some Microsoft stores in the UK?

Did anyone show up? Looks like it was pretty empty.

Yeah the steps behind were packed when I took these, Trafalgar square gets a lot of traffic in the day.

It was 5pm when I went there (30s from work, lucky me :D) and there was still a fair amount of people.

That was my first impression too!

Wonder if that surface at least has a higher than 1080p res...

That's massively and erectably awesome!

Only for 1 day! :O
That's madness! Surely you'd keep it going for more than 1 day!? I'd have gone down there if I'd known.
Also, what's teh point in showing it off if you can't buy it easily? (I went to 2 PC Worlds and John Lewis today, none of the stores had even heard of it let alone stock it. Even though JL had told me via twitter that it was in stock.)

I want to hear the click this thing makes!

it will tremble the foundations of earth!

Save the marketing $ and lower the price to $300, including the keyboard. It will become the hotting tablet in town.

Throw in a pony while you're at it, please

World war 3 - the slaves of the new technology.

That's not marketing.. what a waste of money. Thats something to do during major events, like past summer Olympics.

but I can't keep one in my room :D

WTF WHERE IS MY SURFACE HOODIE

Why couldn't Microsoft get same screen res as apple air, don't they all have the same suppliers

iPad "Wow that thing is huge"
Surface "that's what she said"
Windows Central Newsletter
Thank you for signing up to Windows Central. You will receive a verification email shortly.
There was a problem. Please refresh the page and try again.