Microsoft debuts new Modern Keyboard with Fingerprint ID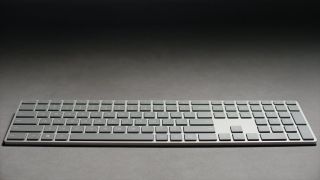 Microsoft has debuted another keyboard, adding to its growing lineup of stylish peripherals. Called the Microsoft Modern Keyboard with Fingerprint ID, the keyboard is now listed as "coming soon" (opens in new tab) in the Microsoft Store.
This new keyboard looks identical to the latest Surface Keyboard, which debuted in October of 2016 alongside the Surface Studio. The Microsoft Modern Keyboard can work either wired or wireless over Bluetooth, but the biggest difference is a Windows Hello-enabled fingerprint sensor tucked in next to the right Alt key.
Curiously missing, of course, is the Surface branding, which also seems to have been dropped from two other accessories. Alongside the new keyboard, Microsoft also unveiled a Modern Mouse (opens in new tab) and Microsoft Arc Mouse (opens in new tab), both of which are listed as "coming soon" and are identical to their Surface-labeled counterparts. It could be that the Surface accessory lineup is undergoing some rebranding to make it clearer that they work with any PC, but that's just speculation for now. It's worth pointing out, however, that both the Surface Keyboard and Surface Ergonomic Keyboard still retain the moniker.
In any case, there's no word on when the new Microsoft Modern Keyboard with Fingerprint ID will be available for order. That said, it will cost you a pretty penny once it arrives; the store listing pegs the new keyboard at a cool $130.
See at the Microsoft Store (opens in new tab)
Dan Thorp-Lancaster is the Editor in Chief for Windows Central. He began working with Windows Central as a news writer in 2014 and is obsessed with tech of all sorts. You can follow Dan on Twitter @DthorpL and Instagram @heyitsdtl. Got a hot tip? Send it to daniel.thorp-lancaster@futurenet.com.
Me too! This is fantastic and I've been waiting to get a keyboard with a fingerprint reader for seems like 3 decades! I want this for every computer in the house....or...a cheaper OEM keyboard with a fingerprint reader.

Good to finally see it. They mentioned it during the event when Surface Studio launched.

cool! are the keys backlit?

Huh, according to specs on site, not mentioned. Therefore, no.

The Surface Keyboard did NOT work wired because it simply had no wire. It was one of the critics to it ('cause you couldn't use it to access the BIOS). The other being the lack of backlit keys. Well, Microsoft fixed the first one so, for that only, I'm glad I didn't pull the trigger on the original Surface Keyboard. Oh and this one has a built in battery instead of using disposable batteries like the Surface Keyboard. Still a shame that they didn't took the opportunity of having added the wired option to put in the backlight (since one assumes, when connected via USB, it's being powered by the computer).

Since weight isn't an issue, there's no reason that they couldn't have put in a backlight. Sure, lighting would use more battery, just put in a big enough battery. Logitech makes a mobile keyboard that is backlit, for example, and it's less than $100. For $130, there's no reason that this thing should not have backlit keys.

About the same as the SP4 Keyboard with fingerprint id

I don't think that's expensive.

I think it is, even if it does look great.

Nice but too big for portability.

I've tried to lug my Surface keyboard with my SP4 but too big (don't have type cover yet!) so I use my MS foldable keyboard - is awesome with my phone of Pro.

How does the Surface keyboard work wired? I looked at one and it didn't seem to come with a wire or have a place for one to plug in

It doesn't, it's a mistake in the article.

Correct. It was a mistake on my part. cough nothing to see here cough >.>

The new KB works either wired or over Bluetooth. The correction was with respect to the prior Surface Keyboard, which only works over Bluetooth.

If you look at the video, near the end, you will see a cable being plugged in (USB?) at the front of the keybroad.

No, it's actually plugging in at the back. I had to replay the vid to make sure, because front makes no sense. (You can tell by looking at where the arrow keys are.)

Modern mouse looks to be the same as the Designer mouse. Don't do it. Worst scroll wheel I've ever used. It was so hard to scroll, my finger was rubbed raw after two days of fighting w/ it. It's been relegated to my travel bag to be used only when on the road. Also, the left click developed a horrific, creaky, squeak after two days of operation. Don't do it.

Weird I have had one for a while and it works really well for me

Maybe. Could be personal preference of course. I did like the explorer touch mouse before that but wore it out lol. The strip it has instead of a wheel was nice

I moved to the MX Master. Pretty sweet piece.

Thinking of getting one of those myself. Looks great

Feels great. Can't really say enough good things.

Love that the FP reader is a key! Brilliant idea. It works to dismiss the lock screen while signing you into the PC. Currently I press the space bar and then touch my USB sensor. This handles it in one motion! Perfect! Just need a spare $130 with XB1X on the horizon!

Surely you don't need the screen on to use the fp reader. If the PC is in sleep you just swipe.
Unless your usb ports shutdown in sleep mode which is also unlikely because in that instance your keyboard would also not respond.

Hey, ya know what? I just tried it and you're right. I swear that when I first got the FP reader it wasn't working while the lock screen was down. Since then I've been using the keyboard to dismiss the LS then touching the FP reader. Thanks!

This looks nice but I want to see solar charging and backlit keyboard like my logitec keyboard has, then I might be interested. Only bad thing about my logitec is it is solely wireless and it uses logitecs propietary wireless standard rather than blutooth. One other nice feature they could add is a soft KVM, that allows you to maintain connection to multiple devices and switch between them with a press of a button.

Logitech have that on a mouse or two. Wish more companies would do it

Good lord, $130?! That's a bit steep

Welcome to 2017 Micrapplesoft.

I think Microsoft think the patent exchange agreement means they can clone Apple's gear and business plan lol. They are learning quickly though!

Microsoft is in a sticky situation. They want to show what premium Windows experiences are all about, without competing their partners out of business. If this was priced like any other wireless keyboard with a fingerprint reader, we would see less options from OEMs.

This isn't a reference device, Microsoft has been doing keyboards for decades.

Yea a very long time... I got some that date back to WIn 98 days... and crap that was a long time ago...

No backlight, no buy. I'm a video editor that works in a darkened room.

replace numpad with a huge precision touchpad and it becomes the ultimate HTPC kb

Correction... Home Theater PC.... Mine is done via remote for 99% of everything but, that 1%, there is a keyboard for....

That would be amazing. I don't know why there aren't more options for a decent keyboard with built-in trackpad.

they are all lame honestly, logitech going crazy mixing android-win buttons even mac buttons and complicated lineups with no definitive "best" option, the "all in one media kb" from microsoft is a fine solution but barely, and the first version is DOA with F keys being shortcuts instead of F keys by default

So there are plenty of options, just nothing decent. That's what I was afraid of. I picked up a tiny wireless one on Amazon for around $20, and it's worth about that. ;)

They already have a Media All-in-one keyboard. So what you mean is update that one with a precision trackpad.

you didn't get what I meant

I want a fingerprint sensor on the Surface Ergonomic Keyboard

I just got my boss to buy me a Surface Ergonomic Keyboard and the matching mouse for my desk :)

Better than Apple's new keyboard

Except the colour. The Apple keyboard *looks* much better in black and grey.

It borrows a bit much from Apple's keyboard design if you ask me, it's practically a homage to Apples last few keyboards. I know it has extra gimmicks like the fingerprint reader, sure, but I had to do a double take when I first saw it.

Yes yes yes yes I've been waiting for this l. Definitely gonna buy

Nice, great way to add Hello support to desktops where you might not invest in a Hello compatible camera.

Damn, no backlight listed. Was thinking it would be a great upgrade to my beat-up old keyboard but that is a deal breaker, especially for such an expensive model.

I pretty much feel you're going to have to pry my Logitech K800 out of my cold dead hands. But if this was backlit I would likely give it a try.

Nice keyboard but too expensive. Maybe if it was backlit.

Lol $130 for a basic looking keyboard;

I still think that the keys just look far too cramped on this thing, I'm sure it is fine to use, but it looks like a mess of keys.

I recently bought a Corsair Mechanical keyboard for $130. It's way too good for typing and gaming.

This is incredible! Genius design as I've always wanted a fingerprint reader as that's faster than typing in a pin/password everytime

That's nice but I will be keeping my IBM Model M.

Really, micro USB. Atlease use the USB-C port and usb USB2.0 innards like some companies are doing. USB-C port can mean all kinds of different things. Is it USB3.1, 3.0, 2.0, thunderport 3? Who knows!

It for a keyboard doesn't really need anything fancy.

Really ? No matter how much you hate it, MicroUSB is the standard today. Windows Phone, Android all use it... iPhone ? Who cares...

Hope it sell in my country. I'm going to buy it for sure.

At first I thought that charging cable was being plugged intot he bottom of the keyboard which was really weird, then I watched again and it was the top, whew.

https://youtu.be/5eI0klTsqnA
Modern mouse

Getting one at work... they are cheap $40-50 (cheap for a good mouse)

MSFT has it own tricky way into letting people buy⌨ keyboard. They have 3 different types now. It's nice thou, wish 🌠 I had one but the price tag sounds like 🙄🤔🙄 🤔🙄 🤔🙄

I am having this! Does the arc mouse have a back button of some sort? Also, anyone see a MS branded touchpad for desk use?

thanks for the downvote fangirl so "mature" of you!

good lord... it's so modern...

I like, but backlit would have been a nice option

Looks great, but I'll stick with my Logitech wireless solar keyboard. No need for batteries or charging.

I would prefersomething with more key travel, but building the fingerprint reader into the keyboard is an obvious thing (I could also see it being built into a mouse) whose time has come.

Unfortunately, right alt is to far to the right. Very uncomfortable for polish language.

Why can't a 'Modern' keyboard not have a .com key? That's the only improvement I'm looking for.

.com is very gradually being replaced by .awordhere

You only get .com when it knows you're trying a url... In a fixed form english kb I would have thought an 'and' or 'the' key would be useful.. or whatever multi char word is most common...

My K800 is wireless and backlit... why on earth is this not...

Damn it, just recently bought the Wireless 900 desktop keyboard mouse from Microsoft........

Will this be available in the UK?

Recently bought a sleek Razer gaming keyboard (doesn't really look gamer-y, which is why I love it). Backlit was the main function I wanted, this Microsoft "Modern" keyboard would have been perfect if it were to have that.
Windows Central Newsletter
Get the best of Windows Central in in your inbox, every day!
Thank you for signing up to Windows Central. You will receive a verification email shortly.
There was a problem. Please refresh the page and try again.