Microsoft launches new Surface keyboards and mouse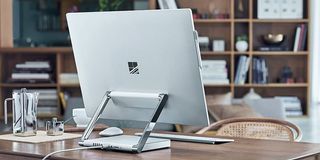 Microsoft has unveiled a range of new Surface accessories, including two new Surface-branded keyboards and Surface mouse. These are available for standalone purchase or as a part of the Surface Studio all-in-one PC. Pre-orders are now live from the Microsoft Store, via the links below.
Surface Keyboard
The Surface Keyboard is a simple wireless keyboard, with a gray finish similar to both the Surface Studio and the Surface Mouse. The keyboard connects to devices over Bluetooth, with battery life touted to last over one year. While this is included alongside the purchase of a Surface Studio, the keyboard is also available for pre-order separately from the Microsoft Store for $99.99 in the United States.
Update: While a listing originally appeared for a Surface Keyboard with Fingerprint ID, the listing has since been removed.
See on the Microsoft Store (opens in new tab)
Surface Ergonomic Keyboard
An ergonomic variant of the Surface Keyboard is also available, valued at $30 more expensive than the standard model. Designed with a split keyboard and arched shape, the keyboard is aimed for increased comfort without hampering productivity. Unlike the standard keyboard, the Surface Ergonomic Keyboard ships with an inbuilt cushioned palm rest. Pre-orders for the Surface Ergonomic are also available from the Microsoft Store, for $129.99 in the United States.
See on the Microsoft Store (opens in new tab)
Surface Mouse
The Surface Mouse is also available as a standalone product and compatible with most Bluetooth devices. With a similar design to other Surface accessories, the mouse will be included with all versions of the newly announced Surface Studio. The Microsoft Store is currently taking pre-orders for the Surface Mouse for $49.99 in the United States.
See on the Microsoft Store (opens in new tab)
Are you looking to pick up any of the Surface accessories? Make sure to let us know in the comments!
Matt Brown is Windows Central's Senior Editor, Xbox & PC, at Future. Following over seven years of professional consumer technology and gaming coverage, he's focused on the world of Microsoft's gaming efforts. You can follow him on Twitter @mattjbrown.
I want that ergo keyboard! but I need swedish keys ..... :(

Why? Surely you know which key is where anyway? I use the non-Surface branded ergonomic keyboard and switch between GB, US, NO, SE and DE depending on what I'm doing. Keyboard itself is US though.

Try use ç in an English keyboard

I'm not a native, I just live here, so not quite so natural for me, no.

Backspace, return, and many other keys have a different size on English keyboards compared to European. It's quite annoying to use a US keyboard with e.g. German layout.

$130 for a bluetooth keyboard... Does it cook me dinner as well??

For that price I'd probably go for a Corsair K70 or something similar

Microsoft is thinking they are the New Apple with this Surface stuff. Meanwhile the real Apple is selling as hell and bringing Windows users to their ecosystem.

"New" as in "We painted them grey". Thanks but I'll pass on the Apple-style. I prefer the "older" black versions. Also...the keyboards have an ESC key? How outdated! :P

Can only speak for myself here but I find the ESC key so useful, pretty much more so than the Windows key itself.

I only use it to minimize KMPlayer from full-screen

I agree. Apple, apparently, doesn't. lol

The ESC key is extremely useful. There's a reason it is a standard key on keyboards.

Agreed, I use it all the time.

I use the ç key more often ... kkk

That was a joke he did about the latest rumor regarding the MacBooks Apple will unveil tomorrow, that they won't come with a built in ESC key. :)

Thanks! Apparently I need to catch up on this rumor lol

I see you're not up to date with Apple's latest "innovation". According to the leaks of the new MacBooks, after the "corageous" removal of the headphone jack, Apple now removed the ESC key from the MacBook keyboard lol

Ah! good ol' courage strikes back

ESC is very useful... I use it daily coding, browsing, in many application for work and pleasure. Shoot... gaming. When all else fails... ESC :)

That mouse if fugly. Looks like a first gen optical mouse.. No economics and no additional programmable buttons = no purchase.

So, the Logitech mx, which is not a gaming mouse has buttons. I currently use a Logitech g602 gaming mouse, but not for gaming. Instead I use the buttons for photoshop , visual studio, etc. To boost my productivity. Having buttons on a mouse has its advantages beyond gaming....

Wow that standard keyboard is insanely priced.

Basically it's the Designer keyboard/mouse, just bluetooth and not USB adapter.

Those look dated already.....

Really hope an ergonomic version of the mouse is coming

Would like to know if there are any significant changes to the designer keyboard and mouse that are on the market already.
The keyboard looks really plain esp. in pictures but is very solid irl and a joy to type on imo.
Mouse is cr@p though.

Hopefully this changes my least favorite thing from setting up Windows: you can't use a Bluetooth mouse and keyboard. ChromeOS and macOS will search for Bluetooth devices the first time the computer is turned on, so it can find your mouse and keyboard and you can use those for the set up process. Hopefully Windows does this now too.

Ugly imo. The ergo keyboard looks better the way it was with that split in the middle giving it that unique look. These look like cheap plastic toys. If you're going to go for metal appearance might as well just use metal.

No backlight?Big mistake...

It's not listed in the specifications of either versions but the ergonomic version does list in its hot key features Backlight+, Backlight- ...

looking great i'll keep an eye on these

I wonder if these Bluetooth devices will drop connections as much as the Microsoft Bluetooth mouse that I recently bought and returned. I prefer the Logitech unified receiver solution. My Logitech MX 2 never drops a connection, and the connection can be shared with a keyboard and other devices while taking up only one USB port.

Looking at the listings, it appears not (:

Yeah....no thanks. Too much money. Way better keyboards from MS at reasonable prices.

thankfully they know a desk kb with no numpad is just embarrassing, but they could've used the opportunity to get rid of the mouse wheel, its about goddamn time they replace that with a tiny precision touchpad for scrolling and gestures

They did on the Arc touch mouse, it works just fine

Personally, I like an actual scroll wheel. I've tried a few mice without and it wasn't as good. This was a while ago though so maybe the tech is better now

I want that Surface keyboard. Looks like my kind of keyboard. Now clicking the link, the Surface keyboard is 99 bucks. Is the one displayed the one with the fingerprint sensor for 130 or do we wait for a correction?

There seemed to be a bug in the price for the regular Surface keyboard. It's now updated to $99.99.

No backlit. Are we in 2000? Come on Microsoft. I'll get a Logitech k830 or sum. Was really looking forward to this announcement for the keyboard but now... Blah..

Is that mouse touch sensitive too? Lol. Looks like a mouse u buy at a dollar store.

IKR?? Looks super retro... Unless that's what they're going for.

Anybody else thinking that the styling of these hardware fits well with the Flintstones? (hint: Stone age)

will every windows 10 pc receive the creation update ?

I would love to see it backlit.

Great to see many others clamor for backlit functionality. Although it must be a battery drain, I just can't figure how it would otherwise justify the cost of this. The keyboard looks almost identical to an HP premium keyboard I have. The mouse lacks additional buttons. Seems like this is totally just for people who have money to waste, not necessarily for people looking for quality peripherals.

Why I would want to pay $99 for this keyboard or $49 for the mouse is beyond my imagination. Or does it have unique features I don't know about yet.

Personally, not a fan of the design in any of those.
Windows Central Newsletter
Thank you for signing up to Windows Central. You will receive a verification email shortly.
There was a problem. Please refresh the page and try again.