Microsoft details new improvements coming to its Fluent Design System on Windows 10
By Zac Bowden last updated
Microsoft is making some key updates to the Fluent Design System for developers who want to implement more Fluent UI into their apps.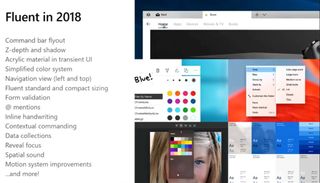 This week at Build 2018, Microsoft unveiled several improvements and iterations that the company is making to its Fluent Design System that was first introduced back in 2017. Microsoft has always said that the Fluent Design System is a journey, and that it will continue to evolve over the many products and services Microsoft releases.
Things such as command bar flyouts, updates to navigation view, compact sizing, shadows, and more, are all part of the Fluent Design improvements for 2018. Many of these changes are on the subtle side, with things like shadows now able to be gently applied to certain elements like context menus. Microsoft actually showcased what context menus with Fluent Design will look like, which is something many people have been waiting for Microsoft to get around to updating.
Microsoft is also making changes to how the back button works on Windows 10. No longer should developers use the back button found in the titlebar of apps; Microsoft is phasing that out in favour of building back buttons into the apps themselves. Microsoft says this should provide a consistent back button experience across its first party apps, and that developers will be able to follow templates to match if they wish.
Image 1 of 4
Image 2 of 4
Image 3 of 4
Image 4 of 4
There are several updates coming to navigation view, including an updated horizontal navigation view that will be able to house groups, dropdown menus, and more. Microsoft is toying with implementing these new navigation views into the Microsoft Store at some point, and it showcased early concept ideas for this in one of the sessions on Fluent Design.
One of the most notable changes coming to Fluent Design is a new sizing standard that moves away from the "large hit points" theme Microsoft started with Windows 8. Now that Windows 10 Mobile is no longer something Microsoft nor developers have to target, the company can begin building UI with desktop in mind. As such, elements like buttons, icons, and more are now smaller by default, which makes much more sense when using a mouse and keyboard. There's also a new "compact size" which is even smaller than the new default size.
Microsoft is really committed to bringing Fluent Design to every part of the Windows 10 OS. It's an evolving system that will take time to implement everywhere, and in 2018 Microsoft is taking some big steps in pushing that boat along. While we likely won't see several of these improvements show up in the OS at first, we know that Microsoft will get around to adding them over the next couple of Windows 10 version updates, just like it did when Fluent Design was first announced.
Zac Bowden is a Senior Editor at Windows Central. Bringing you exclusive coverage into the world of Windows 10 on PCs, tablets, phones, and more. Also an avid collector of rare Microsoft prototype devices! Keep in touch on Twitter: @zacbowden.
«moves away from the "large hit points"» while tablet mode is already being criticized 🤔 Hello tablets??

Totally Agree! There are times when large hit points are better.

Yup, also there is not single improvement in tablet mode since 2016.. how sad.

How do I share my 'fluent' ideas with MS?

That's how Microsoft Ignores your Fluent ideas.

The place where idiotic demands move to trending and the real ideas that needs attention gets buried.

So true. I kinda wish that joining Insider Program requires some sort of test or qualification. Many joined the Insider Program for wrong reasons like getting a beta/alpha build and expect it to be like finished. Most still post bugs that has been posted but still make new one, flooding the feed. Most good ideas, constructive feedbacks are buried and worst, little to no votes. It will be at mercy from Microsoft to ever read them among the sea of feedbacks.

Yep...agreed aXross. That was the reason 1020 never got window 10 mobile...like 3 users bitched about being slow. They did not realise it was slow on EVERYTHING with it was released first. After a couple of months of updates etc, it was just as fast as 8.1 on the 1020. I tried both side by side. My wife kept 8.1 and I moved to 10 mobile. Doing most everything the windows 10 mobile 1020 was just as fast as the windows phone 8.1 equipped 1020.

That's the reason I asked for other source.

I'd say post your idea in /r/Windows10 and add a feedback hub link along with your suggestion. It'll work. There are some Microsoft employees as well. Good luck.

What if I want to share a complete article including motion graphics in it?

Yet they still haven't addressed the issue of the complete inconsistency in colour use. You have beautiful applications of Fluent in things like Groove and the Settings pane... And then grey abortions like the Xbox UI and the Store UI.
¯\_(ツ)_/¯

The store on my Lumia 950XL has Fluent design, on PC not, so yeah, that is weird

So does Groove ..fluent design on mobile devices would look beautiful ...good thing Surface Mobile/Andromeda is coming soon

I was referring to the Windows 10 Store, not mobile. But the WP10 version is based on the normal Windows 10 version so yeah, it does share the same problems.

All children are beautiful in the eyes of the lord...

That's because the Lord probably needs to go to an optometrist :P

Microsoft can't make their mind in regards to the back button. Windows 8.1 had them like this, they pivoted away, now pivoting back.

It should be in title bar like in Groove music. Microsoft doesn't get it.

Completely agreed. I found the default back button handy, especially in tablet mode.

W8.1 had great solutions which they all ditched with W10 only to slowly bring them back one by one. Amazing what's going on overthere.

Dying to see task manager in fluent design 😍

tablet mode is still being forgotten. More , and more..

This is such a small revision to interface design and yet it gets some sort of announcement.

I would be great news if microsoft could call for an obligatory design call of where the in app back button will be. I don't want andriody freedom of inconsitent back button placements in apps for it to become a time wasting searching game. Just put it in one spot. Most people are used to having it at the top left, so just put it there. For tablet and touchscreen devices I would prefer and recommend it at the bottom left or right for easier reachability during navigation. It's more ergonomical. Remaining at the top left a user will always have to reach across to the top of the screen, which disrupts the ergonomic flow of navigating an app.
Windows Central Newsletter
Get the best of Windows Central in in your inbox, every day!
Thank you for signing up to Windows Central. You will receive a verification email shortly.
There was a problem. Please refresh the page and try again.