Surface Duo's October update explained: What's fixed and improved
Windows Central goes deeper on Microsoft's first system update for Surface Duo.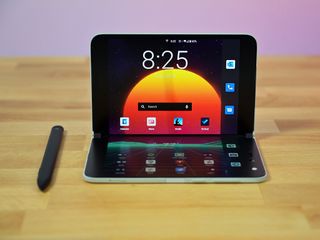 (Image credit: Daniel Rubino / Windows Central)
Earlier this week, Microsoft pushed the first monthly update for its new Surface Duo dual-screen Android device. The software refresh delivers the latest Android security patch just one day after its release by Google, signaling a swift commitment to keeping Surface Duo protected. But besides the security patch, there are also numerous drivers, fixes, and patches delivered too. That's a good thing as many reviews have noted the Duo's software needs some work.
Microsoft recently took the time to explain to Windows Central what exactly it fixed with this October update and some other bits about what comes next.
Surface Duo October update
Surface Duo's hardware is widely praised as revolutionary or a feat of modern engineering. But the Android OS, which Microsoft is being very careful to not fork and customize too heavily, is a bit green. None of that is surprising, but as Microsoft says, they are learning a lot from users – what the company calls "the first contact" – now that the public is using it daily.
While Microsoft did post (opens in new tab) its official October changelog for Surface Duo, a practice that will continue going forward, that post did lack details on what was improved. In my conversation with those that worked on the update, more information came forward about what users can expect:
Improves Facebook Messenger single-screen experience / Facebook chat bubbles
One of the most specific bugs fixed in the update was an issue around what Microsoft calls "floaties" and it focuses on Facebook Messenger. The problem was these floating elements would span both displays regardless of the posture chose by the user. So, if Surface Duo was in phone mode (single display), a user could not interact with messages.
That is now fixed.
Improves call stability and experience
Before this update, some users complained that Surface Duo frequently dropped calls or accidentally hung up on people. Users tried to trace the issue to specific carriers or assumed Surface Duo was a lousy phone with poor reception. This problem was an issue that Microsoft did not see during its pre-release testing but became obvious once Surface Duo got into "large volumes of real-world customers."
The glitch's cause arose when some "transient noise" hit the hall-effect sensor, which detects when Surface Duo is opened or closed, resulting in some calls being disconnected inadvertently.
Microsoft implemented some algorithms to solve this problem.
Improves touch stability
One of the most common complaints from reviewers and owners of Surface Duo was related to touch. Some issues were related to the device waking up (or being unlocked), the touch display not responding, users could not answer a phone call, interacting with the UI, etc.
Improvements in all these areas were implemented by updating the touch driver from 4.302.139.0 to 4.305.139.0.
Improves device stability
Like the previous touch example, this fix is more global and addresses the general usage of Surface Duo.
Reviewers and some users complained that the display wallpaper would randomly disappear or that general system responsiveness was sluggish with the device waking and unlocking. Another example would be one of the displays that would turn off (or not turn on) during use.
The October update is supposed to address all those bugs too.
"Fit and finish"
This final category is small, but it addresses the ongoing effort to update and refine the software experience on Surface Duo continuously. These particular examples include:
'Clear all' for the app notification drawer was in all caps for no reason
SwiftKey gestures with swipe down to choose the suggested word was not working
November and beyond
Microsoft wouldn't provide any information about what comes next for Surface Duo, but there are a few things that we can share for users that are relevant about future updates, including:
Monthly updates are planned to be released at the beginning of each month, timed with Android security updates. That cadence is going to continue, and Microsoft is confident they can hit a reliable update experience.
Android 11 is being worked on for Surface Duo, but no ETA on when it ships.
Besides bug fixes and improvements, new features will arrive through these monthly updates. One example we know is in the works is double-tap to wake, which is already in testing.
Currently, Microsoft Launcher is updated through these monthly updates, but Microsoft will transition to Play Store updates.
AT&T-branded Surface Duos should expect this update in the week ending October 16th, assuming it clears AT&T's more rigorous certification.
The good news is that many users on Reddit and other forums report that this update addresses many of the significant concerns and issues they were experiencing. It is also evident that Microsoft plans to stick to very regular updates for Surface Duo to continue to improve things, add new features, and fix issues reported by users as the device gets into more hands.
The more exciting topic is app updates that embrace dual screens and what new features Microsoft can bring to Surface Duo in the future. On the first point, there has not been any movement from first or even third-party apps adopting dual-screen spanning functionality as laid out in Microsoft's SDK. The other point regarding new features is trickier. Microsoft is careful not to fork its builds of Android, and instead, it works within the system so that any changes go upstream to the proper Android dev branch. That means a slower path to feature delivery but one that "breaks" fewer Android protocols resulting in these swifter monthly updates.
Microsoft has a clear roadmap, at least internally, for Surface Duo. How it evolves the product over the next year will be a story we continue to follow. This first update is at least a step in the right direction.
Order today
(opens in new tab)
Two screens are better than one

Microsoft delves into the future of foldables with an ambitious dual-screen device, featuring two ultra-thin 5.6-inch AMOLED displays bound by a 360-degree hinge. This pocketable inking-enabled Android smartphone marks the latest in the Surface lineup, geared for mobile productivity.
Main
Daniel Rubino is the Editor-in-chief of Windows Central, head reviewer, podcast co-host, and analyst. He has been here covering Microsoft since 2007 when this site was called WMExperts (and later Windows Phone Central). His interests include Windows, Microsoft Surface, laptops, next-gen computing, and for some reason, watches. Before all this tech stuff, he worked on a Ph.D. in linguistics and ran the projectors at movie theaters, which has done absolutely nothing for his career.
A useful article. As a potential buyer of gen 2 or 3 of this device, I am happy to see MS's commitment to fixing the software issues (which seemed pretty bad TBH).

the issues are not that bad. the best reviews to read are the ones written by people who bought the device because they received a more up-to-date firmware. The early reviewers were given devices by Microsoft roughly 2 weeks before release date. But the initial firmware they received was incredibly bad. The phone was barely usable. Only a few days before release, did they receive the version that buyers would have. But by then it was too late. Most of the reviewers were done writing their reviews and had moved on to other devices. Only a handful of those reviewers even mentioned the update. For me, the only serious bug that needs to be fixed is the rotation lock feature. It doesn't work correctly. On every phone I have ever owned, you rotate the device to the position that you want and then you lock that position. But on the surface duo, the rotation lock will rotate all your apps to portrait mode and then lock.

Overall, inconsistent rotation behavior is the biggest issue for me. Sometimes things rotate, sometimes they don't. Sometimes I have to rotate 180 degrees to get a 90 degree rotation - it's all over the place.

Since the update, it seems like my Duo battery drains faster. Anyone else experiencing poor(er) battery life?

I haven't noticed any notable impact on battery life post update good or bad.

Daniel - Do you know where users can submit feedback? Can't find a website or any place to do it. This update corrected all of the issues I've had, and it's been a joy to use this device.

I asked but did not get any firm answer. Basically, Microsoft reads comments here, Reddit, Twitter, etc.

I've submitted feedback via the Microsoft Launcher feedback link. Not sure if this is the official way to do it, but it at least gets to them.

I'm glad it's not being forked. And, I had hopes that the Launcher might get a mid month update. Seem lots of guys have sideloaded the beta Launcher with good results. But it's only a month. I can live with that.

Here is my two cents worth of opinion with living with the Duo, as my only mobile device, as a heads up, this year I have been using a Pixel 4 XL, and then a Galaxy Fold, the Fold is Sold, and the Pixel 4 XL is pending, lol probably Sold... The overall experience now with the Duo, is fantastic, it should have been like this out of the box, to be honest, and maybe Microsoft really should have just waited, for this build before releasing the Duo, it would have only been a little bit longer to wait, and the user experience would have been 100% better, I guess they did not want the Duo to release along side the Fold 2, which is fair enough, I suppose, I am super happy that Microsoft will release, security patches almost Pixel like, which anyone with a android smartphone will know is a big deal, hopefully Software Updates will be swift as well. Surface Duo still needs a few more tweaks, a way to launch Google assistant without using your voice, a way to assign a button to trigger it would be good, taking screen shots are terrible at the moment as it takes both screens, if the Duo screen is open, a option to decide what is taken as a screen shot would be good, the camera still needs work when transitioning the Duo from closed to open and taking any sort of photo is a little bit slow, it has improved but still needs work, I would like a option to customize the camera application icon to allow with a hold of the icon a shortcut to say take a selfie, or a traditional photo, so then once that is done the Duo will know what orientation the Duo will be in and be ready for that, once you fold it over, or open the Duo. Double tap to wake, or lift to wake would be great, as it a pain to have to tap the side of the Duo, to see anything on the screen, a always on display would be great, but probably kill the great battery life that the Duo has, Generation two of the Duo will hopefully fix the camera sensor, or better sensors, why not have one on the outside, and inside? add NFC! and optimize the OS, and ill be lining up to get one again, or should I say lol possibly ordering one again on BAB!.....

If you read the article it explained some of your comments. Microsoft didn't know about these issues until AFTER it was released and in the hands of a larger user group. Their internal testing didn't reveal a lot of these problem so it was impossible to wait to release until this build. Double tap to wake is in the works as well.

Skyway, my point exactly. An engineered device can easily reach 85% of its maximum performance. In this case, we are talking about a device that uses software to achieve performance. As you add apps, and as more people use the device, defects will appear. A gen 1 device will identify the primary issues with hardware and user experiences. We are only in month 2-3 of a large group of people using the device daily. I suspect the identification and correction of issues will be rapid. So, by early next year, 85% of the problems with the Duo will be resolved. Here is the question. Will people notice the remaining 15% of the issues? For instance, the camera is basic in comparison to current flagship devices at the same price point. We know the gen 1 device is limited by the hardware, but can the basic functionality be improved to allow people to easily take good photos in most situations? Will the current app developers using dual screen mode improve the experience? What I have not heard anywhere is the experience with Office. Is outlook much better on a dual-screen mobile device? Can people recognize that their productivity is higher as claimed by MSFT research? This is where the 85% solution should become apparent quickly. The dual-screen device should--out of the box--demonstrate the superiority of dual screen versus single screen. In 6 months, we will be at the 85% performance level. MSFT will deliver Gen 2, which will improve the hardware performance and usability--better processor, camera, NFC, wireless charging, etc. Hopefully, more app developers will have joined the dual-screen bandwagon and further expand the user experience and demonstrate the MSFT claim of dual screen superiority. I did replace my OnePlus phone with a $200 Motorola. I left the OnePlus on the bumper and found it later that day on the side of the road crushed. Surprisingly, it would still accept phone calls and work with my Bluetooth hearing aids. But without the screen, I could not "use" the phone. I notice some issues with the budget phone. But not enough for me to run out and buy a new flagship phone. I can be patient and see if the Duo makes fast progress.

Hi Jimmy,
Google Assistant launches for me by swiping in diagonally from the bottom left or right corners of the screen. When I do that, at the top of the screen is the Google search bar and the bottom has the Assistant.

Yeah I just recently discovered that myself 😂 thanks for the heads up 🤣though

Want to share some thoughts about Windows 10X that is big challenge for Microsoft.. Again. (Windows 10 Mobile, hello) It has no competitive store. Lookin at how x86 virtualization is working on 10X, I'm sure, first public releases will be without x86. So, what they are counting on? PWA "apps"? Really? Microsoft doesn't have even optimized (like old Edge) browser for ARM with normal functionality. Even on Windows 10 for PCs PWA Twitter from Microsoft Store is working on old Edge engine. New Chromium Edge isn't working fast enough on ARM CPUs. Old Edge won't be able to deal with all new web technologies, as there are so dynamic nowadays.
So.. Should Microsoft release Windows 10X devices on Intel/AMD CPUs? I can't see any sense in this, because there won't be any x86 apps available and x86 CPU will bring all it battery and temperature problems. Should Microsoft come out with ARM? They still don't have a good ARM browser, that will be the main ground for the most apps (because of helplessness of Microsoft Store). And, if Im not mistaken, Google rolled out update for Chrome OS that gives support of most of Android apps.
So, I'm interested to hear more thoughts about it) P. S. Shouldn't Google make an ARM Chromebook? Why didn't they do this yet?
P.P.S. Shouldn't Microsoft pay the development of Facebook, YouTube, Telegram, Instagram and other most used apps official clients on their UWP ecosystem? This can be the only thing most of people need. Also it would level up the whole Windows 10 experience at all devices.

Out of curiosity why is this posted here the article is about the Duo which is Android based.... Also Win 10x isn't even out yet

I thought I had heard that this update was going to focus on the camera? Any news on that?

Anyone know when this will be released in the UK?

Can't see this first generation product being released in the UK... With only three years of support the longer they take the more expensive the device will become... I would want to wait until issues such as the trim breaking around the USB C connector to be resolved... Also read some have had issues with the hinge feeling gritty after extended use...

Personally I think the second generation of the Duo, will be a Global release, Microsoft will have to upgrade the specifications a tad, 8 gigabyte of ram, snapdragon 865, for 5G for those lucky enough to have it, Nfc is a World standard, used pretty much everywhere for mobile payments, and was a huge oversight by Microsoft, limiting its functionality on the Duo, base storage needs to be 256 gigabyte to be honest, meet all these requirements and I'll update in a heartbeat, from my Duo. 👍

Thank you for the excellent Surface Duo coverage.

I've got the dreaded USB-C cracking on the port on my Duo, 😫.
Windows Central Newsletter
Thank you for signing up to Windows Central. You will receive a verification email shortly.
There was a problem. Please refresh the page and try again.